28.04.2021
The Perfect Self Care
Pamper Evening
Self care means different thing to different people because we all need different things at different times. The act of self care can mean anything from saying no to setting better boundaries and from putting your phone down in an evening to making space to care for your mental health with a professional. 
In amongst all the things I do try and take care of my physical and mental health on a day to day basis, I do have to say part of my personal self care routine is a truly indulgent pamper night a couple of times a week. 
I've found that although there are so many aspects and branches to the self care tree, for me I can't really beat making the space and time to close the bathroom door and indulging in all the bath, beauty and skincare products that make me feel like I'm shedding the day and in turn cleansing my soul a little. 
So here's what a luxurious at home spa night looks like for me right now featuring some new and old favourites and of course an episode of whatever Sky series I'm currently obsessed with! 
This blog post & shop widgets use affiliate links. 
Affiliate text links are marked (ad). 
The beauty products featured in this imagery are PR products/gifts. 
Read the disclaimer about affiliate links & PR products/gifting here. 
Masking 
I know masking can be hit or miss for some people, even love or hate, but I truly believe if you find a great mask that works for your skin type you should definitely buy some back ups. After cleansing and normally while my bath is running, I'll apply one of my current favourite masks as a first step to my extended evening dedicated to pampering myself. A little extra step in my evening that helps to transform a quick skincare routine into part of an indulgent self care hour or two depending on how much time I've set aside to indulge. I always find the longer I spend on my skincare and it's application the more my skin loves the products I use and after all shouldn't you skincare always bring you joy? I'm currently alternative between a mask with actives that gently exfoliates when my skin feels dull and a more moisturising and plumping mask when my skin feels a little dry or unloved. My current favourites are most definitely the Radiance Ritual Mask (ad) from Luneia and the Precious Gold Vitality Mask (ad) from Clé de Peau.
Radiance Ritual Mask - An exfoliating mask to be used once a week when your skin needs a little boost and some glow. Containing glycolic acid, salicylic acid, squalane and vitamin E it's the ideal balance of revitalising and calming. Apply a thin layer to your face (always avoid the more sensitive eye area and don't apply on broken/rosacea prone skin to avoid irritation) leave for 10-15 minutes and then wipe away with lukewarm water to reveal radiant, fresh skin. I love the texture of this product and also the little tingle you feel after applying the acid rich mask. I have reactive skin (not overly sensitive) but find products like this that contain cooling and soothing ingredients as well as being a more gel like consistency never anger my skin when used as directed. You can purchase in a set including a beautiful muslin cloth to use with the mask or as a super affordable mini if you'd like to try it out before committing to a full size of the mask. You can purchase both here (ad).
Precious Gold Vitality Mask - An incredibly luxurious anti-oxidant rich mask that can be used twice a week when your skill feels a little dry or unloved. Containing amino acids, gardenia, ginseng and infused with 24k gold it leaves your skin radiant and full of life. Apply a thin layer with the gorgeous masking brush provided (I told you it was luxurious!) avoiding the eyebrows, lips and hairline, leave for 5-10 minutes and then wipe away using lukewarm water. It's actually hard to describe how supple your skin feels after using this mask, it almost feels like the masking brush is like a magic wand with how radiant your face feels after removing. The beautiful shimmering mask looks amazing after applying (you'll definitely want to take a fun selfie haha) but it leaves so much of that glow behind infused in the skin - definitely believe the hype with this product! You can purchase the mask and brush here (ad).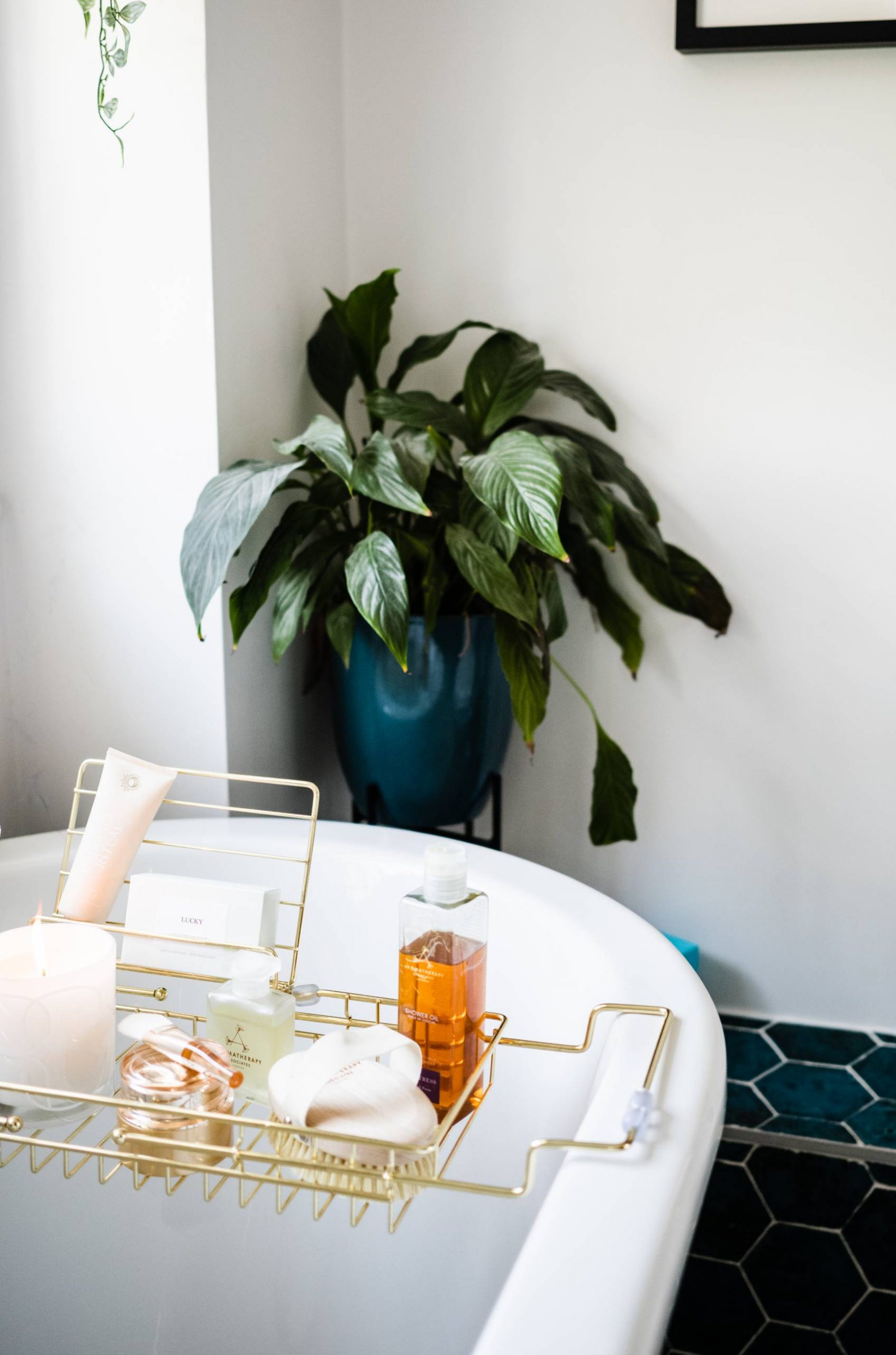 Bodycare 
If I'm really indulging in a long soak in the tub and a couple of episodes of whatever series I'm currently obsessed with on Sky (Have you watched Snowpiercer yet?! If not - why not?!) then I take time to treat myself from the top of my head to the tips of my toes. I cleanse, I exfoliate, I soak and I moisturise and I have a few favourite products, both old and new, that I love to reach for. Just like my face I always find my body needs a good exfoliation and a wonderfully moisturising moment, to bring life and brightness back into my skin. There's nothing more uncomfortable than dry and tight skin (especially if you also choose to shave too) and as someone who classes themselves as having skin that's naturally a little dry already, a good exfoliation to lift away dead skin cells works wonders.
Omorovicza Gold Sugar Scrub - A boujee in the best way product containing fair trade cane sugar as well as a mix of nourishing oils, that work together to remove dead skin cells as well as leave your skin feeling smooth and hydrated. This is also the perfect lazy day pick me up in the shower too as if you're not feeling an elongated pamper night this moisturises more than enough. The scent, texture, experience and outcome of this is simply heavenly and even better, a little goes a really long way. I'm not sure I'll ever go back to another body scrub after discovering this almost 2 years ago now and whenever I head onto my favourite beauty retailers to stock up on any empties this is one of the first I add to cart. You can shop this must have here (ad). Psst - it's on sale! 
Aromatherapy Associates Muscle Gel - I absolutely adore a muscle gel, especially if I've been working out regularly and feel like I need a little recovery as well as rest. I've tried quite a few over the years (ESPA and Legology also do fantastic options!) but my current go to has been the Aromatherapy Associates version. If you've never used a muscle gel before and you suffer with restless legs, achey legs or just feel that you need a little muscle recharge after your workouts, I really encourage you to try this out. I'm currently using the De-Stress version (Black Pepper & Ginger) but there's also Revive (Juniper Berry & Grapefruit) and Renew (Rose & Geranium). The gels promote your circulation during inactivity, cool and fresh tired muscles and then soothe with warmth. Such a wonderful feeling after a spin and in reading the amazing reviews I've just seen people share they use it before and after flights, to ease tension headaches and even when they're feeling under the weather. You can purchase the full range here (ad).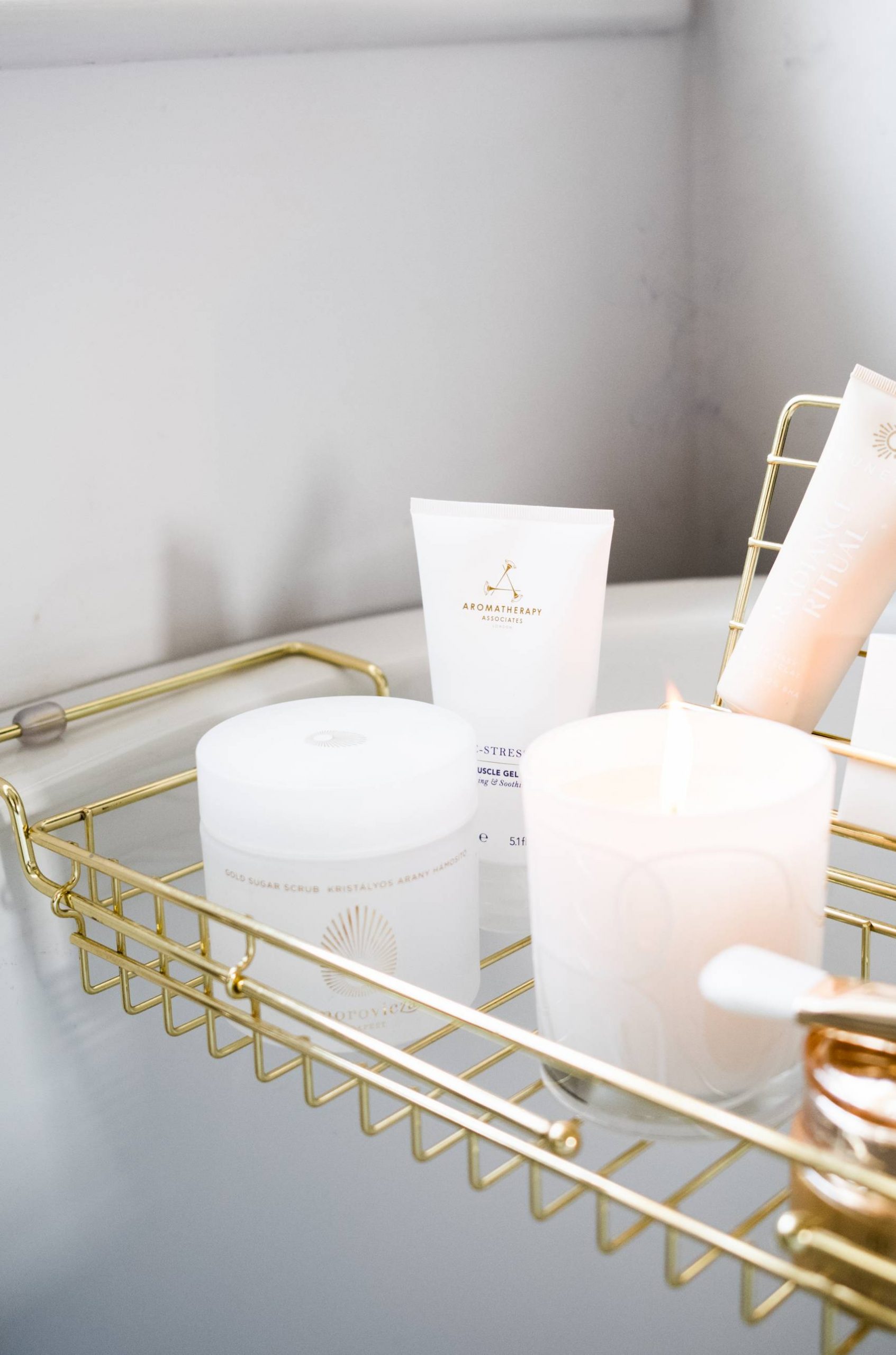 Bath Oils 
Bath bubbles and bath soaks are perfect additions to any long bath but I do always find if I'm thinking of having a really indulgent 'lock the door and don't disturb me unless the house is burning to the ground' soak, then I turn the luxury up a notch and opt for oils. There's something about choosing an oil for a long lingering bath that makes me feel like I can close my eyes and imagine I'm being pampered at my favourite spa while I'm in my own en-suite. Plus I always find my skin is so much softer and supple after using oils in the bath as opposed to soaks, there's definitely a difference in how long that feeling lasts afterwards too and especially during the coldest/hottest months it makes such a difference in how my skin retains its moisture.
Aromatherapy Associates Oil to Milk Cleanser - A relatively new addition to my routine but one I am really enjoying especially in a morning or if I've just finished a spin or a workout and intend to hop in the bath. I often use this quickly in the shower to rinse off before I sink into a delicious warm bath and the addition of starting my routine with relaxing or invigorating oils as opposed to a simple body wash, is a switch I'm really glad I made. This is such a unique cleanser and one that feels equally luxurious with it's silky oil texture, as well as incredibly clarifying as you lather the oil into a cleansing milk. There's definitely a case here for using this morning and night because the range of scents are brilliant and the essential oils give you permission to close your eyes and take a moment for yourself. I love the De-Stress scent in this product but I also have the Revive scent on my wishlist for morning showers to give me a little pep in my step. You can purchase all the available scents here (ad).
Aromatherapy Associates Bath & Shower Oil - I remember discovering Aromatherapy Associates bath oils years and years ago (perhaps in a beauty advent calendar I shared with Rebecca?) and feeling like I had discovered the most incredible and luxurious way to bathe as opposed to taking a bath. There's something so 'ooh la la' about adding your favourite oil into your pamper routine and I've now tried so many of the brands bath and shower oils over the years. The sumptuous oils are the perfect way to begin your soak (or a shower if you need a quick relaxation moment) by smoothing a capful of your chosen scent over your body (there's about 20 in each) and taking a moment to breathe in deeply, to fully relax into your me time. There are so many to choose from you'll easily be able to find your perfect match - there's even some incredible miniature collections so you can test many of them out before picking a favourite. My current favourites are De-Stress Mind, Revive Morning and Deep Relax. You can shop the miniatures collections here (ad) and the full range here (ad).
I'd love to know if you have an ideal pamper routine that you've perfected during lockdown or you have some bath and body products you simply can't live without and think i should add to my next beauty order! And of course any questions let me know below I'm always around to chat :) 
Sign up here for a weekly catch up of everything Inthefrow