23.04.2021
Which Fragrance is
Right For You?
You may remember last year I discovered the Italian born and based home scenting brand Dr. Vranjes Firenze. I had experienced the brand at my friend Jade Holland Coopers home and was instantly wow'd by the beautiful fragrances that filled their spaces. She immediately shared her love for the brand and the scents she adores with me and as soon as I returned home I made my first order. 
Just before Christmas last year as I was creating my gift guides, I curated one that was full of indulgent gifts for the person who had everything they needed but would love something extra. One of the categories was luxury homeware additions and I featured Dr. Vranjes Firenze as I'd not only just made another order, I'd also treated my Mama to a couple of their beautiful candles for Christmas. 
Much to my delight last month their wonderful team reached out and offered to send me a few of their new spring fragrances and I of course jumped at the opportunity. I absolutely adore having their diffusers and candles at Frowhome so to get the chance to experience some of their other fragrances was an opportunity not to be missed! 
Here are my current favourites dotted around the house and which other scents are currently on my wishlist. A huge thank you to the wonderful team for being so generous and a quick note that this blog post is not sponsored but I know how many of you are homeware, decor and fragrance lovers like me. 
This blog post is not sponsored.
This blog post & shop widgets use affiliate links. 
Affiliate text links are marked (ad). 
The home scenting featured in this imagery are PR products/gifts. 
Read the disclaimer about affiliate links & PR products/gifting here.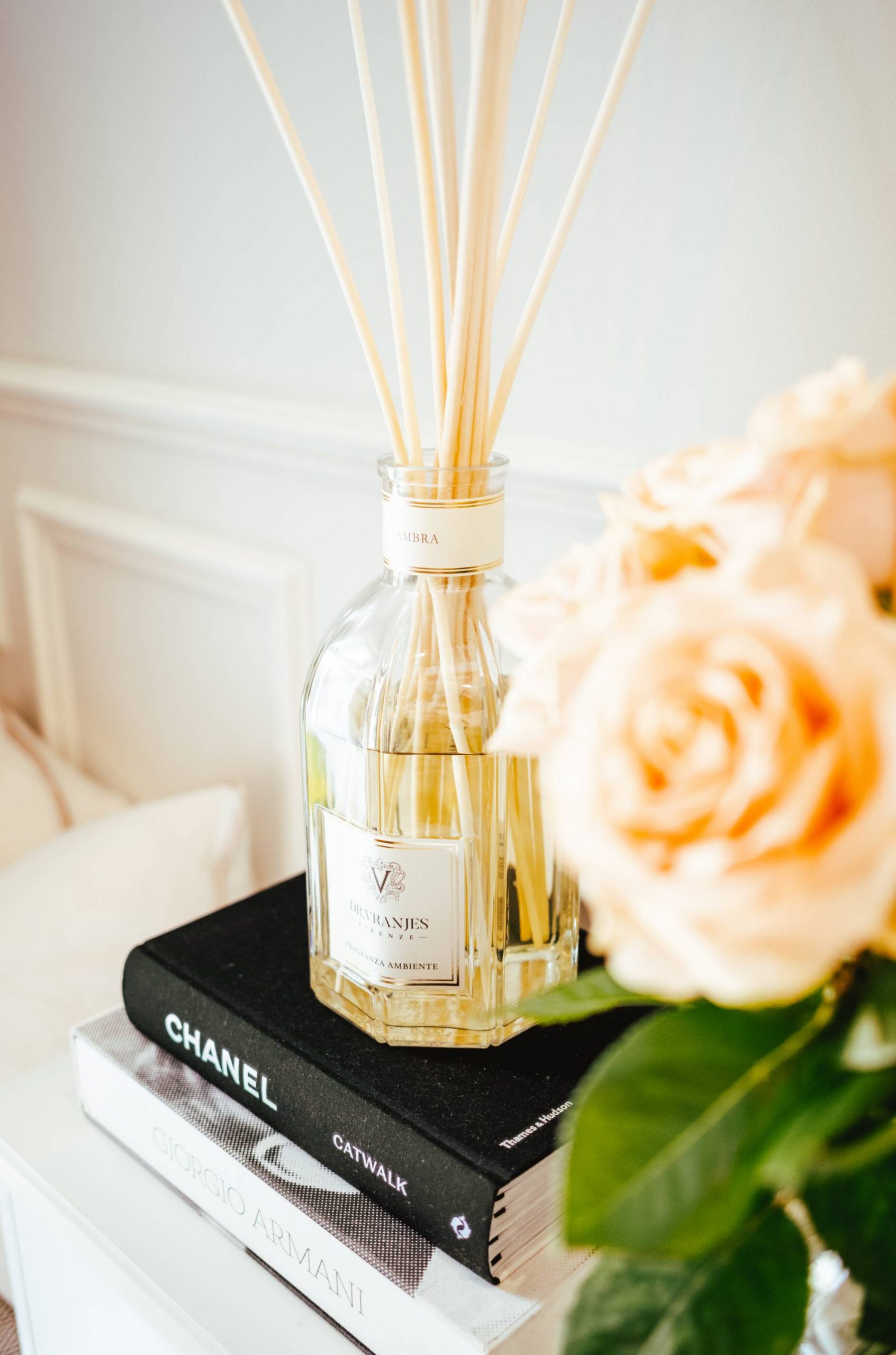 The Kitchen & Entryway 
One of the reasons I fell in love with Dr. Vranjes Firenze when I was introduced to the brand, was the fact that their diffusers really do fill a room with beautiful scent. Jade in particular was so impressed with how you can purchase their diffusers in so many different sizes (from 100ml sprays to 5000ml diffusers to fragrance refills) so you can curate your spaces as you would like. For our kitchen and entryway we decided to go with scents we had already purchased and loved and although both spaces are sizable they're much different spaces used for much different living.
We opted for Ambra (ad) in our entryway as it feels like a scent that is universally loved, both warm and welcoming but also fresh and modern for the first space any guests encounter. A mix of sandalwood, patchouli, amber and even a touch of vanilla - all notes I actually adore in my perfume collection so they feel ideal for our home too. For our kitchen space we opted to have one of the brands signature decorative candles in our orangery/dining room to add Ambra warmth when wanted but our main scent for the kitchen/laundry area is the beautiful Giardino Delle Rose (ad) which compliments Ambra so so well. Also containing notes of patchouli and amber but with added rose to lighten and brighten. It's a beautiful fragrance for our kitchen that also feels apt for spring too, especially when we light the Ambra candle to take the space from day to night.
Did you know? You can extend the life of your diffusers by also purchasing refills of your favourite scents and topping the glass vessel up regularly? Diffusers work not just by the number of sticks you choose to add into your diffuser but by the amount of air able to enter the vessel itself. The more air in the diffuser the faster in theory your fragrance will evaporate into the room, so topping your diffuser up from a fragrance refill will expand the lifespan of your purchase in the long run.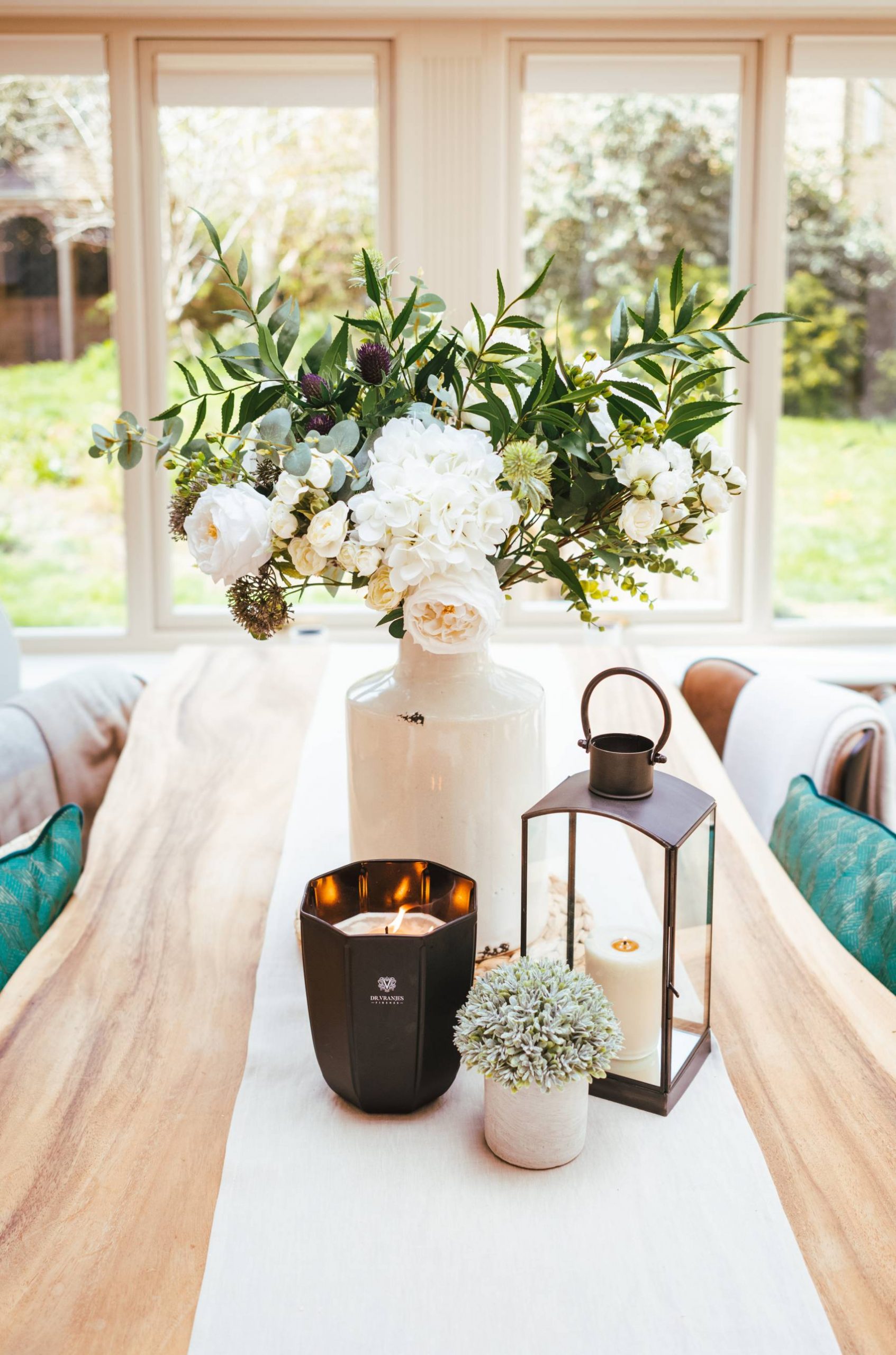 Decorative Candles 
Have you ever seen more luxurious looking candles? I just absolutely adore how chic they look in our home and especially so because of how simple but so statement their designs are. They feel equally seamless in our spaces yet stand out as not only candles but as beautiful decorative additions too. Although I adore the brands diffusers I was able to choose a couple of their candles to try out and they fill a room with sumptuous scents just as well. The coloured glass vessels are carefully handmade in Florence by a team of artisans who are entrusted with creating unique casings for the brands quality scented waxes. My choices were beautiful Ambra (ad) which I already knew would was at the top of my favourites from purchasing the diffuser version of the fragrance and also Oud Nobile (ad). Oud nobile is a deep woody scent that brings together darker notes of incense and myrrh as well as lighter notes of bergamot. One of my favourite types of scents mixing dark and light so to speak and one we keep in our living room for cosy nights with the fire roaring and our favourite film on the TV.
Did you know? When burning a candle for the first time there are a few things you can do to ensure a longer lifespan as well as a clean burn in later life. Ensure that on the first lighting of your new candle you trim the wick to around 1.5cm long, allow the candle wax to burn all the way to edges (this ensures an even burn later) and make sure you snuff a candle out rather than blowing the flame (this avoids debris in the wax that could be a burn hazard).
The Bedroom & Guest Room 
For our master bedroom and also our guest bedroom, the choices we made took a little longer to select then the main living rooms of the house. We knew we wanted fragrances that matched our usual preferences but also ones that felt like natural matches for the rooms themselves in both scent and decor. For our guest room we opted for the brands best selling Rosso Nobile (ad) diffuser. The Rosso Nobile fragrance was the first to be developed and perfected by the brand back in 1999 as a way of bottling and embodying the sweet and beautiful scent of the perfect red wine. Sweet, fruity, relaxing and invigorating we decided it was a perfect guest room addition for when we're allowed to have guests back at Frowhome. With notes of grapes, berries, birchwood and magnolia there's a sweet warmth to the scent that I hope our future guests will adore. For our master bedroom we decided to add a little fun and floral with the joyously coloured and scented Peonia Black Jasmine (ad).
Our cosy subtly coloured master bedroom feels like a Parisian cloud (just the way we imagined it to be) but we felt it needed lifting with a scent that's reminiscent of open windows with the breeze blowing through on a fresh spring morning. Peonia Black Jasmine has floral notes of fresh jasmine and always adored peony but with the addition of green moss feels like adding a fresh bouquet of flowers into the room every time we turn the sticks. The perfect partner for our master bedroom we feel.
Did you know? Diffusers work best in different ways dependent on the size, shape and space of the rooms they are being placed in. If you are able to position diffusers in the centre of a room (medium rooms) or one at either end (large rooms), situate them in places where people pass by so that the scented air will naturally circulate around the room and to keep a room consistently scented turn some or all of the sticks once per day. Of course dependent on the room you want to scent you may not be able to tick off the entire list of preferences but the Dr. Vranjes Firenze Fragrance Finder (ad) will help you to do just that.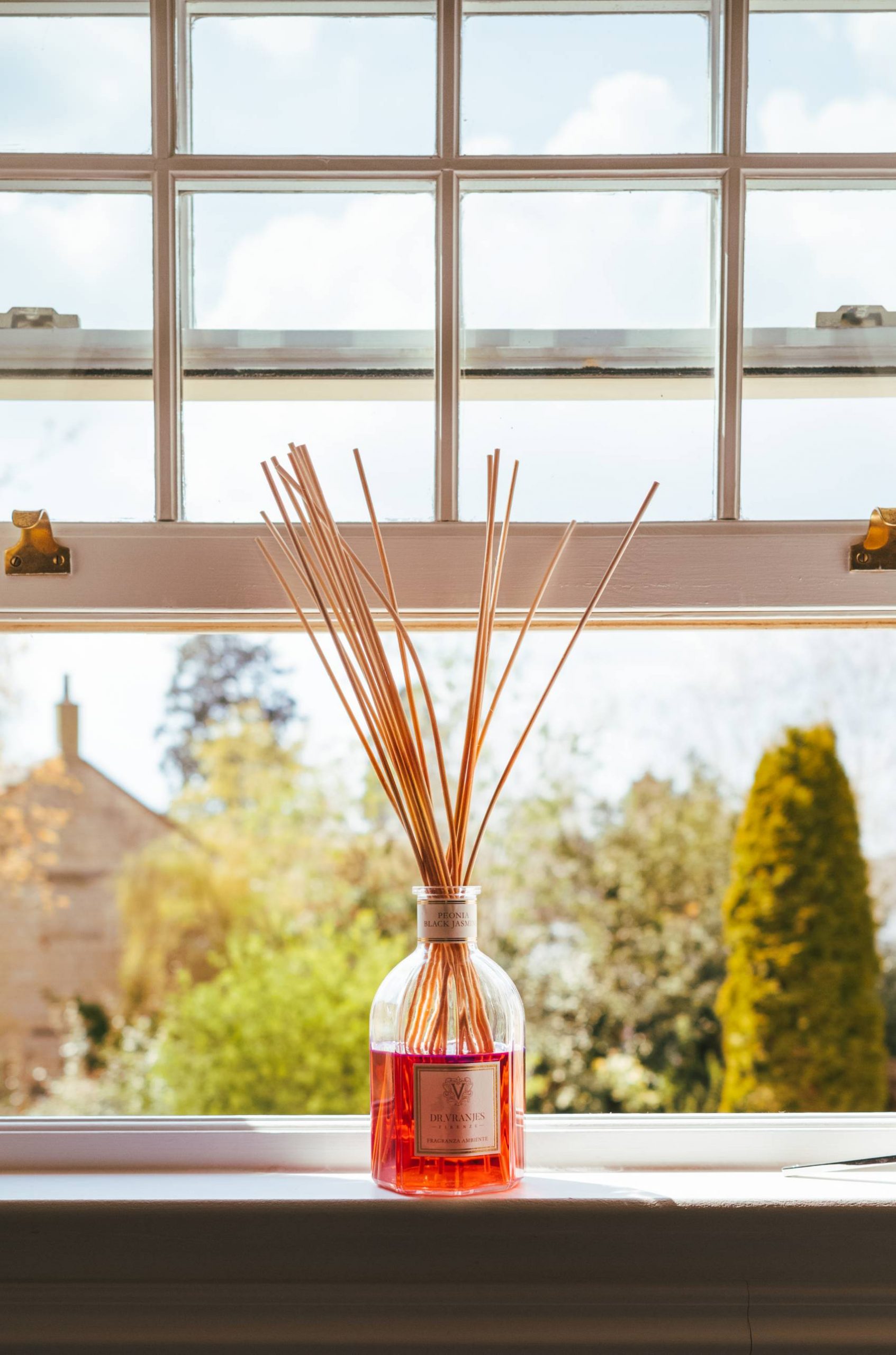 If you'd like to delve deeper into the brand then you can head to their website here (ad) to find information about their charitable projects, sustainability practices/goals and of course all of their amazing products! And do let me know if you liked this style of blog post, they're always so much fun to put together and I'd love to delve into some other brands perhaps if you're interested? 
Sign up here for a weekly catch up of everything Inthefrow