30.04.2021
Our Favourite
Spaces
I think for our 1 year home update we were a little late and for this 2 year update I'm perhaps a little early, but nevertheless I'm a little stunned that we're coming up to our 2 year anniversary of living at Frowhome.
It's been such a creative, joy filled part of our lives for the last couple of years and so I wanted to share some of our favourite spaces with you now that we're almost fully renovated. As we decorate and simply live in this wonderful space, I'd also love to look back at these posts over the years and appreciate the changes we're making whether subtle decor moves or dramatic renovation changes. 
I've definitely found a love for interiors and expressing both of our personalities in the colours, textures, lighting and uses we've decided on in our home so I'm really excited to share with you the spaces in our home that bring us the most joy and however cheesy it may sound, fill my cup! 
This blog post & shop widgets use affiliate links. 
Affiliate text links are marked (ad). 
Some of the items featured in this imagery are PR products/gifts. 
Read the disclaimer about affiliate links & PR products/gifting here. 
The Space
Hallway / Entryway 
The Look
With this space being the first thing any of our guests or even we see when we enter our home we knew we wanted a bit of a wow factor. We were incredibly lucky to find a home with a hallway that's spacious, can be multi-functional and feels like a stand alone room. We've previously had spaces the size of a doormat or two with only room to hang a couple of jackets and store a few pairs of shoes. We decided on a little drama with a black and white theme, including polished tiles that make the space feel bigger, a neutral fireplace perfect for adding seasonal decor throughout the year and functional spaces to increase storage. 
The Details 
Wall Colour - Farrow & Ball (Strong White) 
Staircase Colour - Farrow & Ball (Pitch Black) 
Flooring - Domus Tiles (Petrology) 
Staircase Carpet - Arighi Bianchi (Crucial Trading) 
Fire Stove - Arada Stoves 
Mirror - Wayfair 
Lantern - Eichholtz 
Street Artwork - Ellen von Unwerth (Private Dealer) 
Swimsuit Artwork - John Swannell (Clarendon Fine Art)
Rose Artwork - Simone Webb (Direct) 
Red Artwork - Mark Rothko (Print) 
Fitted Cabinet - The Dormy House 
Cabinet Hardware - Armac Martin 
Panelling - Orac Decor 
Our staircase carpet and flooring was purchased with a PR discount and our Farrow & Ball paint was a PR product/gift - neither were gifted with expectations of content creation.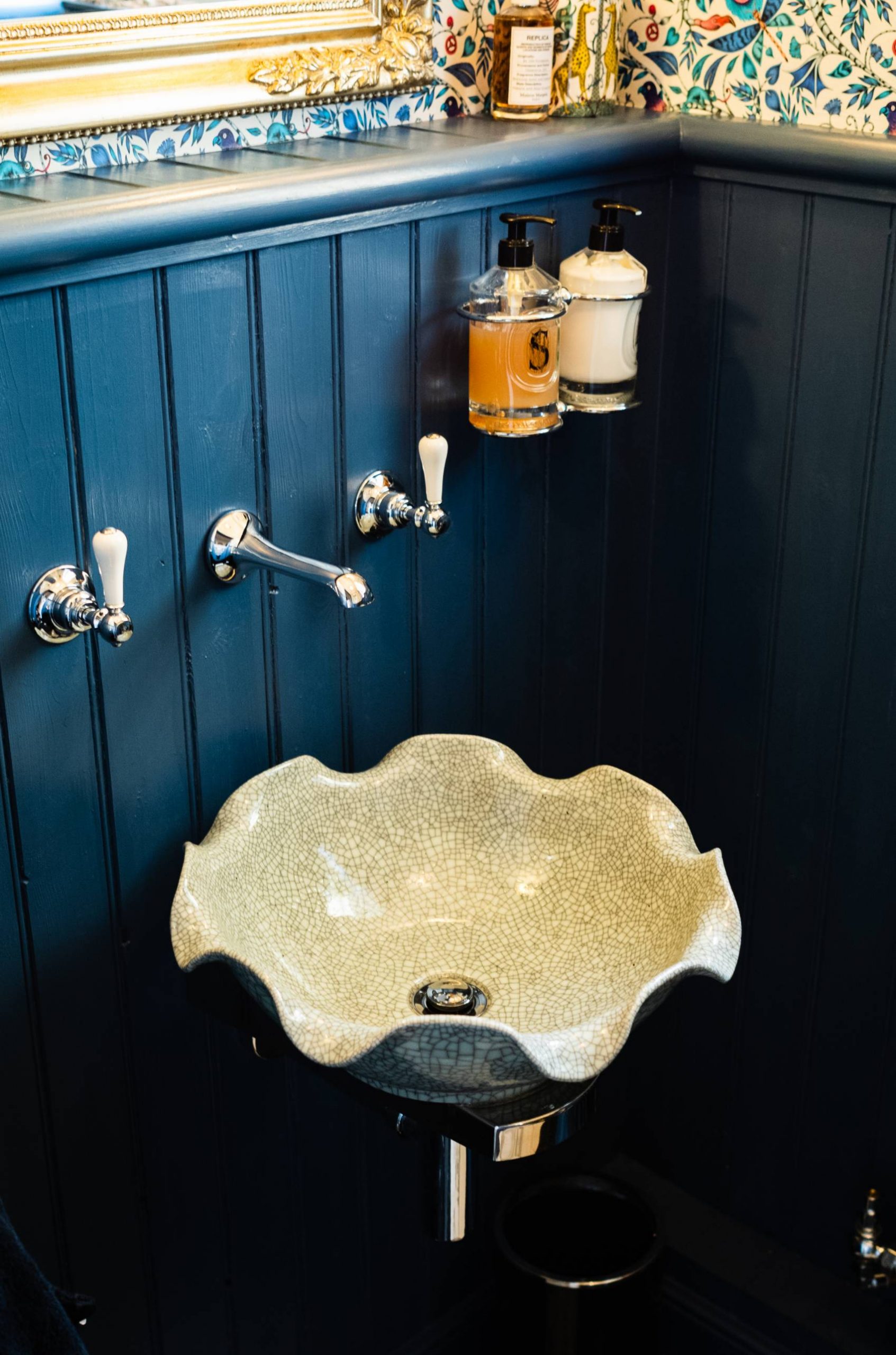 The Space
Downstairs Cloakroom / WC  
The Look
Although we have lots of colour in our home and often opt for decor just because we love it as opposed to following home decor trends, one of the things I really wanted to do with our downstairs cloakroom was to go a little wild with our choices. I spotted this incredible wallpaper by one of my favourite home interior brands and all of a sudden the room seemed to come together. Bold, colourful and full of statement pieces that feel so fun. 
The Details 
Wall Colour - Farrow & Ball (Stiff Key Blue) 
Wallpaper - Emma J Shipley 
Panelling - Generic T&G 
Toilet - Burlington 
Basin - London Basin Company 
Taps -  Crosswater London 
Light Fixtures - Jim Lawrence 
Bee Artwork - Elizabeth Waggett 
Blinds - Hillarys Blinds 
Our taps and basin were a PR product/gift - neither were gifted with expectations of content creation.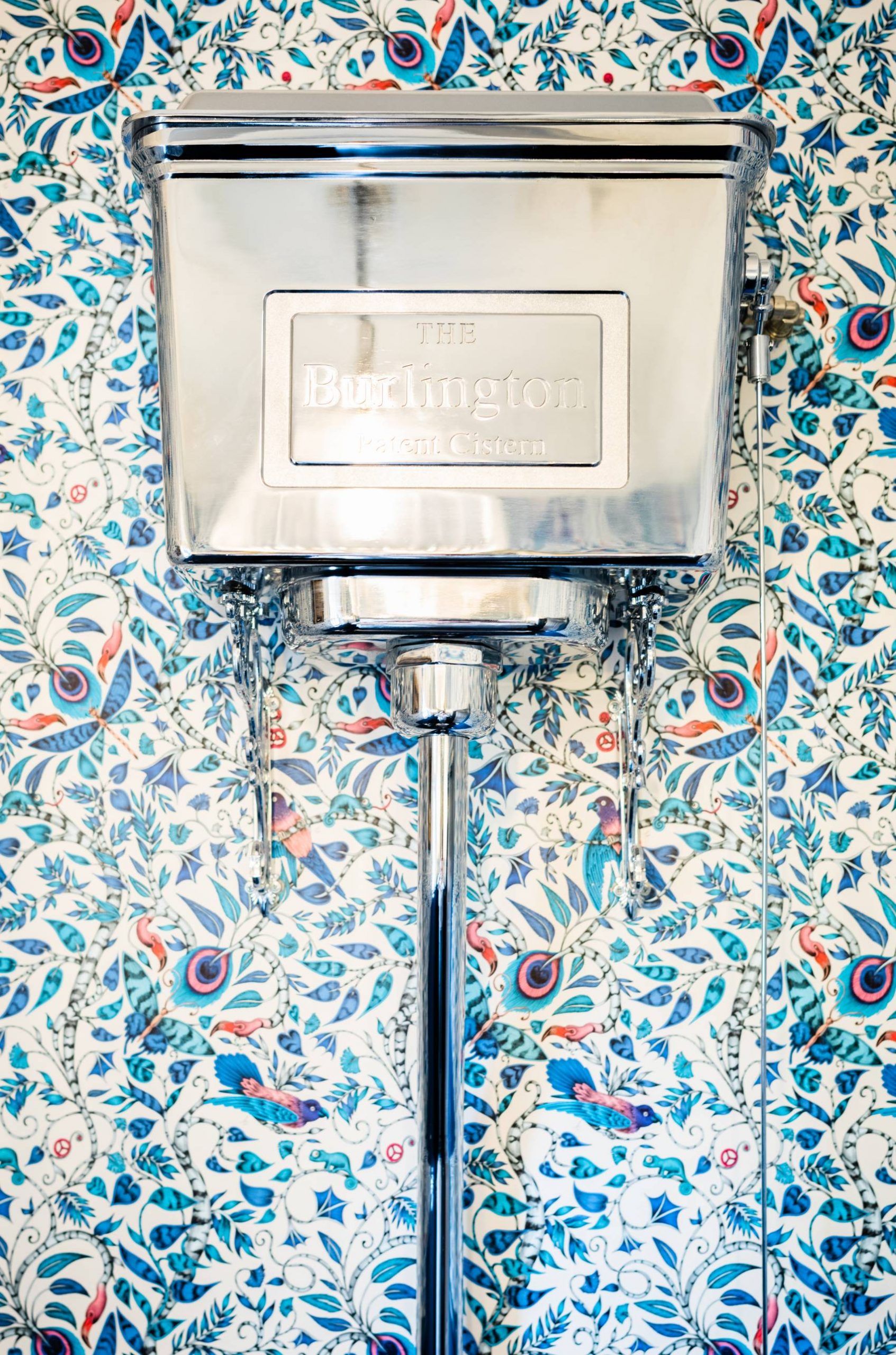 The Space
Kitchen / Dining Room / Orangery   
The Look
Simply put this is our favourite space in our home and that's because of the fact it's such a well used, well loved space in our day to day. We both knew as soon as we stepped into this open plan space that we had fallen in love with the house and wanted to make an offer. It was the first space in Frowhome that we renovated and we both agreed we wanted to stick with the original layout closely but modernise the space. We opted to keep the orangery/dining room bright and a touch Scandinavian and our kitchen space we opted for rich colours in contrast to our chosen floor and crisp counter tops. 
The Details 
Kitchen - Coeur Kitchens 
Kitchen Worktop - Chandler Stoneworks (Caesar Stone) 
Wall Colour - Farrow & Ball (Strong White) 
Cabinet Colour - Farrow & Ball (Railings) 
Orangery Colour - Farrow & Ball (Oxford Stone) 
Flooring - Project Flooring 
Kitchen Hardware - Armac Martin 
Light Switches - Buster & Punch 
Dining Table - Norr11
Dining Chairs - Norr11 
Dining Bench - Grain 
Bar Chairs - West Elm 
Taps - Perrin & Rowe 
Blinds - Hillarys Blinds 
Light Fixtures - Jim Lawrence 
Linen Artwork - Jessica Yolanda Kaye 
Our Farrow & Ball wall paint was a PR product/gift - not gifted with the expectation of content creation.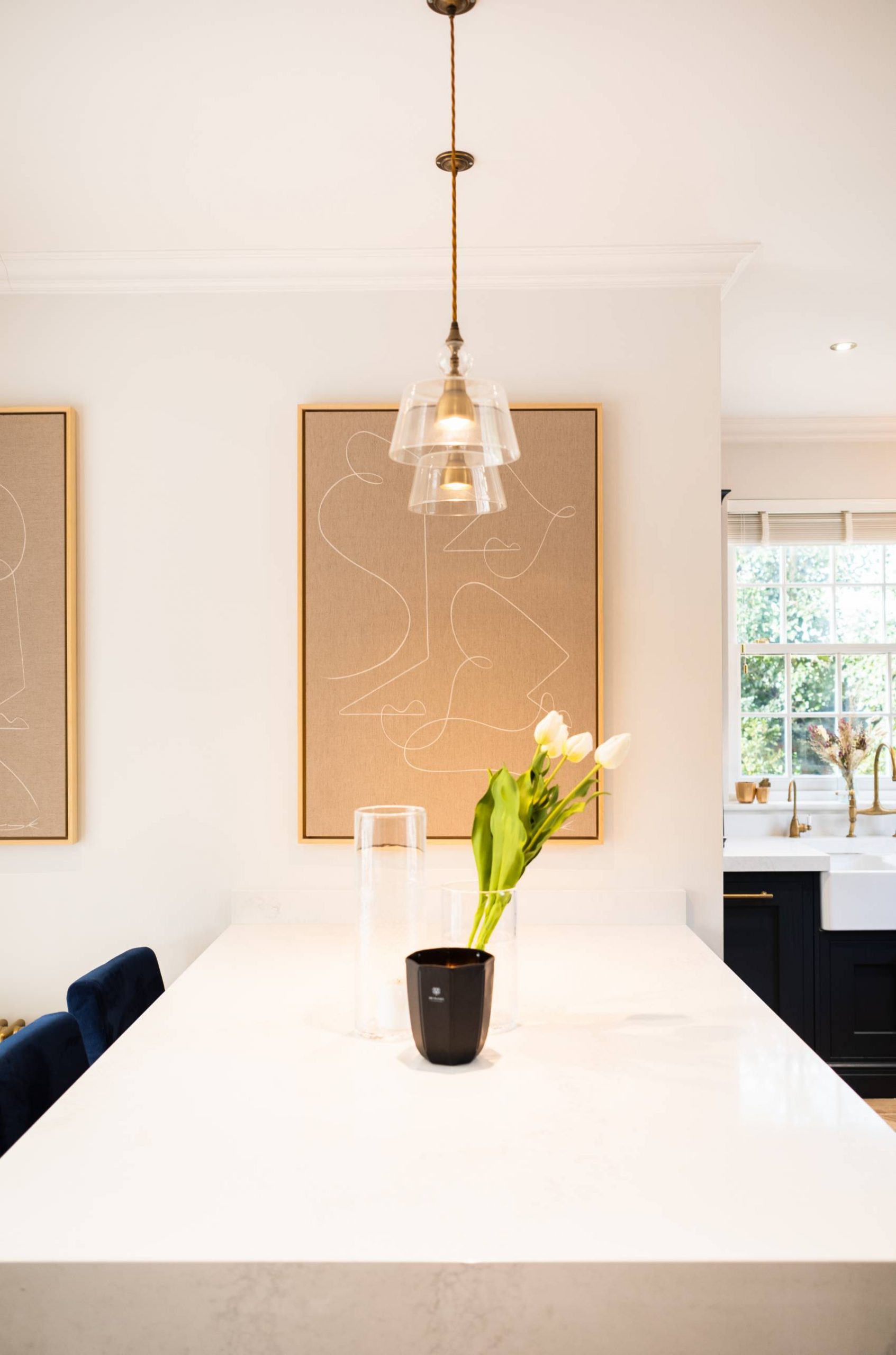 PS - If you'd like to see our kitchen in detail you can see our full kitchen tour over on YouTube here. 
Sign up here for a weekly catch up of everything Inthefrow