11.03.2020
The Dyson Corrale
Cordless Styler
I am so proud to say that I am now a Dyson hair ambassador.
This blog post however was not an obligation. 
I have NEVER been this excited for a hair product to launch. I was given the opportunity to try out the Dyson Corrale (ad) in November 2019, when everything was top secret, under wraps and I had no idea that a cordless hair styler would change my life. Not in a dramatic way of course; just in a sense of altering my routine for the better.
Hands up if you've ever sat on your floor in front of your mirror to curl your hair, just because that's where your plug socket is located? I still do this. Or checked into a hotel only to find that the plug socket is situated not even close to the mirror you need to use. I had never even imagined that hair stylers would become cordless one day, and now I've gone to the cord free side - I never want to go back. The best bit? Using the heated styler in an English bathroom. Us Brits don't have plug sockets in our bathrooms like so many others do, so being able to curl my hair in the bathroom mirror is a serious, serious treat.
This blog post & shop widget use affiliate links. 
Affiliate text links are marked (ad).
Read the disclaimer about affiliate links & PR gifting here.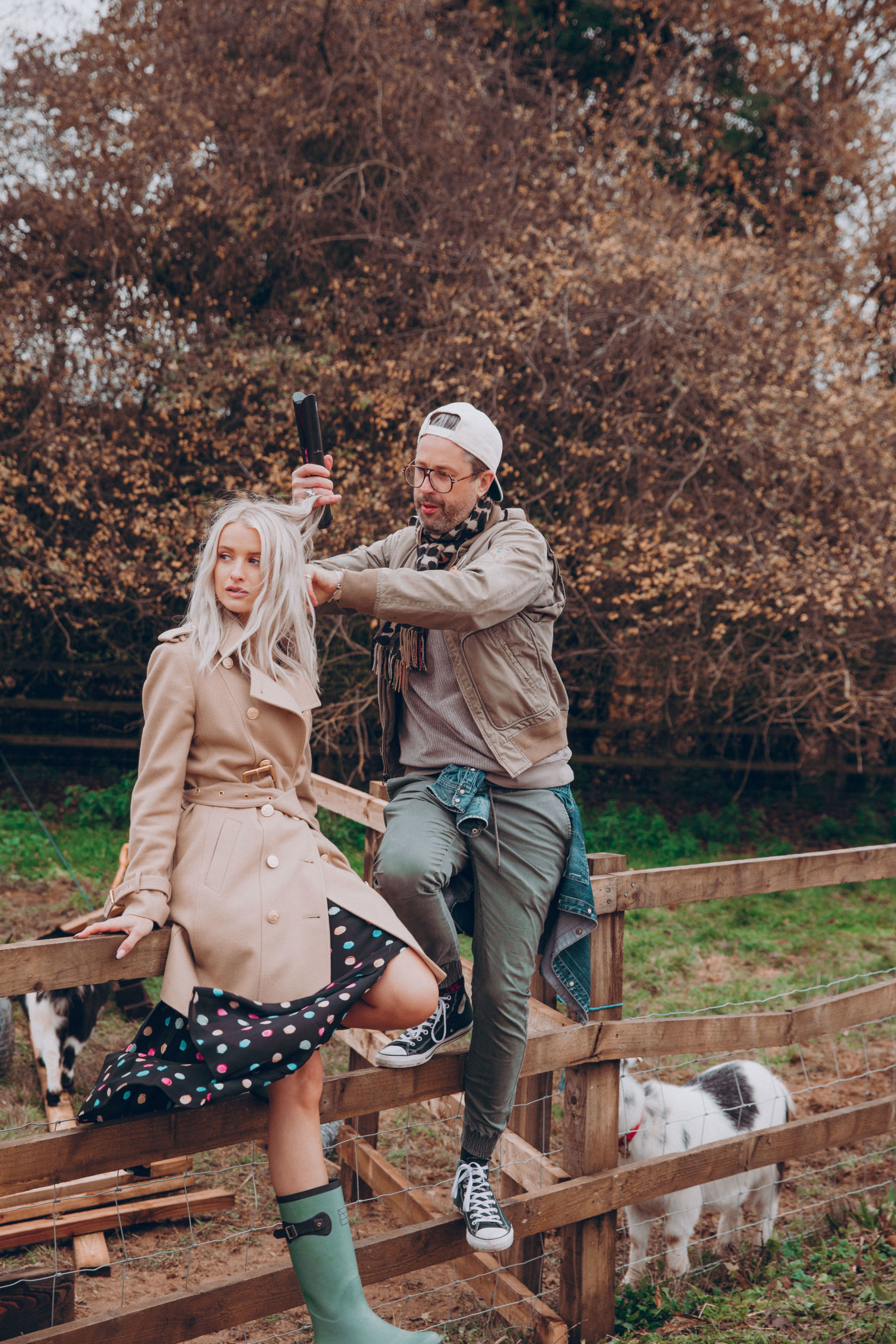 Why is it so special?
The concept of the Dyson Corrale (ad) was to solve the issue of hair damage in heated styling. Due to the shape of regular styling plates, the hair that passes through will often splay out left and right, as there is nothing to control how it passes over the plates. The Corrale, as it's name would suggest, uses innovative super-fine plates that flex around the section of hair and collect it (Corrale it!) together in the centre of the plates. This means that you will gain a smoother and more controlled finish, an even spread of heat over the hair sections and ultimately this leads to less need to re-straighten a section of hair again, due to inefficient styling. This means the Dyson Corrale will enable you to care for your hair far more efficiently. 
But it's not just the flexible plates that sell this product to me - it's the cordless functionality. You can use the styler corded of course if you wish, but if you want to take it in your handbag to the gym, to work, on the bus or in your bathroom mirror without a cord getting in your way, then going cord-free is the best thing since straighteners were invented. I've almost had to learn how to use a cord free tool, because I'm so used to utilising a styler in a particular way that ensures I don't get wrapped up in the wire. And the Corrale will keep going for around 30 or so minutes before it needs to be plugged back in. I only know this because Dyson ambassador Larry King (pictured) curled three different heads with one charge this afternoon and I was pretty darn impressed with that. But for when you want to put it down, the Corrale comes with a charging dock, that not only acts as a chic way to display your Dyson hair tool, but connects to the bottom of the styler to start the re-charge. 
Extra Extra Special.
If you'd like to take the Dyson Corrale in your hand luggage on a plane, the styler has been certified as okay to fly in your hand luggage in it's own flight safe mode - whereby you can disconnect the battery from the tool. A little pink button on the Corrale, displaying an airplane symbol, just needs to be pulled out for the battery to be disconnected and the tool is then safe to fly. So, so clever! By the way, said battery is an innovation in itself, packing the power of a corded straightener into a hand held battery.
The Corrale also comes boxed with the charging dock as I previously mentioned, as well as a velvet pouch to carry it around in, all snug as a bug in your bag. Dreamy!
It has three heat settings, 165, 185 and 210, to suit all hair types and needs - but again due to the innovative flexible plates, you're less likely to re-heat the same section of hair than you would with your usual styler, due to tool/plate inefficiency. Put simply, you won't need to go over and over the same strands of hair to make them super sleek, because the Corrale is doing a much better job for you and your hair. Corrale leads primarily to healthier hair, more control over the straightening process, less hair damage and less need for excessive heat. 
It has 30 mins of cordless styling, an auto shut off feature if you're worried you left them on when you left the house (don't we all?!) and an OLED screen to display battery power and heat setting.
As soon as I learned of the science, research and innovation behind the new Dyson Corrale, I was completely sold and that's why I've been so very excited to finally unveil it. It's unique in the market and aims to solve our issues of continuous hair damage, whilst offering a more efficient, sleek and beautiful product. But of course it does: this is Dyson. 
Find out even more on the Dyson Corrale (ad) page.
Sign up here for a weekly catch up of everything Inthefrow