01.10.2019
Choosing Our Perfect
Wedding Decor
If you followed Alex and I's journey to finding our wedding venue you'll know that we first encountered a few 'bumps' in the road. What we thought was to be our wedding venue turned out to be under construction when we visited at the start of the year and truthfully, I was so disheartened. 
We had fallen in love with the images of the venue, had started discussions around logistics with the team and our wedding planners The Lobster Collective were just as excited as us, until we arrived at a building site that looked nothing like the beautiful location their website had promised. But every cloud has a silver lining of course!
Fast forward a few months and after a lot of tears, a good helping of advice from some lovely people both here and over on Instagram, we found the right venue for us - Chateau du Bijou in Chomerac, France. Finally the fun part of the wedding planning could begin and we could start to envision how our wedding might look, now we knew what the backdrop would be.
Local lavender, Dior candles and greenery galore - all choices to make our beautiful venue shine throughout the weekend.
We wouldn't change a thing!
The Venue 
When Alex and I first became engaged, we dreamed of having a weekend full of celebrations with our friends and family. I personally had my heart set on a destination wedding in France and luckily Alex hopped straight on board with the idea. With the hope of sunnier weather outside England and the promise of a little weekend holiday for all our guests, we started the hunt for our venue. Our criteria was to be charming and rustic, have on site accommodation for at least a large part of our guests and the ability to have the place to ourselves throughout the celebrations. Chateau du Bijou had all 3 and so much more! Beautiful views as far as the eye could see, grounds filled with gorgeous willow trees, a swimming pool that meant we could have a dream pool party and stunning rooms for over half of our wedding party. It truly was the perfect setting for our wedding weekend and was full of inspiration for our wedding decor to come to life. The main chateau itself, the trees that framed the entrance and the perfectly placed courtyard all became the basis of our decor. 
The Table & Florals
Truly the main feature of our big day was the table we designed together with our wedding planners. When we had paid for our venue and knew that things were set in stone, I finally let myself get excited and think about the finer details of our wedding day. This was one aspect Alex loved to see come together but that he very much entrusted to me. He knew just how excited I was to have a real centerpiece to our wedding and he let me run with my vision to create one huge table for our wedding breakfast. Our wedding planners brought my initial idea to life and what we created together, along with our incredible florists All For Love made our jaws hit the floor.
Rather than separate our guests over the weekend festivities (Friday night's dancing and nibbles, Saturday's wedding breakfast and Sunday's wedding brunch) we had a 24 metre table set up right outside the chateau doors and placed right underneath the main balcony, with a custom built pergola to hang lavender, gypsophelia and candles from. This meant the florals from the balcony spilled 'onto' the trellis and over the doorway, making it seem like the table was meant to be a part of the setting all along. An actual fairytale come to life!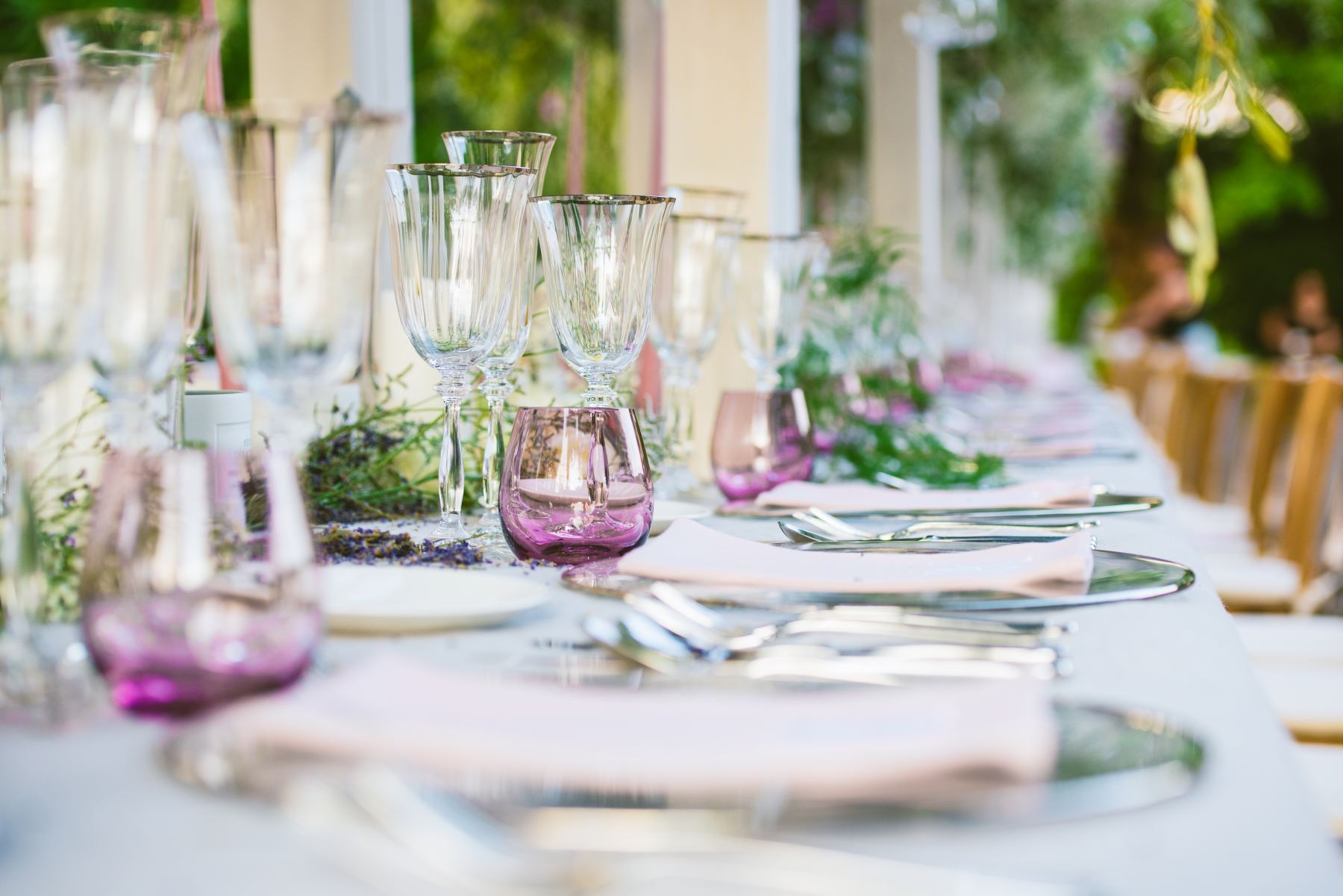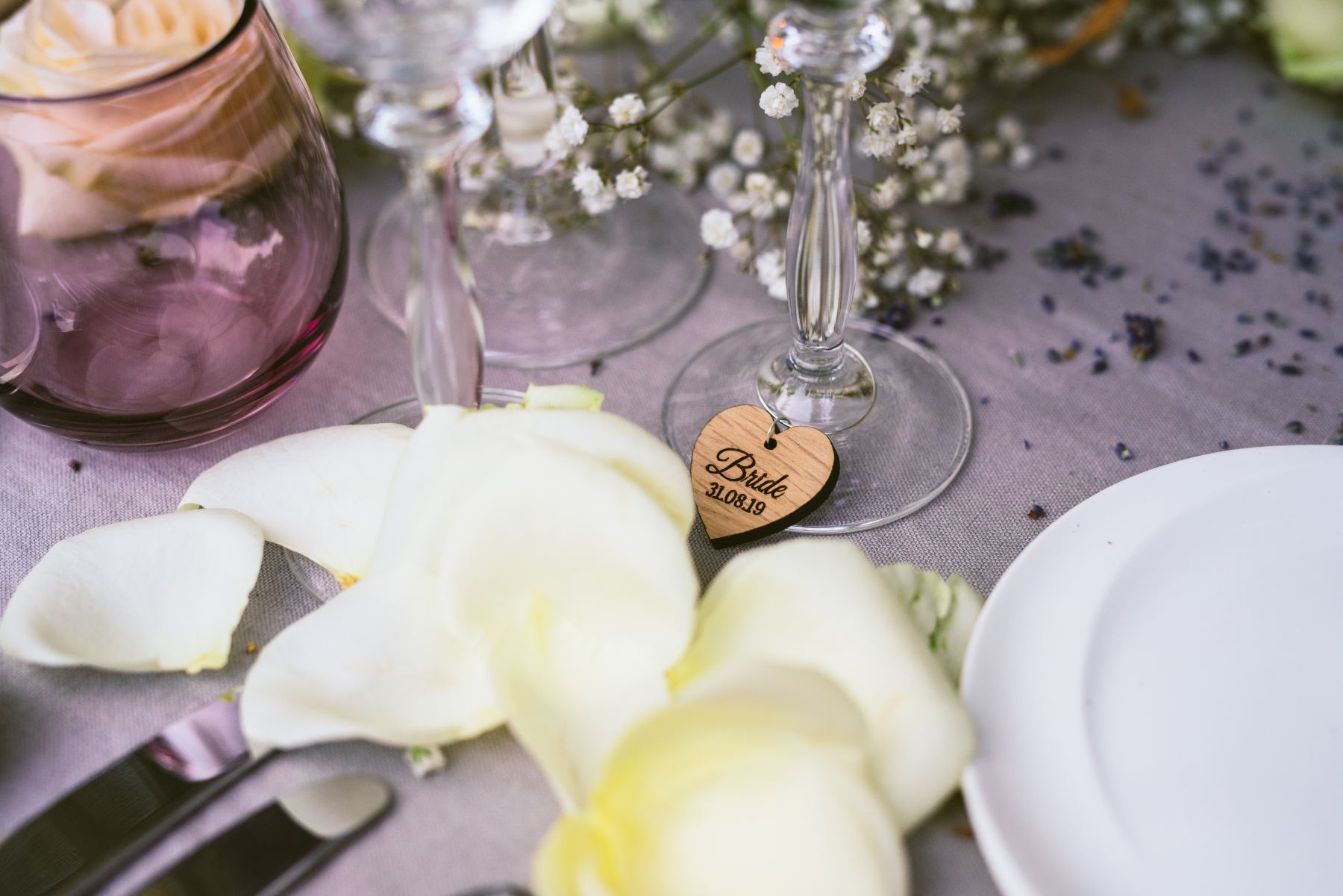 The Special Touches
My vision for our beautiful table stemmed from wanting to match the rustic charm of our chosen venue and of course the layout of our evening celebrations. I didn't want it to be too 'perfect' in the usual sense but I wanted it to be perfectly suited to our setting. Lavender buds on the table and single stems on the napkins as though they had naturally 'fallen' from the pergola above, custom linen napkins with a 'V & A' logo designed by Alex, wooden wine glass charms as place names from Little Orchard Creations, acrylic seating charts and welcome signs by Design by Pye (She also created our stunning wedding invites), hand painted linen sashes on the backs of each guests chair and of course Maison Christian Dior candles to light as the sun set around us. It wouldn't be a #FrowWedding without Dior right? 
I so wish I could describe to you how incredible the entire venue smelled. The mix of the warm vanilla notes from the lit candles, the fresh lavender buds that evoked the natural surroundings and the incredible roses and gypsophelia as far as the eye could see. Our florists All For Love London, did the most magical job of bringing our dreams to life and I don't think there are enough words to thank them for all of their help in creating our dream setting. from the table, to the balcony on which we cut our 'cake' and to my bridal bouquet - perfection! Oh and not forgetting our beautiful dried lavender and rose petal confetti from Adam Apple - I've even kept a little for my memory box!
I don't think I'll ever forget the beautiful scent of our wedding, it's engrained in all my memories from our weekend.
Find the full details on my Bridal Makeup here: Vogue
Find the full details on all my Wedding looks here: Harper's Bazaar
Inthefrow uses affiliate links.
Read the disclaimer here. 
Sign up here for a weekly catch up of everything Inthefrow