27.09.2019
Perfect Bridal
Beauty
Putting your trust in another person to do your makeup can feel nerve-wracking and especially so if you're entrusting someone with your makeup on a day as special as your wedding. You want to look and feel your most beautiful but also look and feel like yourself.
I met Nikki a couple of years ago at a brand event and immediately fell in love with her work. The way she lays a base down that enhances your own skin, the way she works with your natural eyebrows to frame your face and the way she listens intently to whatever you need and would like. A dream to work with.
When it came to our wedding I knew quite well how I wanted to look but most importantly I wanted to feel confident that my look would withstand tears, photos, kisses and 30 degree sunshine. It's a lot to ask for from a face full of makeup but knowing how talented Nikki is and knowing that she uses so many products from one of my favourite beauty brands, it was the perfect choice. 
To say I was lucky enough to have booked the incredibly talented Nikki to create my wedding looks, may well be the understatement of the year - I have quite simply never felt more beautiful.
My Wedding Look
When Nikki and I sat down a couple of months before the big day for a makeup trial my request was 'A nude lip, bronzed eyes and glamour'. I wanted to look and feel like a bride but I wanted to feel incredibly glamorous walking down the aisle towards Alex. Nikki immediately knew how to create the look I wanted and I left our trial with the biggest smile on my face and not wanting to remove my makeup that night. I felt amazing. 
Although there were quite a few aspects to our wedding weekend, Nikki and I decided that the differences would be created with my eye and lip colours. That way my base was always dewy but set, my skin was bronzed and healthy and my eyes and lips did the talking. All weekend Nikki used the Luminous Silk Foundation to create a buildable coverage that ensured a lightweight feel and importantly offered no flashback for the many photographs we took.
Nikki kept my skin hydrated all weekend by using the Prima Glow-On Moisturising Balm that feels luxurious on applying but keeps your skin continuously radiant - perfect for a glowy makeup base. Combined with the Luminous Silk Primer, it worked perfectly for both my day and night looks and left me confident that I looked healthy but glamorous. We touched up throughout the weekend with Luminous Silk Powder, Power Fabric Concealer and Prima Refreshing Makeup Fix. 
My beautiful bronzed eyes were created using the Eyes to Kill Quattro Palette in Avant Premier, Eye Tint in Gold Ashes and Smooth Silk Eye Pencil in Shade 2. Nikki use the Quattro Palette to create a warm base buffing the lightest shade all over the lid and up to the brow, the bronze shimmer into the crease and eyelid to offer definition and then the Eye Tint to the middle of the eyelid to add some sparkle. Then she lined my eyes with the Smooth Silk Eye Pencil to add some subtle glamour.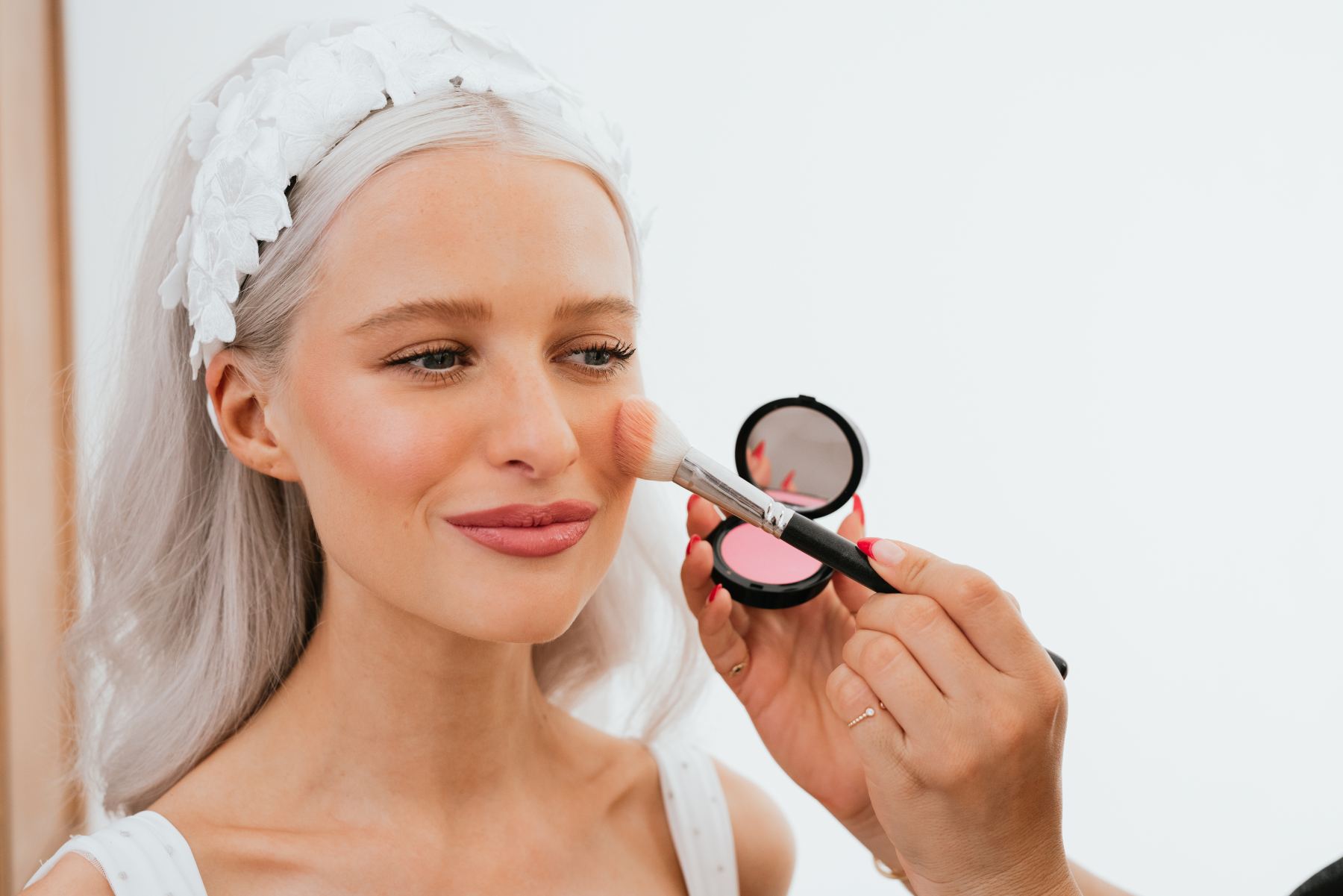 Find the full details on my Bridal Makeup here: Vogue
Find the full details on all my Wedding looks here: Harper's Bazaar
Inthefrow uses affiliate links.
Read the disclaimer here. 
Sign up here for a weekly catch up of everything Inthefrow