16.01.2019
My Winter Sun
Glow
I've been a lover of minimal makeup for a while now and it doesn't matter if I'm at home in London or lucky enough to be enjoying some Winter sunshine in an exotic paradise, the end game is always the same - a healthy, bronzed glow. In November I was invited to visit Bora Bora and the island of Motu Tane, to discover the secrets behind Francois's inspiration for his beloved Nars, as they near the 25th anniversary of the brand in 2019.
Not only is the brand known for pushing boundaries and collaborating to create some of the most amazing limited edition collections around, they are known for their dedication and focus to create the perfect complexion to compliment any makeup look. From Natural Radiant Longwear foundation to Soft Matte concealer (my ultimate holy grail product) and from the 38 shade Sheer Glow foundation to the ultimate Laguna bronzer - it's your complexion, your unique way. 
So how did I achieve this Winter sun glow? Find out below and discover some products you might want to add to your makeup bag for the 2019!
Pictures taken in beautiful French Polynesia on Mr. Francois Nars island Motu Tane and the Conrad Bora Bora Nui resort.
THE FACE
Quite often on sunshine breaks you'll find me wearing nothing but my beloved factor 50 sunscreen and the largest hat I can find. I've spoken out often about the fact that I spend little to no time in the sun and I definitely don't sunbathe when I'm in hotter climes but since I started my skincare regime 12 months ago I also make sure my face is fully protected too. There are those days where I want to look a little made up while I'm relaxing in the shade, so a subtle bronzed glow is enough to make my confidence soar and I only need minimal products to achieve it. 
Starting with sun protection is a given but one product I re-discovered in Bora Bora solved the bronzed glow equation in seconds - Liquid Laguna Bronzer. I'm not sure I'll be travelling to any beach destination without this ever again. One of my top 3 bronzers in liquid form, easy to apply, non greasy and gives the effect of tanning without the suns rays or a fake tan session. I discovered the best way to apply is to shake the bottle well, pump a little onto the back of your hand (a little definitely goes a long way) and apply to your face using a stippling type brush. I chose to use this as a full base all over my face meaning I needed no other complexion products but you can also add Laguna Liquid Bronzer into to your usual makeup to add a little more bronze or build it onto your bare face to contour if you're using it alone. 
A new discovery while in French Polynesia was the, as yet unreleased, Fireclay trio that is ideal for travelling light and incorporates everything you need to enhance your holiday glow. A buildable blusher for the apples of the cheeks, a beautiful shimmery highlight for the high points of the face and a terracotta shade of bronzer that's versatile enough to contour with as well as bronzing the entire face. 
THE EYES 
I always find my eye looks on a sunshine break are super minimal, especially during the day. My go to look is a simple wash of a singular shade all over the lid and if possible I choose a shade that has a little shimmer to reflect the days sunshine. My choices while in Bora Bora switched between the newly launched Ignited Eyeshadow Palette with it's versatile combination of amazing mattes (the colour pay off of the mattes offers a great crease or base shadow), shimmers and glitters, and the equally beautiful but limited edition Danger Control 6 pan eyeshadow palette. Both offer bold shimmers that are easy to apply with your finger or a rounded eye brush for a quick wash of multi-faceted colour.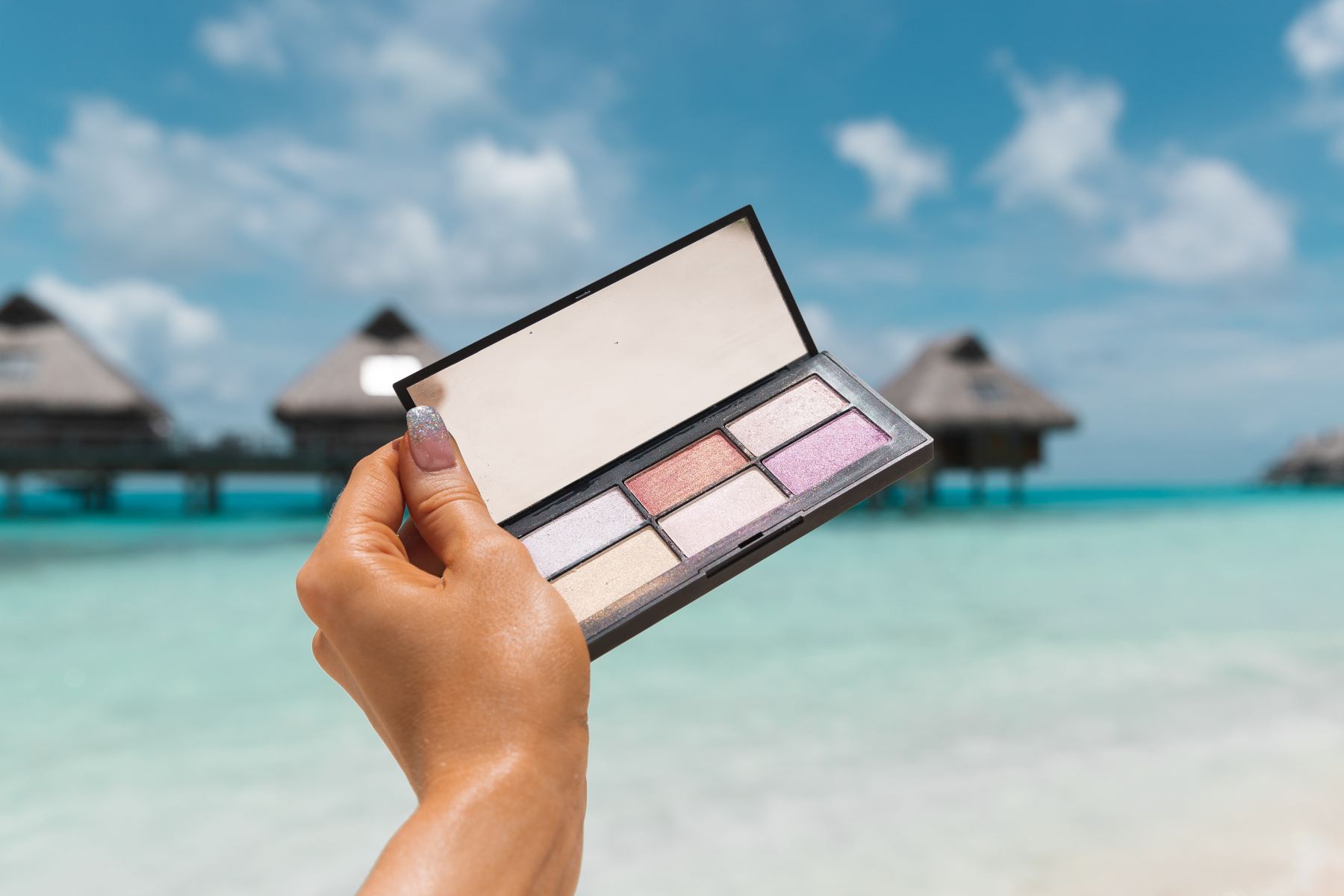 THE LIPS 
I have been trying to get my hands on the sold out Afterglow Lip Balm in Orgasm for what seems like an eternity and before I knew it was coming back (yay!), I was lucky enough to discover its as yet unreleased sister product in the shade Clean Cut with SPF 10. This quickly became my everyday balm while in Bora Bora and most days since but unfortunately mine has almost disappeared. I can't wait to be able to stock up on the colourless version, it's a great lip topper for a little added shine and feels so comfortable. I couldn't recommend this more.
THE BODY
And for the evening hours when the sun has gone down, I've found that not only does my makeup need to glow, so too does my body. If you've never tried Monoï Body Glow II you are missing out on the softest most supple skin imaginable. The tiare flower that is native to Tahiti is added to Polynesian coconut oil to create the body oil and can be used directly on skin, added to your bath water or even as a massage oil - Alex take note! The beautifully sweet scent reminds me of warm sun on your skin and if you want a little more shimmer for your night time look then maybe add the original Monoï Body Glow to your routine. Just as moisturising as its newest reincarnation but with a beautiful bronze shimmer that looks amazing added to your décolletage and legs.  Hell, your whole body, why not.
Thank you to Francois Nars and the NARS team for quite simply the trip of a lifetime and to my bestie Rebecca for some of these images x
Sign up here for a weekly catch up of everything Inthefrow