12.11.2021
Exclusive Hair Technology
Only by Dyson
This blog post is a paid for advertorial in collaboration with Dyson. (ad) 
It only feels right that the first gift guide here on the blog this year, are for some of the most loved and used items I own - my beloved Dyson Hair Stylers. 
I was a Dyson styling convert way before I was proudly announced as a Dyson Hair ambassador and I have their innovative inventions to thank for hair that is far healthier than it's been in years. In fact I've been both using and sharing my love for the Dyson Supersonic™ since 2016 here on the blog (that's over half my blogging career!) and the love affair has only grown with the release of the Dyson Airwrap™ and most recently the Dyson Corrale™. 
Of course I adore all my stylers, with so many of you also converts to the collection, not only for the breathtaking technology they encompass but for their beautiful design too. In fact this Christmas, if the Dyson Supersonic™, Dyson Airwrap™ or the Dyson Corrale™ are on your letter to Santa, you might be excited to know that there's a new lust worthy colour in town - meet the limited edition Prussian Blue & Rich Copper releases.
Luxurious, intelligent and gorgeous - what more could you need?!
This blog post & shop widgets uses only affiliate links. 
Affiliate text links are marked (ad). 
Read the disclaimer about affiliate links & PR products/gifting here.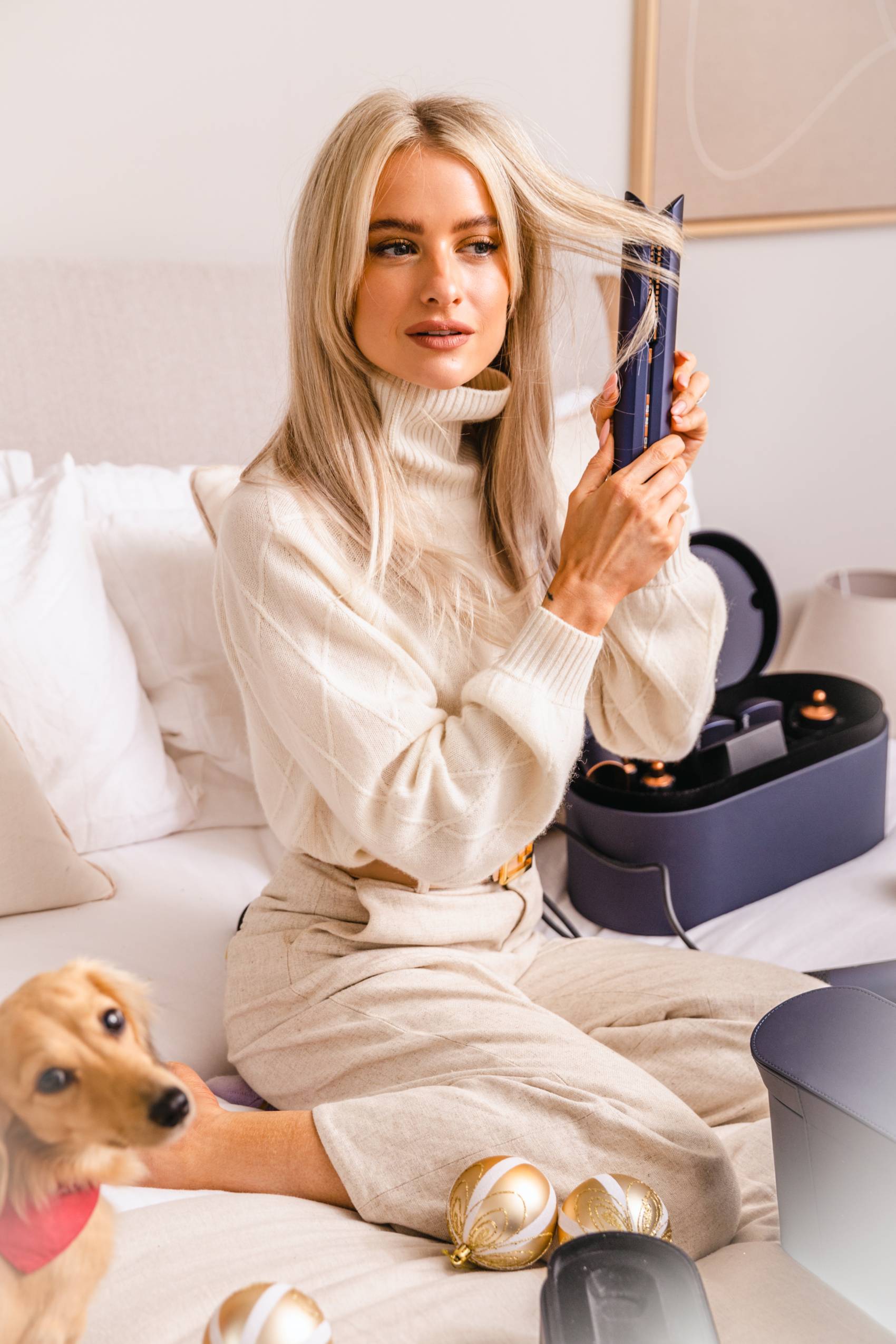 Dyson Supersonic™
-
Prussian Blue & Rich Copper
The OG release from the incredible minds at Dyson and the hair styler that changed the game, for not only professional hair artists but at home stylers too. The Dyson Supersonic™ set the bar for hair technology not only being easy to use but being equally as beneficial to your hair health. Dyson knew that it didn't have to be style over substance and that it could be style as well as substance. 
-
During use this award winning hair styler will check the temperature of the controlled air 40 times a second (yes - every second!) while also ensuring a controlled jet of air that speeds up drying time. A faster dry + lower heat = a healthier hair routine. Although heat can work wonders on styling hair, it can also cause intense damage too. Prolonged exposure is found to cause brittle, dull and lifeless hair and so the less heat you can use, the more you'll be able to maintain healthy and cared for hair. 
-
Switching to the Dyson Supersonic™ means the ability to help protect your hair from any further damage, while creating and perfecting the look you desire. Whether you rough dry before utilising the Dyson Corrale™ or you opt for the Flyaway attachment for a perfectly smooth blow dry, adding the Dyson Supersonic™ in Prussian Blue & Rich Copper to your Christmas wishlist, will have you smiling from ear to ear on the big day itself.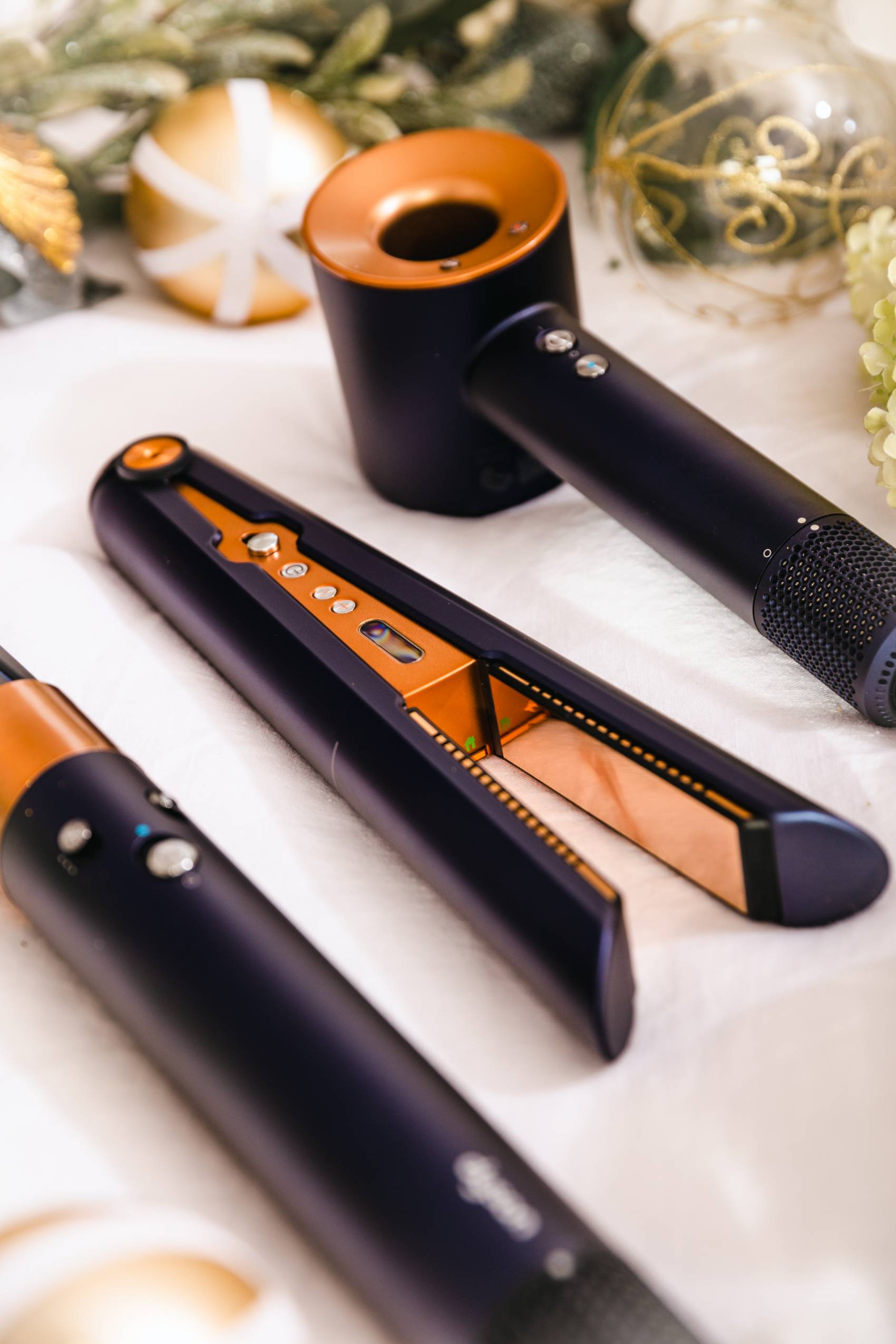 Dyson Corrale™
-
Prussian Blue & Rich Copper
The newest addition to the Dyson styling family and the first cordless member of the collection. The Dyson Corrale™ not only pushes boundaries for its innovate technology but for the logistical problems it's solved for those of us who often travel. A cordless hair straightener that has its own air safe mode, that's compact for transporting, utilises an auto off function and means you can protect your hair on the go, as well as at home. 
-
You may remember when I was lucky enough to be a part of the Dyson Corrale™ launch, just why this release was such a special invention. Old hair straighteners used intense heat that was prone to damage hair and plates that were often rigid. These static heated plates would splay loose hairs from their sides when held, meaning a truly perfected style could only be achieved with numerous passes. This increases the amount of time hair is exposed to heat and the amount of time any styling would take. Enter the Dyson Corrale™ with flexible plates that not only capture every hair for a controlled and even spread of heat but like its Dyson Supersonic™ counterpart, it also checks its temperature 100 times a second. 
-
Adding the Dyson Corrale™ to your vanity table, your handbag or your festive wishlist, might just be the best decision you make this Christmas. Precision styling, wherever you need it, with the added bonus of haircare in the most important sense of the word.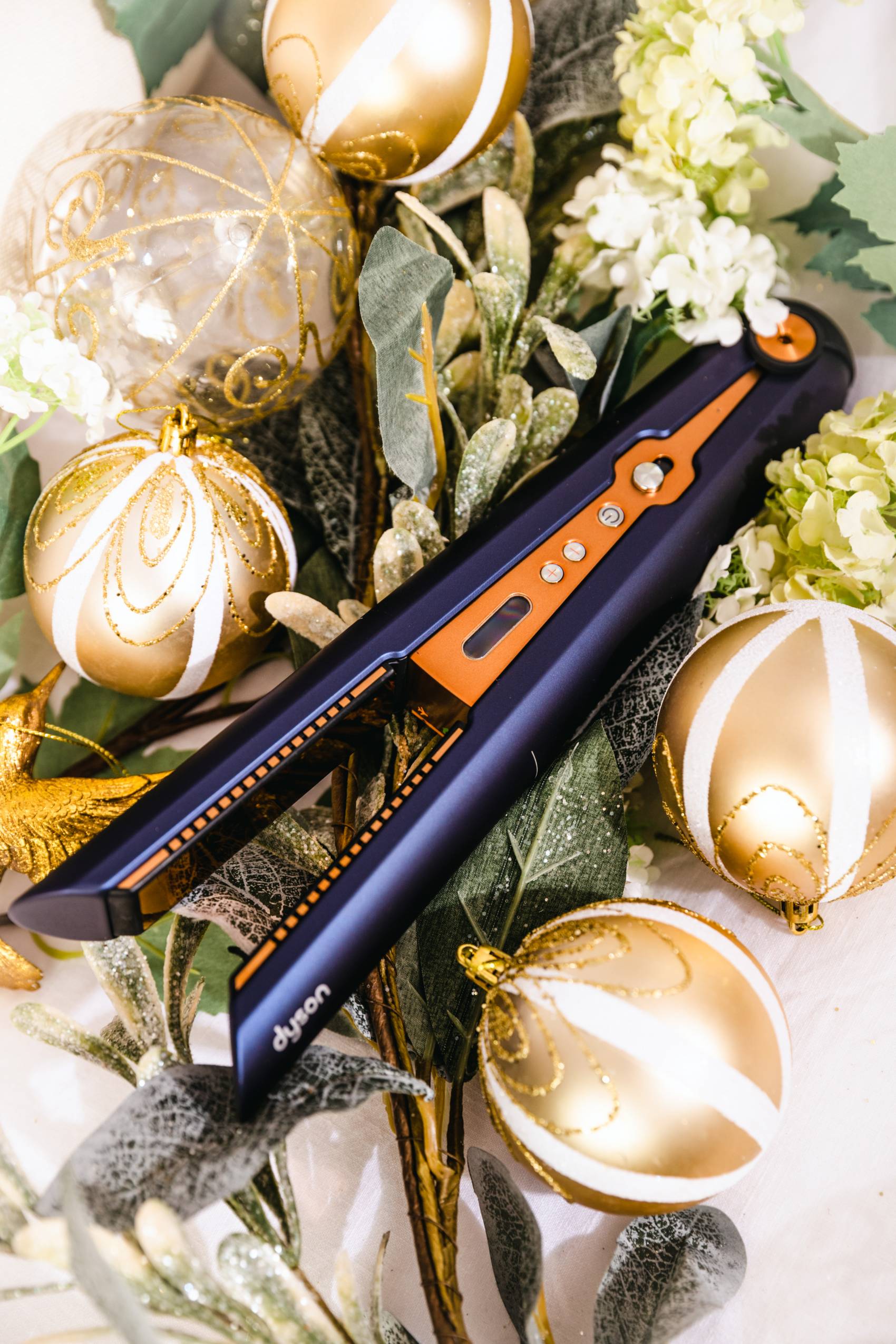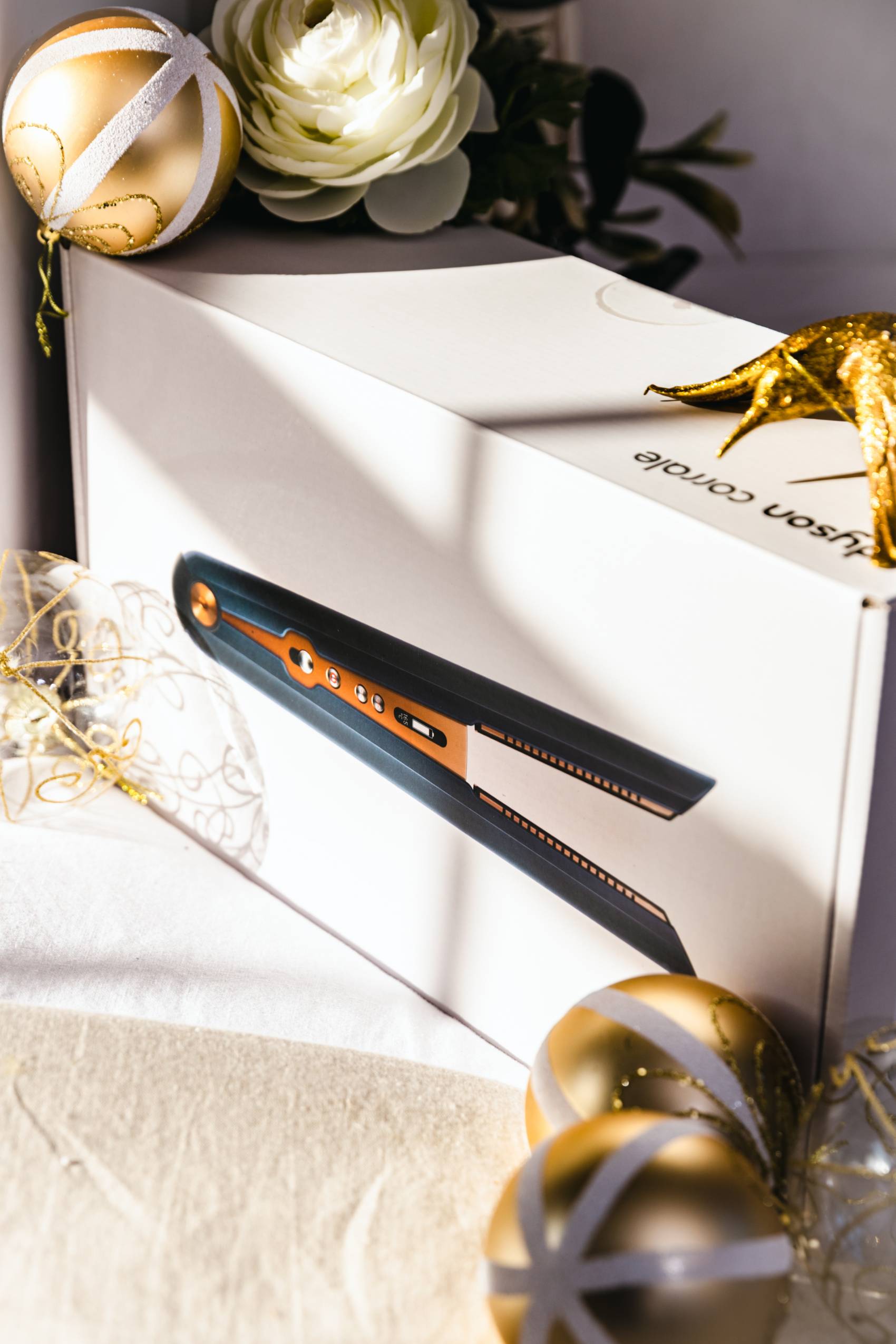 Dyson Airwrap™
-
Prussian Blue & Rich Copper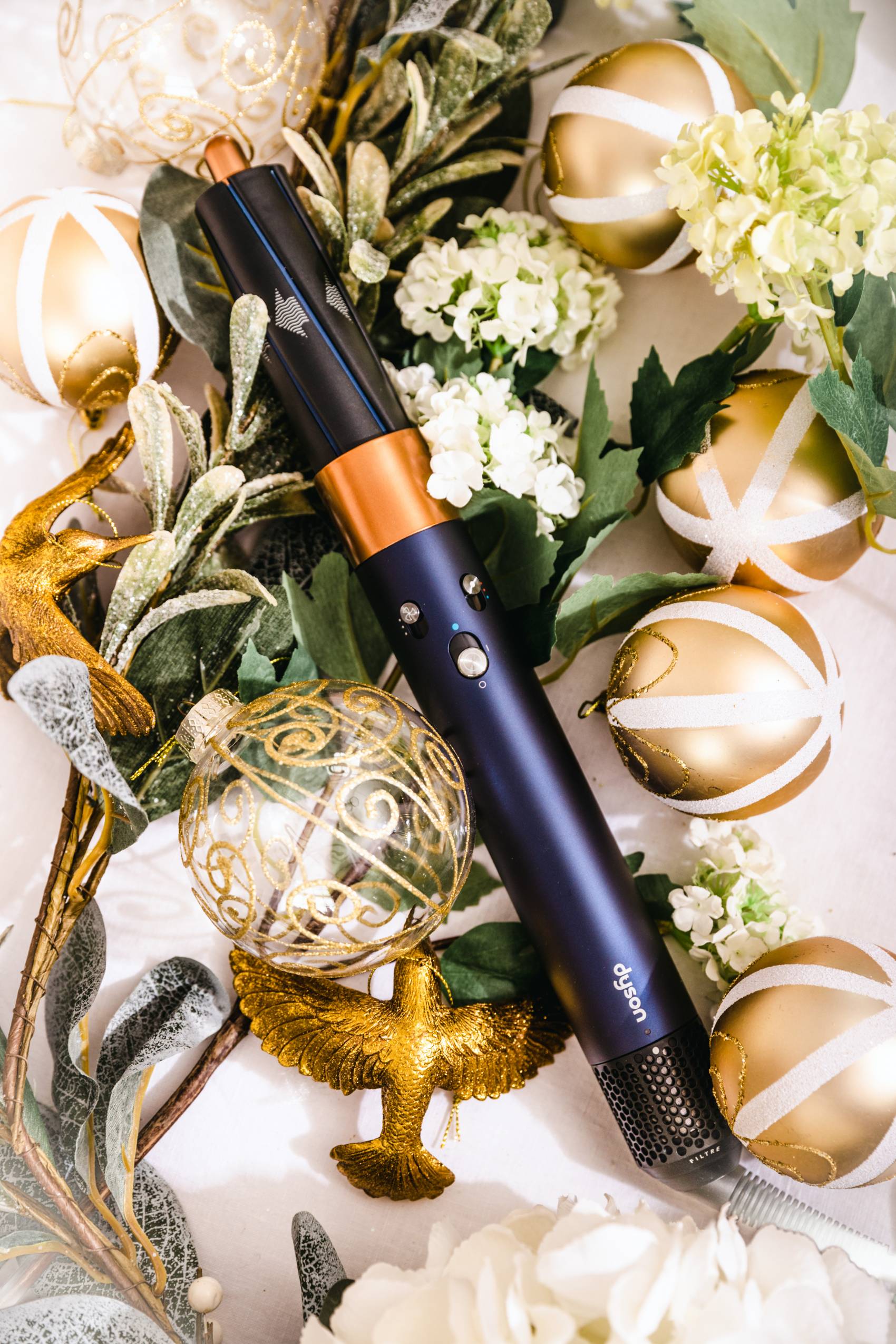 Then comes the styler that changed my routine so much, that I simply can't create my most adored looks without it. The Dyson Airwrap™ is the multifunctional hair styler that dries, styles, waves, curls, smooths, sets and so much more with its array of styling heads. Another member of the Dyson hair family that quite literally, blows all others out of the water or... your hair? 
- 
By now we all know that using too much heat is not the best thing you can do whilst styling your hair but until the Dyson Airwrap™ was released, it wasn't possible to create the blow out styles that we all lust after, post hair appointment. The Dyson Airwrap™ brought those perfected styles home with us while also promoting hair health. So whether you crave loose waves, a bouncy blow out or simply lots of added volume in your chosen look, the Dyson Airwrap™ delivers in a big way. It's built around a one of a kind digital motor, harnessing a phenomenon known as the Coanda effect by aiming jets of air aerodynamically across the surface of the styler, to gently capture, style and set hair even without heat. 
-
Perhaps the most lusted after of Dyson hair product, I know from chatting with so many of you already this year that the Dyson Airwrap™ will be under so many of your trees this Christmas. But maybe it'll be an extra special gift for you or a loved one this year, in the limited edition Prussian Blue & Rich Copper colourway.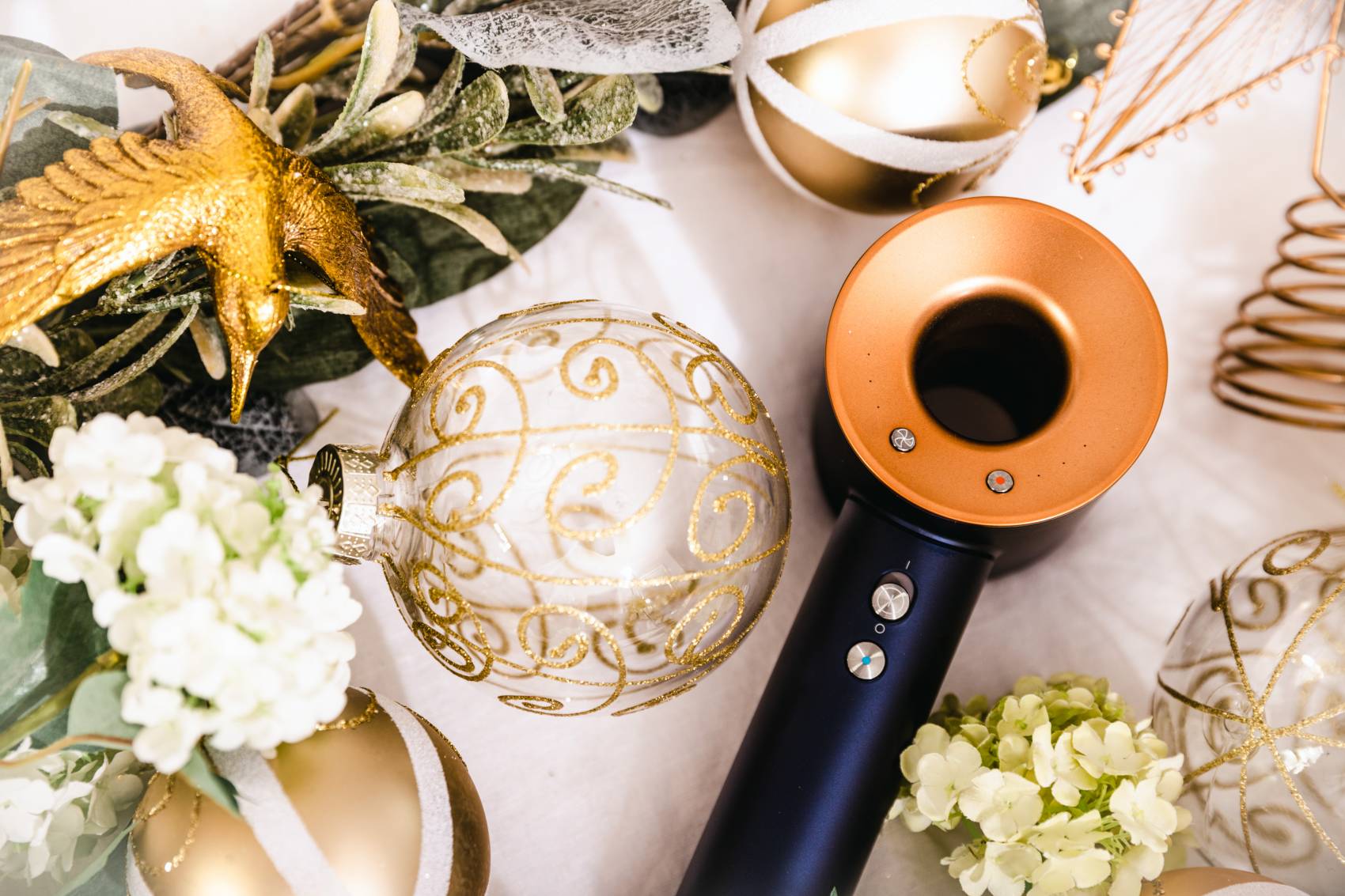 Prussian Blue & Rich Copper
So why limited edition Prussian Blue & Rich Copper the festive season? Back when Dyson engineers were developing and working on the Dyson Electronic Vehicle Project, colour became something that the team felt would really exude luxury and depth in the interior of their technology. James Dyson felt that the combination of Prussian Blue & Rich copper was not only timeless but also elegant. The Prussian Blue feeling somewhat neutral as a deep base colour and the Rich Copper offering highlights on their innovations, such as the flexible plates on the Dyson Corrale and the cylindrical stem of the Dyson Supersonic. Each gift set purchased from the below links will include a selection of accessories including matching presentation cases and a Dyson-designed brush and comb where available. 
-
Who will you be treating to this limited edition release this Christmas?
I know who's at the top of my gifting list!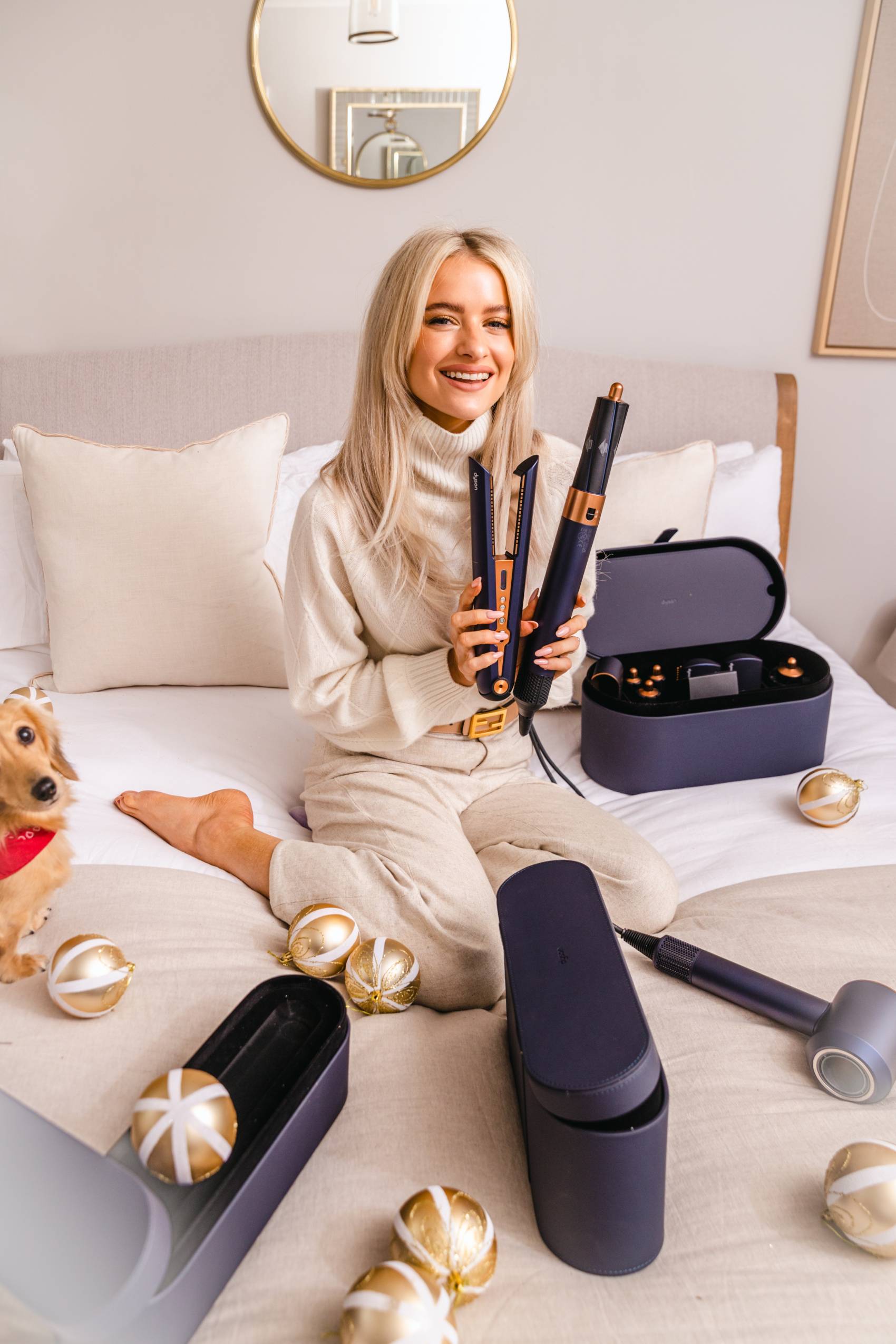 Sign up here for a weekly catch up of everything Inthefrow