13.09.2021
What I Wore
in Venice
It's that strange time of year where we don't know if it's time to get the Autumn jackets out and pack away the strappy sandals or whether we might get a few more wears out of our favourite Summer dresses and some more sunshine might be just around the corner. 
For me, I always feel like I jynx it whenever I swap any seasonal clothes in or out but for the first time in the longest time, I actually got to think about some vacation styling. 
That's right I was lucky enough to zip over to Venice for a few days with the incredible Armani beauty team (the vlog's below if you'd like to catch up and see how much pasta we ate - spoiler alert it's a lot haha!) and that meant some late Summer shopping and fittings. 
So here they are, the best new pieces in my wardrobe and a celebration of our first travel in over a year all rolled into one. Enjoy! 
This blog post & shop widgets use affiliate links. 
Affiliate text links are marked (ad). 
Some of the pieces featured in these images were PR loans.
See below for more details and detailed posts of all looks coming soon. 
Read the disclaimer about affiliate links & PR products/gifting here. 
The Red Carpet Showstopper 
Firstly I couldn't not talk about the need for a couple of red carpet appropriate looks for the occasion. The Venice Film Festival has always been one of the highlights of my year and one of the most exciting things about the occasion is finding and securing some occasion wear. I've been lucky enough to wear some beautiful designers and looks in previous seasons but this year I had two that really made me feel like a million dollars. This Lanvin gown (a special PR loan courtesy of Net-A-Porter) made me want to twirl around our hotel grounds and never ever stop. The asymmetric hem provided by the layering of the sumptuous navy crepe material, felt like the perfect showstopper especially when it came to the movement the dress had. I teamed it with my newest Rene Caovilla (ad) heels for a little added sparkle that felt like the perfect match with the front mini hem. 
The Versatile Floral Dress
In amongst the excitement of searching for the perfect red carpet gowns, I realised after not travelling for such a long time that I'd forgotten how to be a savvy packer! Cue a little haul from Net-A-Porter in search of some pieces that I could wear in Venice for dinners out but also come home and style them if the weather gives me sunshine or cooler days. This reformation dress was one of the first things I added to my cart and honestly it was love at first sight. The subtle floral print that makes is appropriate across seasons, the fitted bustier that allows you to layer easily without feeling bulky and the lightweight skirt with leg thigh split that feels extra special. I kept things really simple in Venice and teamed this with some of my most worn sandals and some pieces from my Edge of Ember Paradise collection (ad) but I honestly can't wait to try it out with a gorgeous chunky knit and some of my favourite Autumn boots - heaven! 
The Transitional Mini Skirt
You may have spotted this incredible Gucci skirt in my vlogs recently and I have to say I am so so glad I managed to snap it up on a recent trip to Bicester Village. We all know that outlet shopping can be hit and miss but I feel like I had some incredible luck with me and this skirt was one of the best things I picked up. My first thought on spying this geometric style piece, was how transitional the iconically Gucci horse bit print could be with the right styling. A classic bodysuit made it daytime appropriate in Venice but the right knitwear could be almost festive with deeper coloured accessories. My Chanel mules made this look feel really put together but I already know how much I'm going to love it paired with my over knee suede boots when it gets colder. And when it comes to accessories, a vampy pair of sunglasses made this feel perfect for the canals but I know that a shearling style bag would be a beautiful pairing for Autumn and Winter. You can watch the full Bicester Village shopping trip where I find this piece here.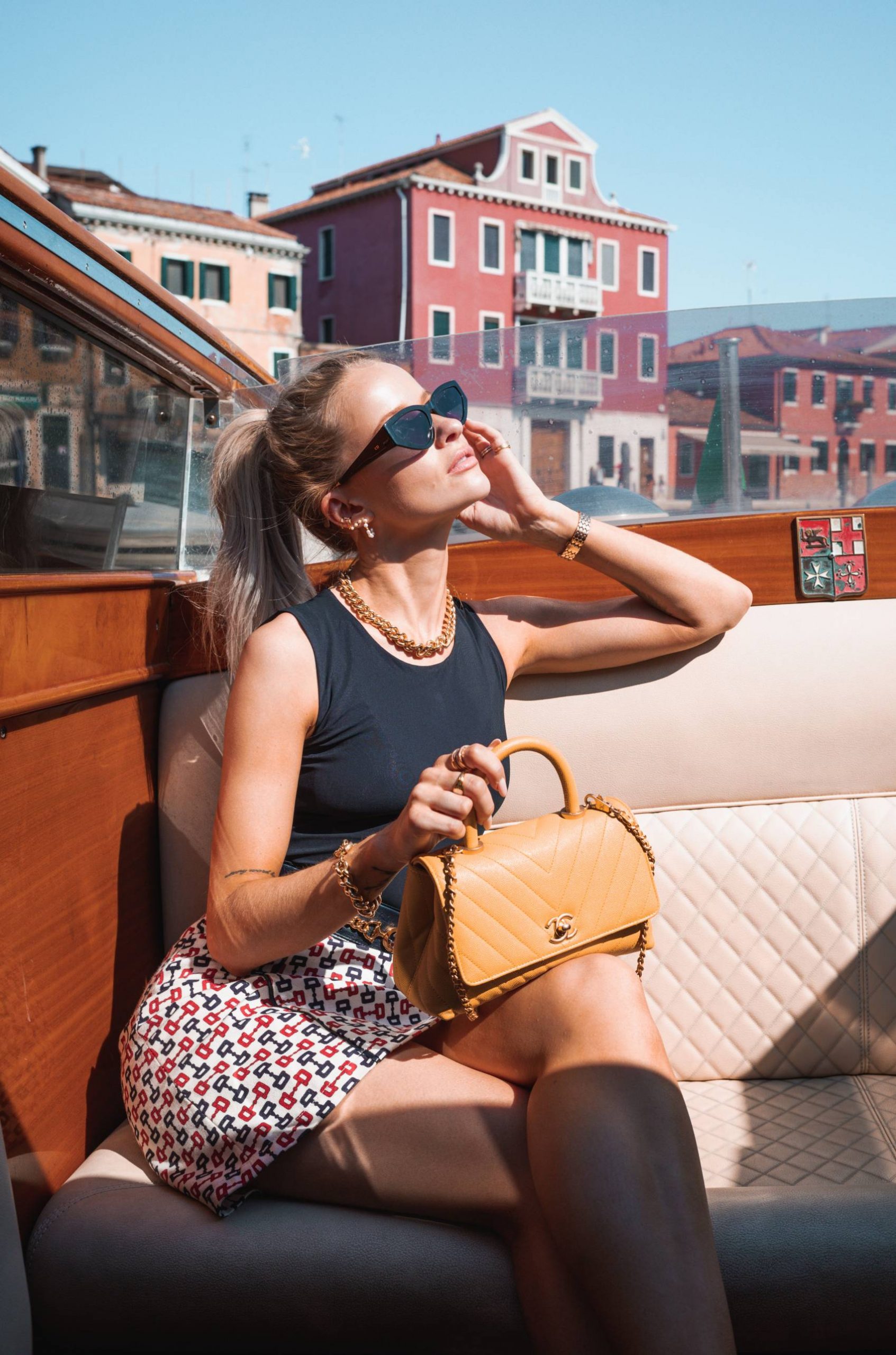 The Perfect Dinner Dress
Being a guest of the wonderful Armani Beauty team for this trip to Venice, meant I knew the fashion choices for such a special occasion would be truly beautiful and I was not disappointed. I was lucky enough to be allowed to pick a couple of beautiful looks to style for dinners and days out, making the first travel experience back after such a long hiatus pinch me moment after pinch me moment! I chose this gorgeously floaty Emporio Armani dress as I felt the subtle blue/grey colourway would be a beautiful way to allow a bold red lip to shine. The little peak of skin and side boob felt a little risque but the floaty styling meant the look lent feminine as opposed to too overtly sexy. A high pony accentuated the unique shoulder detailing and of course Armani Beauty Lip Power in 405 (ad) to finish. Et voila! Huge thank you to Emporio Armani for this perfect PR loan.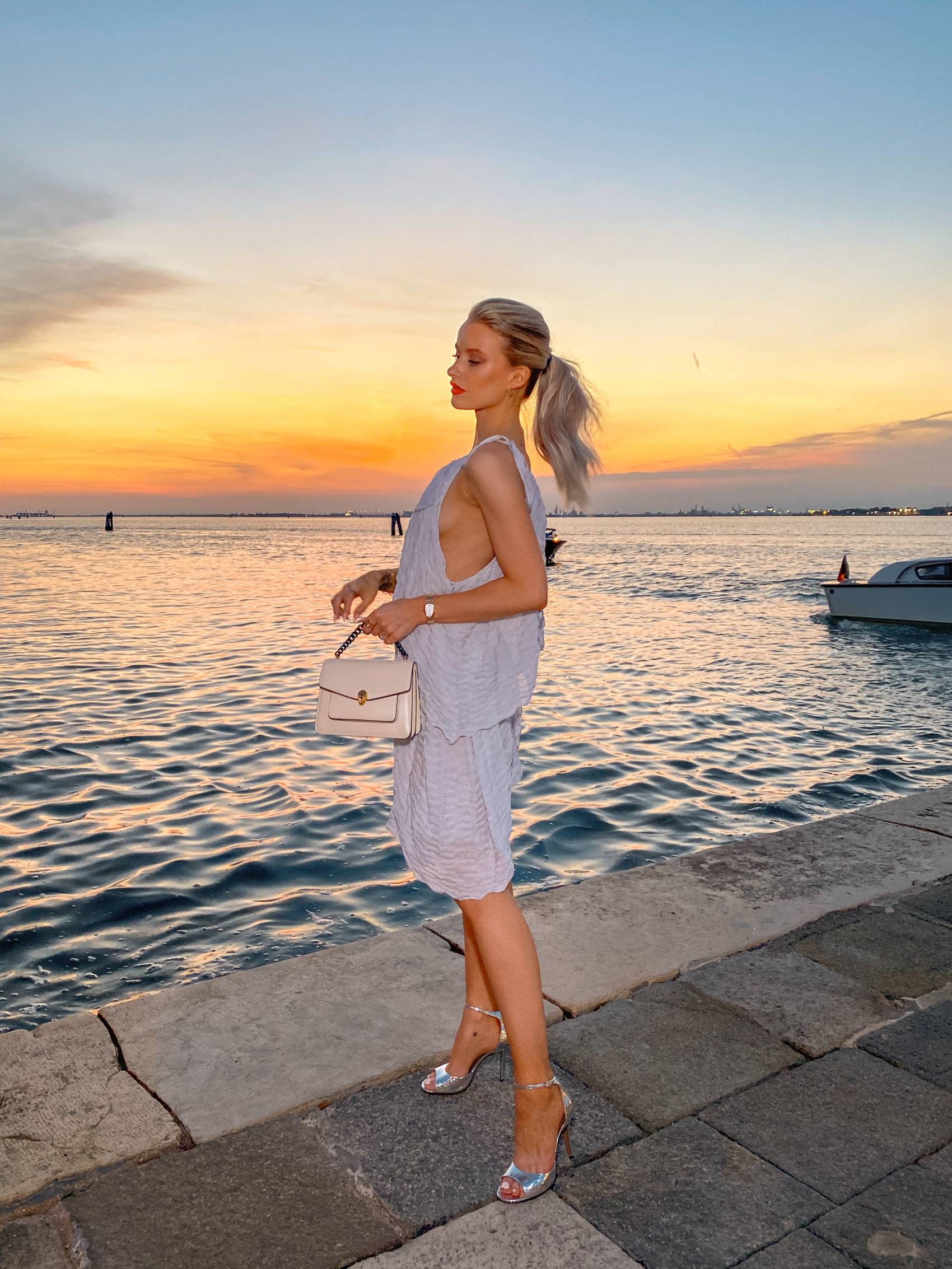 The New Favourite Piece
If you know me well, you know I couldn't add a few new pieces to my wardrobe without considering some new season Zimmermann and the newest pieces from the brand over on Net-A-Porter when I was browsing, had me at hello. I will happily wear and style Zimmermann all year round and the brands broderie anglaise pieces tend to be some of my favourite styles from them. I chose this stunning midi dress complete with on trend cut out as well as intricate eyelets throughout and even a puff sleeve too - a beautiful and heavenly trip one might say haha Sometimes in life you add a new piece to your closet and the second you try it on you know it's going to be a new favourite. I've worn this dress simply styled with tan accessories in Venice, for a dinner date with Alex complete with oversized linen blazer and even styled it for an upcoming campaign shoot barefoot in a field. Now that is versatility for me! 
The Pinch Me Gown 
And of course I just couldn't let this celebration of the Venice Film Festival end with anything but the look you guys seemed to love the most too! I always want to feel my best on the red carpet because the nerves are already high enough without not feeling like a princess too. It took me a while to choose the right look but almost immediately when I set my eyes on this incredible Giorgio Armani gown, my eyes sparkled as much as the embellishment did haha What really pulled me towards this zip through look was that it felt very me! Something a little different, a little edgy and almost leaning towards an alternative to a princess gown. I let the light hitting the gown do all the talking with those sparkles and left my accessories dark, muted and classic. The result? Something that made me feel absolutely wonderful and a piece I was so so sad to say goodbye to! Thank you so much to Giorgio Armani for this wow PR loan for the occasion.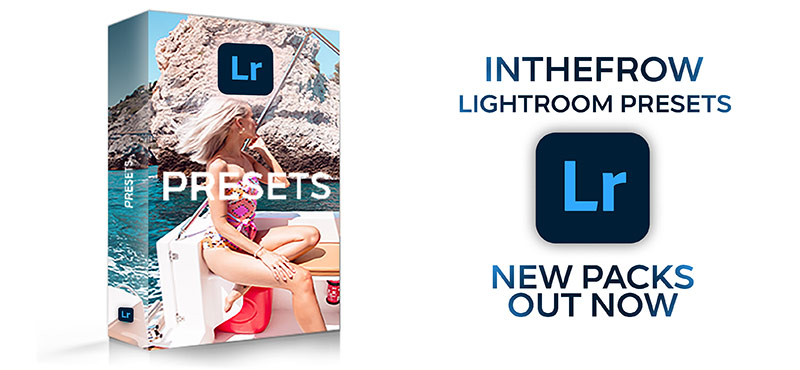 Sign up here for a weekly catch up of everything Inthefrow