22.05.2020
The Ultimate
Morning Routine
This blog post is a paid for advertorial in collaboration with Kiehl's (ad). 
This blog post contains only affiliate links.
Working from home has taken on a whole new meaning in the last few weeks and so has my definition of productivity. Productive for me has always meant hitting my own deadlines, ticking off my to do list and aiming to finish work with a little time free for myself in the evenings. The stereotypical self employed battle of the work life balance and the search for routine amongst the anti 9 to 5.
The stress of the last few weeks while still trying to achieve my version of productive though, has taken it's toll more than I ever anticipated it could. From struggling to get a good nights sleep because of worrying about my next steps at work, to searching for an antidote for my suddenly dry skin while being too tired to dive into some real self care - the effects have been a new and uncharted territory for me. 
The key to it all? Curating my ultimate productive morning routine with the encouragement of Kiehl's. Identifying my stressors, finding my ideal morning routine, indulging in their new Vital Skin-Strengthening Super Serum (ad) and repeating until productive looks a little more like it used to. 
7am
My Wakeup Call
I love, love, love my bed. It's without hesitation my favourite thing in our home and as someone who spends a lot of time travelling, being in my own bed for more than a couple of nights in a row, has been pure bliss. That was until I realised that I was perhaps spending too much time in my bed of dreams and productivity was quickly plummeting. Suddenly our cosy bed has become a place to have my morning coffee, to start replying to emails and to even answer calls, all before the curtains are even open. A slippery slope from bed to office and throwing any sense of routine I've been craving out the window. The fix has been a strict 7am wakeup call and perhaps the best tip I can give to you - not picking up my phone. It's been one of the hardest things to overcome in setting myself a new productive routine, but giving myself time to wake up and transition into my day at my own pace, not dictated by my phone, has been eye opening. The realisation that being glued to my phone 24/7 doesn't equal being productive has been a learning curve and starting my mornings without the immediate stress of a 100+ notifications has left my mornings feeling far lighter and stress free. Now it's time for skincare!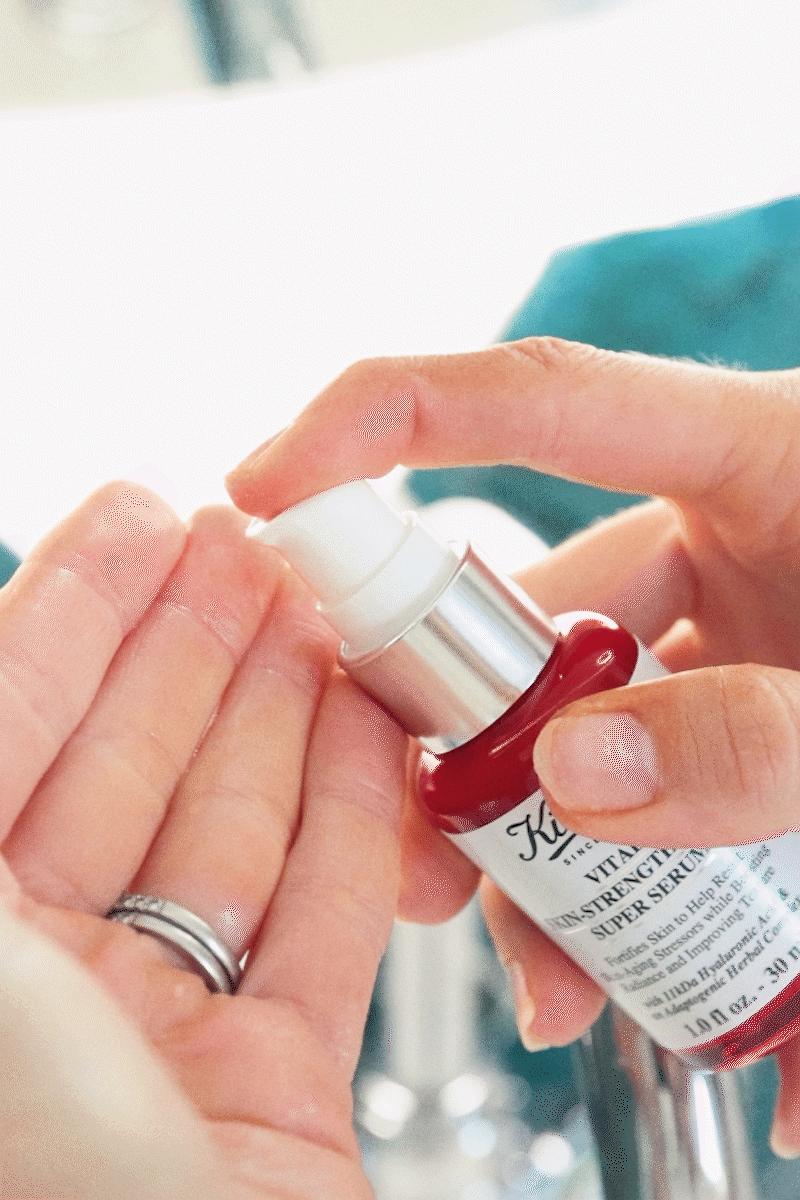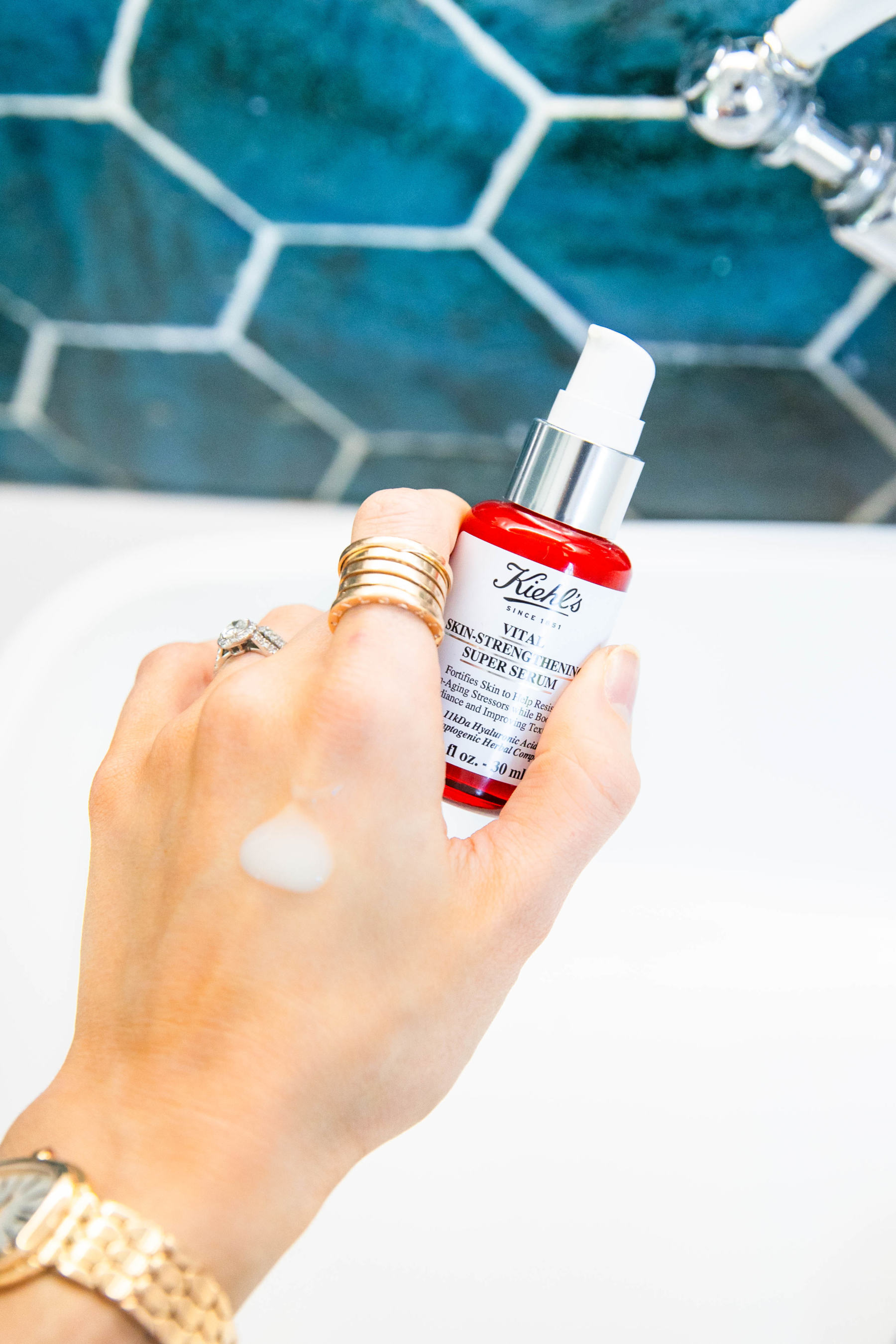 7:15am
Making Time for Skincare
It's no secret that skincare is an essential and non negotiable part of my day but I also know that in comparison to my evening skincare routine, my rushed mornings often equal rushed skincare. Ensuring I hop out of bed a little after 7am has given me the space in my morning to indulge my love of skincare and wake my skin up ready for the day ahead. Implementing the time to cleanse, hydrate, tone and strengthen my skin has been the perfect distraction from my phone and the ideal way to combat the stresses the last few weeks have brought. With a completely disrupted sleep pattern as well as unpredictable work stressors taking their toll, my skin has felt dryer than it ever has before, as well as lacking life. My usually bright skin has felt dull and taking just 10-15 minutes to focus on bringing it back to life, has shown me how important combating everyday impacts are.
Kiehl's newest skincare innovation is the Vital Skin-Stengthening Super Serum (ad) and my skin simply adores the ultra lightweight feel. I always have trust that the brand creates products with the science to back them up and the ingredients in the new Super Serum work together to strengthen the skin's barrier. We all know that our skin reacts to everything life throws it's way such as pollution, sunlight, sleep deprivation, high stress levels etc but the Super Serum's key ingredients work to combat and strengthen the skin's layers, helping to protect against daily stressors.
And with a little more time spent on my skincare I've also had the chance to finally implement a toner into my routine that my skin is loving too. I was lucky enough to get my hands on the glorious new Daily Renewing Milk-Peel Toner and the team have been kind enough to include a deluxe sample with orders using my unique code below, before it's even on sale yet! It's been created for all skin types and removes dead skin cells gently enough that you can add it into your daily cleansing routine both morning and night, before adding a serum/moisturiser. The combination of Lipo-Hydroxy Acid (to break down dead skin cells), Almond Milk and 23% Emollients (to clean pores and replenish skin) is the perfect skin pick me up. 
Vital Skin-Strengthening Super Serum
The new Kiehl's Super Serum (ad) acts to negate the everyday stressors our skin deals with. In promoting and strengthening the skin's barrier, the Super Serum works to build a healthy, youthful complexion that addresses the unavoidable signs of aging we are all susceptible to. Kiehl's team of chemists have developed a formula that includes 11kDa Hyaluronic Acid, a smaller more compact version of the conventional hyaluronic acid we know scientifically works to fortify skin. With it's smaller molecules, Kiehl's 11kDa Hyaluronic Acid has the ability to target the external layers of the skin that are naturally more vulnerable to external aggressors, leaving it feeling more supple and actively hydrated. Combined with an Adaptogenic Herbal Complex the Super Serum also revitalizes the look of skin (Holy Basil), promotes the renewal of surface skin cells (Red Ginseng Root) and helps to reinforce skin elasticity (Schisandra Berry). In clinical tests studies proved that it took just 4 weeks for skin to be 29% more radiant, 38% more resilient and for the appearance of fine lines to be decreased by 27%. Firmer, stronger skin that helps me to combat the stressors I've been facing recently, is most definitely part of my ideal morning routine.
7:30am
Squeeze in Some Exercise 
If there's one part of my daily routine that I spend my morning convincing myself I don't really need to do it's exercise, but guess what? I never, ever regret it. After waking up my skin, squeezing in some exercise helps to wake my body up too. My previous routine had no time for exercise and jumping straight into work emails only minutes after waking up, left me feeling drained before my day had even really begun. When it comes to exercise, especially when trying to incorporate it into my new morning routine, it's often felt daunting. The best tip I can give you if you feel the same way, it to move however you want to. Exercising doesn't have to mean running a marathon before breakfast or straining to hit a PB before you've got your first coffee in front of you, it can simply mean just moving. So whether that involves a gentle jog, a quiet stroll around the block or a great stretching session, any form of exercise boosts serotonin levels and is such an integral part of my productive morning routine.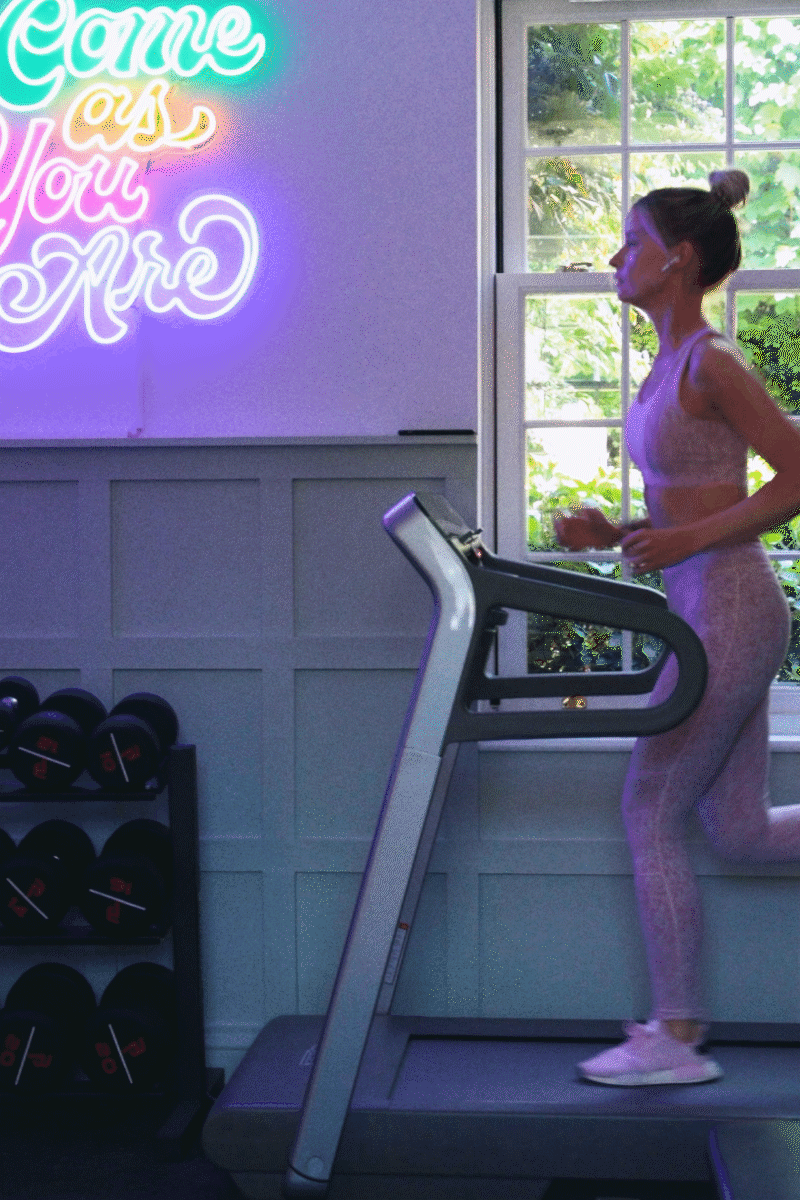 8:30am
Always Time for Coffee
My morning coffee isn't just a yummy boost of caffeine, it's a ritual that Alex and I have had for years now. In fact it's so engrained in our usual routine that it even made an appearance in our wedding vows to each other. Just because some of my old morning routine wasn't working for me, it didn't mean I had to ditch it all and there's no way on earth I'd let our coffee routine go. Alex has very kindly adapted to help things run more smoothly so instead of my usual coffee in bed, it's coffee at the kitchen island together while we chat over the days deadlines, to do lists and timings. Quite often my phone has made an appearance by this point and my stress levels lately have been starting to creep up when it does, so a moment in my new routine to plan the day over a lovingly made oat milk latte, is the perfect antidote.
8:45am
Time For Work
I've found there's something about the ritual of sitting down for work, that has made my new morning routine so beneficial. Not only do I feel energised and eager to open my laptop, my first hour or so of the working day feels like a true power hour. I've found myself getting more of my to do list ticked off in the first part of my day, than I ever did answering emails from my bed and I think Alex would agree my moods have been so much brighter. I've felt like I could tackle anything life throws at me, like I'm becoming a stronger more determined version of myself and thankful for the opportunity to re-write this time of my life. Working from home might look very different than how it used to but that doesn't mean you don't have the strength to curate the perfect morning routine that leads to the newest version of productive.
I'd love to know below if you've been altering your routine because of feeling stressed and if you've been doing anything to counteract the effects it's having on you and your skin? I know so many of you have messaged telling me your skin has been suffering so hopefully a few tips can help you back into a productive routine starting with your skincare.
This blog post is sponsored & affiliate text links are marked (ad).
Read the disclaimer about affiliate links & PR gifting here.
I also have an exclusive Kiehl's code for an extra special gift with purchase!
Code: INTHEFROW
You can use code INTHEFROW until May 31st 2020 (or until stocks last!) and when you spend £50 or more on Kiehls.co.uk (ad) you will receive a Deluxe Gift Set with purchase including the as yet unreleased Milk Peel Toner!
Vital Skin-Strengthening Super Serum 4ml
Ultra Facial Cream 7ml
Ultra Daily Aqua Gel 5ml
Midnight Recovery Concentrate 4ml
Milk Peel Toner 40ml 
Sign up here for a weekly catch up of everything Inthefrow