01.08.2018
Lancôme X Proenza Schouler:
Which Products to Buy?
Every year, one of my most loved, classic beauty brands, Lancôme, choose to collaborate with a fashion house to create the beauty collaboration of the Summer. This year is no exception and the collaboration is an embodiment of the Proenza brand, in makeup form. Enter the Lancôme X Proenza Schouler limited edition Fall collection.
" A meeting of minds
An act of innovation
A freedom to explore
A celebration of craftsmanship."
So here they are, my favourite products from the Lancôme X Proenza Schouler collaboration, available now!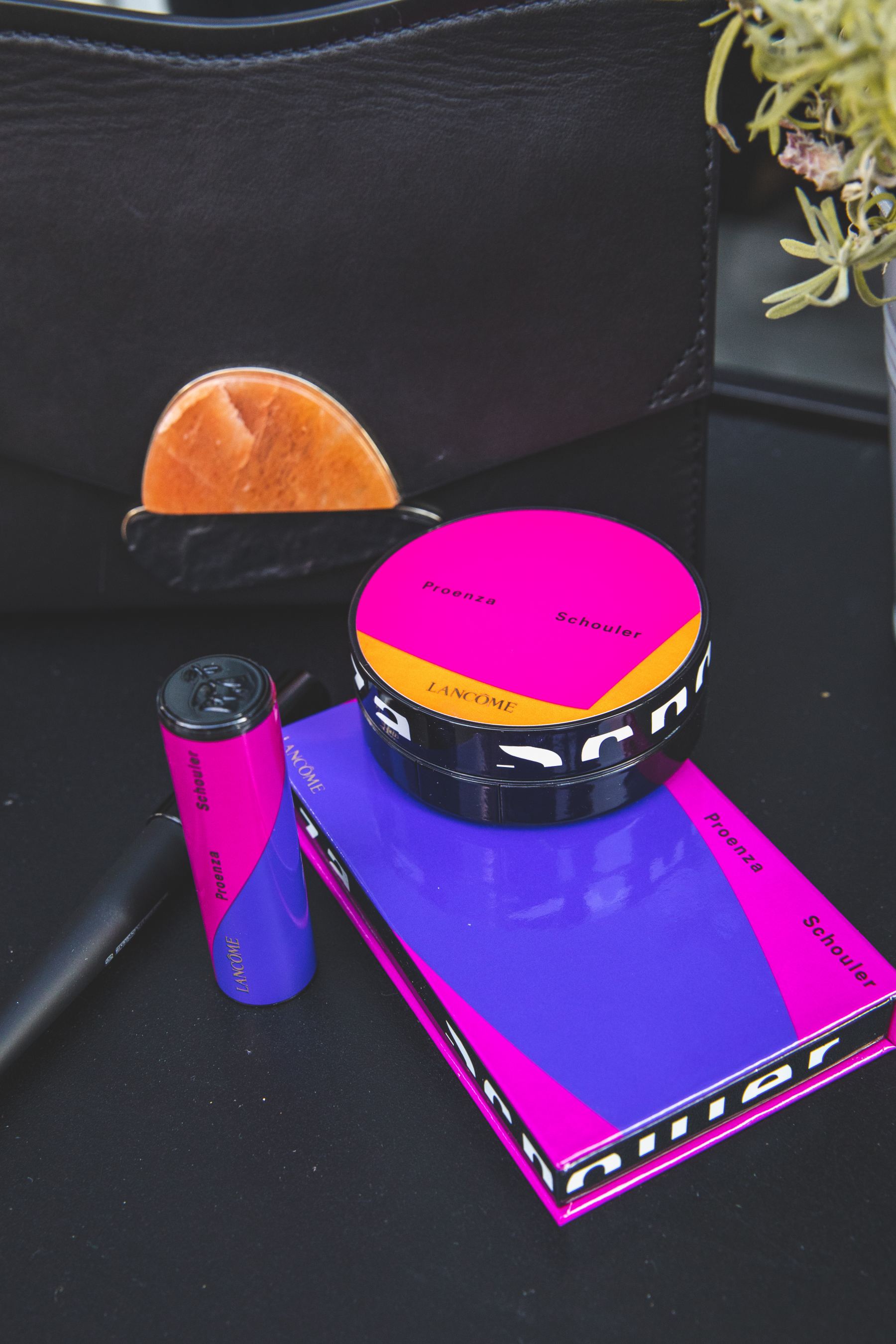 The stand out packaging design is really what makes this collaboration so Proenza influenced. The team have reimagined the classic Lancôme rose, most commonly presented with chic, soft petals in their soft blush colour palette and have jumped outside the box with a far more abstract take. The icon has been born again by Proenza, with statement lines, bright fuschia, orange and blue, and wrapped around the products packaging in off centre variations - beauty meets fresh fashion design, the summation of the collab.
The collection is the perfect merging of the brands and the result is a collaboration of  the highest Lancôme quality, with edgier shade choices that so clearly come from Proenza's design background. And these are my favourites from the line.
The eyeshadow palettes both present a bold take on Fall colours with deep statement blues, classic transition browns, then teamed with hints of blush that is oh so Lancome. The results are two palettes, both warm and cold dependent on your skin tone and/or lusted after eye look, that blend evenly, can be used with a damp brush to create an even bolder look and can create that coveted, classic smokey eye. 
The Chroma cushion highlighter is the most beautiful subtle glow that really gives a dewy finish to the high points of the face and if like me you love to pack on the highlighter, then layer this with a powder product to really amp up the look. Definitely don't be afraid to use cushion products if you haven't before, they can really create a statement look and are perfect for on the go touch ups too.
The all time favourite Monsieur Big mascara has been reimagined in a beautiful Burgundy shade for Fall, the ideal shade to dive into if you want to try coloured mascara but would like a more subtle nod to the trend, that could quite easily become a day to day choice. Similarly with the super versatile Eyeliner Kajals in black, grey, brown and petrol blue, you could find yourself reaching for these everyday. A multi use product that can be used smoked on the lash like a kohl, all over the lid as eyeshadow, as a thick bold coloured eyeliner or a simple slick of easy colour.
And as for the lips, you're completely spoiled for choice with some of Lancome's favourite formulas brought into vibrant life for this collection. You can get your hands on the classic Matte Shaker for full coverage pigmented lips, double ended Lip Kajals to both line and fill your colour (I love the shade Pure Brown) and my favourite L'Absolu Rouge Chroma lipstick for a long wearing cream finish that's perfect for everyday wear. No prizes for guessing which shade is currently in my handbag - hello pure Nude!
Let me know if you're planning to get your hands on this limited edition collection and if so which pieces are you lusting over? I'd love to know if you're going to add this match made in heaven to your makeup bag or even if you're adding it to your wish list! 
WATCH ME USE THE COLLECTION HERE
Sign up here for a weekly catch up of everything Inthefrow