18.08.2023
The Best of
The Reformation Sale
Yes you read that correctly - the Reformation summer sale is now live! 
Just twice a year the sustainable online retailer reduces prices and towards the end of summer is the time to get your hands on that piece you've been umming and ahhing about. That dress you know will be perfect for a wedding guest look, that knitwear you know will take you through multiple seasons and that pair of denim you know goes with everything already waiting in your wardrobe. 
So hurry - there are some amazing reductions on the site but they won't last forever. 
*adds to cart* 
This blog post uses affiliate links & my looks feature press products gifted with no obligation to share. 
Click here to learn more.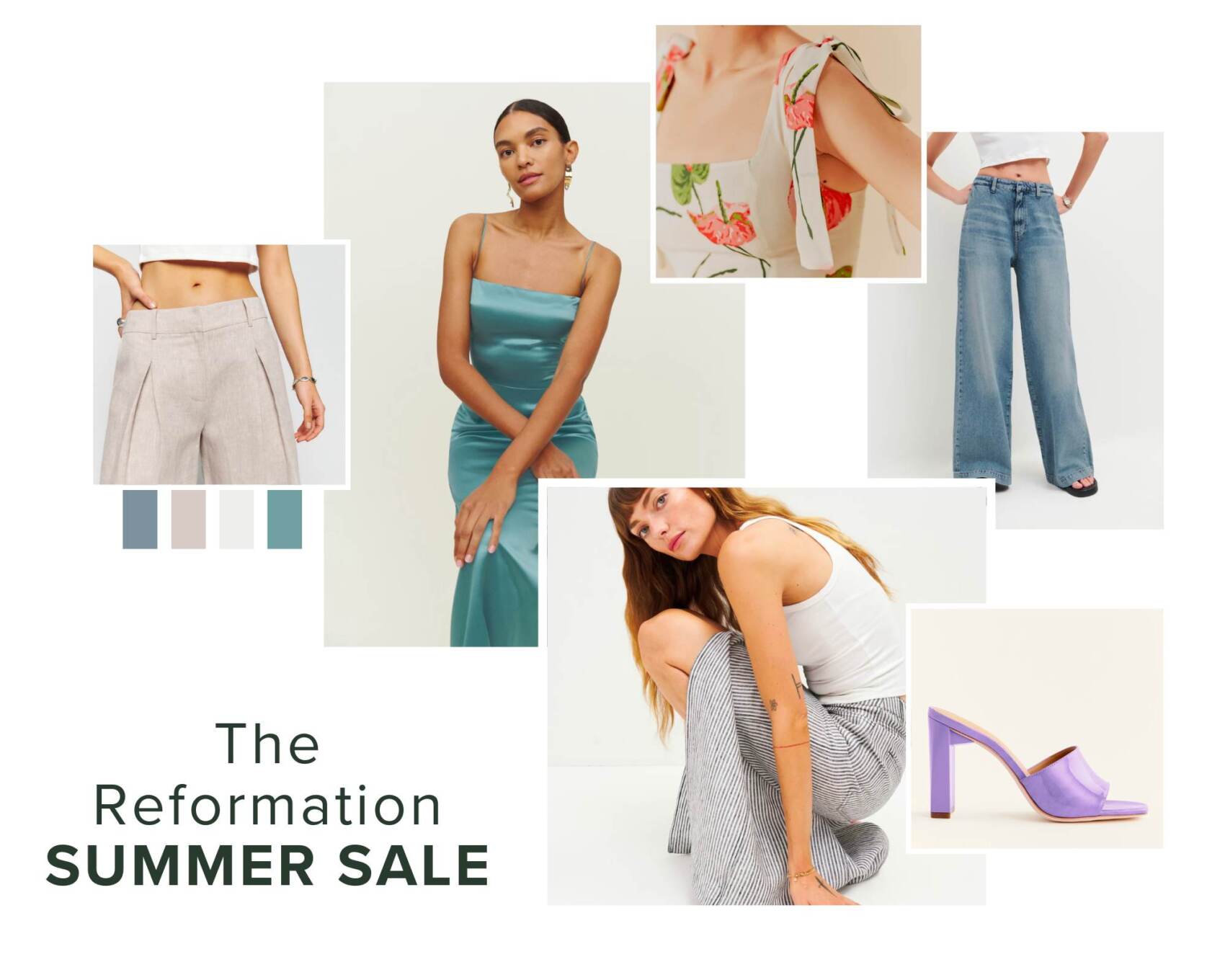 Imagery c/o TheReformation.com 
The Reformation are known for their stunning dresses and their summer sale has so many to choose from that you're spoilt for choice. This tie shoulder look would be the perfect vacation dress with a statement thigh split and a flattering form fitting body. 
A pair of linen trousers is always a must have in any wardrobe, from vacation looks to casual dinner dates, they're a versatile piece that work with so many pieces. This low rise relaxed option (also available in black) from the reformation feel equally dressy as they are casual, perfect for the in-between seasons. 
The midi and maxi skirt trend has taken the summer by storm and just because the temperature may be dropping doesn't mean the trend is too. This maxi skirt available in 4 colour ways would look just as stunning with a high neck, long sleeve body as it does with a tank. 
If you've never taken a look at the Reformation's accessories, including their amazing footwear choices, the sale might be the time to bite the bullet. Their chic choices including this patent, pastel sandal are versatile and easily worn with so many looks - all 7 colour ways. 
A late autumn or early winter wedding calls for something a little more elegant and if you're organised enough to plan ahead then the Reformation sale will offer so many options. This sustainable silk dress is flattering with a modern cut that offers a twist on the 90's cami slip dress in 11 colour ways. 
A jumpsuit always offers a simple yet put together look and this linen option from the Reformation in 2 colour ways is a casual way to wear the style. The cami style straps are elegant and the flood length trousers give the option of both a flat shoe or a stylish heel. 
The Reformation have a selection of denim that's not only on trend but offers a multitude of cuts that are flattering for so many. These wide leg, low rise jeans nod to the current trend of soft denim and are sustainably made with recycled and regenerative cotton. 
And if you think the Reformation focuses solely on pretty dresses, the sale is the time to explore more such as their staple pieces like this statement neckline top. Available in 2 colour ways this knit top is a core piece for so many wardrobes and will star centre stage into Fall. 
Sign up here for a weekly catch up of everything Inthefrow