13.06.2022
How To Choose A
Dior Fragrance
One of the most common questions about fragrance I hear is - how do you choose your wedding scent? It's become part and parcel of the big plans and almost as essential as choosing your bridal jewellery for some, to ensure that you've chosen a memorable fragrance to spritz. A scent that you'll cherish, that'll evoke memories of the day but that most importantly reflects you. 
Of course as unique as each and every wedding celebration is, so to is the choice of what scent to wear as you walk down the aisle. 
Perhaps the choice will be simple and you'll choose one that's already made its mark as a favourite in your collection? Maybe you'll feel the need to reminisce and select a limited edition release of a scent that already radiates from your love story? Or you may lean like Alex and I did, towards choosing a brand new perfume that ties itself solely to such an important moment in time. 
Whichever route you're thinking of taking in your search for the perfect fragrance, for a wedding or otherwise; Dior may hold the key to discovering a scent that's as memorable as the day itself, time and time again. 
-
For total clarity Dior Beauty is a previous commercial partner of mine but this blog post is not part of any commitments :)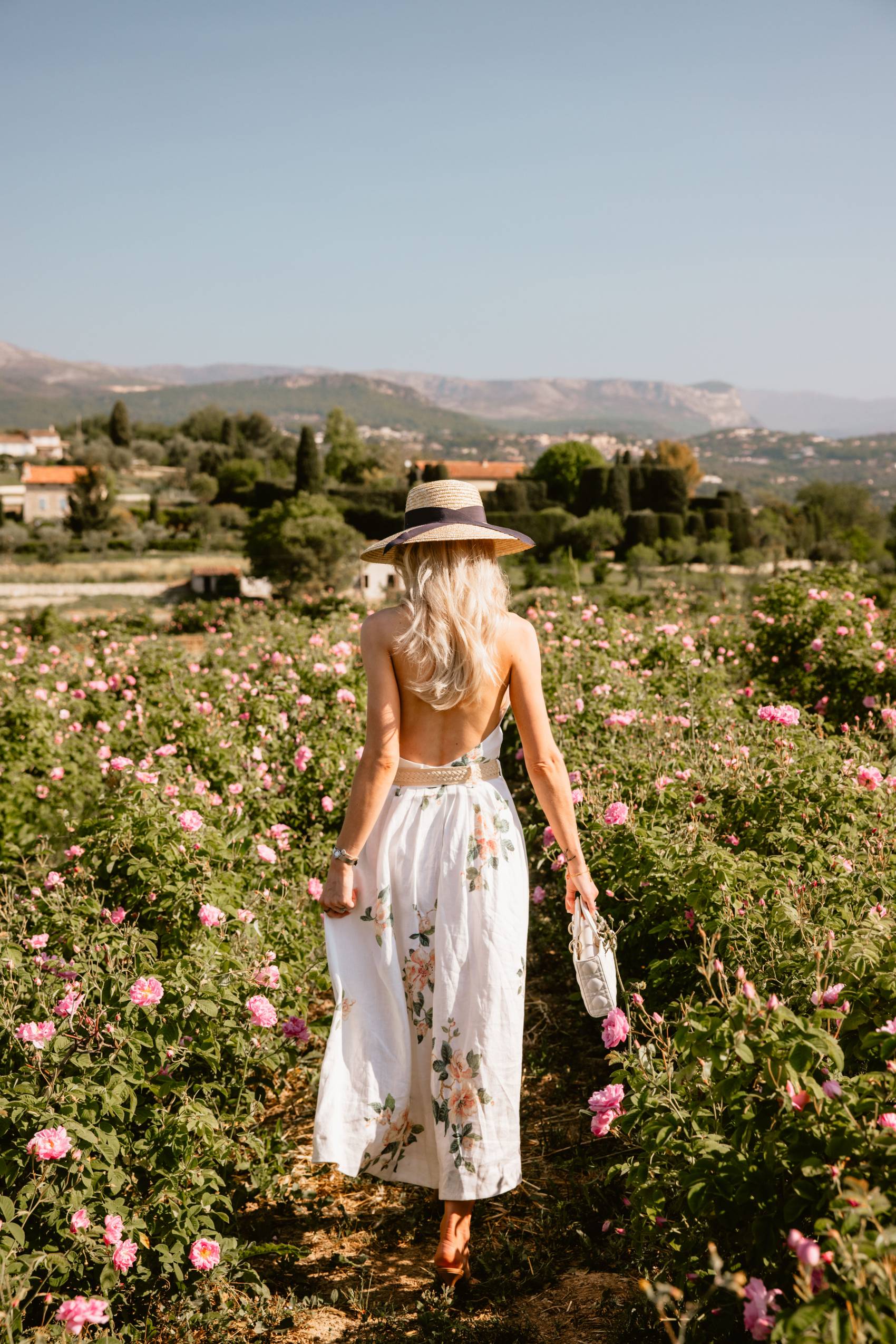 A New Twist on Floral 
-
Miss Dior Rose Essence 
-
The stunning rose fields you see in this blog post are the spectacular Dior rose fields located in Grasse, France. Nestled in the famous French Riviera, Grasse is traditionally known as being the home of the perfume industry. The Dior rose fields, blooming as far as the eye can see, are the main ingredient and inspiration for the new Miss Dior Rose Essence. A twist on the beloved floral fragrances we all love and know; a new iteration of those childhood memories creating rose water for loved ones. This isn't floral that highlights rose as a dominating high scent, it's floral that feels as fresh and natural as being in the rose fields again. Subtle warmth with musks and patchouli bring rose to a chic, new level. Floral but grown up.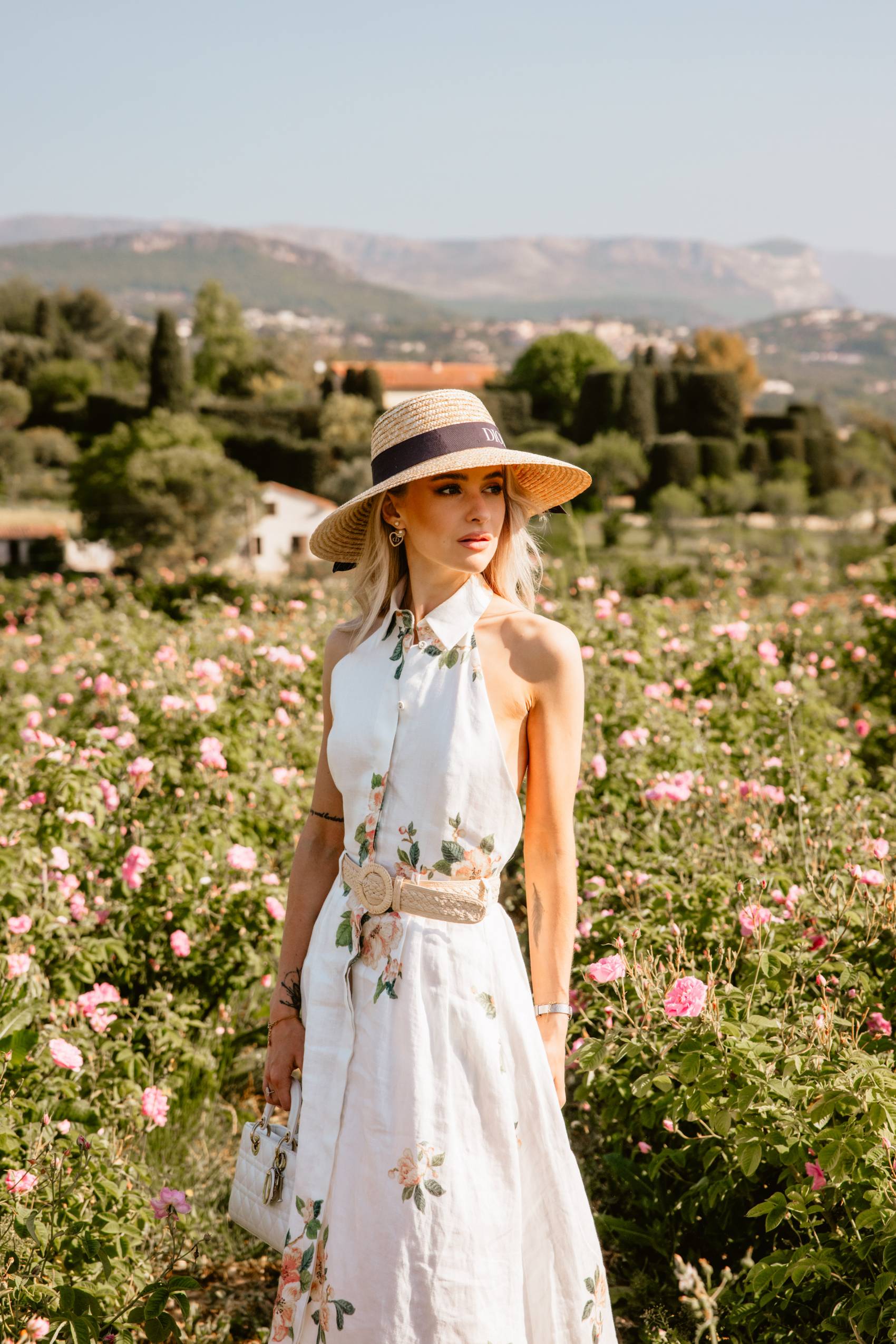 Soft, Warm & Spicy 
- 
Ambre Nuit
-
If a stereotypical floral fragrance isn't your style and you normally lean towards the more masculine of the sweet fragrances, then Ambre Nuit may be a scent that could easily become your new favourite. Part of the exclusive La Collection Privée Christian Dior, Ambre Nuit is a scent that with steal your heart with just one sprtiz. A hint of sweet rose that is warmly embraced by spicy amber and creates a unique scent that is unlike so many other amber perfumes. The combination of rose and amber together feels somewhat like a clash but they work harmoniously to create a warmth that feels a touch powerful but the lightness of rose brings that spice into a dimension not seen before. Deep but soft, warm but light, spicy but floral - truly contrasting descriptors for a scent as special as it sounds. Bonus? This is a truly long lasting scent you'll be able to note long into your day.
A SWEET FLORAL MIX
-
J'adore L'or 
-
The J'adore family of fragrances are iconic, there aren't many other ways to say it. A collection of scents that are a core part of what makes Dior such a true powerhouse and leader in perfume. J'adore as a classic Dior scent fills the air with sumptuous Ylang Ylang, Jasmine and Indian Jasmine. A floral scent that does away with the idea of what a floral fragrance should be. Fruity, sensual, warm - a recipe for a delicate yet empowering scent. J'adore L'or takes the lightness of the classic fragrance and delves further into the ingredients that take it from day to night; warm, soft vanilla feels the perfect partner to do so. Combined with tuberose the fragrance takes on a completely new life, no longer heavy with fruity floral top notes but deep with warm vanilla that leans as far as spicy amber. A scent that feels more than it's parts as it meets and melts on the skin. 
Sunshine Bottled
-
Eden-Roc
-
Some scents are truly hard to describe and those scents I tend to find are the most unique and the most special in any collection. It's easy to list the notes of a scent and search for the ingredients you know have been bottled, but we all experience scents differently and the most memorable scents evoke more than a note. Eden-Roc is one of those fragrances. A scent that's gorgeously bright and the epitome of fresh, but more than that Eden-Roc is the French Riviera. If you've been lucky enough to visit the region you know that memories of the area are surrounded with salty air, warm sunshine, tree branches. A scent that along with it's newness and freshness feels layered with vacation markers; the sea, the sun and the salt. So very unique because it perfectly captures a place and moment in time; truly special. 
Sweet Rose & Fresh Spice
-
Rose Gipsy 
-
And of course I couldn't share which Dior fragrances you might fall in love with without sharing the Dior fragrance I fell head over heels with and that became my wedding fragrance - Rose Gipsy. Another member of La Collection Privée Christian Dior and the scent that I wear every year on our wedding anniversary. The link between our big day in the South of France only feels strengthened when I experience Rose Gipsy in my dressing room. It instantly takes me back to those few moments before Alex and I saw each other, gathered with my bridesmaids, surrounded by loved ones and with the sun shining down on us. Don't let the name of Rose Gipsy deceive you though, Dior has once again taken rose petals in a non traditional direction. The scent feels like a true representation of not just the petal but the flower and even bouquet as a whole. The light floral scent is amplified by notes that almost give the impression of a freshly picked flower but then as the bright rose diffuses on the skin there's a true spice that comes through. The perfumer chooses the perfect descriptive with peppery, a word I couldn't have deduced myself but that feels apt for the warmth the scent leaves you with. Subtle but powerful all at the same time.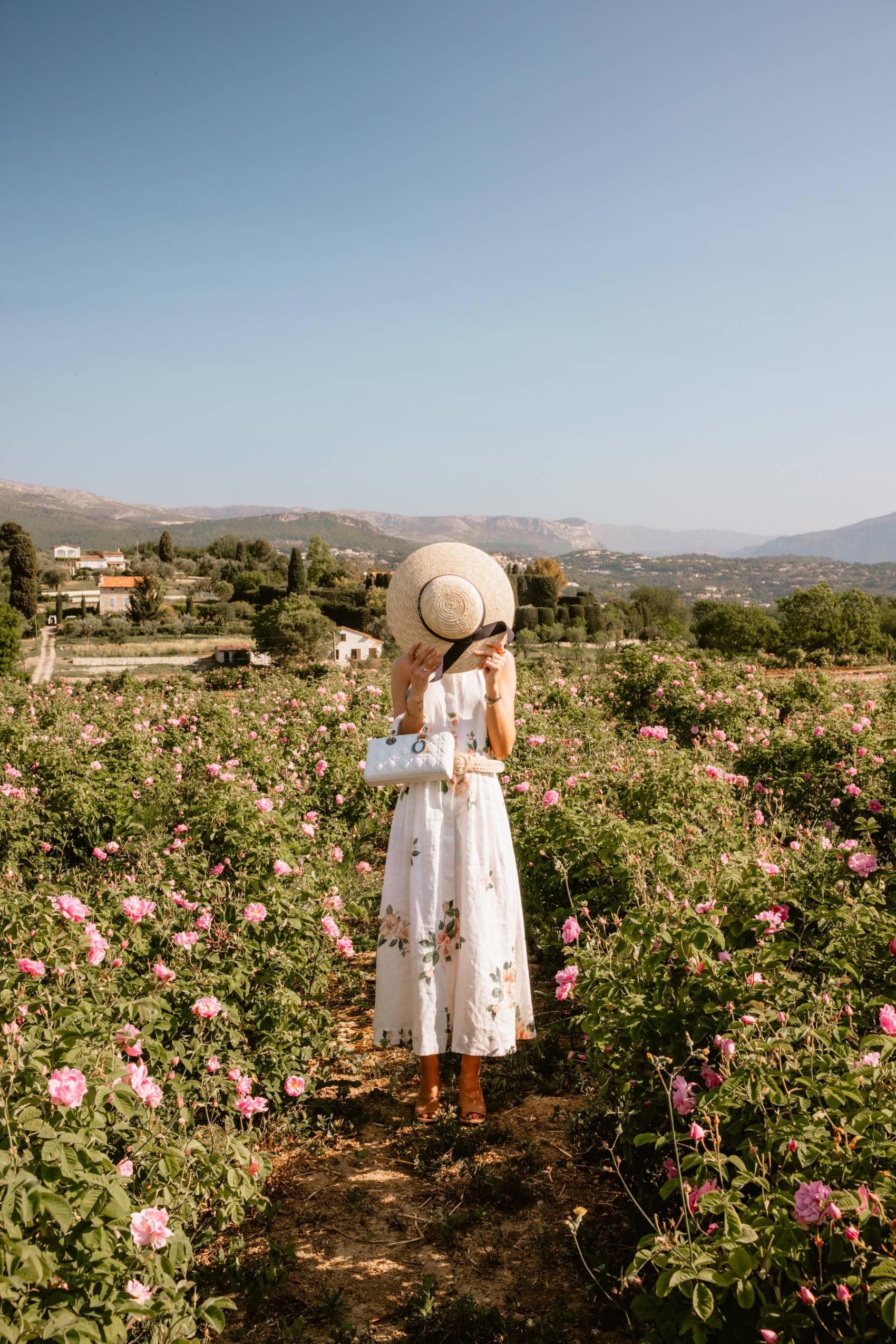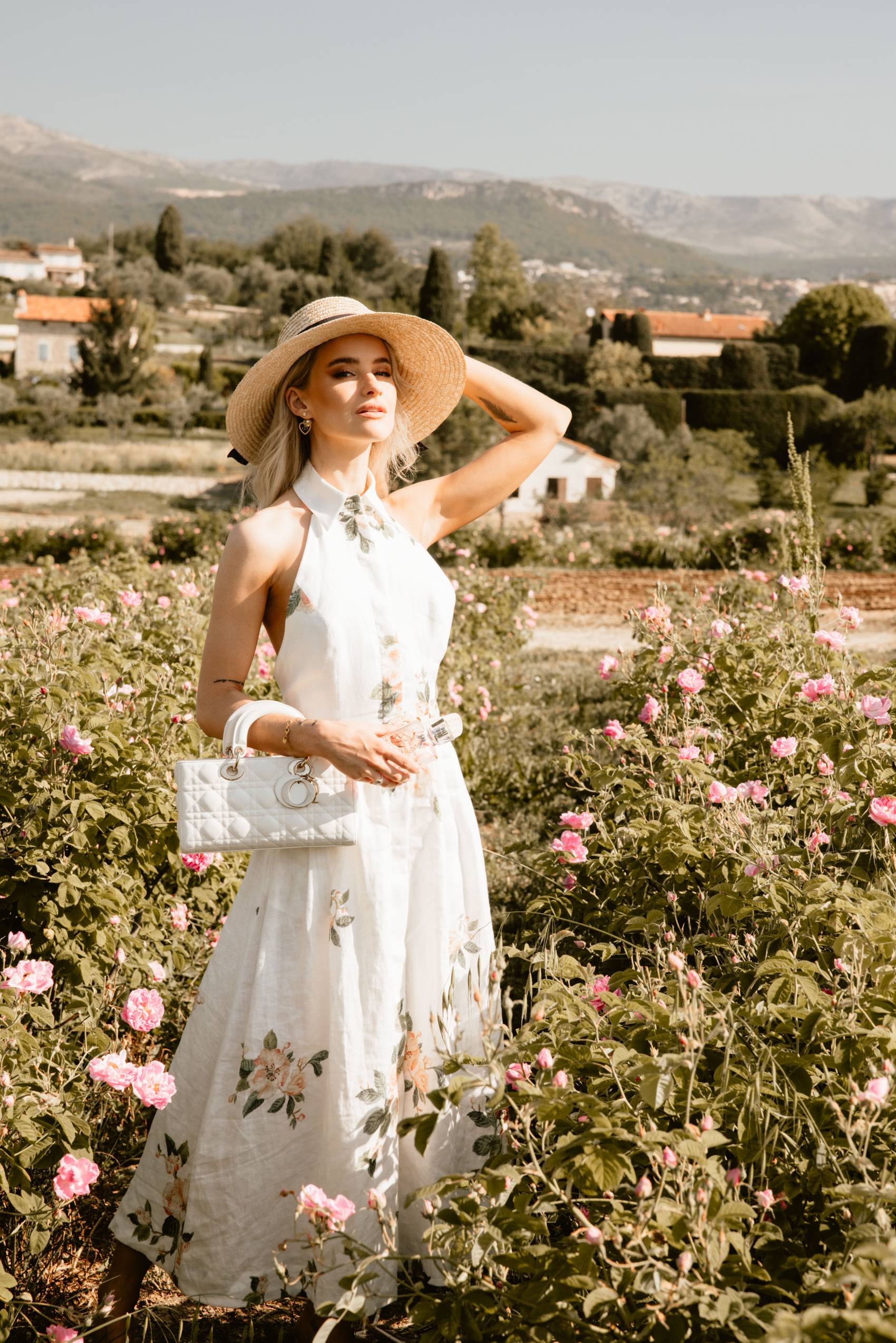 This imagery was captured while on a PR trip in France. Thank you so much to the wonderful team at Dior Beauty who always make our trips together so memorable. 
Sign up here for a weekly catch up of everything Inthefrow