23.02.2022
Kiehl's Cloud Cream:
4 Products for Skin Recovery
This is a paid for advertorial in collaboration with Kiehl's. (ad)
It's no secret I've been a Kiehl's fan for years. But more specifically than that; the reason I even tried Kiehl's in the first instance, like so many of us, was due to Midnight Recovery. It's become a brand name of its own due to its magnitude in the beauty industry and the acclaim the products have gathered over the years since their initial release.
The Midnight Recovery Concentrate Oil is essentially an overnight, rejuvenating, oil elixir - that has transformed my skin numerous times even just after one single overnight session. I believe in it so much that I would usually carry a travel size bottle with me on every flight that I took. But where was the moisturising cream to match?
Problem solved - Kiehl's Midnight Recovery Cloud Cream has entered the bedtime routine and I've been so lucky to be testing it out over the last few weeks. Here's why I've fallen in love with this newest addition! 
The Kiehl's Midnight Recovery Range 
Keep scrolling for an exclusive discount on some of my favourite products from the brand! 
-
This blog post & featured shop widgets contain affiliate links. 
Affiliate links used within text are marked (ad) for clarity.
The pieces featured in these images are kind PR products/gifts. 
Read the disclaimer about affiliate links & PR products/gifting here.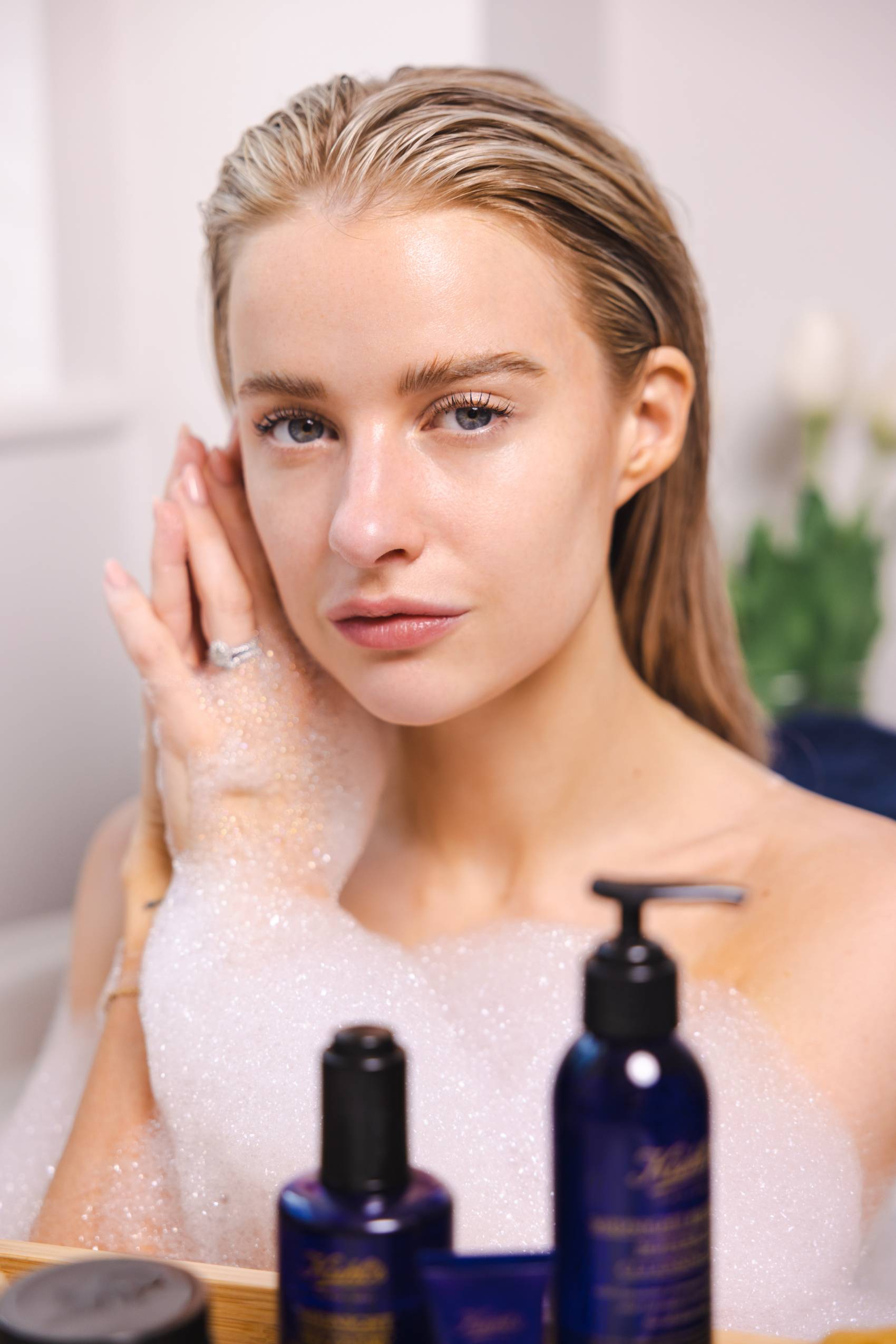 The Midnight Recovery Concentrate
A cult favourite, and as fore-mentioned, a product that has been a tried and tested favourite of mine for years. When my skin is calling out for that extra boost of hydration, perhaps after being outside in the cold, or perhaps I've had a facial peel and need to infuse my skin quickly with some moisture - the Kiehl's Midnight Recovery Concentrate has been one of those products I know I can count on. I always have a bottle waiting for me, as do my friends after falling head over heels due to my numerous recommendations and adoration. After cleansing and applying eye cream, a few drops of the Concentrate onto your hands, warmed up and patted into the face, is all you need to wake up dull and tired skin while soothing before sleep. And when left to work its magic overnight, the impact in the morning is truly noticeable.
Find the Kiehl's Midnight Recovery Concentrate, here. (ad) 
The Kiehl's Midnight Recovery Range 
Want An Exclusive Kiehl's Discount
on My Favourites From the Brand? 
-
Well look no further than right here! To celebrate the launch of the newest member of The Midnight Recovery family Kiehl's have granted my community an exclusive discount on my favourite products from the brand including Cloud Cream! 
-
Follow any of the links in this blog post like this one here (ad), enter code
VICTORIAXKIEHLS
and receive an amazing 20% off my all time Kiehl's favourites! 
-
T&Cs are:
20% Off Selected Products listed here * 
*Offer valid from 00:01 on 23/02/2022 to 23:59 on 09/03/2022. Use code: VICTORIAXKIEHLS at checkout. Only 1 transaction per customer. Discount applies to products at here only. This promotion is not available in conjunction with any other discount offer. Incomplete, illegal, misdirected or late redemptions will not be valid. Promoter is not responsible for redemptions lost, damaged or delayed due to technical or connectivity or other problems. Subject to availability, whilst stocks last. Promoter: Kiehl's, a trading division of L'Oréal (U.K.) Limited, 255 Hammersmith Road, London W6 8AZ.
Sign up here for a weekly catch up of everything Inthefrow