18.08.2021
One Year of
Little Boe
This week our sweet Boe turned one and of course I had to share a little something here on the blog to celebrate almost one year of completely joy with him in our lives! 
Just under a year ago, after much discussion and a lot of searching for our soul pup things quickly slotted into place and Boe became a part of and the centre of our home. Everything most certainly happens for a reason and we were in the right place at the right time to have found our sweet Boe and be able to bring him home to be a part of our family.  
Adding Boe to our lives taught us so much - not least about who we are as people but also just how much happiness a dog can bring into your lives. We always knew we wanted to bring a dog into our home if we were lucky enough to finally own our own place with a garden, but in amongst the heaviness of the last year or so Boe has truly made our lives complete. 
So in celebration of almost one year with Boe and for something a little light hearted, here's what joy dog life has brought us! 
This blog post & shop widgets use affiliate links. 
Affiliate text links are marked (ad). 
The jumper featured in these images is Tommy Hilfiger. 
The sunglasses featured in these images were a PR product/gift.
The jewellery featured in these images are from my own collection. 
Read the disclaimer about affiliate links & PR products/gifting here. 
I remember seeking out so many blog posts, books and social media accounts to prepare us for bringing a pup into our house but nothing could have really prepared us for just how amazing the last year has been. Despite the heartache our family has seen over the last 18 months or so both surrounding Covid and with other hurdles, Boe was quite truly the ray of sunshine we needed. You can read books about new puppies, take advice from friends and family and seek out the most followed experts online but quite often the positives of bringing home a pup aren't easily found. One thing I do remember reading a lot was the timeline in which people expect your new family member to ease into life with you and let me tell you when it came to Boe, it was so wrong haha
One of the most accurate timelines I think i recall reading as well as friends sharing with us, was that it takes 3 days for your new pup to relax, 3 weeks from them to begin to discover a routine and then 3 months for them to allow their true personalities through. I would say that this definitely seems the closet timeline to what our experience in the early days, but actually even one year one we're still discovering traits that Boe has that make him the funniest little creature! From the 'I refuse to walk away from the house only back to it' phase, to the 'I've started barking for no reason at all' phase and the current 'I'd like attention on me every second on the day phase' that so many of you shared is similar to a teenage rebellion that a lot of dogs go through. Boe is most certainly unique so be prepared for any pup that joins the family to do things their own way!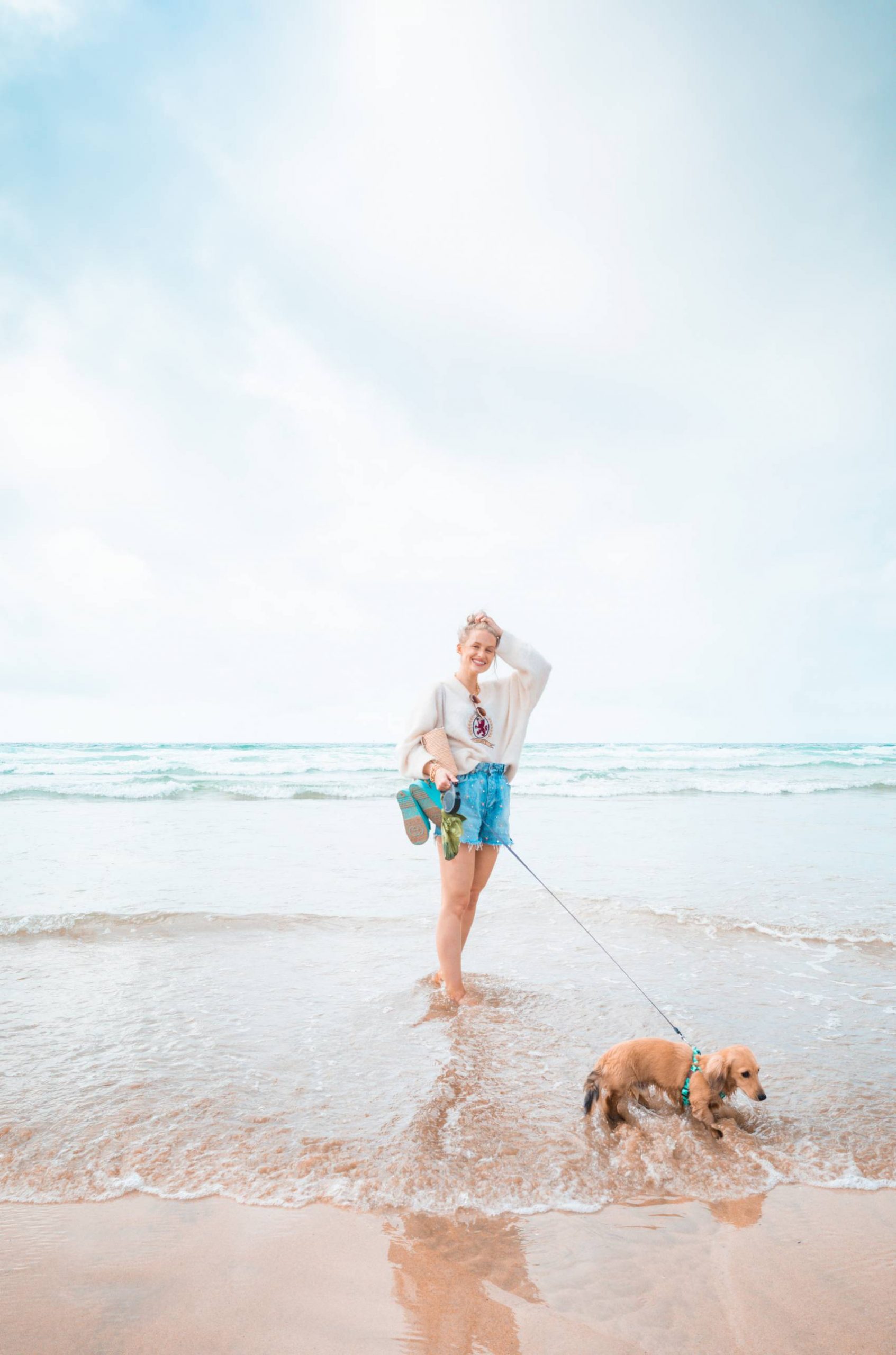 The last time I shared a Boe update on the blog I focused on some of the more practical lessons we'd been taught and experienced in the first 6 months together. Such as how unique each pup and their personality is, how a strong routine was turning out to be our best friend and how it's okay to not know everything but one thing I am sure of after a year of dog life, is the utter joy we've experienced through it all. Of course there have been ups and downs with his first emergency vet visit after taking a tumble down a step, the weeks of no sleep while he found his routine (and his voice haha) and the adjustment of our own lives that often felt like a shock, but the love we feel far outweighs it all. 
Take these images of our first family holiday to Newquay, although I'm sure our holiday to one of my favourite places in the world would have been just as special knowing we got to spend time with my Mum, my Step Dad, my Brother and his Girlfriend, watching Boe discover the beach and the sea for the first time made my heart burst. In fact he didn't just make our holiday special either, we quickly realised having Boe on the beach in Newquay was like having a celebrity on vacation with us! From groups of guys wanting to play fetch with him, to kids wanting to pet him, to other families with pups wanting to know all about their dogs new best friend, it perfectly summed up how special having a dog feels. 
And I know some people may think 'Gosh Victoria, he's only a dog!' but actually Boe is such an important part of our family that we simply can't imagine life without best bud! He's truly made the last year bearable, he's lifted ours and other peoples spirits when they've needed a boost of serotonin and continues to be our best friend, even if he sometimes pees on our dining room rug when we least expect it... you can't win them all right?
Happy 1st Birthday Boe - we love you! x
Sign up here for a weekly catch up of everything Inthefrow