26.07.2021
My Dream
Walk in Closet
Back at the beginning of 2019, when we were house hunting and hoping to find the one, we stumbled across what we now call Frowhome. Our beautiful house that we've transformed into our perfect home to both live and work in. I've shared before about what we were looking for and what we were hoping for when house hunting and one of my hopes for our first home was a space to turn into a walk in closet. 
There's no denying I own lots of clothes and even more accessories, so I've always dreamed of owning a home with a space I could fill with my most coveted and memory laden pieces I've collected over the years. 
Fast forward 2 years and the dream has become a wonderful reality! I've not only got a walk in closet to hold and beautifully display my fashion finds but it's a truly gorgeous space I'm utterly besotted with. So why am I redesigning it you ask? Well after 2 years of using, living and adoring it it's time for just a few little updates and a couple of last finishing touches. 
The cherry on the cake if you will! 
This blog post & shop widgets use affiliate links. 
Affiliate text links are marked (ad). 
The shirt featured in these images was a kind PR product/gift.
Read the disclaimer about affiliate links & PR products/gifting here. 
Alex snapped these photos of my closet back in June of 2020 and I've been waiting for a chance to use them on the blog and I've never had the chance - until now! If you watch my vlogs over on YouTube or even catch some snippets of me getting ready in this room over on Instagram, you'll notice that even since these pictures were taken just over twelve months ago now, things have changed in here for the better! One of the best pieces of advice friends and family bestowed on Alex and I when we bought our first home, was that designing spaces that truly feel homely and reflect all that you love, takes time. Not just time to make the decisions on renovations, painting, designing etc but time to live in the space you now call home. Time to work out how you use the rooms, time to work out what works for you as a family and time to work out what a room needs to fulfill its true potential for you. One year on from these pictures and almost two years on since the space was built, there a few things I now know this room needs and I'm finally making the changes. 
One of the biggest changes you'll see we've made since snapping these pictures is adding some much needed natural light into the space by having Velux windows built into the sloped roof. We decided on a set of 3 windows, above the shorter shoe storage and they've truly made the most incredible difference to how much I use this room. During the day the space feels lighter and brighter and makes for a much more pleasant work and creative space and in the evening, especially on clear nights, the space feels far bigger than it is. They were definitely an expensive addition, especially after the room was already 'finished' so to speak but it's one decision I'm glad we took the plunge on. We of course made sure to add fitted blinds to the windows because I have pieces on display that I need to protect from direct sunlight but I can confidently say I enjoy and use the space tenfold. If you're thinking about adding some into your space definitely explore your options fully and if regulations allow I'd so recommend them!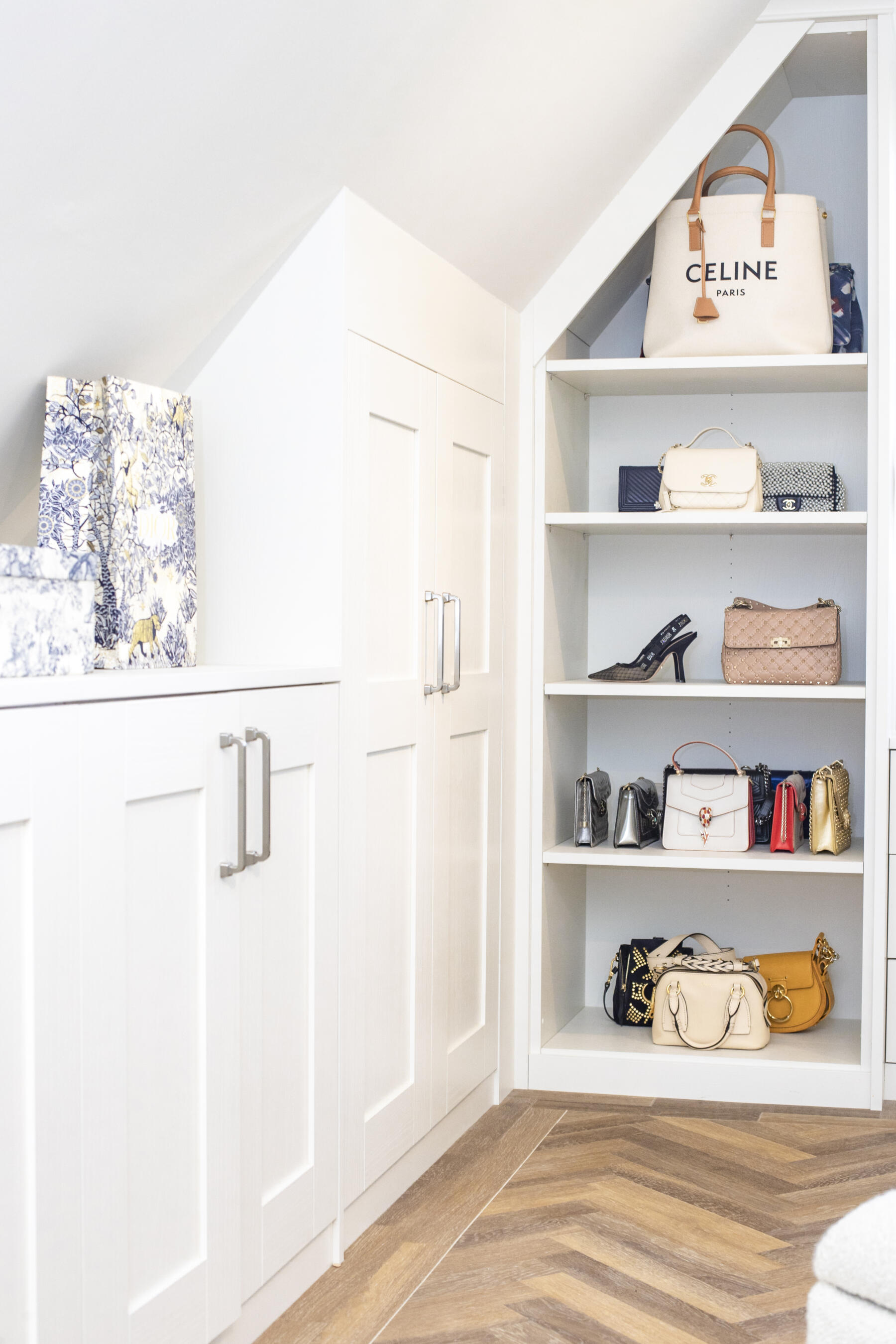 If you've followed our home journey either here on the blog or via our home Instagram (you can find that here) you'll know we both love colour and don't shy away from it. Some spaces like our living room we've embraced bold reds and soft pinks, in our kitchen we've opted for deep blues and warm brass tones and in our downstairs bathroom we embraced the small space and went wild with patterned wallpapers and out there sanitary wear. They're all spaces I love to spend time in and equally love to share with loved ones because they're extensions of our personalities. This leads me to the one thing I do regret about this closet space, and it's not adding a little more of my own taste into the design and finish. One thing I will shout from the rooftops is how much I love the wardrobe itself and apart from wishing I had a little more space (something I think we'd all love no matter what we already have!) this room just needs some more of me in it. So let me explain... When this room was first designed, my thought process was to make the space as bright and light as possible. I focused on what I needed from the room, in terms of what storage, usage and display I craved, but without too much natural light I opted for white and silver everything. Fast forward to last summer and with the addition of our Velux windows the room suddenly feels beautifully bright on its own but now feels like it's missing a little warmth, depth and I guess a little fun! 
First things first to add a little warmth to the room, I've decided to switch out the silver, cool toned hardware in the room. I loved the silver touches when the room wasn't so light and bright, but now we have sunlight in the room, I've decided to add a little brass. In-keeping with our kitchen cabinetry and our hallway cupboards I've opted for some beautiful brass pulls from Armac Martin. After asking your opinion on Instagram and thinking about the warmed tones in the flooring I've opted for an unlacquered satin brass (hopefully will show less fingerprints than a lacquered/high shine finish) and a beautiful delicate Belgrave style. 
Secondly I realised that the room needed a far larger rug, not just for cosmetic purposes but for sound dampening too. So much of the closet is taken up with hard fixtures and fittings that it does tend to feel a little echoey and that's so evident from your feedback whenever I film in the space too. Although the previous rug shown here was such beautiful quality I've recently switched it out for a pinky toned piece from Olivias's (ad) that fills far more of the floor. The room suddenly sounds far softer, has instantly become a more cosy place to spend time and will tie in beautifully with the next update!
Thirdly and perhaps what will make the biggest change to the space overall, I'm having the closet tops switched out for something far more fun and colourful! The tops right now, although fabulous quality and seamlessly fitted with the room/walls, feel ripe for decorating with trinkets. I find myself always switching things out to style them and bring them some colour and then it dawned on me that perhaps new tops themselves was the way forward. I'm lucky enough to have worked with an amazing stoneworks company who fitted our beautiful kitchen worktops and are also working on our outdoor kitchen renovation so I contacted them and they sourced the most perfect slab of marbled porcelain. The veining is so stunning with tones of pinks, reds and dark greys in it - I'm so excited to show you the outcome! 
And last but certainly not least with the warmer and softer additions throughout the room, I decided that a new light fixture was the final piece of the puzzle so to speak. It took me a really long time to find the glass chandelier that's currently in the room as the sloped ceilings can't accommodate too much of a drop so 3 attempts later, I finally found the one. Funnily enough the new chandelier is one we actually purchased for another room in the house and a little trial and error meant it's new home will be in this space instead! A brass and glass rod chandelier from one of my favourite lighting retailers you'll find all over our home - Pooky. (ad)
So all in all it might have taken me a little while to really work out what this room was craving but now I know it's some cosmetic and finishing touches, I can't wait to see them bring the room to life! Keep an eye out on the vlogs for anymore renovation updates and if you have any questions about my dream Hammonds closet let me know below! 
Sign up here for a weekly catch up of everything Inthefrow