07.06.2021
A Date With
Dior
Well look what we have here! My first fashion event in over a year, back in the capital on a golden spring evening and loving every second of the occasion I may add - that's if that smile didn't already give it away haha 
You know I don't often dedicate a full blog post to events but my first acceptance of an invite since March 2020 feels like a joyous milestone I just have to mark here on Inthefrow. And of course when Dior invite you to discover the newest summer capsule of Dioriviera by Maria Grazia Chiuri as well as their takeover of Alto @ Selfridges on the rooftop - well of course that warrants a blog post! 
I hope you adore the images that Kyle was kind enough to shoot with me at the launch of Dior @ Alto and I hope you love finding out a little more about the brands amazing collaboration, as well as the newest reinvention of Dioriviera for 2021. 
PS - For full transparency I wasn't asked to post about this incredible event but after over a year of no get togethers with some of my favourite brands and colleagues, I just couldn't resist! 
This blog post & shop widgets use affiliate links. 
Affiliate text links are marked (ad). 
The dress, bag & jewellery featured in these images were kind PR loans.
Read the disclaimer about affiliate links & PR products/gifting here. 
Dioriviera '21
If you've never heard of Dioriviera before then you're in for such a huge treat as you discover for the first time what the capsule is all about! In the run up to summer the incredible Maria Grazia Chiuri reinvents some of the most iconic Dior prints and capsules to create the Dioriviera capsule, just in time for vacations. Think the prints you love the brand for such as Toile de Jouy and Oblique, brought crashing into the new season with iterations in sour Raspberry and bright Chartreuse this time around, to celebrate the sunshine. You'll find Lady D-lite updated in new shades, Mitzah scarves featuring the most lusted after holiday destinations, retro beachwear pieces reinvented in classic Oblique and all sprinkled with the joy of limited edition accessories. In amongst the known for clothing and accessories you well know the brand for like pleated summer dresses, long flowing maxi skirts and must have slides, you'll discover what makes this collection like no other. Surfboards, skateboards, beach rackets and even deckchairs - the ultimate in chic vacay additions no matter your destination.
So if there's one collection that signals summer is truly on the horizon this year, it just has to be Dioriviera!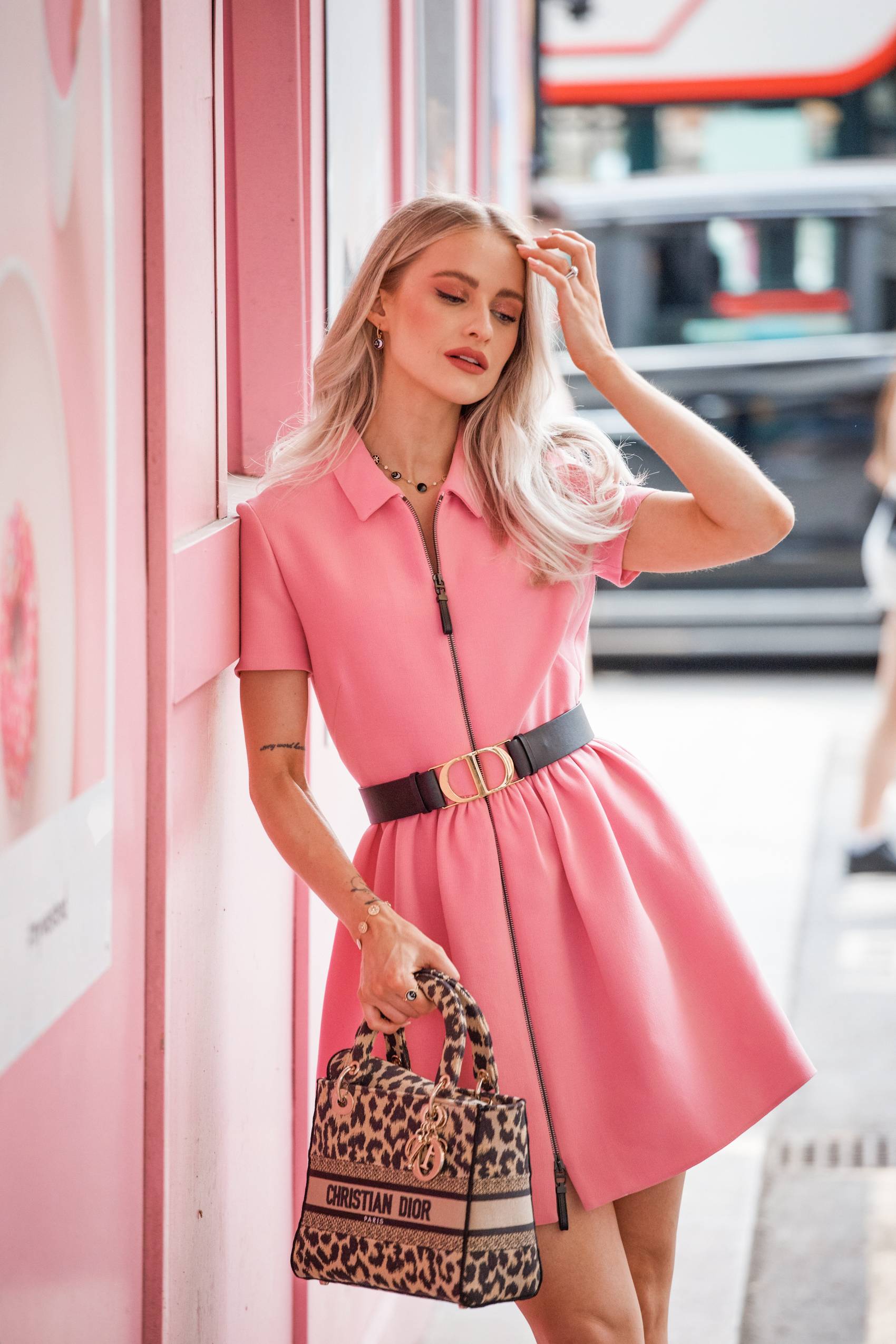 Dior @ Alto - Selfridges, London
But what's so different about this summers collection? Well myself and a whole host of other Dior lovers were invited to celebrate Dior @ Alto in Selfridges, London. From the 3rd of June until the 31st of July you're able to head to the Selfridges rooftop and indulge in a shopping experience like no other. Not only can you discover the joy of this years Dioriviera pieces, you can stop off at Alto to enjoy a luxury dinner with a twist. The rooftop restaurant is currently dripping in beautiful Toile de Jouy additions and the fun of the collection has even made its way onto the menu. From the 3rd of June until the 30th of September you can enjoy a meal in the Dioriviera inspired surroundings and from the 1st of August until the 30th of September you can even enjoy limited edition cocktails from the brand such as the Lady Dior cocktail or the Vespa Martini. Head here (ad) to find out more about the takeover and even discover the recipes for those moreish drinks so we can cheers to the sunshine ahead!
Shop The New Season
As of right now you can head into Selfridges, London to check out the brand new Dioriviera collection for Summer '21 and enjoy some of the most joyful and out there pieces that Dior creates all year round. It's actually become a spring summer highlight for me to chat away with Rebecca about the summer releases at Dior because they always bring so much sunshine and fun into the luxury fashion landscape. One day we'll both snap up one of the Dior surfboards and spend a weekend together in Newquay finally learning to surf - I promise! 
A huge thank you once again to the wonderful team at Dior for inviting me to join them for this wonderful launch - I'm thrilled to have been able to celebrate this iconic launch as well as get back to what felt like the first piece of work normality. So grateful x 
Sign up here for a weekly catch up of everything Inthefrow