19.04.2021
25 Blazers to
Style this Spring
Let's face it, these pictures sum up quite nicely the weather we'll likely be experiencing for the next few weeks in England and why blazers become my go to styling pieces for these in-between months.
If you're anything like me, I always layer up with a blazer, a knit and maybe even a bodysuit too because that beautiful sunshine out the window can often be incredibly misleading. Cue my hair blowing wildly around and sticking to my lipstick, my knitwear doubling as a scarf for extra warmth and thanking myself for adding extra layers into my outfit that I can take on and off easily! 
I barely need to explain my love for a great blazer because even if you don't know me well or are new to the blog (hello and welcome if you are!) it's obvious they make their way into so many of my outfits throughout the seasons. 
So which shapes, materials and brands are perfect for this layering season and which styles will you be seeing more and more of here on the blog? 
This blog post & shop widgets use affiliate links. 
Affiliate text links are marked (ad). 
The bag & boots featured in this imagery were PR products/gifts. 
Read the disclaimer about affiliate links & PR products/gifting here. 
The Oversized Blazer
If you're feeling a little déjà vu and that you're positive we've chatted oversized blazers recently on the blog, you would of course be very right. I recently shared my 5 Trending Styles I'll Still be Wearing for 2021 blog post and oversized blazers were one of my top picks. The ideal transitional style that's oversized enough to layer for those cooler days without feeling like your outfit is too bulky but also feels like the most fashion forward blazer style right now. So many of my favourite brands like Jacquemus, Isabel Marant and Balmain have oversized styles to swoon over for the coming seasons and I for one will likely add another colourway into my closet this year. Oversized doesn't have to mean 80's shoulder pads and thicker materials anymore though, choose linen for a more relaxed fit and a longer length instead of a wider shoulder if you prefer. 
The Double Breasted Blazer
When it comes to a blazer fit and style, although I love my oversized pieces and love wearing some of my more formal single breasted suits, I think should I have to choose my favourite it would be a double breasted front always. There's something I love about not only the versatility of a double breasted blazer (just as formal as they are casual and just as trendy as they are classic somehow) it's the detailing that often sways me too. Some of my most worn pieces have sumptuous buttons, strong shoulders, stand out darting and feel like the most luxurious of styles in my closet. And what's even better about having a preferred cut you know you love to wear? You can choose whatever trending colourways, materials and even patterns you'd most like to wear and know that you've gone with the cut that brings you the most joy.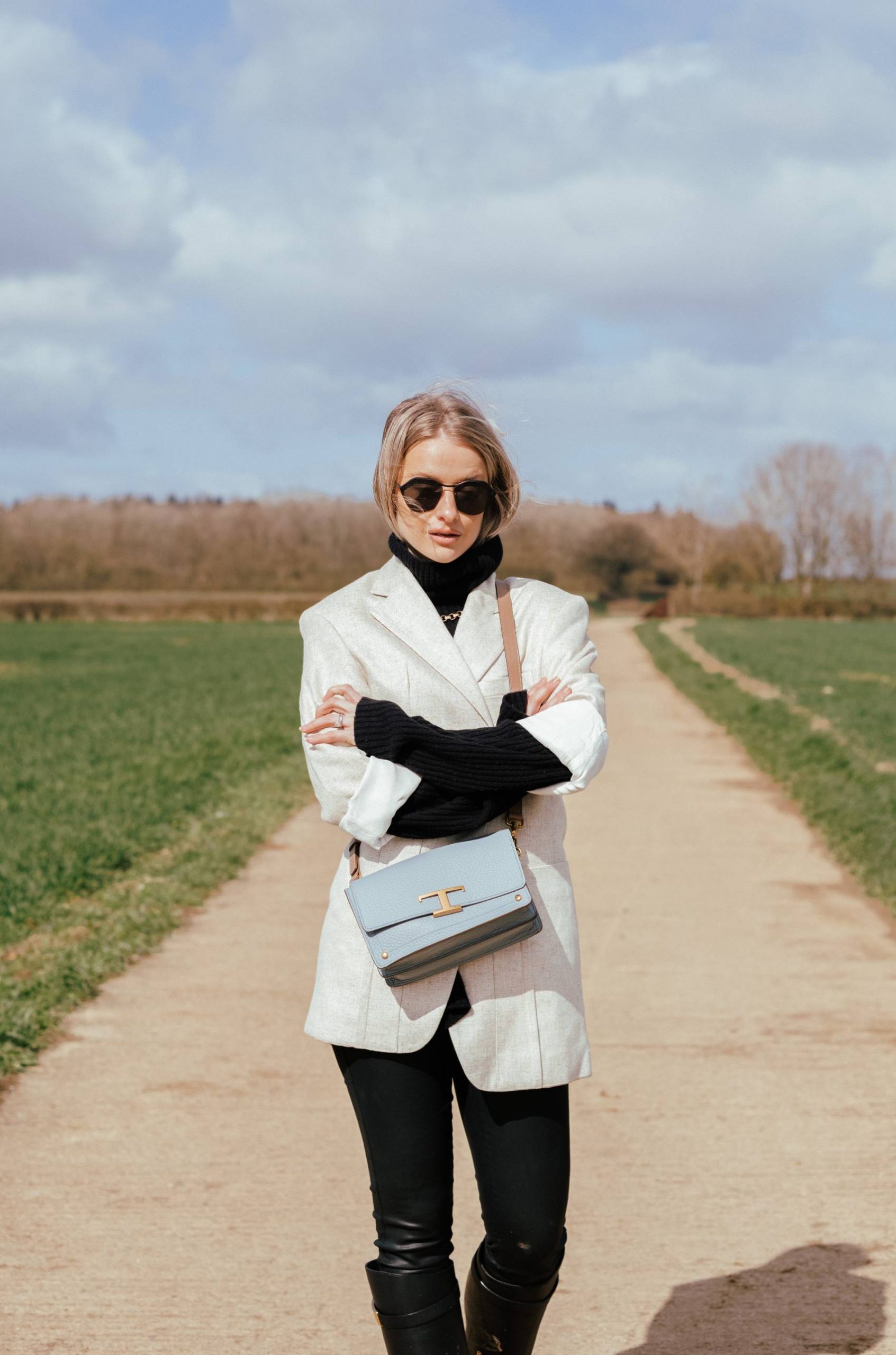 The Check Blazer
I'd say a style of blazer that's more classic than trending is always the check blazer and that means whether you choose to look out for a high street version or opt for a more luxury price point, it's like you'll feel amazing wearing a checkered piece season after season. Go bold with a trending colourway or thread or choose a classic option like Prince of Wales check or other monochrome styles and you'll find they both bring to life even the simplest of outfits. Nothing pops more than an all black look with a statement blazer and it's personally one of my favourite ways to create a look and even to jump start a good mood. It makes me feel fierce, confident and empowered which seems bold to say because of just a blazer, but that's exactly how much I love the right blazer haha Plus if you find a beautiful classic check, that teams well with so many other pieces and it'll become your go to item that feels more like a staple than even your favourite blue jeans. 
The Linen Blazer
Bring me all things linen and I will happily wear them from head to toe for ever more! I just absolutely love the linen trend right now and as life resumes a little bit of normality here in England and the sun starts to shine (even if it's deceivingly cold haha) linen feels like such a fresh look to be styling. You may have seen my January blog post 25 Ways to Add Linen Into Your Wardrobe This Spring (if not definitely head over and lust after some of the most beautiful curated linen pieces) but I was lusting after blazers then and I still very much am now. Jacquemus is without a doubt my go to for line pieces and especially blazers right now but some of my go to upper high street brands like Reiss, Me+Em and Lily & Lionel are also delving into beautiful linen with some gorgeous results. 
The Spring Blazer
What you may ask defines a spring blazer? Well for me, it's sumptuous pastel shades that scream spring weather and have me dreaming of picnics in the park with friends sharing an Aperol Spritz and a Pret vegan cookie. I mean we all have our 2021 dreams right? In one way or another pastel suiting is always featured on my blog this time of year and usually it's when we chat all things wedding guest outfits and oh look - 30 Wedding Guest Outfits for All Budgets. In comes the pastel suit for its versatility, its longevity and its ability to be styled for so many occasions after the big day. Discover beautiful pastel shades in the collections of Jacquemus and Hebe Studio, Joseph and Reiss, even H&M and Mango - they're everywhere and they're a gorgeous addition to any spring wardrobe. Pick a shade you already love to wear and that styles well with your other spring loves, think classic creams, subtle blues, pastel pinks and even on trend sage greens - the possibilities are yours! 
And if you're as much of a blazer lover as me, have you checked out my exciting news for SS '21 and AW '21 yet? That's right Inthefrow x Holland Cooper is officially a go and I'll be brining out my own line with the brand including, you guessed it, some absolutely incredible blazers! Click here to read more and sign up to the waitlist to be the first to find out more :) 
Sign up here for a weekly catch up of everything Inthefrow