19.03.2021
Tasty Easter Treats
For All
This blog post is a paid for advertorial in collaboration with Hotel Chocolat. (ad)
It's absolutely no secret that I love a sweet treat and at Frowhome you'll always find delicious chocolates in the kitchen cupboards for those days when we deserve one - spoiler alert, that's most days because why not! 
You may remember that I was so thrilled to partner with Hotel Chocolat at Christmas time to bring you all of their incredible festive creations and I'm so excited to be working with them again on their absolutely delectable, as well as utterly joyful Easter range. 
I don't know about you but Easter weekend in our house was always a time to indulge a little and also treat loved ones to Easter baskets filled to the brim with bunnies and chocolates. But do you know what's great about being a grown up at Easter? You don't have to wait until Easter Sunday to treat yourself or your favourites to an Easter gift!
My lovely team, my amazing brother and my fabulous cousins all deserve some treats this spring and Hotel Chocolat has the perfect way to treat them this Easter. Who will you be treating this year?
Keep reading for an exclusive discount code! 
This blog post & shop widgets use only affiliate links. 
The treats featured in this blog post are PR products/gifts. 
Read the disclaimer about affiliate links & PR products/gifting here. 
One of the best things I love about treating people to delicious gifts from Hotel Chocolat is that they always have a brilliant and expansive range of vegetarian and vegan friendly chocolates, no matter the season. This Easter especially they have some of the most luxurious Vegan Easter Eggs you're ever likely to see including their amazing Extra Thick Rare egg (filled to the brim with chocolate coated nuts and fruits), the Mint Dark Chocolate egg (infused with Tasmanian Peppermint Oil) and even their Gianduja Chocolate eggs (filled with sumptuous hazelnut praline). Anyone else drooling on their phone right now?
Or if you're looking to keep things simple but equally luxurious then perhaps you'd opt for the iconic Big City Bunny who makes his famed appearance each Easter or his mini City Bunnies? Dressed to impress in their unique HC branded dickie bows, they're the perfect treat for someone who just adores Hotel Chocolat's dark chocolate creations throughout the year and in this case - that's me haha! Hotel Chocolat's 70% fair trade dark chocolate is my personal favourite as it's beautifully rich without being too sweet, as it's made with a focus on high quality cocoa and not extra added sugars. If you've never had the chance to try their 70% dark chocolate yet I'd definitely recommend taking advantage of my discount code below - so delicious! 
After a year of unexpected hurdles, challenges and not being able to celebrate with loved ones in our usual ways, sending a surprise Hotel Chocolat treat in the run up to Easter feels like such a joy filled way to show someone you're thinking of them. I know if I opened the door to a surprise Easter Egg delivery, especially if it was one of the brands incredible luxury Easter Eggs, I'd be so overwhelmed. If you've never gotten the chance to experience a luxury egg from Hotel Chocolat, I'm sorry to say but you've been missing out every year haha They are such a wow experience that I had to choose one for Alex this Easter (in hopes he won't mind sharing with me...) as well as for Briony who works with me too!
I'd say this years highlights have to be the drool worthy Extra Thick eggs as well as the out of this world Dark Chocolate Ostrich Egg, that actually feels so luxurious it's almost too amazing to dig into. Think Easter Eggs but with a wow twist and chocked full of opulent extras! 
Without a shadow of a doubt every season when I head to the Hotel Chocolat website it's the Lovely Little Things that I'm most excited to discover! Those weird and wonderful treats you know you won't find anywhere else and that are so unique to the brand. This Easter is absolutely no exception when it comes to things that will make you laugh out loud and there's a few that have stood out to me this year that I cannot wait to send over to my brother in particular. I know he'll laugh about them just as much as me!
The hilarious Egg on My Face Chocolate Slab, the delicious looking Egg Sandwiches (toast and marmalade anyone?!) and the Egg & Soldiers Truffles stand out this year as my favourite picks to really make someone smile. If you're also thinking about sending some treats but don't know what to choose with so much choice, maybe the Easter Family Favourites Collection would be the perfect family treat or maybe an amazing selection of Lovely Little Things like Tiddly Pots and Quails Eggs would make the perfect fun filled Easter Egg hunt. You'll definitely be the favourite Aunt, Uncle or family friend if you treat someone you love to a socially distant Egg Hunt they'll never forgot this year and take the planning off someone you loves shoulders!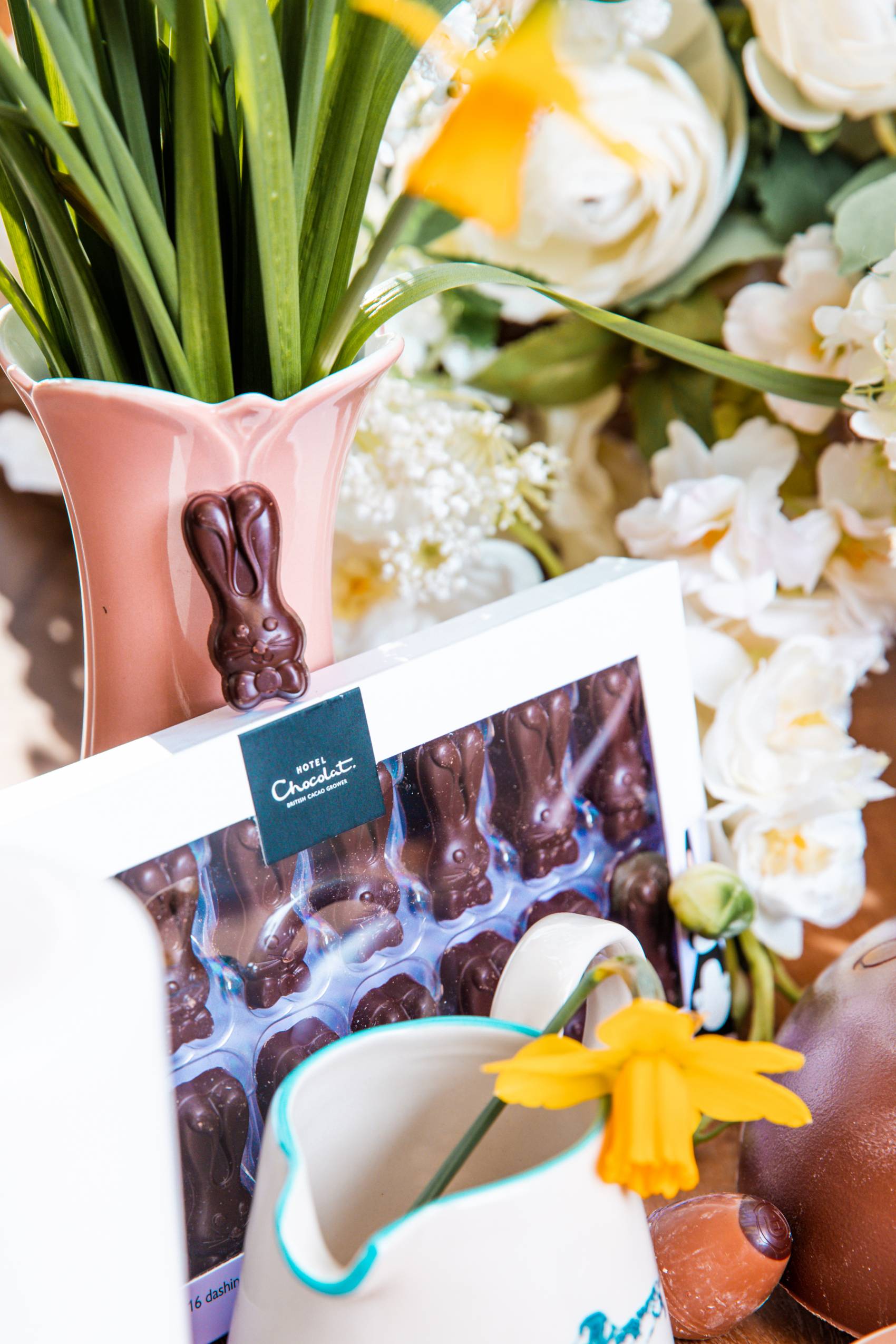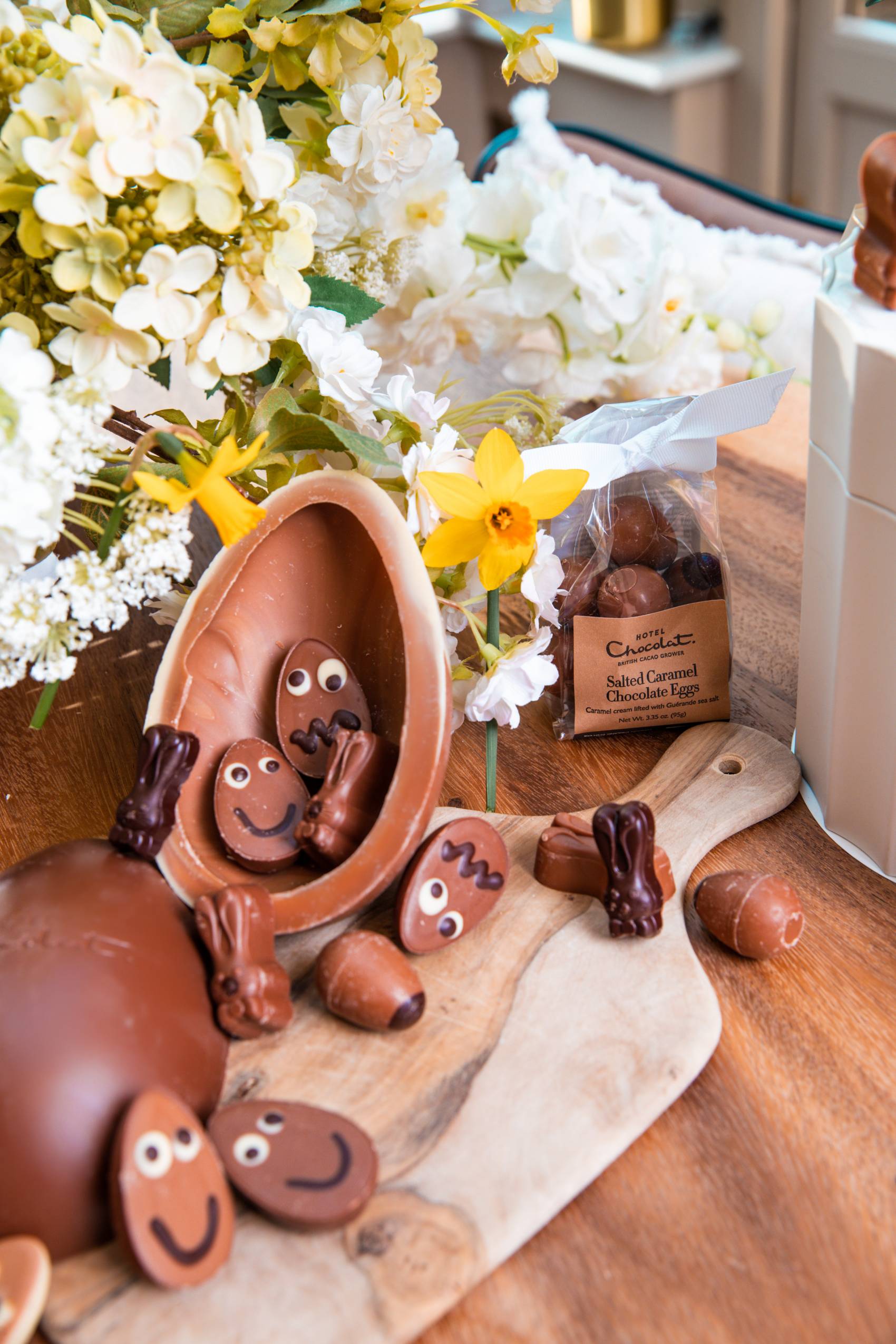 An Exclusive Easter Discount! 
Whether it's you that deserves a little treat or you're thinking of someone who needs a little pick me up, feel free to use code FROW10 (until the 9th April 2021) to receive 10% off your next Hotel Chocolat order. Send a City Bunny to your bestie who's been home schooling this year, a Sleekster Box to your work friend who you've missed while working from home or a Luxury Easter Egg or 2 to your parents to repay them for all the eggs they've surprised you with over the years. After all we all deserve some treats this year right?!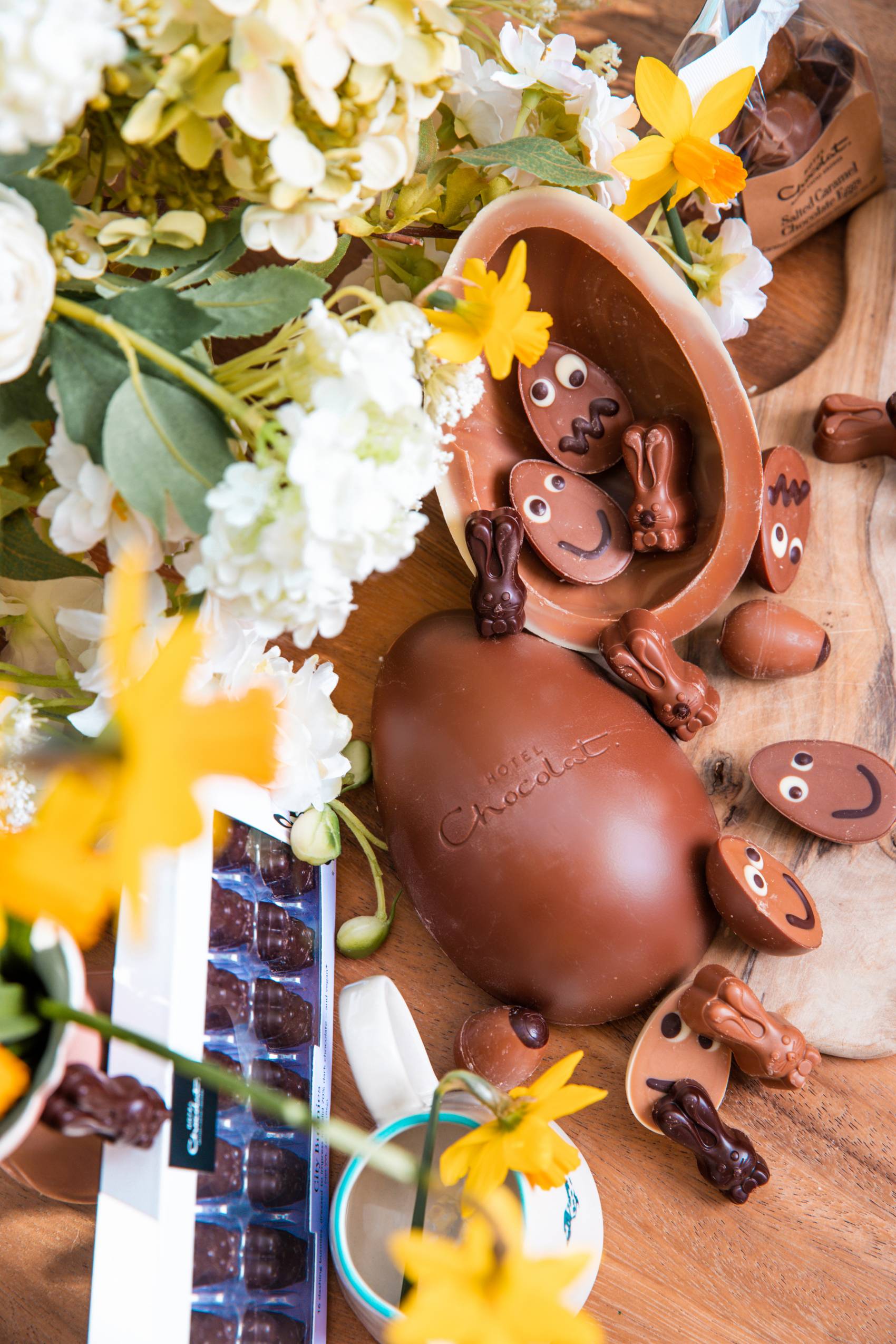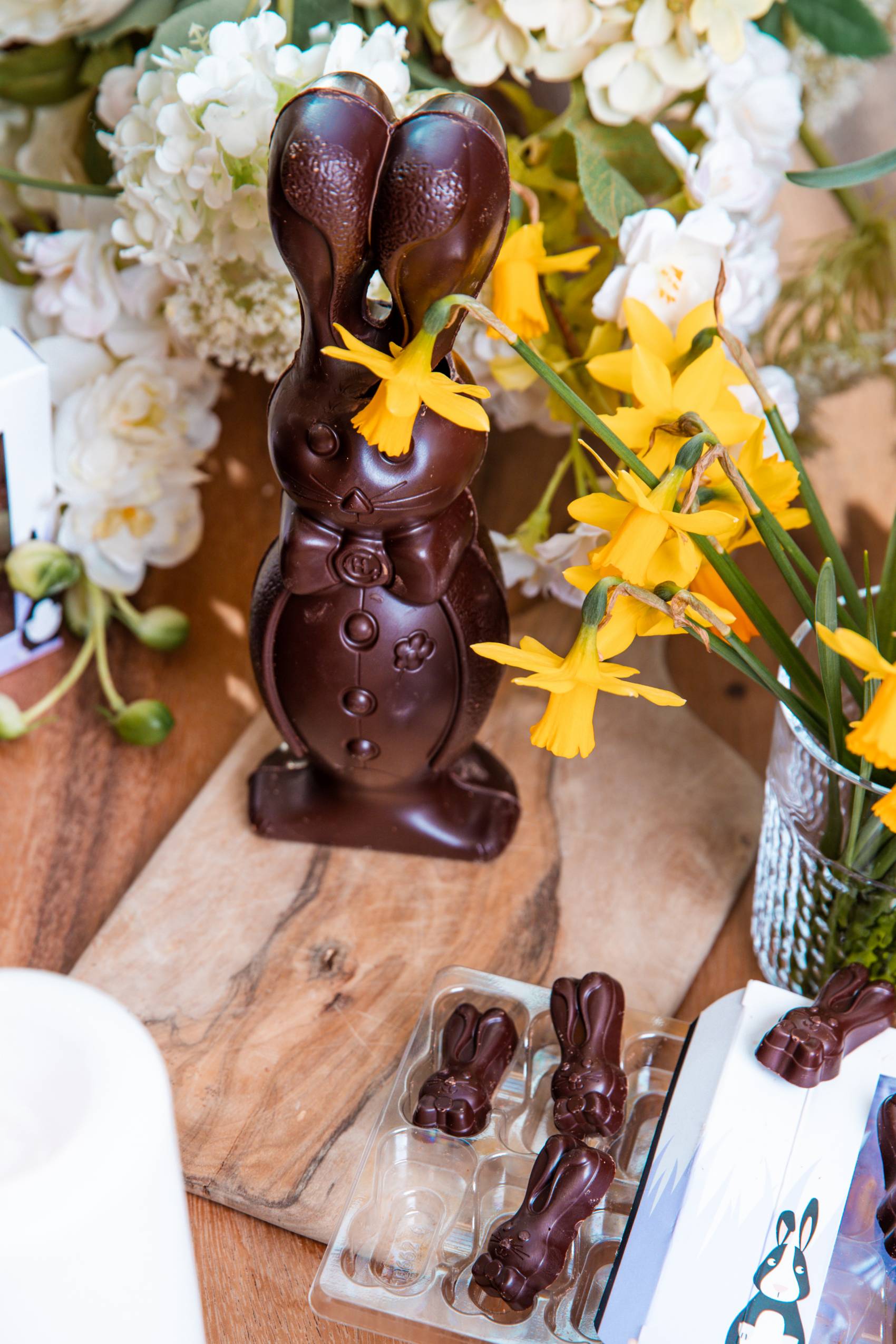 Why Hotel Chocolat?
And just incase you didn't know but might love to know too, here's why I choose to shop with Hotel Chocolat for special occasions and why I'm so thrilled to be working with them again this Easter!
1. Hotel Chocolat are one of the world's few chocolate makers to grow coco, on their own Rabot Estate cacao farm in gorgeous Saint Lucia. Their personal connection with cocoa growing, luxury chocolate making and then onto retailing makes them unique in the UK. The brand have a first hand understanding of what impacts the final flavour and quality of their beautiful chocolate. From tree to store!
 
2. The brand ensure a fairness that extends to their farmers, customers and with future generations in mind. They believe cocoa farmers deserve the utmost respect and a fair deal for their work. They take part in an Engaged Ethics programme which transforms the lives of many in Ghana and on Saint Lucia and continues to grow. 
 
3. Hotel Chocolat believe in being original, being authentic and putting ethics first in an industry that doesn't always recognise the hard work of cocoa farmers. They choose to use nothing artificial in their creations, they nurture the best ingredients to create the best flavours and have kept to their pledge to ensure all their packaging is either compostable or recyclable by 2021. 
Sign up here for a weekly catch up of everything Inthefrow