12.03.2021
How to Embrace
Some Colour
Coming out of winter and towards spring often mimics our own version of coming out of hibernation and that's during a 'normal' year. This year there's something even more cathartic about spring arriving as we're all hoping it signals the start of a little more freedom as and when it's safe to do so. 
Along with the thoughts of longer days and a little more sunshine, always comes the wardrobe refresh. Hopefully putting the bigger coats to one side and replacing them with lighter weight trenches, swapping the waterproof wellingtons for some flats and as naturally happens, dreaming of a little more colour. 
Quite a few people have mentioned recently that my wardrobe seems to be getting more colourful and more bold as I get older and I do feel that perhaps my personal style is taking a leap again. Only this time adding more colour than I ever have before. 
But what colours should we be considering adding to our closets this spring and how do you add colour into your closet if it's not normally your preference? 
Here's a few tips that might help! 
This blog post & shop widgets use affiliate links. 
Affiliate text links are marked (ad). 
The trousers featured in this imagery are a PR loan. 
The bag & shoes featured in this imagery are PR products/gifts. 
The jewellery featured in this imagery is from my own collection. 
Read the disclaimer about affiliate links & PR products/gifting here. 
Remember that when thinking about adding colour into your closet, there's no reason you should have to step too far outside of your comfort zone. With any addition to your closet you should always consider what actually enhances your wardrobe, as well as what works with your own personal style. Maybe spring on the horizon is making you feel like you should add a couple of new shades into the mix but unless those shades bring you joy, stick with what you love. 
If you are adamant that colour is the way to go then remember adding colour to your wardrobe doesn't necessarily mean you have to go from 0-100 and add an Elle Woods pink into your regular rotation, if your usual palette is far more neutral or perhaps even monochromatic. Adding colour can be embraced based on trends, your personal preferences or even just a craving for something a little new. 
Perhaps let's take the colour of the season that was all over the runways last Autumn - yellow. The key thing to remember here is that the shade we saw in abundance is actually a lot softer than you may have assumed. Of course if you want to add some sunshine into your look then go for it, but if your first foray into colour is going to encompass a trend, this season would be a simple one to take on. Think soft pastels, creamy yellows, pale lemons, warm vanillas - anything that feels slightly muted and naturally might also feel easier to style. 
Beautiful pastel yellows practically feel made for a classic blue jean, look beautiful translated into the knitwear trend of cardigans (a la my current favourite cardigan from Me+Em) (ad) and is the perfect translation of a summer dress (ad) in the material of the year of course - linen. So many ways to make a seasonal trend work for you and the pieces already in your wardrobe, if at first colour seems a big step to take. 
Accessories are always a simple and often far more versatile way to add colour into our wardrobes than clothing if you're still thinking about switching things up. From shoes, to handbags, to hair accessories, to scarves - adding an accessory into your wardrobe in a key colour feels far less a shocking addition than perhaps a dress or a suit. Again it's finding a way of adding the shade you're lusting after into not only your wardrobe but into your unique style. Which might seem harder to do in the short term, but works for you far better in the long run when you're hoping to get a great cost per wear out of your new purchase.
Take this beautiful limited edition Bvlgari bag. This gorgeous design was part of the 2019 Cinemania Collection which was exclusive to Selfridges and it's bold beautiful fuchsia was part of the reason I chose it for my collection. Fast forward 3 years later and I wear it far more than you would likely assume, considering I'm not necessarily someone who has a lot of pink in my closet. 
The graphic detailing on the Serpenti works beautifully in clashing against other colours, as well as patterns and its bold pink palette is the perfect pop of colour when I opt for more classic or monochrome looks. It's a piece that's bold, bright colourful and works well for my own wardrobe. You probably won't often find me styling a full look of the same bright colour head to toe but a statement bag? Way simpler to style, far easier to take risks with and more likely to reach for it time and time again.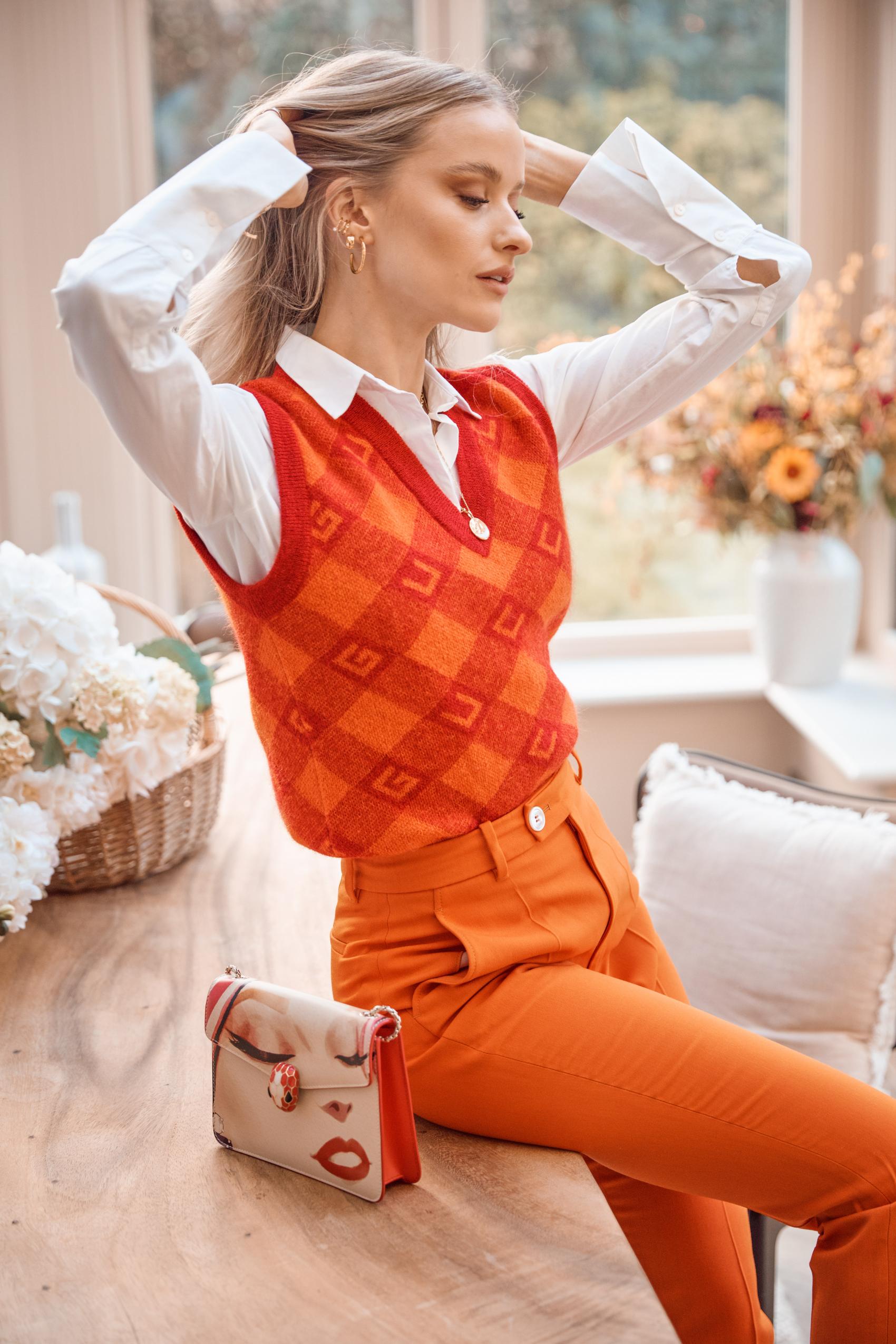 If you're looking at adding some colour into your wardrobe for perhaps the first time ever or maybe just to experiment with your style a little more than usual, basics are also a great way to go. Firstly, think about what the word basic means to you? Not just what the fashion world deems a basic, but the pieces you yourself wear often, the clothing you love to style and the things that make up the foundation of your closet. Is that tees? What about jeans? Perhaps jumpers? Maybe even boots? For me it's likely blazers or a good chunky rollneck! We're talking about the pieces you wear daily and that bring you the most joy, these are the ones you should consider when mixing colour in as you're already likely to love them for the cut even before the colour. 
For example if you wear tees almost everyday of your life because you know you can dress them up with a blazer, down with a cardigan, roll the sleeves, tuck the hems and everything in-between then stick with what feels 'you' and just turn it up a notch. Maybe add a designer logo tee in a bold colour like this new season Gucci (ad) style or stick with simple and opt for this classic Acne Studios (ad) in every colour of the rainbow. If you're the type of person that feels their most confident and ready to kick ass in a tee, then take the next step into colourful with just that rather than doing the long jump into a coloured, floor length, formal dress. Well thought out steps are how we can all develop and curate a wardrobe and style that feels comfortable yet trendy and stylish yet personal. 
I'd love to know if you're a colourful dresser, a head to toe all black lover or somewhere in-between? I feel like the older I get and the more I know the cuts that suit me, the easier I find it to mix things up and add more colour than before. Perhaps the older I get the less I care about what people may think and the more I just want to have a little fun with my style and fashion should be fun above all else in my eyes!
Let me know below if you feel the same :) 
Sign up here for a weekly catch up of everything Inthefrow