03.02.2021
Can Ruffles Be
For Everyday?
First of all can we have a moment for this absolutely stunning dress that made feel like a real life Disney princess?
The story goes that back in December I was in the planning stages of some content I was creating for the wonderful team at Lancome for the launch of their Lash Idole Mascara and had a vision of a perfect, pink, princess dress for the campaign itself. 
Like a psychic Fairy Godmother the wonderful Sally Bean reached out a couple of days later to ask if I'd ever consider loaning any of her creations, one of which being this couture one of a kind gown. The answer was of course an almighty yes and the result are these images I'm so thrilled with! 
Not only was the dress so utterly beautiful but it also felt like a luscious nod to the spring trend of ruffles ruffles everywhere. Now obviously wearing a couture gown every day is simply not an option but like most trends and catwalk styling, how can it be interpreted to make it wearable for all?
This blog post & shop widgets use affiliate links. 
Affiliate text links are marked (ad). 
The dress featured in this blog post was a PR loan.
Read the disclaimer about affiliate links & PR products/gifting here. 
Style Tiered Skirts
One of the most seen ways to interpret the trend on the runways for the past 2 seasons have been full, tiered skirts. Whether that's a stand alone piece or a tiered skirt on a dress, ruffles can easily be worn this way without feeling too out there or trend led. Any trend that can be worn in various ways gets a big yes from me and the tiered skirt style feels so modern day Bridgerton that I'm already fully on board. Think floral style for spring, block colours for versatility or even beautiful lilac or green to nail 2 trends at once. 
Choose Statement Sleeves 
Now when I say statement sleeves, don't worry too much as I'm not meaning go full Mariachi inspired long length sleeves, think capped ruffles and wrist detailing only to keep things chic. Perhaps one version of the trend that you might have to wait until spring to style to ensure the detailing isn't completely hidden by your warmer layers, but one that I know we're going to see a lot of this year. Beautiful light blouses with cuff detailing, more structured shirts with ruffled shoulders and dresses with sleeves that draw the eye to your arm candy. 
Mix Up Classic Shirts
A personal favourite when it comes to anything incorporating ruffles will always be the classic white shirt or blouse with a twist. I love me a clean crisp shirt but detailing that involves ruffles, lace, broderie anglaise or even all 3, will steal my heart in an instant. It's a perfect example of how to interpret a trend you see on the runway, into something you would already want to see or even have in your wardrobe. Trends don't need to be worn and styled like for like, make them into what you want and wear them how you want, even if it feels a little diluted and far more wearable than the original. That's the fun of fashion! 
Opt for Ruffled Knits
Possibly the most unexpected way to wear ruffles but one of the most wearable this time of year while there's still a chill in the air is ruffles on your knitwear. There's something about this version of the ruffle trend that makes me think of those cardigans and knits your parents used to try put you in for school pictures, so I feel this one's a definite love/hate styling choice and one I'm still on the fence about. Knitted tees, cardigans and jumpers with a ruffled edge.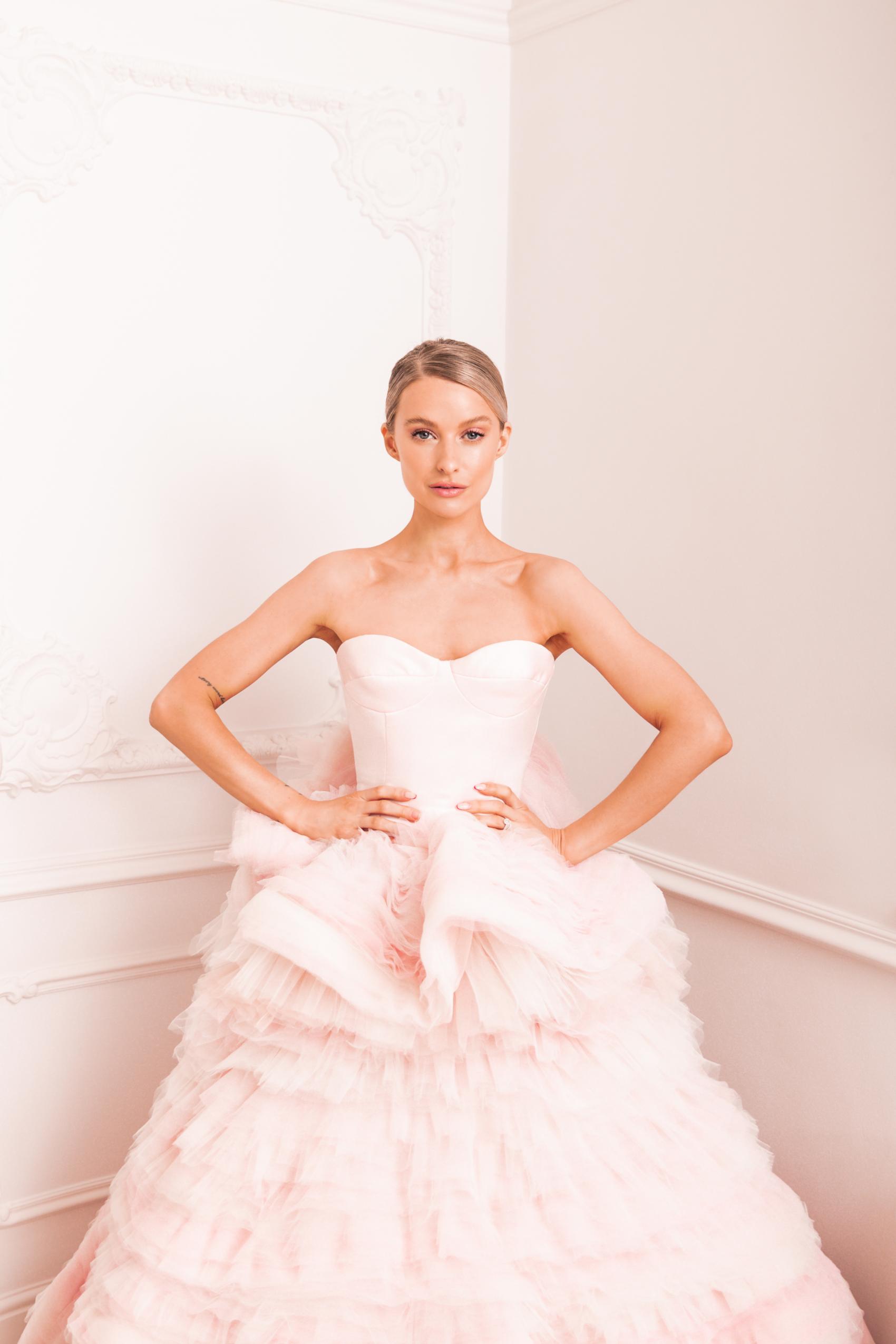 Go Big If You Dare
And actually if you simply want to wear the trend as big as you like, maybe for that ultimate special occasion, that's the beauty of personal style! Go big if you dare and find the perfect ruffled piece for you that's as statement as your own love of fashion. Or maybe you're currently searching for the perfect wedding dress and actually a ruffled gown is your idea of complete bridal heaven - you do you in a way that bring you the most joy. I promise you won't regret it! 
Again I just want to say a HUGE thank you to the wonderful Sally Bean for being so kind as to loan me one of her creations to shoot this campaign. If you want to see more of her unique designs you can follow her on Instagram here. And if you're wondering about the mascara I used in these images the new Lancome Lash Idole is now available to buy here. (ad)  
Sign up here for a weekly catch up of everything Inthefrow