25.01.2021
Skincare for
Cold Weather
It almost seems made to be that last week while hunting for some footage of our trip to Finland with Lumene to use in a new Reel, I stumbled across 4 sets of images I never even posted to the blog! 
Not only does it seem wonderfully coincidental, when I've been working with the brand this last week but also because this weekend we opened the curtains to a winter wonderland with snow as far as the eye can see. The perfect excuse for snowy memories and a look at my favourite products from Lumene I feel!
I think it's pretty common knowledge now what my skin is like and what brands I love to use but I figured if ever there was a time to chat through some of my favourite products from a brand my skin has loved over the years, it was now. 
As a reminder for my normal to dry skin (dry all year round not just seasonally dry) I have a set base routine consisting of a retinol serum, a non stripping cleanser and without fail my beloved SPF 40, all recommended to me by my skin care goddess Emma at L'Atelier cosmetics.
On top of that 3 year strong routine I supplement with non invasive peels a couple of times a year and what my skin tells me it needs as the weather changes - with dry skin that tends to be moisture, hydration and oils. 
This blog post & shop widgets use affiliate links. 
Affiliate text links are marked (ad). 
Unfortunately none of the above pieces are current season.
The knit & jacket worn in these images are PR products/gifts.
Read the disclaimer about affiliate links & PR products/gifting here. 
---
This blog post is not sponsored but I have proudly worked with Lumene a number of times previously. A quick note that although I love skincare I'm not a skincare expert and I write from my own personal experiences with my own normal to dry skin type. If you have any skincare concerns please head to a professional such as Emma at L'Atelier Cosmetics as mentioned above who will be able to help pin point any problems/issues you may have/want help with. 
The Arktis Range 
Formulated with a focus on dry skin types with ingredients such as Nordic bilberry and oats to rehydrate as well as soothe and calm skin. Rich and intensely moisturising to protect skin in even the most intense cold weather.
Sometimes our skin cries out for hydration and I don't mean when it's feeling a little lackluster. I'm talking bout when the weather turns, the temperature drops and we seek out the indoor heating of choice. We already put our skin through so much on a day to day basis but when it gets cooler things can easily get out of hand. As someone with dryer skin, cooler temperatures demand products that not only hydrate but feel calming. The type of products that feel like a protective layer while also penetrating deeply and relieving that tight feeling that winter often brings. My personal favourite since this magical trip to Finland has been the Rich Day Cream (ad) but most notably it's recently been joined by the Rich Night Balm (ad) and for someone like me who sees their evening skincare routine as a time to replenish, its balm texture is ideal. Soothing, moisturising and intensely calming but without the medicinal feel that some thick creams lean towards. Think sumptuous but soft! Both of these amazing vegan products are also created without fragrance adhering to the Finnish Asthma, Skin & Allergy foundation, making them perfect for sensitive skin types too.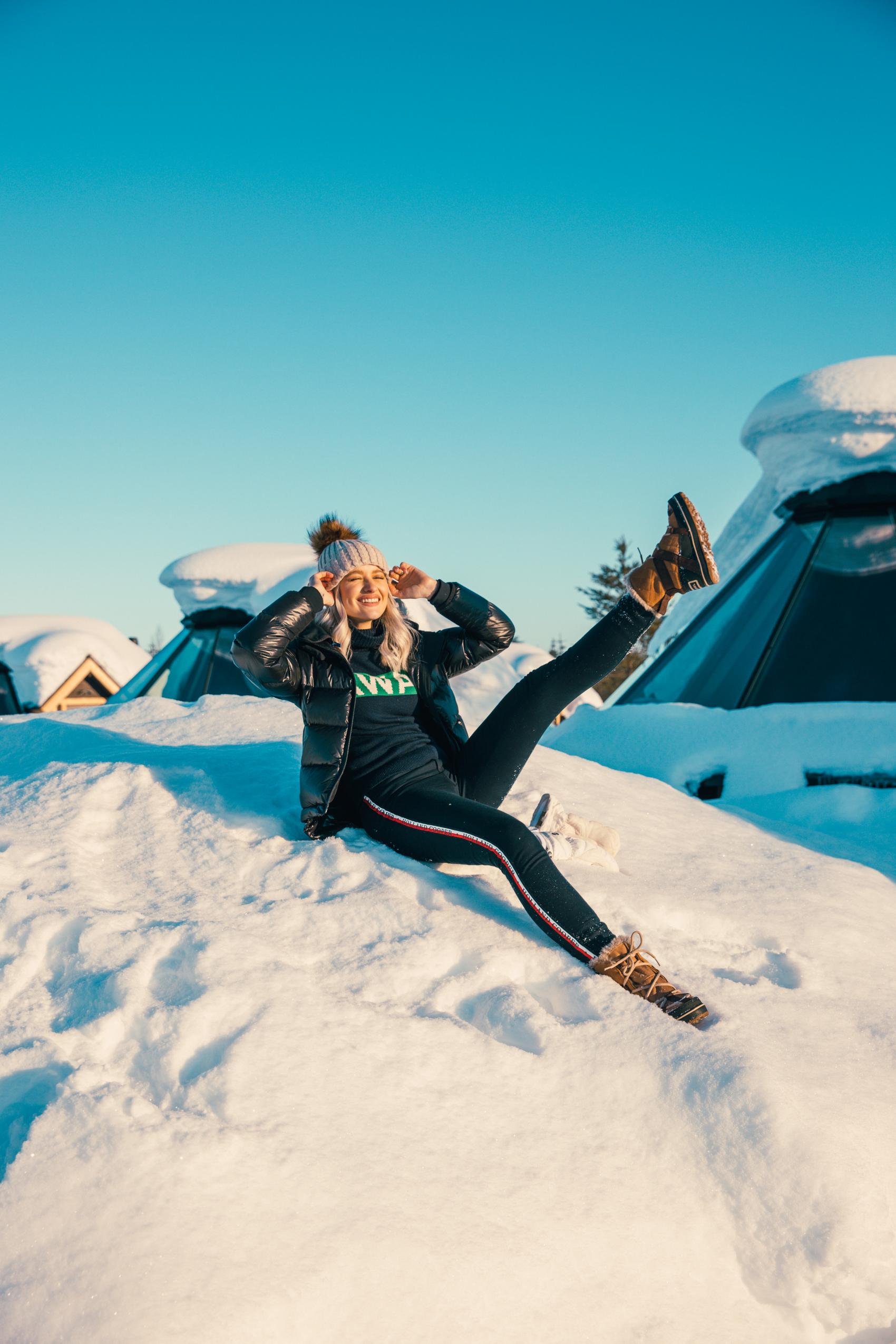 The Valo Range 
Formulated with a focus on dull skin with ingredients such as Arctic Cloudberry, pure Arctic Spring water and hyaluronic acid to brighten as well as clarify skin. Packed with antioxidant rich ingredients to add glow and radiance when skin needs a boost.
I find as someone with a dryer skin type, my skin can easily become a little sallow and lose it's natural glow. When skin is dry and it feels like some of its elasticity has even softened, I find that a vitamin C product used regularly in my routine (at least 2 weeks) adds radiance back to my face. I don't know if you'd agree but finding the right vitamin C products feels like you almost change the tone and texture of your skin as your cells rejuvenate (vitamin C as an active ingredient encourages cellular turnover) because you look so much brighter over time. When I was younger I always shied away from gel and oil based products as I felt my dry skin needed the thickest products around but as I've aged I've found thick doesn't always mean the most hydrating for me. The Arctic Berry Oil Cocktail (ad) and the Glow Boost Essence (ad) are high on my list of products from the Valo range that give both the feeling of instant hydration as they skin into the skin but also offer a long term radiance that only vitamin C can give. Top tip - a little goes a long way with products like this, don't over use especially if you're not someone who indulges in a long skincare routine!
The Lähde Range 
Formulated with a focus on dry skin types with ingredients such as organic Nordic birch sap and hyaluronic acid to moisturise while also feeling light and fresh. The lighter alternative to the rich Arktis range including fresh gels and balms.
You may be most familiar with the Lähde range from Lumene as it's such a great staple to have in your routine if you have a skin type that leans towards dry on an every day basis (not intensely dry) and/or your skin is reactive to colder temperatures and dry indoor heating. The type of dry that just needs some love and not intense changes in your routine. Unlike the Arktis range which includes rich sumptuous creams, the Lähde range feels much lighter in texture and if your skin prefers gel textures (I find we all have our own preferences but that it also changes with the seasons for me) then you might love my favourites from this range too. The collection is packed with hyaluronic acid as well as the brands iconic berry cocktails and for me these really shine in the 24 Hour Water Gel (ad) and the 72 Hour Hydra Gel Mask (ad). They're the ideal additions for my routine when I need an instant hydration lift but don't want to add in a super rich formula. Sometimes our skin needs a little boost so a lighter gel mask for instance, is the perfect pick me up.
Images taken on a magical PR trip last January to beautiful Finland with the Lumene team. 
If you'd like a run down of any other brands I use often like this, beauty or skincare focused, let me know below and maybe I can focus on a few of my favourites here on the blog? Always eager to know if brand posts like this help any decisions you're making or any switches you're looking to know more about! 
Sign up here for a weekly catch up of everything Inthefrow