18.01.2021
Simple Sustainable
Kitchen Swaps
One minute we're chatting New Year intentions, the next we're talking about all things fashion and now we're veering off into the home and sustainability realm. I think that's the beauty of this blog and why I love it so - it's all the things my life is filled with all in one succinct place. 
I've shared about starting my journey to make more sustainable decisions and swaps already here on the blog and I know so many of you are also on this journey too. Whether it's small changes to your everyday routines or big decisions in the fashion realm, I feel we all have so much to share with each other. 
There's definitely a sense of apprehension for me in sharing the changes we're making and the swaps we're delving into because I know these journeys take time. However I also know that the smallest changes can create the biggest waves and other people sharing their steps and discoveries is always what encourages me further. 
So here are just some of the swaps we've made over the last year or so and please do share your own below, would love to discover some more brands, items and ways to make positive changes. 
This blog post & shop widgets use affiliate links. 
Affiliate text links are marked (ad). 
The coffee machine featured here was a PR product/gift.
Read the disclaimer about affiliate links & PR products/gifting here. 
Discovering New Cleaning Solutions
One of the first changes we made in heading towards a more sustainable kitchen/laundry routine, was to search out some new cleaning solutions. When I think about how often we were purchasing plastic bottles of kitchen cleaners, laundry detergents and lazy surface wipes it makes me shudder! I feel like so often we feel we're going for the simplest option and actually the more sustainable options out there are just as easy, especially after a little research and encouragement from others. 
We discovered Colt & Willow last year after searching for a brand that could offer refillable cleaning products and we've not looked back since. We use their Washing Up Liquid (rhubarb scented and smells practically edible), All-Purpose Cleaner (so fantastic for making surfaces shine like new), Bathroom Cleaner (brilliant on shower screens and baths) and Wonder Scrub (which is great for stainless steel and even ovens). Their cleaning bottles are created using glass and their refill bottles use 100% PET plastics (as it's easily recyclable - most areas in the UK don't have the ability to recycle other materials fully yet) but they're also working on other refillable options too!
We also recently switched to Ecover laundry detergent (which is a plant based alternative to other product options) and so far we're really loving using it. The bottle itself is made with 100% post consumer recycled plastic (again easily recyclable across the UK), can be refilled at hundreds of stores and is created in a zero waste factory. This concentrated liquid (more washes in a smaller bottle) teamed with using laundry bags to stop micro plastics going into our water system (all clothing releases micro plastics in the wash) and using reusable dryer balls (ad) instead of dryer sheets, has given us a wonderful laundry routine for 2021!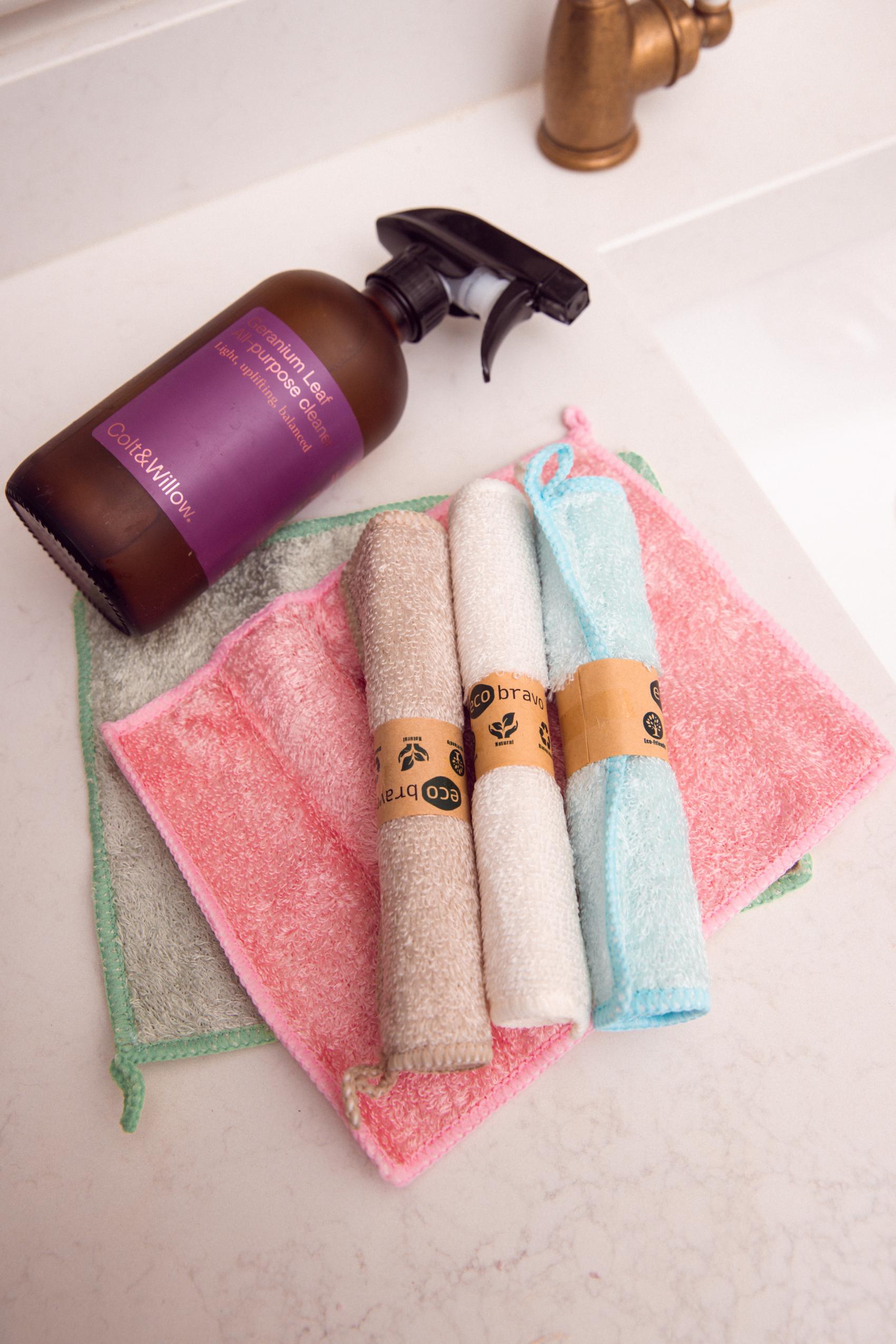 Choosing Reusable Kitchen Products
Some of these options were more recent swaps as recommended by friends and family but they've become some of most waste saving swaps we've made in our kitchen. I have most definitely been guilty of simply not realising the amount of waste we generate in our kitchen. I focused on trying to remember reusable coffee cups when I headed into London and ensuring I had a reusable shopping bag in my handbag but often forgot about the way we were generating waste at home.
We now use reusable dish sponges (ad) that we can wash in the washing machine (some brands you can even run through the dishwasher with a load of dishes) and reusable bamboo cloths (ad) for cleaning in place of endless squares of kitchen roll/paper towels. Such simple easy swaps that I'm so glad we made. 
And when it comes to the cooking side of things we've made lots of swaps but the most used and noticeable for me has been finding reusable parchment paper (ad), also known as grease proof paper. I'm an avid baker, often making banana bread or flapjacks in our house once a week, so parchment paper that can be washed and then reused is such a brilliant find for our kitchen. 
Switching Out Our Coffee Machine 
This one is definitely an investment as well as a more sustainable switch but when we moved into Frowhome we decided to re-home our coffee machine that used individual coffee pods and bought a new coffee machine that uses whole beans. I always had a sense of guilt about using multiple coffee pods every day (we both have 2 if not 3 cups of coffee during a work day) and even though we always meant to switch to collecting them and shipping them to be recycled (not ideal) and then to a reusable pod insert for the machine (the 2 we tried were never truly leak proof) swapping our machine was a great decision for us. That combined with opting for a Fairtrade coffee brand such as Grumpy Mule that puts sustainability and traceability at the forefront of their business, is a combo we love and prefer. 
Choosing Versatile Kitchen Items
Following on from discovering some reusable kitchen items, one of the best things we've found through recommendations have been reusable but versatile kitchen items. Sometimes these can be the simplest of products and other times they can be innovative unique pieces and I feel we have a good mix of the two. 
Firstly my bestie Rebecca discovered Stasher Bags a couple of years ago and the last time we were in Chicago I immediately ordered some for us to use. They are such a great swap for single use plastic sandwich bags but they are also so versatile in our kitchen. Stasher bags are silicon bags that have an air tight seal to keep food fresh when being stored but not only that they are dishwasher safe, microwave and oven safe (to a certain temperature), sous vide safe and can even be used in the freezer. Not to mention the endless uses the brand shares on their social media pages such as making guacamole in them and using them for snacks on the go. They're reusable forever but should you ever need to dispose of them the brand will take them back and recycle them into playground materials. So very cool! 
Secondly we've switched to a combination of glass storage containers and silicon bowl covers (ad) for food storage. As opposed to plastic containers options for storage, this swap to glass means no micro-plastics are released when washed, we can also use them to reheat leftovers in the microwave and as for silicon bowl covers, we're actually finding our food is staying fresher for longer as well as importantly cutting back on our foil use.
Thirdly fruit and vegetable bags that we use to not only organise our fridge (let me know below if you recall mine and Alex's heated discussion on the vlog about mixing red and white onions together haha) but that pre Covid we were also using to avoid single use plastic bags when doing our food shopping too. All simple swaps but ones that we're so glad we've made!
Choosing Recycled Kitchen Products
And last but not least , never underestimate choosing to do a little research on the things you haven't yet found full reusable alternatives for and ensuring we choose better for the environment options where we can. In terms of the bin bags that we use in both our kitchen waste and recycling bins, we now opt to ensure we purchase bin bags made out of recycled plastics, as opposed to virgin plastics. When our garden is finally completed we're also hoping to have a food compost area so that we can mulch our food waste, which will also have a great impact on lessening our kitchen waste. And when it comes to Boe on walks, we also ensure we use compostable waste bags for him always. Small swaps to lessen our environmental impact as we research more ways to work towards being more sustainable. 
Sign up here for a weekly catch up of everything Inthefrow