11.12.2020
Perfect Gifting With
Mytheresa
- Christmas Gift Guides 2020 - 
This blog post is a paid for advertorial in collaboration with Mytheresa. (ad) 
It's no secret that I love luxury fashion and I have my favourite must visit sites that I frequent often, weekly in fact. Not only to keep an eye on the newest trends and to see if there are any must have pieces to add to my own wishlists, but also to see what trends Alex might like to indulge in too.
With this in mind I'm so thrilled to be partnering with Mytheresa on my penultimate gift guide, especially now that 2020 has seen the launch of their incredible Menswear offering, including some of Alex's most loved brands. Loewe, Gucci, Tods, Fendi, Burberry and so many more! 
If you're not already familiar with Mytheresa or perhaps that they now offer an amazing selection of designer Menswear items, then I hope you'll love discovering their luxury offering through Alex's stylish eyes and what early Christmas presents Santa Frow brought him with the help of Mytheresa this year! 
This blog post uses only affiliate links. 
Affiliate text links are marked (ad).
Read the disclaimer about affiliate links & PR gifting here.
Truly Special Accessories
Nothing says Merry Christmas and I love you more than adding something incredibly special under the tree, especially so this Holiday season. Mytheresa (ad) has a huge range of designer accessories that anyone in your life would be thrilled to unwrap this year and I know from experience that Alex loves his more luxury accessories. Those pieces that he can pull out not just for everyday but for those special occasions too. The kind of accessories that make him feel his best, pull his outfit together and also elevate any look. I asked him what was at the top of his list this season if he could choose any designer accessories for himself and here's what Mytheresa delivered.
Burberry Cashmere Scarf - A perfectly chic winter warmer with that iconic Burberry heritage. The darker colour palette works perfectly with almost every jacket Alex could choose to wear this winter and I know he'll style this for years to come.
Gucci GG Socks - Something not only luxury but fun too, some designer socks to wear with his newest formal shoes. The Gucci logo on these Italian knit socks is obviously iconic but the addition of the contrast anchor, really sings to Alex's punk loving heart.
Fendi Wool Beanie - Adding this gorgeous 100% wool beanie to his Christmas list, means Alex can finally stop stealing my Fendi hat whenever the temperature drops. The iconic FF motif is beautifully statement though so perhaps I'll be stealing his now.
Gucci GG Tie - A really special addition that even I didn't anticipate this year was a classic designer tie to elevate his Christmas Day outfit. Simple enough to pair with his favourite shirts and knits from Mytheresa, but luxe enough to save for those truly special occasions.
No matter what style your loved one opts for, Mytheresa (ad) have such a huge selection of brands, that you're bound to find that must have piece, you know they'll never want to take off. When it comes to luxury fashion, Alex would say that he likes to dip his toes. He has a few favourite brands that he knows he loves the quality and designs of, so Christmas is when I like to spoil him and make sure there are a couple of luxurious clothing treats to unwrap. Alex's style has most definitely developed over the last few years but his preferred look is still very him with darker colour palettes, touches of his most worn brand logos and classic silhouettes. All this mixed in with his band tees, well worn denim and often designer shoes - that's so Alex. This time I asked him what was on his list this season if he could choose just a couple of luxury clothing pieces for himself and here's what Mytheresa had to offer. 
Loewe Motif Sweatshirt - A very Alex choice and one that I can't wait to see him style more is this gorgeous Loewe sweatshirt. Made from 100% cotton in a deep inky blue shade, it's a luxury piece I already know he'll style over and over and may end up in my closet too.
Gucci Cotton Tee - If you want to treat a loved one to something designer but you're unsure what to gift, this Gucci tee would be a fantastic pick. With the brands well known red/green stripes and a modern twist on the house's logo, it's a classic yet trend led option.
Brunello Cucinelli Knit - A piece Alex has barely taken off since his last Mytheresa order, is a stunning Brunello Cucinelli crewneck knit. The chic neutral shade, combined with ribbed detailing and the fact it's exclusive to Mytheresa makes is such a special gift. 
If Alex had to choose only one type of designer item to buy for himself or add to his Christmas list, now and in future years, the answer would most definitely be some luxe footwear. Trainers, boots, loafers - designer footwear is definitely his style priority and as his love for great quality pieces grows, so to does his footwear collection. Mytheresa (ad) has such a wide range of styles, brands and trend led pieces that you won't need to shop anywhere else this season to treat the men in your life to a new pair of shoes. For the last time I asked him what was on his Christmas list this year, if he could choose some new fancy footwear and here's what Mytheresa had him lusting over.
Tod's Leather Loafers - At the top of the list for Alex was a brand new pair of Tod's Gommino loafers. He's already lucky enough to own two pairs in his wardrobe and has been lusting over this classic black pair for a while. A must have when he considers them the comfiest shoes he owns. 
Church's Penny Loafers - A really wonderful pair of formal shoes is such a lovely gift to give a loved one. These Church's loafers are chic enough that they can be dressed up and down, but you know they'll truly shine on special occasions like Christmas Day and New Year.
Prada Combat Boots - If you're thinking about treating someone in your life to the only trendy pair of shoes worth having this season, then a pair of Prada combat boots are a winning gift. Anyone with a love for designer brands will simply be speechless unwrapping these on the big day.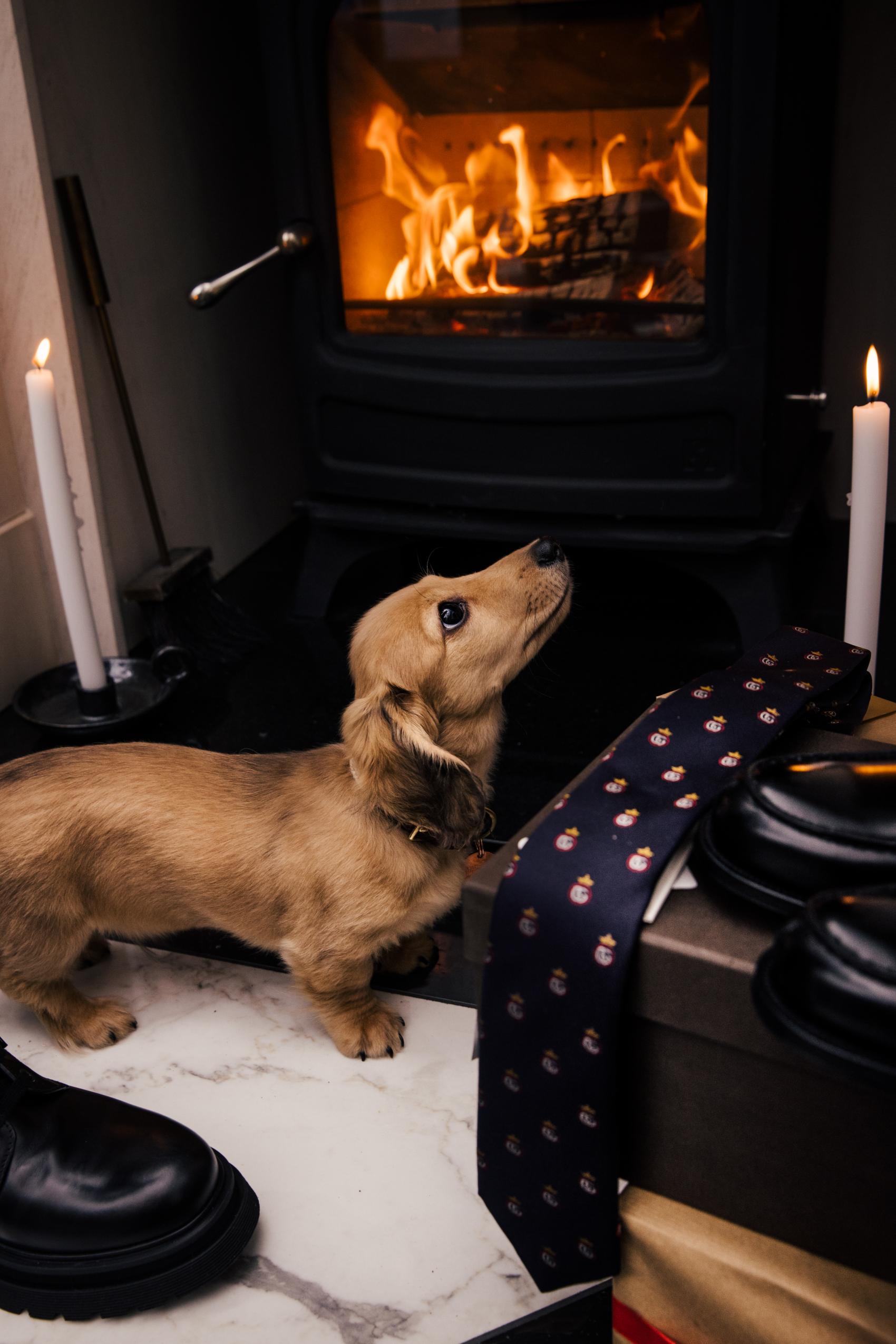 A huge thank you again to Mytheresa (ad) for partnering with me on this Men's gift guide - it's been such a pleasure to work with the team throughout this year and even more special to end the year by treating Alex x
Sign up here for a weekly catch up of everything Inthefrow