07.12.2020
5 Christmas Day Outfits for
Every Budget
In amongst all the strange events, feelings and upheaval 2020 has served us, I've tried to be an advocate of finding joy wherever I can. One of the places I've always been able to find a little happiness, even through this year, is embracing and exploring all things fashion, trends and style.
Whether that's in my real life, on social media or here on the blog - being able to be creative, feel inspired and share through one of my life long passions, has meant a way to find joy and bond with others.
Christmas Day 2020 might not look like previous years celebrations but it certainly doesn't mean that we can't find some fun in dressing up and embracing who we are this season. Smaller family gatherings, virtual catch ups and cosy at home celebrations don't mean you can't dress up, if it's something you'd actually really love to be doing.
If like me you're also thinking about adding a little fun, sparkle and newness to your wardrobe for the festive season, then here are 5 Holiday outfits from some of my favourite retailers that'll hopefully give you some big day inspo, no matter your plans!
This blog post uses all affiliate links. 
Affiliate text links are marked (ad).
All of the imagery in this blog post can be found on the respective brand websites.
Read the disclaimer about affiliate links & PR products/gifting here. 
I know from all of the behind the scenes stats and views here on the blog, that one of our favourite retailers to shop all year round, is Net a Porter. Whether it's finding a special something for a loved one that really says I love you, or treating ourselves to something incredible to wear on Christmas day - Net a Porter is one of the most loved brands on Inthefrow. If you're a lover like me of all things silver and this year styling pieces a few notes of the huge 70's trend, then look no further. Opt for statement textures such as these velvet trousers, with an embellished one sleeve top and the white version of my most worn oversized blazer. Then accessorize with the it bag of the season in a new metallic colour way, sustainable silver jewellery and of course my wedding heels to really bring the big day sparkle. 
Not everyone's budgets can stretch to luxury retailers, but that doesn't mean that you can't lean into new trends you love and feel amazing over the Christmas period. H&M do some of the best party/festive wear at this time of year and if there's a time when you can embrace head to toe sequins and new trends, it's most definitely an abnormal Christmas day like this years. Perhaps you'll be heading out to socially distance wish a relative or friend Happy Holidays in the morning, meaning you'll need to accessorize those sequins in a few different ways. Think about styling the magical base layer of a sequin midi, with a picture perfect red knit and the softest faux fur coat and then when you're home switch your favourite combat boots and trend led handbag out, for a classic mule and a beaded alice band for dinner. Day to night - et voila!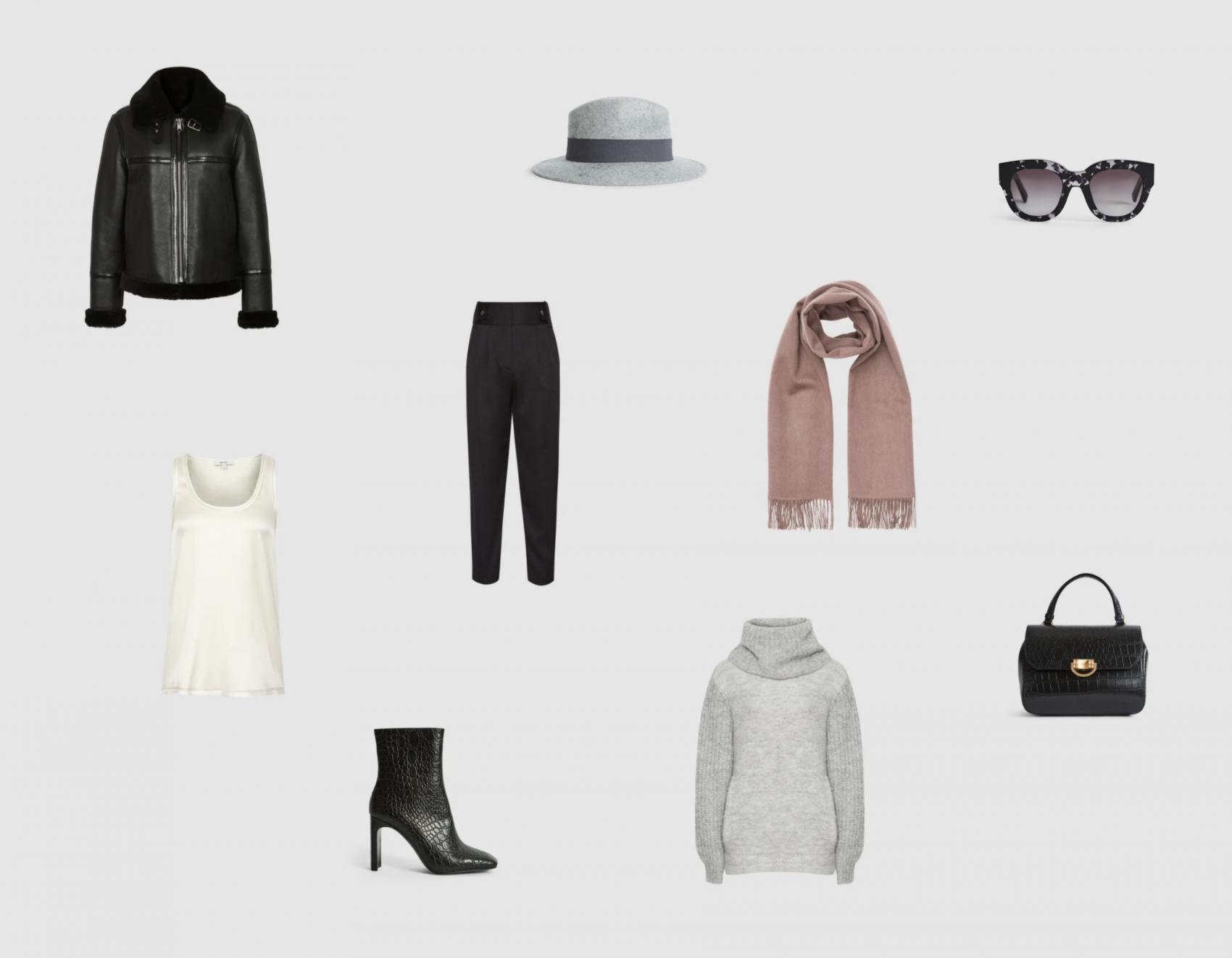 Reiss has long been one of my favourite retailers because the quality of their clothing is so high. Their knitwear, jackets and elevated basics are investment pieces that will last you a lifetime and will so easily mix and match with your wardrobe favourites. Christmas day looks for me are all about layers and versatility and Reiss do layers oh so perfectly. Think the classic reversible aviator, chunky winter knit and oversized scarf for your chilly morning family walk, all layered over the tapered trousers and sumptuous silk front vest that are perfect for opening presents by the fire or even late night cocktails in the dining room. Versatile and beautiful in equal measure and sure to mean you're ready for all manner of plans on Christmas day!
Another favourite luxury retailer of mine I know we all love and shop at often is Mytheresa. Stocking designer brands we all love to lust over, the newest wow accessories before anywhere else and even site exclusive limited edition collaborations, that reach the top of our wish lists, quicker than you can say new in! If you're thinking about opting away from classic black and leaning into the warm neutral colour palette of 2020, then Mytheresa has so many beautiful pieces to choose from. Think sequins that shine warm, teamed with golden hues from your metallic heels and gem drop earrings and if you need those extra Christmas day layers then a designer scarf with the most sought after teddy coat of the last decade, are a match made in heaven!
All Saints are the front runners when it comes to edgy style and what better place to consider a Christmas day style glow up, if your own style embraces textures and killer accessories like the brand loves. If this Christmas day tradition doesn't appeal to you and you're wanting to invest in some quality pieces, then All Saints ticks those boxes and more. Think styling sequins but in the most cool way, by wearing a tailored but relaxed cut suit, teamed with an everyday essential bodysuit, then if you're venturing into the great outdoors you can still up your cool points by embracing textures and adding a chic wool scarf, as well as a must have for 2020 leather trench. Alternative, edgy and fun! Don't forget to be quick though, as All Saints sales are always incredible value for money but those leather jackets and tailored pieces we all love, fly off the virtual shelves! 
I hope this post offers you some fashion inspiration for the Holiday season, whether that's in what you may treat yourself to in the run up to Christmas or simply to rediscover some of the pieces you already have in your own closet :) 
Sign up here for a weekly catch up of everything Inthefrow