12.11.2020
Dream Christmas Gifts from
Holland Cooper
- Christmas Gift Guides 2020 - 
This gift guide is a paid for advertorial in collaboration with Holland Cooper. 
If you've been keeping up with everything on the blog, Instagram and YouTube over the last few weeks you'll know I was so over the moon to announce my clothing edit with the incredible Holland Cooper in October. 
An edit curated with the wonderful brand team, headed by Jade Holland Cooper of course, of all my dream pieces, looks and styles from their autumn winter collections. A match made in fashion heaven - if I do say so myself!
In amongst the excitement of shooting for the edit, I was also gearing up behind the scenes to create my annual gift guides and I just knew I would love to feature some of their amazing pieces in a cosy Christmas Gift Guide here on the blog. 
So if you're looking for the perfect gift for a loved one or even if the gift tag says "To me, Love me x" (because why not!) here are my perfect brand picks for the festive season and why you're going to want to add them to the top of your wish list this year!
This blog post & shop widgets use affiliate links. 
Affiliate text links are marked (ad). 
Read the disclaimer about affiliate links & PR gifting here. 
Perfect Stocking Fillers
No gift guide can begin without the thought of stocking fillers and especially not when it comes to all things fashion. Holland Cooper this year have some absolutely stunning accessories that you're definitely going to want to find in your stocking this Christmas! From the most luxurious of silk scarves to the cosiest of wool blend scarves, and from that must have belt of the season to handcrafted hats you'll never want to take off - there's something for every person, trend and style.
What stands out about Holland Cooper pieces, from their sought after knitwear to key seasonal accessories, is the amazing quality that'll have you swooning over your newest addition. Their versatile Silk Scarves featuring intricate equestrian designs are made from pure silk, come hand rolled and packaged in the most special Holland Cooper gift boxes and can be worn as a bag twilly, a hair accessory, of course round your neck or even as a belt. Team one with their signature Scarf Ring to really complete the look. Their wool Fedora Hats are handcrafted in the UK using sustainably sourced feathers and luxury silk linings, making for an utterly sumptuous styling moment and even more so when teamed with their logo HC Belt for extra trend points. And if you're battling the elements and you know your loved one would adore a cosy addition this Christmas, then their brushed Chelsea Scarves are the ultimate in practical yet beautiful gifting.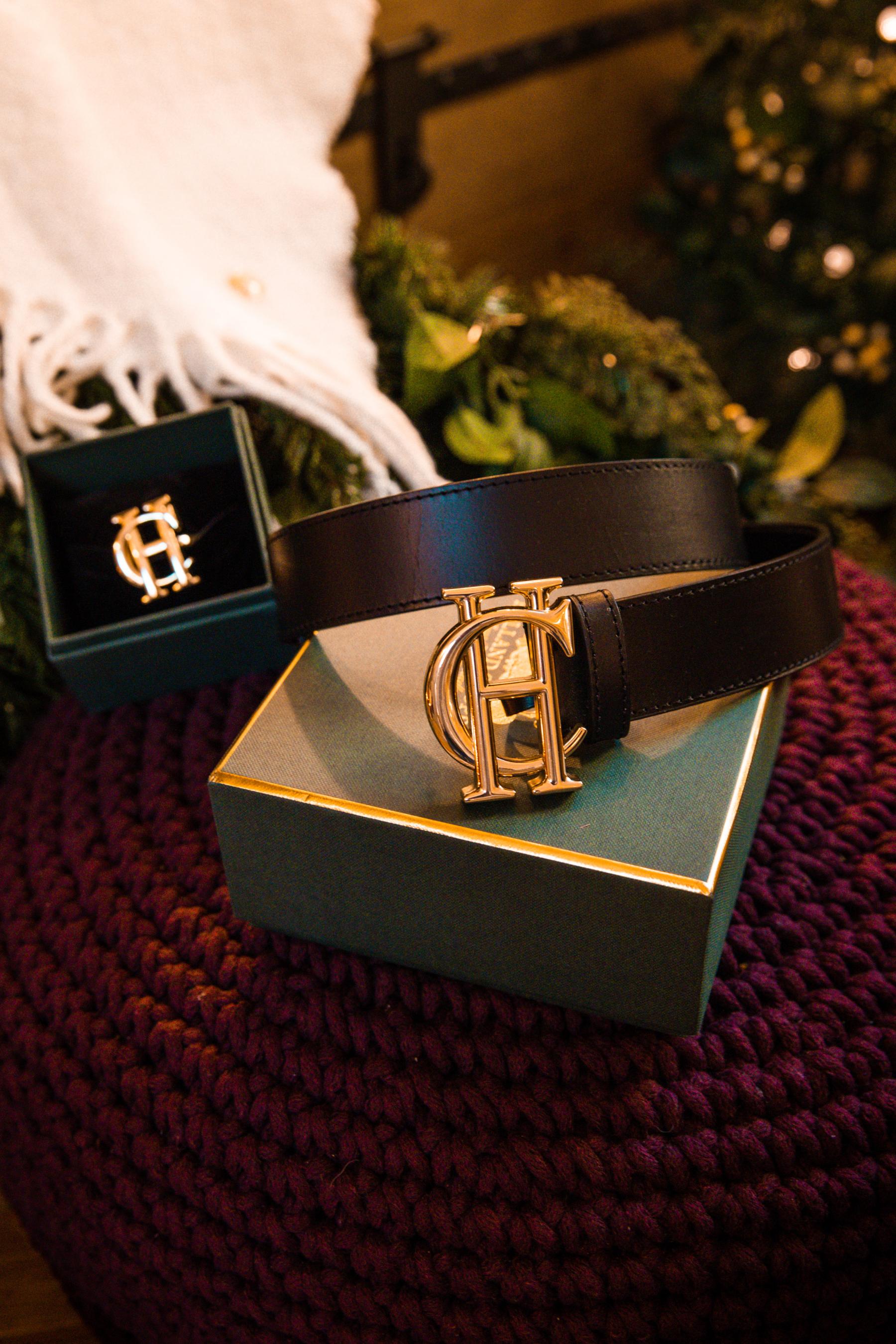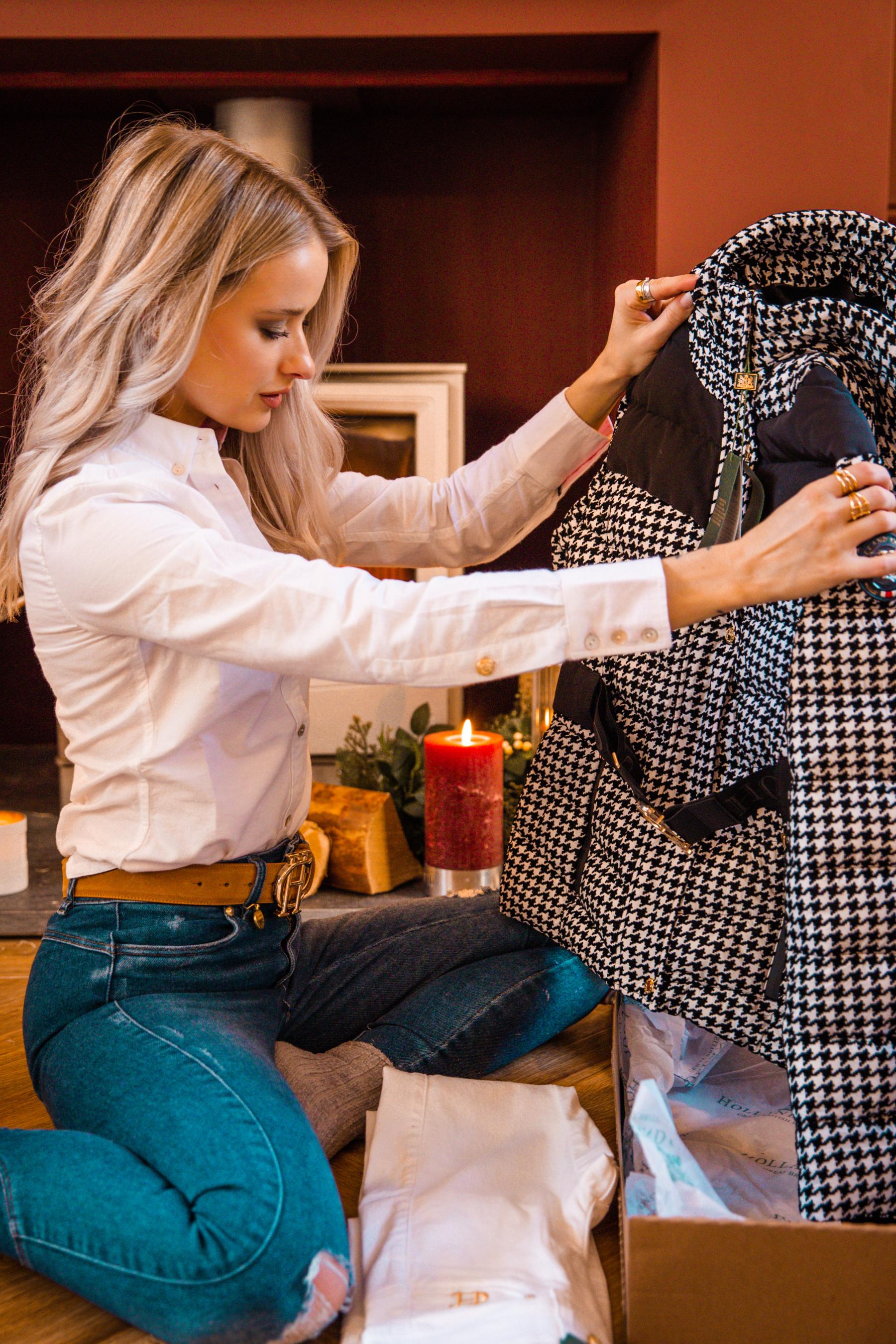 Cosy Winter Warmers 
Is there anything more festive than adding some beautiful winter warmers to your Christmas list? There's nothing that says crisp Christmas morning walks and cosying up by the fire in your local pub, than a new addition to your cold weather wardrobe. Holland Cooper have the most wonderful variety of coats, jackets and knits and if I had to choose a favourite I'm really not sure I could do. Their Vermont Puffer Jacket in Houndstooth is the ideal winter jacket with its figure flattering belt, warm but breathable eco fill and it's purposefully oversized hood to keep those whipping winds out. And if you want to embrace the houndstooth trend but prefer an alternative look that allows you to show off your favourite knit, then the Valais Quilted Gilet is the next best thing. Layer to your hearts content with Holland Cooper branded knitwear in every colour your wardrobe needs, complete with their instantly recognisable button detailing on the shoulders and cuffs. Winter White, Red Tartan, Houndstooth or Cable Knit Navy - which will you choose for your Christmas day look?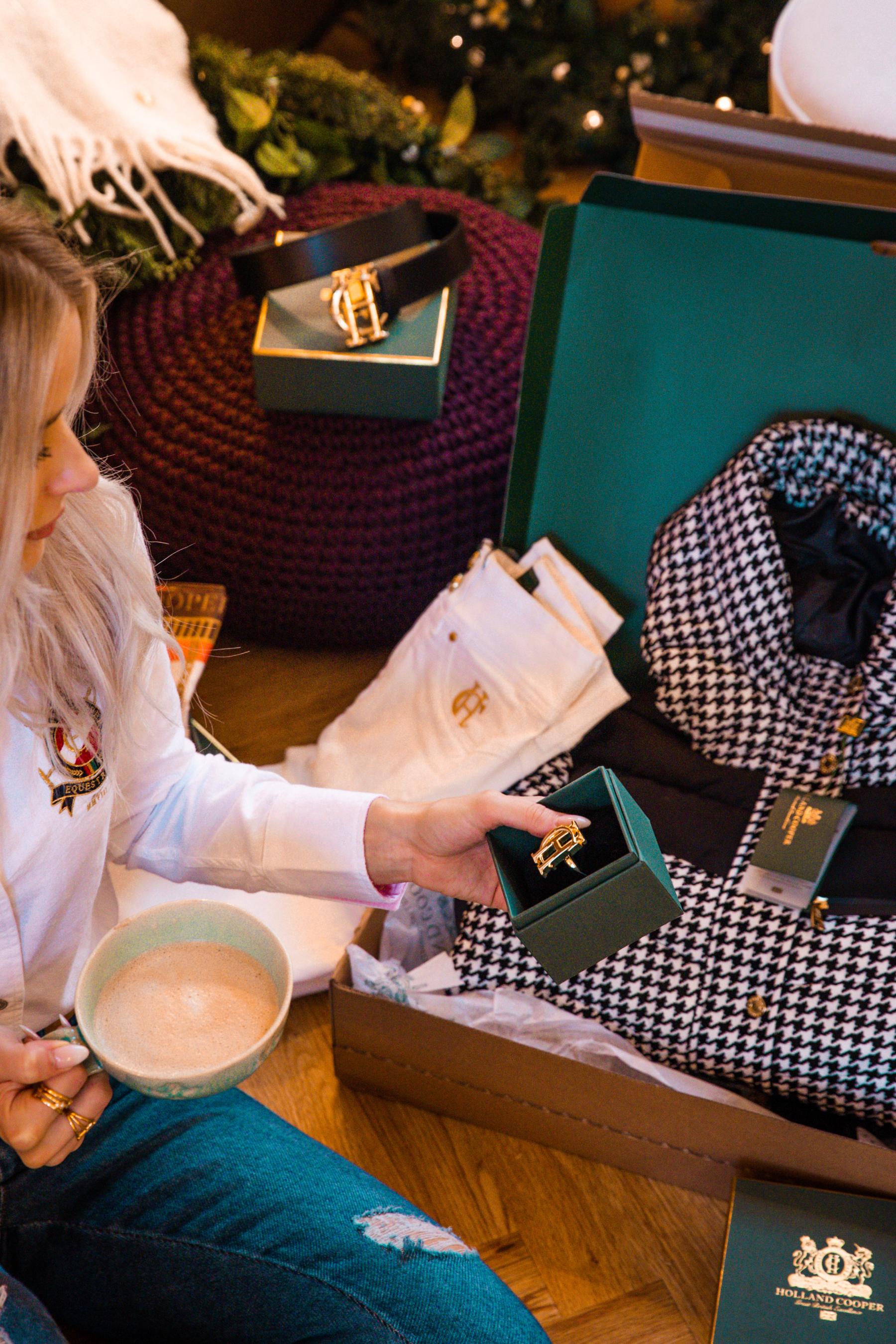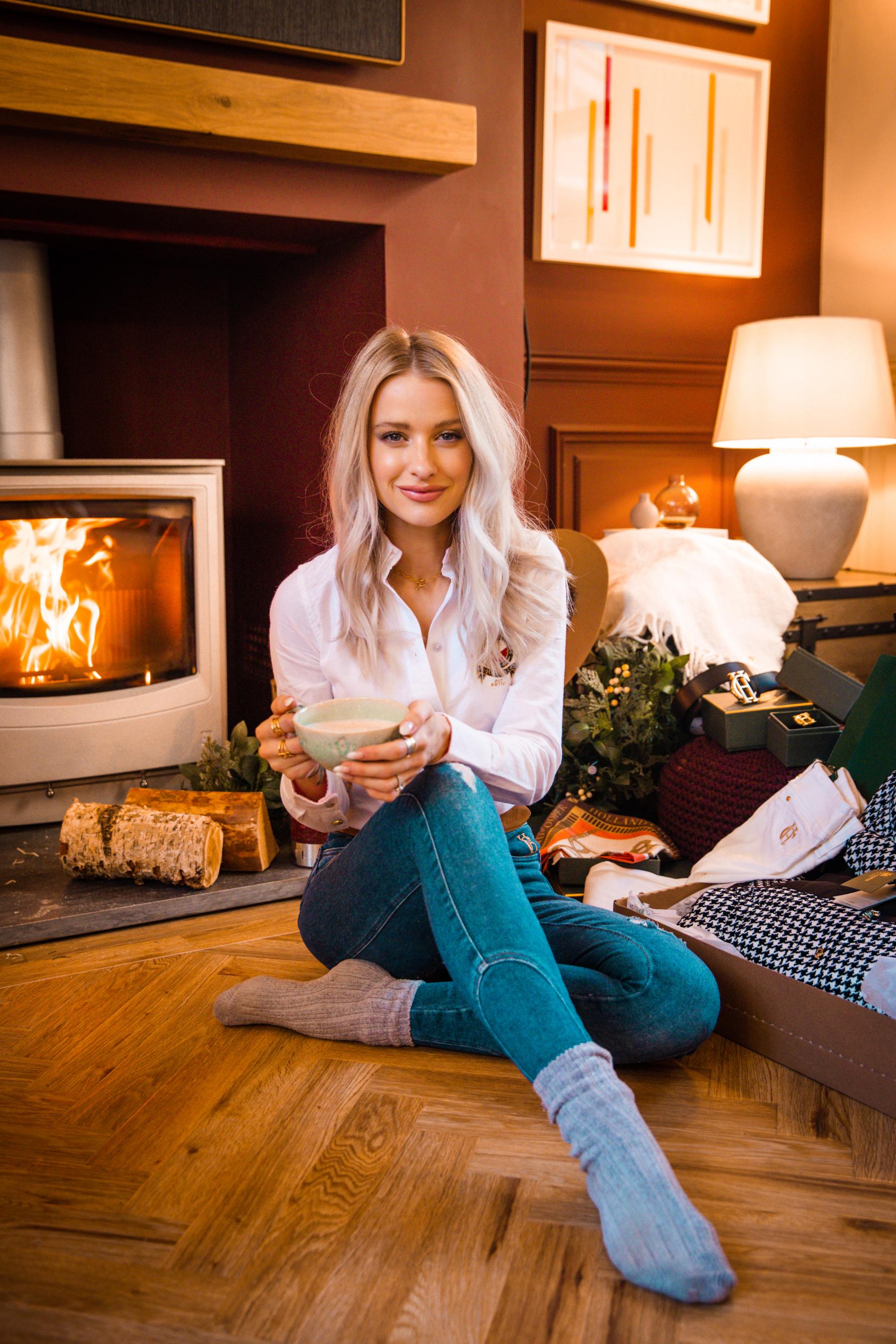 Wardrobe Must Haves
A Holland Cooper blog post was always going to feature some of my most worn pieces, simply because if I'm wearing them weekly then of course I'm going to make sure you know just how much I adore them! Christmas doesn't always have to be about investing in cold weather pieces, especially so if you're thinking versatility and longevity with your wish lists this year. If this years the year you want to invest in some dreamy denim, a beautifully cut blazer or an always on trend classic shirt, then Holland Cooper have you covered. I could go on and on about the brands denim, simply because the flattering fit of their Jodhpur Jeans, Biker Jeans and Coated Biker Jeans are my go to for all occasions right now. Ash Grey to team with beautifully bright tartan, Coated Black to style with winter white and Vintage Denim for everyday casual looks. Add to that the unbelievable quality of the brands new Silk V Neck Blouses (so many of you fell for the emerald green shade I wore recently) or their Classic Oxford Shirt and you've nailed Christmas smart casual in more ways than one. And of course no look of mine would ever be complete without a blazer and my newest love is the Double Breasted Blazer in Prince of Wales Mono. I know anyone would be overjoyed with any luxury pieces from Holland Cooper wrapped up under the tree this year, so I hope you've loved diving into my seasonal picks with me!
And perhaps the most exciting piece of all from the brand this season that you may have seen as a sneak peek over on my edit, the Regency Wellington Boots. Launching today in limited numbers (November 12th!) they are the absolute epitome of Wellington Boots made luxe. Choose from either the classic Matte Black or the chic Croc Print to bring added style to your next country walk. The Regency Wellington Boots are fully sherpa lined meaning they're as cosy as can be no matter the weather, 100% waterproof to ensure your feet stay warm and dry and they have the right on trend biker style strapping to really seal the deal. I know I shouldn't really choose a favourite but if I found these under the tree this year, Alex would have earned some serious husband points! If these beauties are on your Christmas list you're going to have to be quick as they're exclusively available at Holland Cooper and Harrods now!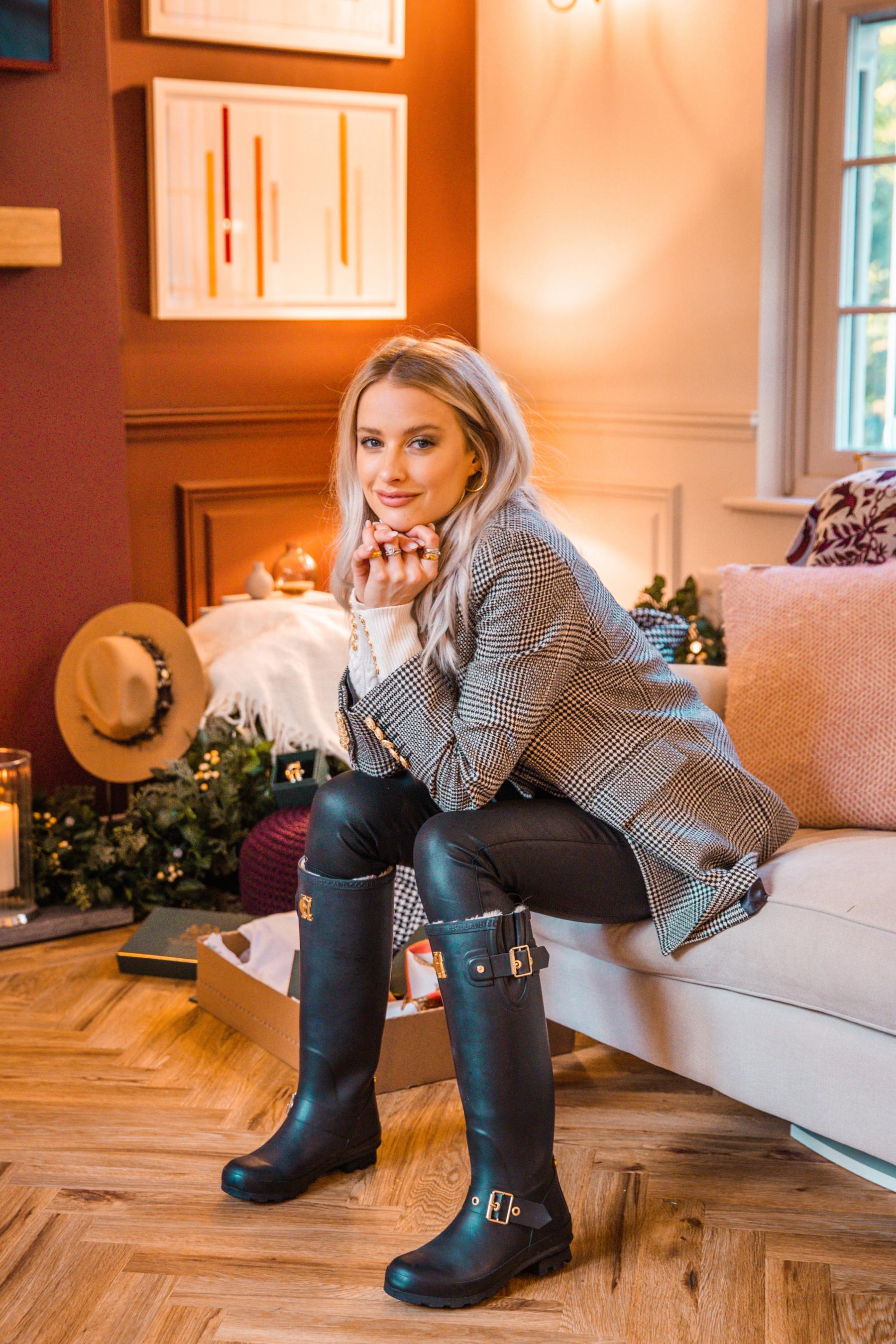 A huge thank you to Holland Cooper for working with me on one of my gift guides this year! I'm so proud to work with the entire team - makes me feel so incredibly lucky to partner with a brand who naturally encompass my personal style x
Sign up here for a weekly catch up of everything Inthefrow