04.11.2020
Statement Patterns
For Autumn Winter
Although so many pieces in my own wardrobe are classic, versatile and could easily be part of a capsule wardrobe for most, the pieces that bring me the most excitement and joy are full of colour and pattern.
I could quite easily live in basic blazers, crisp white tees and classic blue denim but when there's so many styles, colours and designs to be explored, I find myself this season gravitating towards bolder than normal looks. 
I always like to refer back to fashion months when it comes to trend spotting and the styles we see taking over our social media platforms from designers and high street favourites and despite the strangeness of this year, this autumn winter is no different.
Last February saw not only the sought after balloon sleeves, cardigans, suiting and colour blocking make their return, a multitude of check, tartan and plaid flooded our senses. Checks as far as the eyes could see but for the average everyday look, how do bold checks translate from the runway to real life?
Here's my tips for working statement patterns into your wardrobe with ease! 
This blog post & shop widgets use affiliate links. 
Affiliate text links are marked (ad). 
The blazer & blouse featured in this imagery were PR gifts.
The trousers featured in this imagery are bespoke.
Read the disclaimer about affiliate links & PR gifting here. 
Keep Things Simple
For me it's about simplicity and wearing a bolder style that may feel a little out of my comfort zone, needs the reassurance of some old favourites. If you've indulged and invested in a heavily patterned piece, that feels a more trend led than usual choice, then base your look around the pieces you already wear and repeat often. For example the drama of a patterned maxi length coat, is the perfect partner for colour block base layers that draw the eye and bring your look into the everyday style that may feel more familiar to you. Similarly if you don't feel that a full Prince of Wales check suit is something you feel confident enough to rock, then swap out the blazer or trousers for a pair you feel you can embrace more confidently and that will tone down the pattern. It's all about finding a balance between the excitement a piece brings to your wardrobe and the confidence any look you choose should bring you.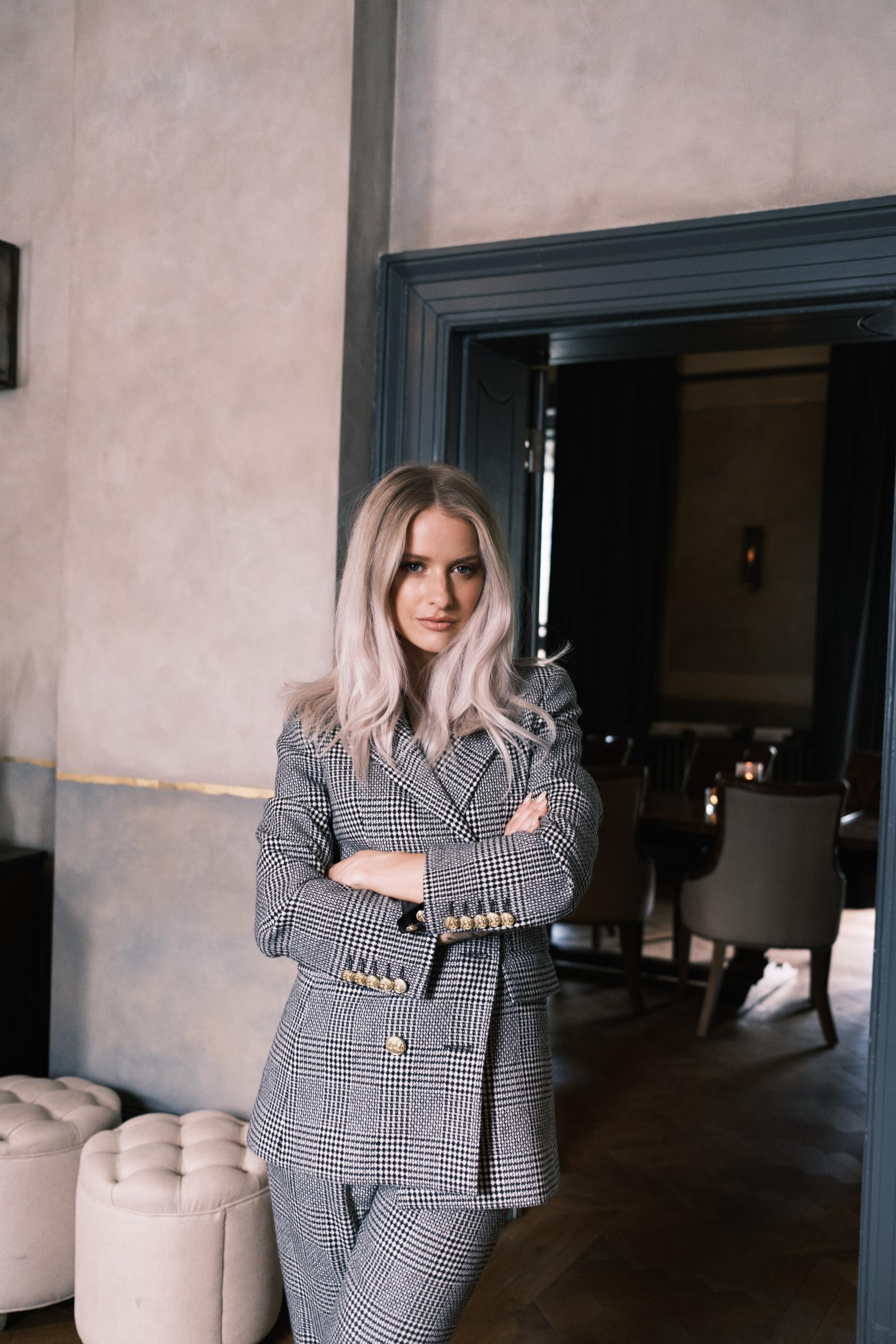 Use Your Accessories
If you're stepping out of the box and choosing a look that's perhaps head to toe pattern, then utilise your favourite accessories to bring things back a step. Accessories can either be the pièce de résistance of an outfit and find their own spotlight or they can equally tie a look together and become the elements that feel like a style foundation. For example if you're opting for the checkered suit you've fallen head over heels in love with and decided you simply have to style the pieces together, you can rely on your accessories to reign in the pattern. A chic monochrome blouse, a matching must have belt and even your favourite everyday boots can bring a head to toe pattern into wearable and versatile in an instant. Now is the time for those investment, season transcending pieces to shine!
Dip Your Toe
If the idea of statement patterned pieces just seems altogether too trend led, then just like any trend, interpret the look in whichever way fits your personal style. Trends are there to be lent on, to be embraced or to simply admire so whether that means you want to replicate the runway look in its entirety or sprinkle just a dash of it into your closet, it's yours to enjoy however you'd like. For example look towards your accessories again and opt for luxurious statement scarf for the colder months or even a more casual tartan/plaid shirt if you know you'll get more wear out of something more everyday. The joy of personal style and fashion means embrace the trends you love, avoid the trends you don't and wear whatever makes you feel great. Whether that's statement pattern, a hint of pattern or no pattern at all!
Images taken during a PR stay at the No.131 Hotel in Cheltenham. 
The trousers featured were a very kind bespoke gift however they are the same perfect cut as the black alternative linked above.
I hope you enjoyed me bringing back the leg kick for these images a la VB - I couldn't resist haha
Sign up here for a weekly catch up of everything Inthefrow