16.11.2020
Perfect Foodie Gifts &
Stocking Fillers
- Christmas Gift Guides 2020 - 
This blog post contains an integrated paid for advertorial with Hotel Chocolat. 
One of my most requested gift guide topics every year, is anything full of Christmas chocolate and kitchen gifting. It seems most of us love to treat our favourite people (as well as ourselves - because why not after this year!) to wonderful foodie gifts and Christmas stocking fillers at the most wonderful time of the year.
I'm sure you know that Alex is dairy free and we also have lots of friends and family who are vegetarian and vegan, so this year it felt perfect to create one of my annual gift guides ensuring everyone I love can indulge this year.
Hotel Chocolat especially is one of my favourite places to Christmas shop, as they have so many sweet treats that you know everyone will love. Their dairy free festive gifts would be the perfect addition under anyone's tree this year and I've also got my eye on a few Christmas hampers for treats after the big meal too.
So whether you're looking for the most delicious vegan advent calendars, some fun kitchen decor or a luxury foodie gadget to invest in - this is the post for you!
Spoiler Alert!
We've actually had to order more advent calendars as we ate them all while shooting these images haha - oops!
This gift guide uses all affiliate links. 
Some of the imagery in this gift guide is comprised of PR products/gifting.
Read the disclaimer about affiliate links & PR gifting here. 
Indulgent Vegan Sweet Treats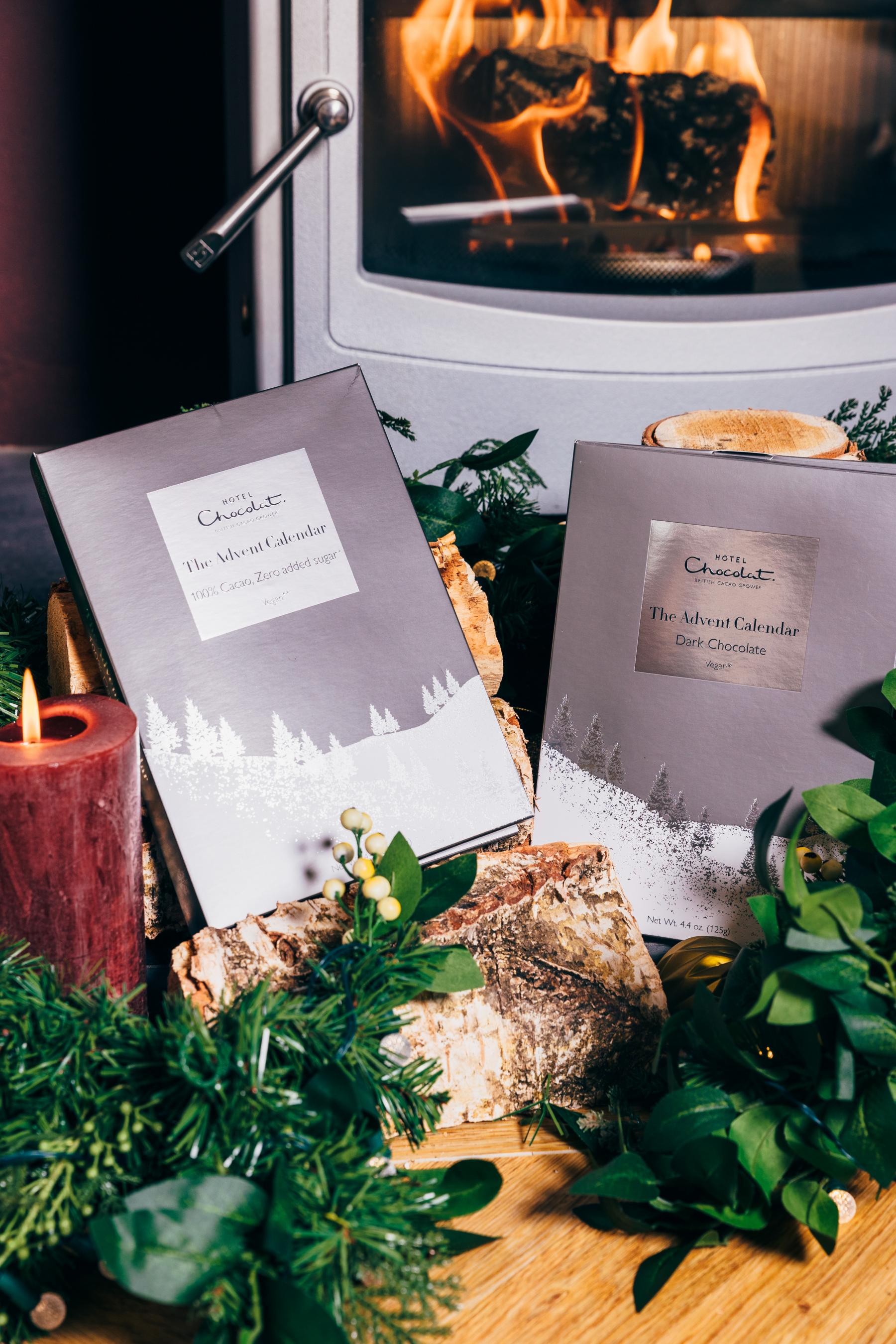 A tradition in our family has always been Christmas stockings filled with our favourite things and Hotel Chocolat Christmas chocolates are always part of our festive celebrations. In fact some of my favourite festive memories are mine and my besties annual shopping trips in Manchester, to stock up on all things sweet for our loved ones, while drooling over the chocolate puddles. If you've never got your hands on some Hotel Chocolat chocolate puddles, then you simply haven't lived haha! From the tastiest vegan advent calendars to indulgent Cacao Gin (yes you heard that right - chocolate infused gin!) there's never been a better time to start your hunt for the best stocking fillers and luxurious gifts for everyone on your list. The brands expansive vegetarian & vegan range mean that no matter who you're treating this year, there's some delicious options you'll most likely think twice about keeping for yourself.
Now if there's one thing I always forget to buy in November, ready for the 1st day of December, it's a chocolate advent calendar. With Hotel Chocolat's 100% Cacao & Dark Chocolate versions, Alex and I don't have to fight over who has the best advent calendar this year. And let's face it, it doesn't matter how old you are, one of the best parts of the run up to the big day, is waking up to your advent calendar character every morning!
Also on my shopping list this year, even more so because I won't be seeing my friends and family like previous years, are the brands incredibly sought after hampers, which are the perfect Christmas gifts full of festive cheer, to send to loved ones for their own celebrations. Top of the list are currently the All Dark Vegan Hamper, the Chocolate & Gin Gift Collection (for the adults you're treating!) and the Vegan H-Box.
PS - Alex if you're reading this feel free to add a Nutmilk Hot Chocolat mix into my stocking please - or 2!
The wonderful team at Hotel Chocolat have also very kindly given me an exclusive discount code to share with my blog readers. You can use Code Frow10 to get 10% off your Hotel Chocolat Christmas shopping here! 
Full terms and conditions can be found at the bottom of this gift guide. 
Stylish & Statement Bakeware
Lockdown or no lockdown you'll find me baking banana bread whenever there's an opportunity that arises. I've collected beautiful bakeware and cookware for years now and my favourite by far are the rainbow tones of stoneware Le Creuset dishes. Since I first moved out of my Mama's house and headed to live with friends in Manchester for University, bakeware and Le Creuset stoneware in general has been on my Christmas list every year. I simply can't get enough and much to Alex's annoyance my collection just keeps growing and growing!
When it comes to choosing the shade, the brighter the better but honestly we love colour so much in our home, that I'll add any colour, shape or size to our collection and the addiction has only grown worse since becoming homeowners for the first time too. Pictured here are our most used pieces that I'm sure you've seen many times on the blog before; including the Salt & Pepper Mill, the Garlic Keeper and the sweetest Winnie the Pooh worthy Honey Pot. All of them would be the most special gifts for new homeowners, newlyweds or just anyone who appreciates a little colour in their lives!
Last year my bestie had their amazing Rainbow Egg Cups on her Christmas list and ever since I treated her to them I've had them at the top of my list as I think they'd look so fun on our kitchen shelving!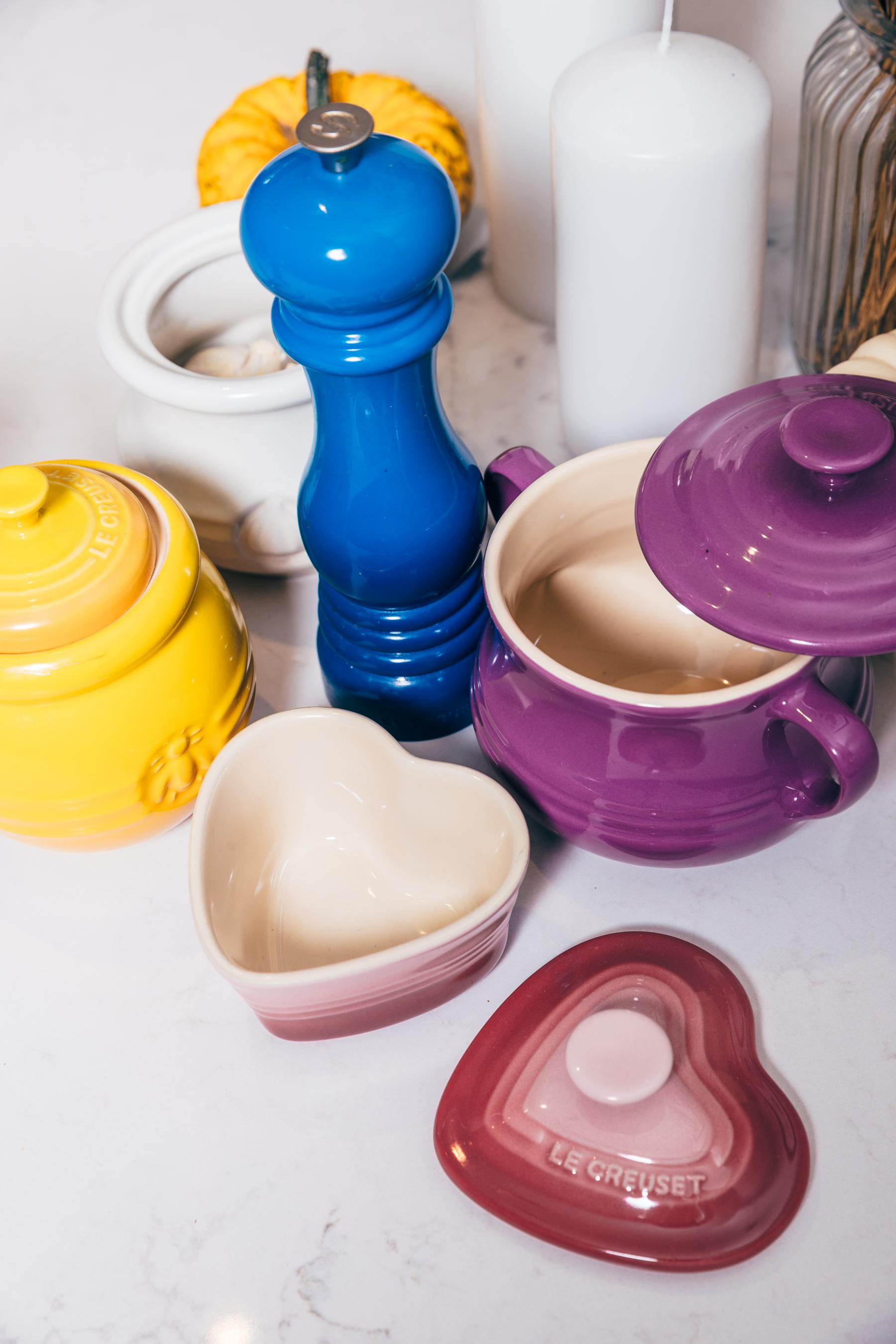 The Chicest Kitchen Accessories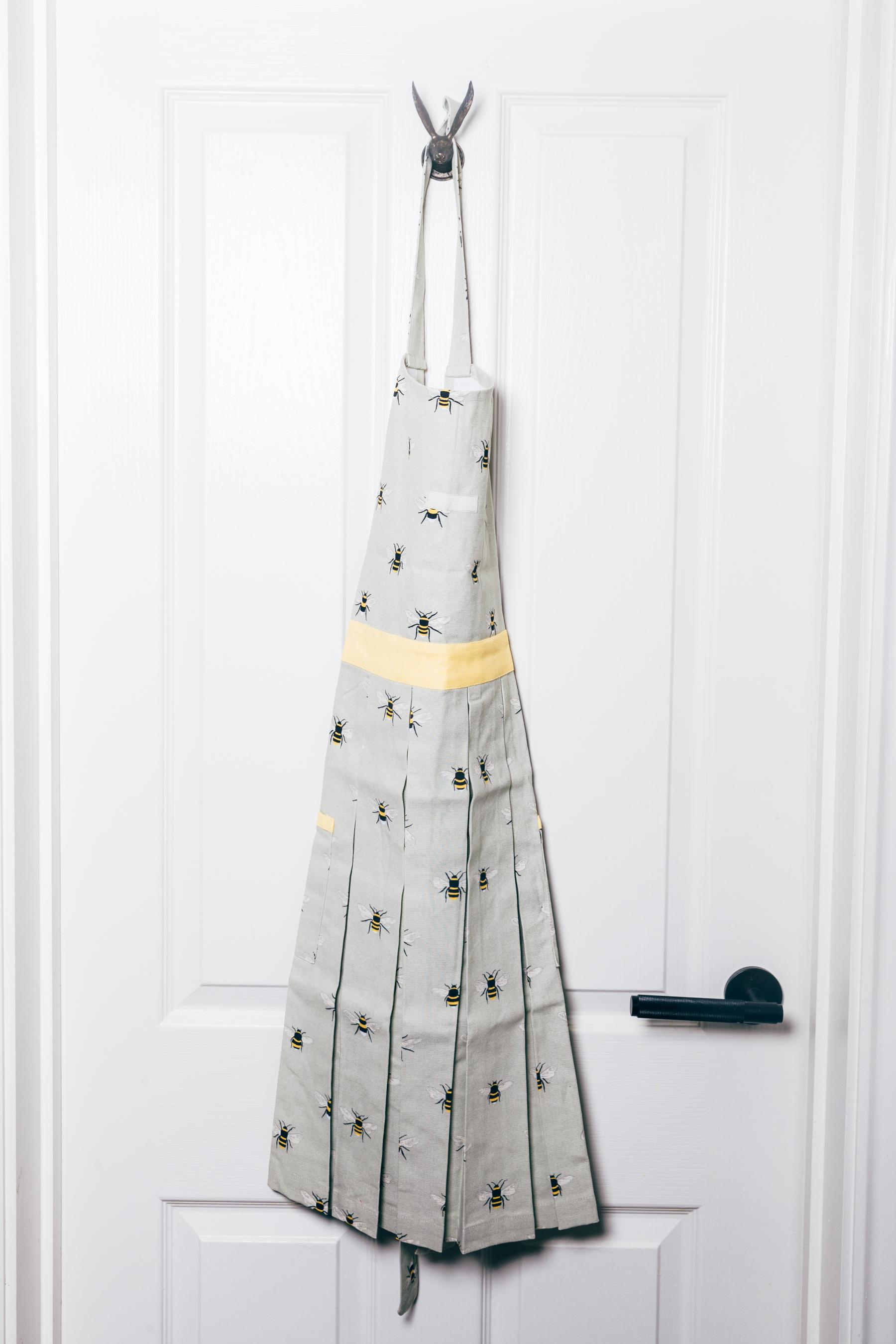 Does anyone else just want to buy all things kitchen decor when it gets to this time of year? I'm a real sucker for anything seasonal but when the weather gets colder, there's something about the finishing touches you can add to any kitchen, that make a house a home. One brand I love not only because of their beautiful designs but also because they're so very affordable for such quality pieces, is Sophie Allport. If you've never had a little scroll through their website I will warn you ahead of time it's probably best to put at least an hour aside haha!
If there's one thing my Mama and I always gift each other at Christmas it's kitchen goodies with beautiful illustrations and graphics - in fact you may remember the beautiful tea towels my Mama gifted me 2 years ago that had dachshunds all over them, she must have known something we didn't!
I was recently treated to some beautiful pieces from the brand including an oh so me Bee Print Apron, an adorable Woodland Pot Grab and a matching Woodland Oven Glove. They would just be the most perfect gifts for any bakers or cooks and I was so excited to display them on our oven straight out of the packaging. I also picked up the cutest Dachshund Stoneware Jug, Partridge Tea Towel and I've signed up to be notified when the Bee Egg Cups are back in stock too. Christmas Day table settings are next on the list but i just need to work out what print would look best in our orangery - suggestions always welcome!
Oh and don't even get me started on their adorable dog collections - maybe I'll share some of those pieces on a new dog Mama's gift guide?
Vegan & Veggie Cook Books
Now I may bake more than I wish to admit, now we have a kitchen that accommodates more than one person at a time, but when it comes to cooking our dinners and lunches, that's all Alex's domain. Cooking is truly one of his passions and he loves nothing more than to add new vegan and veggie cook books to his gift lists. He doesn't always stick to the recipe (like all the best chefs of course!) but that's one of the reasons he loves discovering new recipes in the first place. For someone who never used to cook when we first started dating so many years ago, he now jumps at the opportunity to cook for me and even for dinner parties too.
If you're thinking of adding a couple of cook books onto your own Christmas list this year or you want to wrap one up for a loved one under the tree, there are a few we would both recommend and use so often - far more than digital recipes actually!
The Wicked Healthy Cookbook is one we always discover amazing BBQ dishes in, The Detox Kitchen Bible is something we love for starter/nibble inspiration if we're hosting friends,  A Table for Friends is a great non veggie cook book that's so easily adaptable  to create your own veggie versions and Vegan Soups is packed full of options perfect for this time of year.
And even more special? With any book it's always lovely to add a little dedication inside - that way that you'll make a loved one smile every time they pick your gift up for years to come.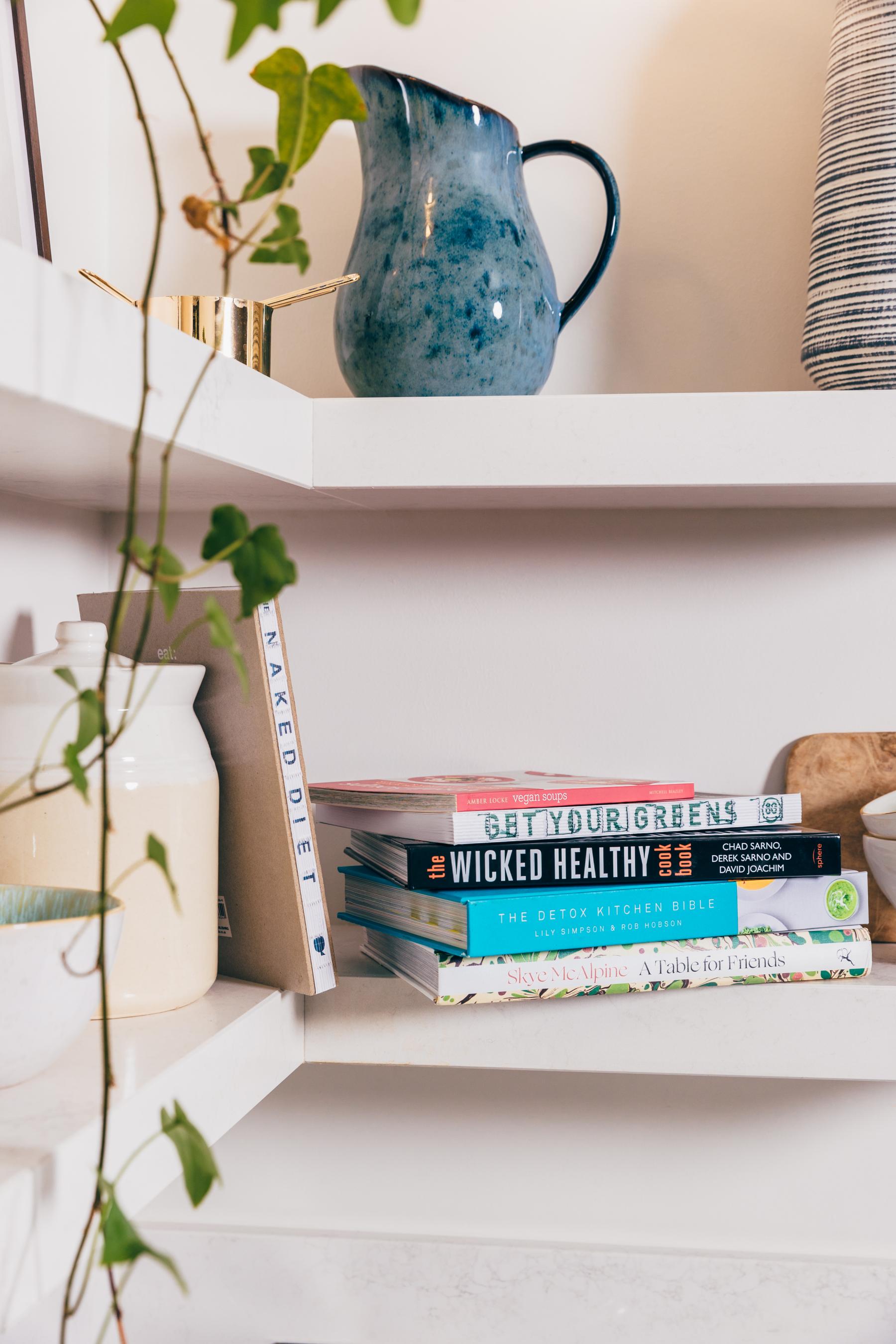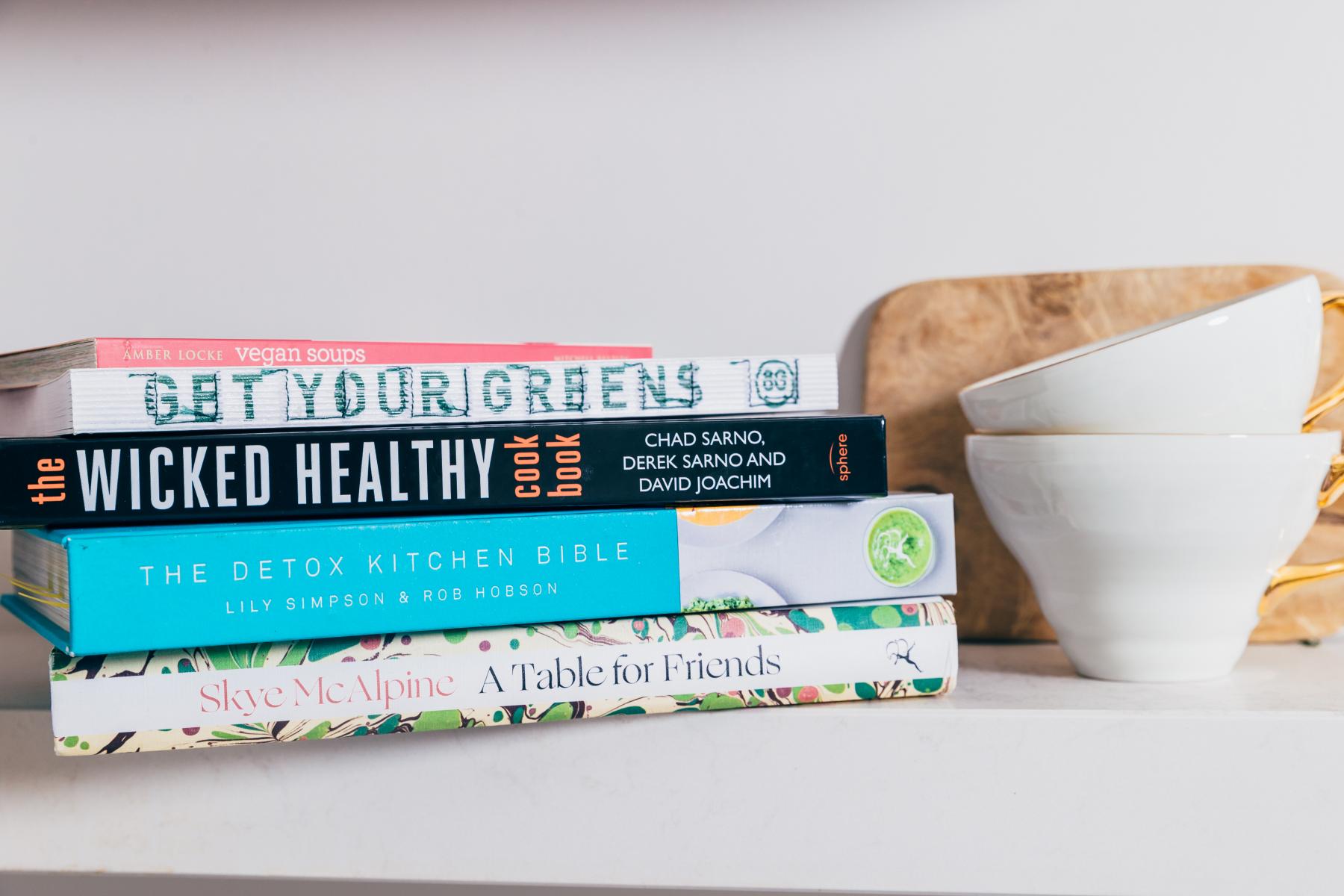 Must Have Kitchen Gadgets
I'm not a huge lover of kitchen gadgets it has to be said, sometimes I see a new release and I often think - wow but would we actually use it often enough to justify the price? For me when it comes to what I consider kitchen gadgets, I'm talking about investing in the basics but beautiful, stand out versions you'll always want to have on display. Last year I was lucky enough to work with Kenwood on two amazing projects that involved not only their Mesmerine Collection (that blue!) but their stunning new kMix too. I loved working with the team after trying out the gadgets for a while but the best thing that came from that relationship? Three incredible kitchen additions that I would hand on heart recommend if you're looking to invest in some great quality small appliances.
The Mesmerine 4 Slice Toaster and Kettle in the jewelled blue colour not only add another dimension of colour and texture to our kitchen but I've actually loved using them so much, I've recommended them to my Mama for her latest kitchen update and also to my brother for his new house too! Then comes the beautiful rose gold kMix Mixer that in my opinion after owning both, is a far better, sturdier alternative to another well know brand - and it's also much cheaper right now with 35% off. A win win if you're thinking of investing this Christmas or asking Father Christmas for a new addition to fill your countertops!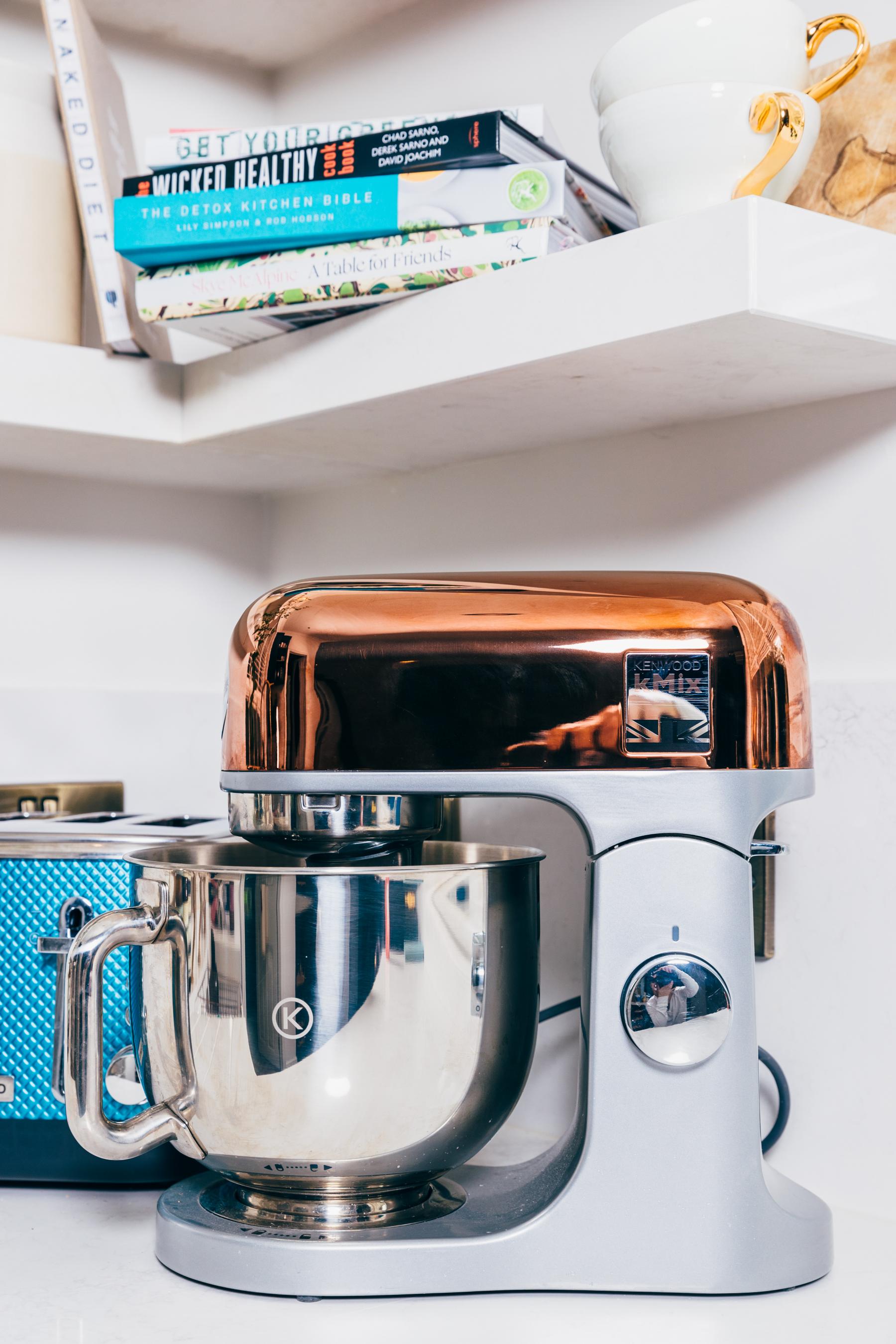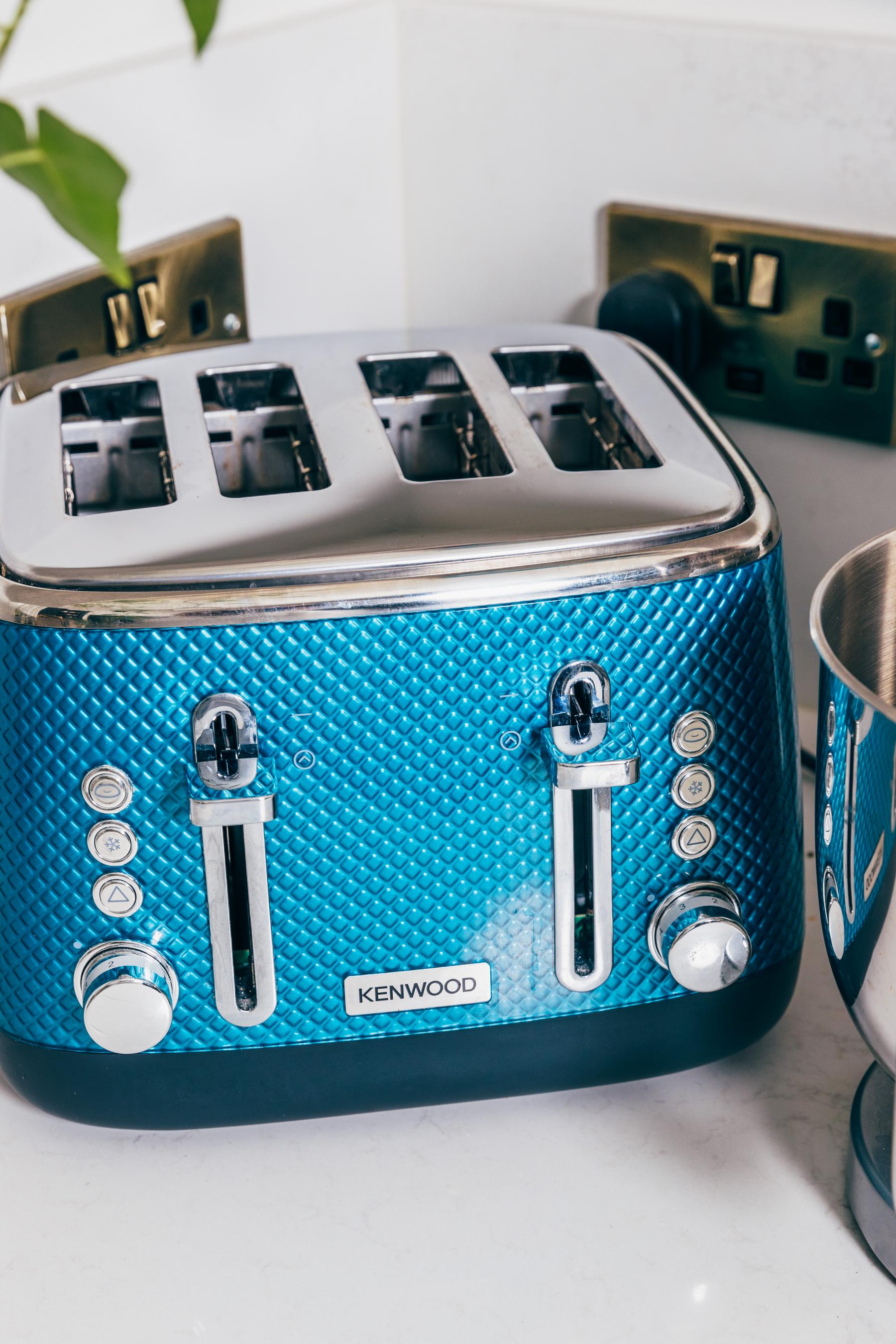 Christmas Chocolate Gifting Galore!
Huge thank you to Hotel Chocolat for partnering with me on part of my foodie gift guide for this year - talk about a dream collaboration for someone like me who has the biggest sweet tooth and has shopped with them for years! Don't forget you can use the exclusive code FROW10 for 10% off your Christmas shopping with the brand - full terms and conditions below!
- Code FR0W10 can be used on the official Hotel Chocolat site for 10% off your order. 
- The code is valid until 11:59pm (BST) on Thursday December 31st. 
- The brand has the right to withdraw this discount at any time with no notice required. 
- Please contact the brand directly for full T&Cs.
Sign up here for a weekly catch up of everything Inthefrow