13.11.2020
Introducing
Little Boe
I've been bugging Alex for a week or so now to take some pictures of Boe for the blog (mainly because it already feels like he's getting so big!) and as soon as he asked if I wanted to be in them I jumped at the chance. A photoshoot for the blog, dressed in a full new Dior look, complete with our brand new puppy? Count me in thanks haha
So if you haven't already had the chance to say hey then I'm so excited for you to meet Boe - our beautiful new family member and miniature dachshund. We're so in love with him and can't wait to share him with you as he grows up in our home. 
We've wanted to add a pup to our family for such a long time (as you probably know we adore my Mama's Westie Isla so much) so it feels like such a dream come true to have a pup to call our own and especially when we have so much love to give!
So what have we learned that's really important in the first few weeks of being new dog parents? Lets just say we've learned a lot but mainly how to enjoy every second!
This blog post uses no affiliate links. 
The look featured was a very kind PR loan from Dior.
Read the disclaimer about affiliate links & PR gifting here.
Brace Yourself for The Advice
Just a note that I do know how ironic this is when it's the first thing featured on a post about new puppy advice haha - but prepare yourself for so much advice you simply will not know what to do with it all! From the welcome, the unsolicited, the confusing and the downright winning tips, you'll be snowed under with advice from others (dog owners and non dog owners) quicker than you can say 'wee wee Boe!'. In all seriousness though, so much of the advice we've been given has actually been such a big help and even if it's meant we've then expanded our own research on things like dog food, crate training and socialisation, it's been invaluable to us. Definitely listen to your friends and family who already have dogs or grew up with them, not only are they fit to burst with excited for you to join the dog parent club, they also want what's best for you all too!
Patience is Indeed a Virtue 
Now I don't want to say I took for granted having an uninterrupted nights sleep before we added a tiny puppy into the mix - but I definitely took for granted having an uninterrupted nights sleep before we added a tiny puppy into the mix. Boe really is such a good boy but crate training (a choice we've made with research and help from others!) has definitely meant no more than a couple of hours sleep at a time for the first couple of weeks. We're in such a great a position both working from home to be able to dedicate the time we need to his training and luckily we've also had an endless supply of coffee on hand and for me a little extra concealer too! From crate training to toilet training, it's definitely been a test of both our patience as new dog parents but it definitely teaches you what's really important and a few accidents here and there will always be worth a perfect new member of the family!
Trust in Your Instincts
The one thing I am learning when it comes to the many things you need to do, buy and organise for your new puppy, is to trust your instincts from the beginning. Some people may not opt to crate train, all will opt for different dog foods, some will decide to use puppy training pads and all will opt for different daily routines. You're the ones getting to know your new puppy who incidentally is also getting to know you for the first time too! What your new family member needs and are positively receptive to, is something only you will know intimately and if you've done the appropriate research and preparation you need to before bringing them home, then your instincts will be a great marker to follow. Even if you've never done this before, I promise your pup feels so loved and is in great hands!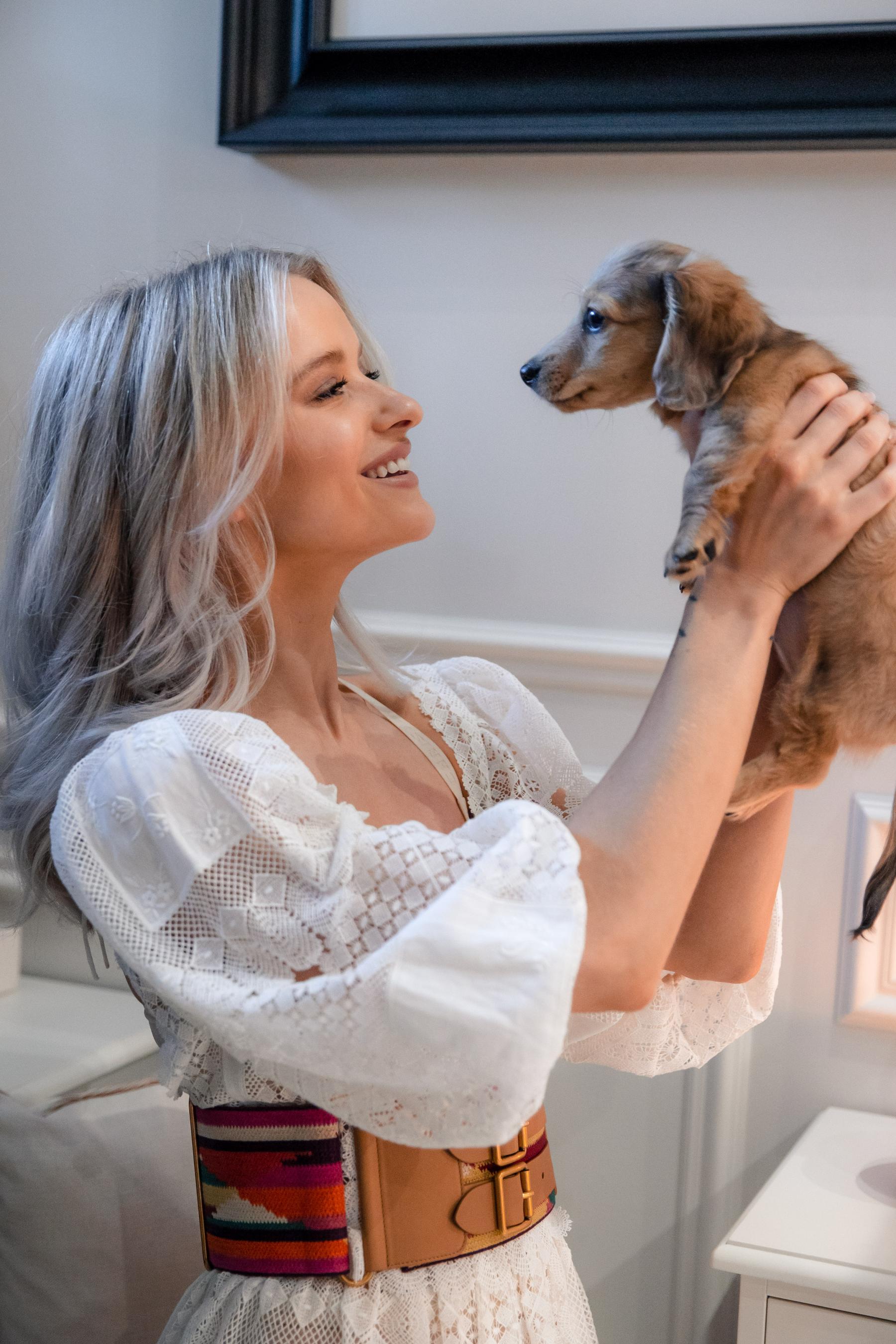 Enjoy Every Single Moment
I almost sound like an actual Mother here (which I definitely didn't intend to!) but do try to enjoy every single moment - Boe is getting so big already and I can't believe how much he's changing in front of our eyes, when so many of our friends and family haven;t even had the chance to meet him yet! I have admittedly had moments where I've been exhausted that there's been another accident or overwhelmed with trying to get my work list completed while trying to teach him about his crate/safe space but in amongst it I've taken a deep breath and reminded myself how unbelievably lucky we are. In a year with so much sadness and upheaval, some sunshine arrived. I've taken hundreds of pictures and videos to keep and cherish and in doing that it's made me focus on every little moment we have with him, as opposed to any hiccups that any new pups and owners will most surely have!
You Won't Know Love Like It
I have always known how much I would love any pup that came into our lives and so many of our friends told us how our house would become a home with a new addition, but I don't think I was prepared for just how much I love him. You know the little girl from Despicable Me who screams 'It's so fluffy I could die!!!" at her fluffy unicorn? It's that level of love. Simply put he's totally made our dreams come true and having him as part of our home has been such an indescribable joy. From going to a relatively quiet house, to now hearing his little footsteps following me around from room to room, makes my heart want to burst. I've always been the person who visits friends and family and gravitates towards their pup, spending all my time cuddling and playing with them on the floor and now we have our own, that's me every hour of every day. Be prepared if you're set to bring a new puppy home, that you'll never have loved anything more - sorry Alex haha!
If you'd like to see more of Boe then feel free to follow his Instagram here but he'll be showing up lots on mine and Alex's pages too of course! 
Huge thank you to Dior for the amazing PR loan of this beautiful look from the Cruise 2021 collection. The belt has just made it's way right to the top of my must have accessory list for this season and I'm not sure I'll be able to resist!
Sign up here for a weekly catch up of everything Inthefrow