12.10.2020
Shop My Favourite
Autumn Pieces
One of the most asked questions on the majority of my channels, is wondering if I have a dupe for something in my closet. Whether that's because it's no longer available from the original retailer or because it's a luxury piece, I'll always try to search out some gorgeous alternative pieces if I can - especially here on the blog.
I can't always find identical pieces and often I can search non stop and still not find a good enough dupe, but I thought maybe I could put together a few alternatives to some of the most worn pieces in my wardrobe.
I'm talking about those pieces you've seen me wear again and again, through multiple seasons, that have fast become my wardrobe staples - the stand out pieces the rest of my closet have begun to revolve around. 
I try my best to share a mix of options here on the blog from luxury to high street and everything in-between, as I know we all have different wants, needs and budgets, so I hope you love some of the alternatives to my favourite pieces that I've found and there's some autumn style inspo to be found for non shoppers too!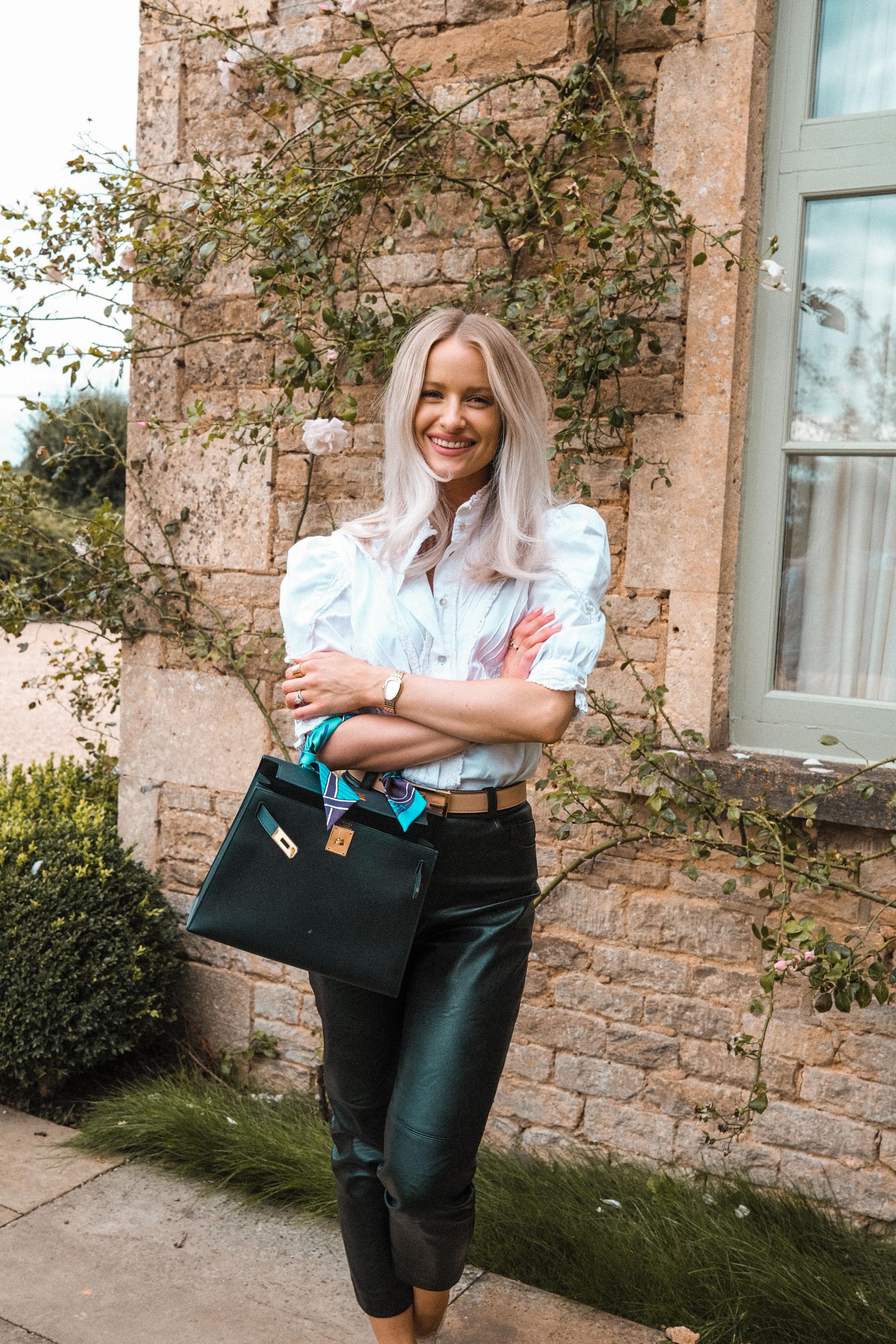 Faux Leather Trousers
I mean you probably knew that number one on the list would be a pair of faux leather trousers and I couldn't recommend these particular ones to you more if you're i the market for either a sustainable pair and/or a luxury pair to invest in. These perfect faux leather trousers from Stella McCartney (ad) would probably be up there with one of the most worn pieces for this year AND last year. I added these to my wardrobe in early 2019 (I think...) and I've found they're become that wardrobe staple I didn't know I needed but that I reach for because I feel so great in them. I've worn them to travel in, for trips to the shops, styled them for date nights and even chose them for work events - as fashion choices go these have truly been one of the best I've ever made!
Tailored Camel Trousers
There has to be something camel coloured in a most worn blog post, it is me after all, but surprisingly perhaps it isn't the piece you may have assumed! A camel coat, a camel blazer or a camel knit are all beautiful pieces I'm lucky enough to have in my wardrobe but over the last few months it's these gorgeous camel trousers from Alexander McQueen (ad) that have seen the light of day weekly. The perfect pair of trousers are like the ever evasive denim of dreams, when you find the perfect tone, fit and length you rarely take them off. A dream pair of trousers, in an always on trend colour and in a classic cut are the perfect staple piece that will slot easily as a basic, into any closet, big or small.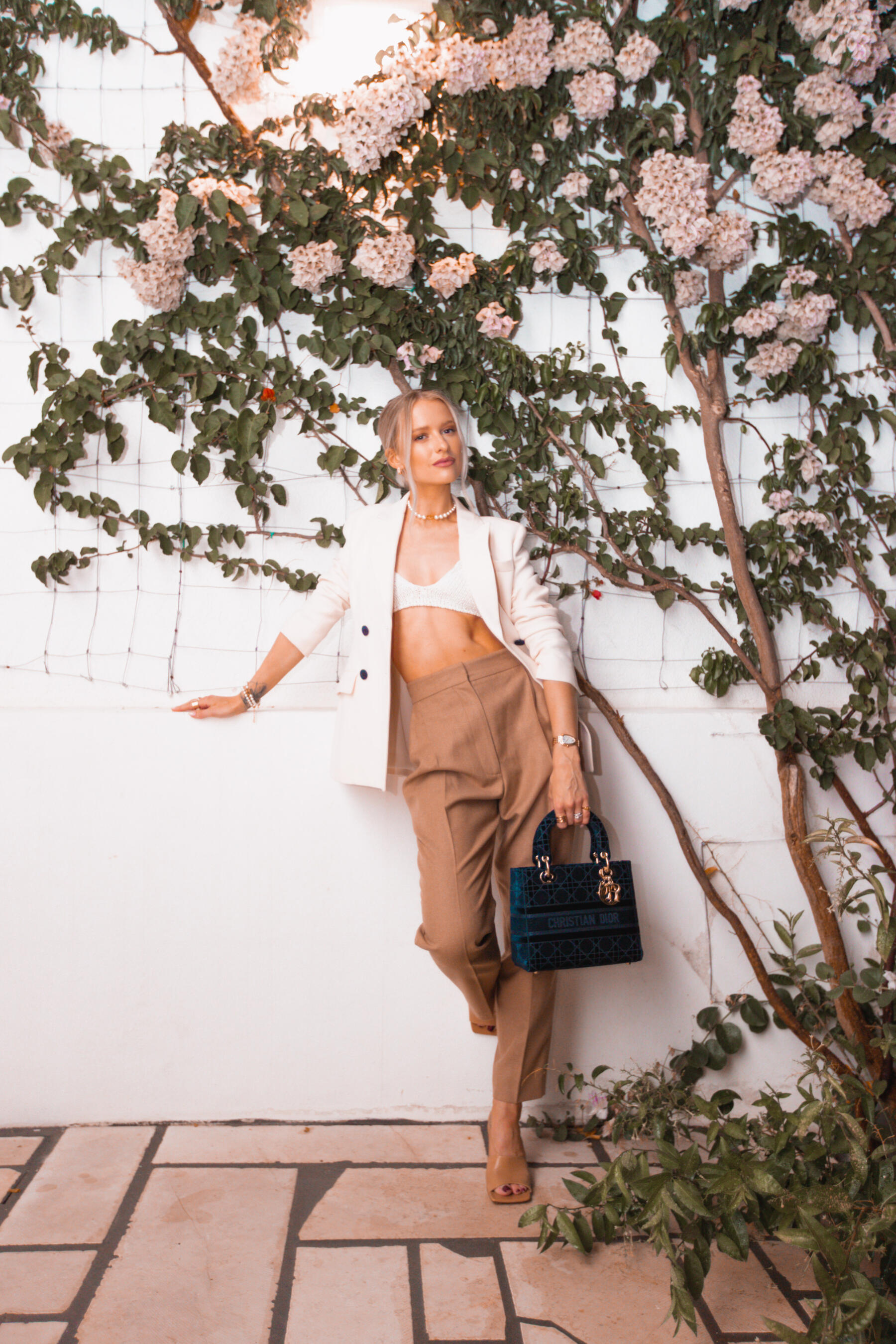 Classic Black Blazer
I searched high and low for the perfect black blazer and although I found some beautiful brands, cuts and styles, none matched up to the quality and versatility of this jacket/blazer hybrid from Saint Laurent (ad). A slightly longer length, gold button detailing, structured but not stand out shoulders and a double breasted style - I knew exactly what I wanted because I wanted versatility. To equally be able to wear with denim or over a festive dress and to see me through multiple seasons, events and looks. A classic black blazer is one of those that you'll never regret adding to your closet, especially if you hold out for that dream piece that you know you'll wear again and again. Expect to see me styling this beauty for the foreseeable future as I love it so much, I'm unlikely to want to ever take it off!
Lightweight Crew Neck Knit
You know me, I'm the knitwear queen around this time of year and so much so that whenever I open my DMs, there's always someone sending me a link to the chunkiest, biggest roll neck jumper that they've come across! The chunkier the knit and the bigger the roll neck, the more I'll fall in love with a piece - it's a tried and tested equation haha! One of the most worn knits in my wardrobe so far this year though is actually this beautiful cashmere crew neck from Jardin des Orangers (ad) . Admittedly not my usual style of neckline nor a weight I would jump at the chance to purchase but surprisingly it's been the perfect in-between layer. Under blazers, over shirts, round my shoulders - it's been a great mid season addition and one I've reached for consistently when working from home. 
Cosy Cream Cardigan
If you know me well or you've been here on the blog for any amount of time, you'll know that the cardigan isn't something you'll have found in my wardrobe before this year. In fact pre 2020 there have been two pieces of clothing I've openly stated you wouldn't find me wearing - cardigans and tights. It seems however this year is the year of change, as four beautiful cardigans have found their way into my closet and I can't stop wearing them. The most worn is definitely this cosy number from Baum Und Pferdgarten (ad). Not something I thought you'd see me styling on my socials but what can I say, I was wrong! Give me all of the cosy cardigans but especially ones that can be worn off shoulder, as well as layered over my favourite bodysuits. Who knows, maybe next year I'll finally add some tights to my closet too...? 
I'd love to know if this sort of blog post is something I should perhaps look to do every few weeks or not? I so enjoy creating the trend specific ones like '5 Coat Styles to Add to Your Closet This Season' & 'The Best Knitwear for Every Budget This Autumn' but there's something I love about diving into my own closet like this and searching for the best dupes for things I truly wear non stop too! Oh and if there are any particular items you'd like me to do this for let me know below :)
Sign up here for a weekly catch up of everything Inthefrow