23.10.2020
Inthefrow x
Holland Cooper
This blog post is a paid for advertorial in collaboration with Holland Cooper. 
At the beginning of last year I was lucky enough to discover the incredible Holland Cooper. I spent hours lusting over not only their stunning pieces but the way in which they were styled. 
Sometimes you discover a brand that not only feels like you'd happily wear any of their creations but that also embodies everything you love abut fashion and all the joy it brings. Holland Cooper is most definitely one of those brands for me. 
From the incredible tailoring of their statement coats to the quality of silk in their jewel tones shirts, and from the perfect fit of their jodhpur jeans to their gift worthy accessories - it's hard not to fall in love with everything! 
With that in mind I'm absolutely over the moon to share my autumn edit in collaboration with brand below - featuring some of my favourite seasonal pieces styled into 10 ultimate looks that feel so very me!
This blog post uses all affiliate links. 
Read the disclaimer about affiliate links & PR gifting here. 
Look One
My personal style and so many pieces in my closet are a celebration of quality tailoring. I love well made suits, statement jackets and branded accessories - all featured in one look with so many versatile pieces. Featuring the Double Breasted Coat, Double Breasted Blazer and High Waisted Peg Trouser in the classic Prince of Wales check. All the pieces are worn together styled in a monochromatic look that is so on trend for autumn winter 2020.
Look Two
If you know me well you know I adore a great pair of high waisted denim and lately I've been living in my Jodhpur Jeans. They have the ideal amount of stretch to fit like a dream but their detailing makes them stand out from the crowd. Featuring the Jodhpur Jean in Ash Grey, the Lacey Tie Shirt (styled without the contrast bow and collar popped) and the Regency Coat in Soft Black. A twist on a conventional casual outfit with lace and metal detailing.
Look Three
What I've loved about working with Holland Cooper on this edit, is although they embody my style with so many of their pieces, it's felt so inspiring to take cues from Jade and the team. Mixing and matching some of their best selling pieces was like playing dress up in the most fashionable closet ever. Featuring the Chiltern Cape in Camel, shorts tied with the Sienna Silk Scarf and finished with the Trilby Hat in Forest Green. A modern take on a country chic outfit.
Look Four
My wardrobe, although most definitely not capsule, is built on classic pieces that are made to last and are versatile with the trend pieces I indulge in. Think classic blue jeans, camel jackets and crisp white shirts - pieces you can style for every occasion. Featuring the Marlborough Trench Coat in Tawny, the Classic Oxford Shirt in White and the Jodhpur Jean in denim. A look created from must have pieces but elevated with classic Holland Cooper detailing.
Look Five
As I've gotten older and more comfortable in myself, I've found a real passion for investing in bolder and more statement pieces. When Jade gave me a sneak peek of what we could do with this look, I instantly fell head over heels. Featuring the Marlborough Shearling Trench Coat in Blackwatch, the Silk V Neck Blouse in Emerald and the Trilby Hat in Ink Navy. A dramatic look that feels luxurious but oh so wearable on the daily.
Look Six
So many people adored the Parka Jacket I lived in last winter, that I wanted to include some more casual styles, especially living outside of London now. You can't beat a classic parka and especially not one that has the design elements of a far more luxurious piece. Featuring the Montana Parka in Khaki, the Heritage Knit Jumper in Camel Check and the brand new Wellingtons in Black Croc. A look that feels like walking the dog doesn't have to be boring.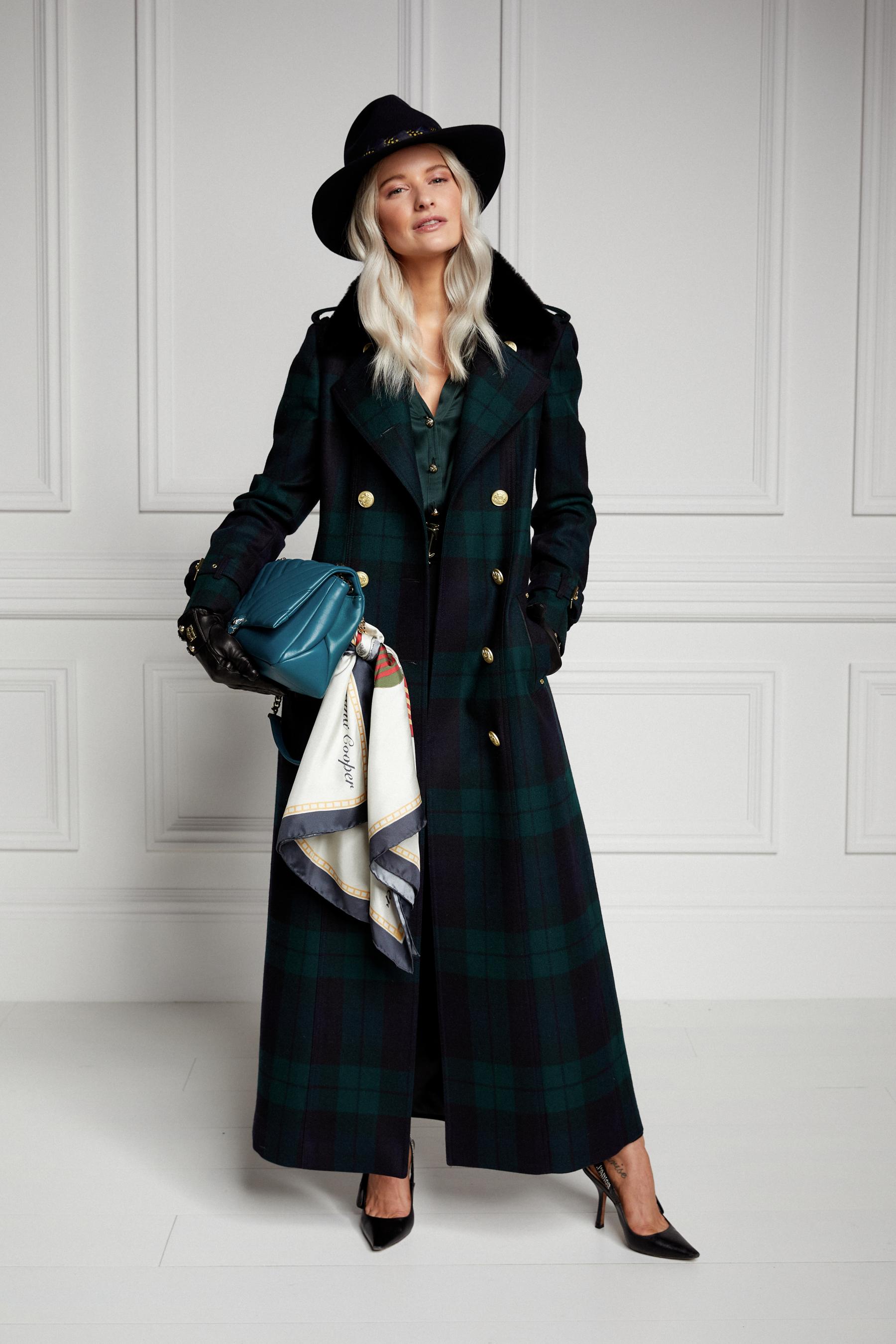 Look Seven
Houndstooth, houndstooth and more houndstooth please - it's most definitely been a favourite of mine for a few years now. Every season it seems there's a modern twist on the classic but Holland Coopers take this autumn feels so very luxe. Featuring the Valais Quilted Gilet in Houndstooth, the Heritage Knit Jumper in Houndstooth and the Faux Fur Bobble Hat in Black. A look that feels so very cool and featuring gift worthy accessories.
Look Eight
Houndstooth on repeat but with a little added extra warmth for those even cooler month. White jeans might seem a scary prospect but teaming them with a strong classic pattern like houndstooth, brings them right up to date. Featuring the Vermont Puffer Jacket in Houndstooth, the Jodhpur Team in White and the Chelsea Scarf in Houndstooth. A look that's perfect for your next ski trip or even your next trip to the local pub.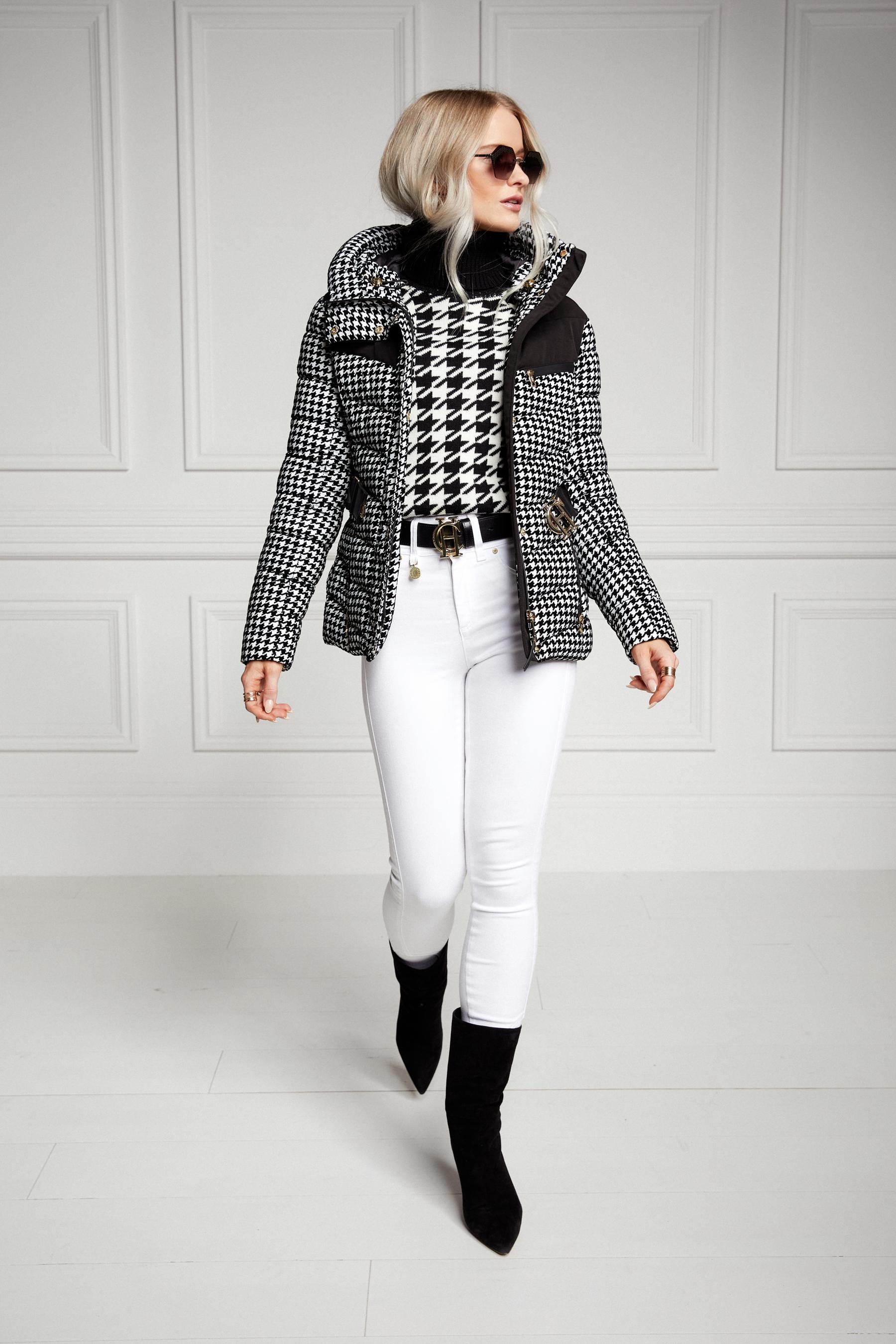 Look Nine
If you don't have a jumper dress in your closet already, then now is the time to add one. A jumper dress with a chunky roll neck is my idea of cold weather heaven and it's versatility knows no bounds. Featuring the Kensington Jumper Dress in Black, the Leather Biker Jacket in Black and the Wide Belt in Black. A look that takes the little black dress into a whole new realm and that'll make your autumn wardrobe feel complete. 
Look Ten
Maxi length coats are a huge trend this season and Jade is the queen of designing the most sumptuous styles. A longer length than a classic trench coat, they bring more drama and va va voom to even the simplest of outfits. Featuring the Full Length Marlborough Trench in Red Tartan, the Heritage Knit Jumper in Red Tartan and the Jodhpur Jean in Black. The perfect look that encapsulates Holland Cooper and the reason why I love the brand so much.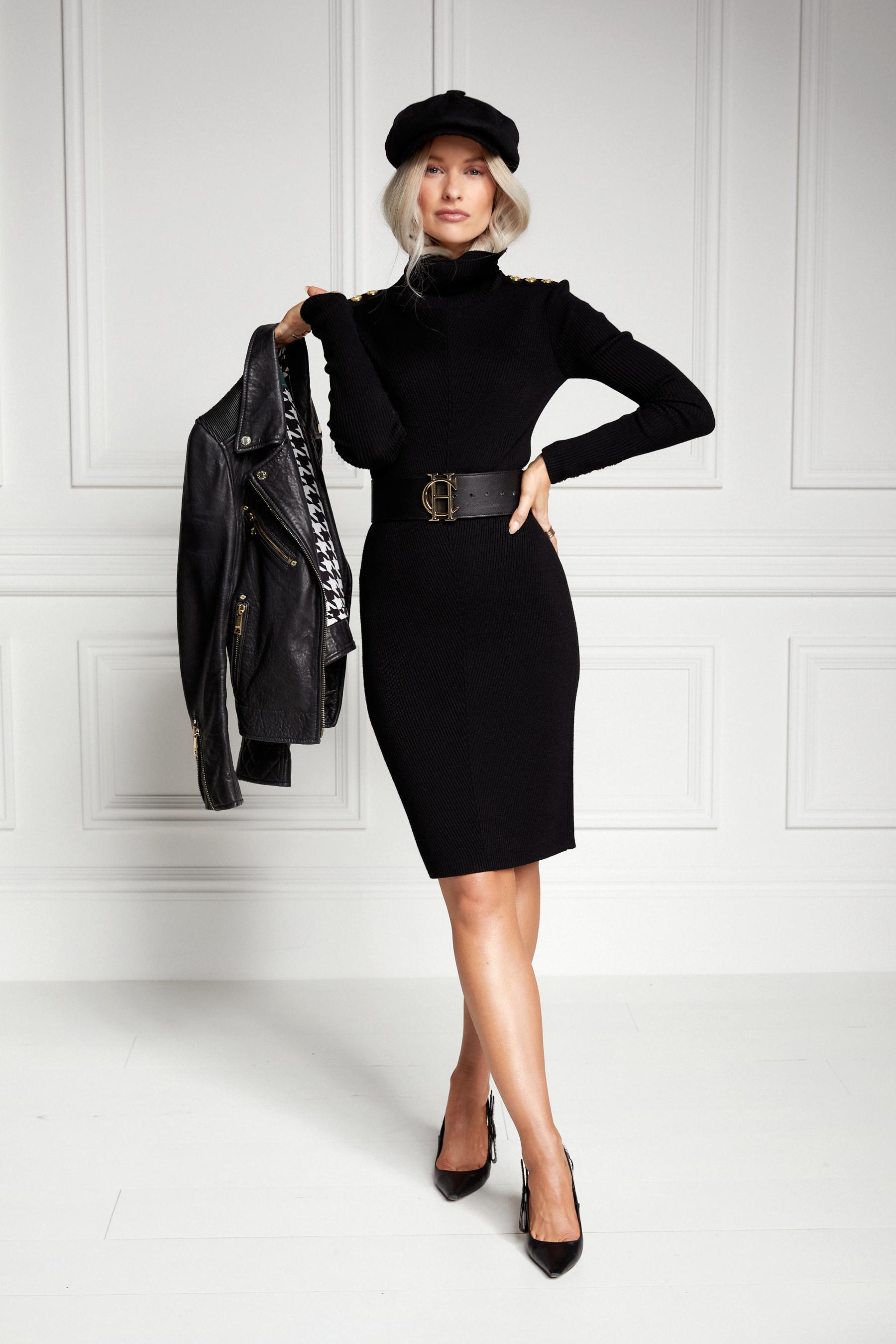 A huge thank you to Jade and all of the team at Holland Cooper - it's such a proud moment to come full circle and work with a brand I fell in love with as a customer and now get to create amazing images together for such a special autumn edit! Our edit is now live and available to shop here and let me know below if there's anything you've fallen in love with and added to your wishlist! x
Sign up here for a weekly catch up of everything Inthefrow