09.10.2020
3 Reasons to try
Cream Makeup
If you've never given cream makeup a shot before, I couldn't recommend it more! There can be something a little scary about taking the plunge and giving an entirely different way to do your makeup a shot, but once you discover the right products for you, you'll be hooked.
I can safely say all of the above because I felt that exact way before I fell head over heels in love with all things dewy, creamy and natural. 
From bronzer, to blusher, to highlight, to eyeshadow - some of my most adored and used products are cream options and there's a few reasons why. From personally loving the more the more natural finish to knowing how easy is to blend cream products together, so much of my everyday routine encompasses them. 
So if you're on the edge about investing in some new makeup and you don't know where to start, here are some of my most loved cream makeup products you may have seen me use over the years and exactly why you'll love them too!
This blog post & shop widgets use affiliate links. 
Affiliate text links are marked (ad). 
The images featured in this post were originally shot for Arcadia Magazine.
Read the disclaimer about affiliate links & PR gifting here.
Tis the Season of Dry Skin
As someone who has mildly dry skin, but this year especially has struggled with dryer than ever skin, cream products are the perfect go to for my type. I think sometimes we think of cream makeup products as only ever for editorial creations or perhaps for the summer months, but for me it's the cooler seasons where using cream products really shines. Dryer skin craves moisturising and hydrating products not only in your skincare (to help with trans epidermal water loss) but in your makeup too. Utilising cream and balm makeup products will mean the products you apply to your skin will sit perfectly on your base, as opposed to sinking into and enhancing the dryer portions of your skin. My skin getting progressively dryer over the festive period means a lot of powder products, although beautiful, need to take a back seat so that I don't draw attention to my dry patches. 
Top Tip: When applying blush of any kind, although it's engrained in us to smile before applying to the apples of our cheeks, apply blush with your face resting in it's normal position. Unless you are going to spend every second of your day with your face in that same position, applying blush to the cheeks while you're smiling means that when you stop, your product placement will actually be far lower. Let's face it - no one can smile for THAT long!
The Oh So Natural Finish
Obviously if you're more likely to wear a full face of makeup everyday, cream makeup can be used just as effectively layered that way, but there's something about the more natural finish of cream makeup products, that makes me reach for them on a daily basis. For both my full face of makeup looks and for my no makeup makeup looks. Layering cream products with fingers on the go, with a damp beauty sponge or a light hand with a stippling brush, really does gives the most natural finish you can find in my opinion. For example using a liquid or cream bronzer and buffing it into your skins base, offers a beautiful warmth to the skin that can sometimes be missing with a powder option. Any cream product warms naturally to your skins temperature, blends seamlessly the more you stipple/apply/buff and enhances your skins tone as opposed to masking. 
Top Tip: Place some of the product onto the back of your clean hand rather than directly onto your cheeks, especially if the product is new to your routine. This way you can control the amount of product you're adding and get a real feel for the colour pay off and how it blends. This goes for whether you're using fingers, a beauty sponge or your preferred brush. Remember it's far easier to add more product than it is to take it away!
They Simply Blend So Easily
Have you ever applied your powder bronzer, blusher and highlight and then caught yourself in the mirror, only to then feel the need to a) start all over again or b) blend your makeup furiously? I have - often! Powder blush, bronze and especially highlight are incredibly hard to blend seamlessly, even if you consider yourself a makeup pro. Often the products layer and can cause a grey undertone (I find this when my contour and highlight mix) and unless you have the lightest of touches the powder choices can sometimes look stripy - for lack of a better word. Cream products applied with the right tool, have the ability to meld together and blend from one product to another, with a far more subtle and natural transition. If I'm out the house and want to touch up my highlight or blush for example, I don't have that anxious panic of 'have I applied too much?!' in the back of a taxi as I know a simple bounce of my fingers/beauty sponge, will be the magic touch they need to melt together.
Top Tip: If you've never tried an eye primer before, definitely give one a go and see how it can change the way your eyeshadow lasts. A primer is made specifically for the eye lid area (as opposed to using an under eye concealer which is made to be hydrating) and it's main goal is to help your eye colours pop as well as extend the longevity of your look. Whether you're just using creams or you're mixing powders and creams, you'll be glad you bit the bullet!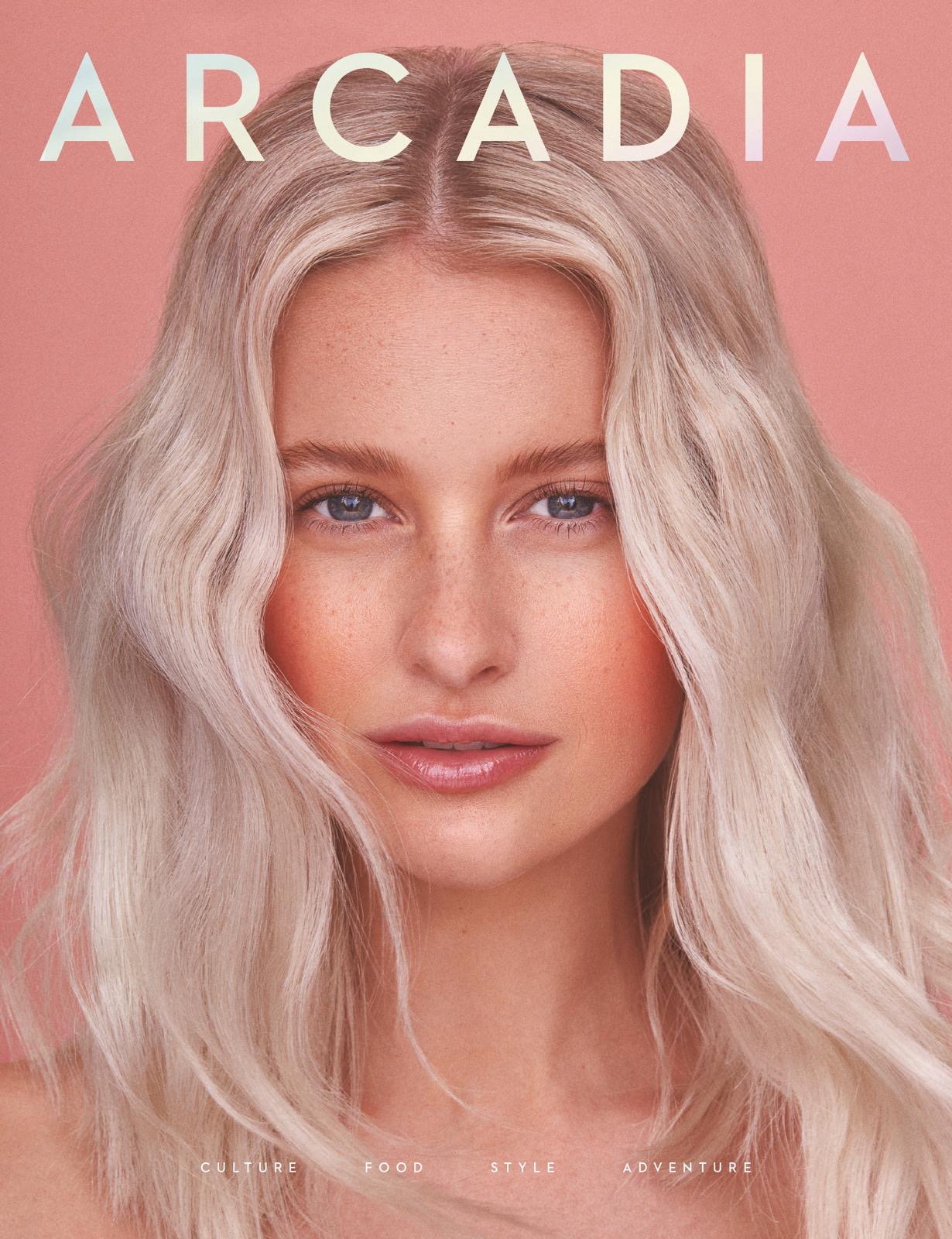 A huge thank you to everyone who sold out this issue of Arcadia Magazine in 70 countries worldwide and allowed me the opportunity to be interviewed and work with such a wonderful team. So thrilled to share these images here on the blog too!
Photographer: Sarah Brown
Makeup Artist: Lisa Potter-Dixon
Hair Stylist: Kris Kolour 
Editor: Monicha Tully
Creative Director: Jay Best
Interviewer: Caoilfhionn Rose
Sign up here for a weekly catch up of everything Inthefrow