21.10.2020
11 of The Best
Home Fragrance Brands
Please tell me I'm not the only one who bought their first home and then became addicted to candles, diffusers and any which way possible to bring beautiful scents into every room in the house?
I can't tell you how many times Alex has said "Another one?!" whenever I've sneaked another beautiful candle onto the bedroom window sill, the living room sideboard or the kitchen shelving but it's a shopping habit I'm actually a-okay with.
There's something so luxurious and equally soothing about lighting a favourite candle or adjusting the reeds in your new diffuser and letting a space fill with a scent that you adore. From feeling warm and welcoming whenever you walk through the front door, to adding the perfect atmosphere to your evenings spent indoors, something as small as a new candle can bring an entire home to life.
With that in mind (and with Christmas approaching!) here are 10 of the best home scenting and fragrance brands I've loved having in some of the rooms at Frowhome and that I would 100% repurchase or gift to a loved one.
This blog post & shop widgets use affiliate links. 
Affiliate text links are marked (ad). 
Some of the items in these images were gifted.
Read the disclaimer about affiliate links & PR gifting here. 
Atelier Cologne 
I absolutely adore Atelier Cologne fragrances and I feel exactly the same way about their home scenting too. We were gifted this beautiful Orange Toscana (citrus & peppery) diffuser and matching candle by a friend and the second it came to the end of its life, I immediately purchased two more. They both fill a room incredibly well but the diffusers especially leave our kitchen smelling fresh but not overpowered. Just like my top perfumes from the brand, my favourites are definitely their citrus creations, as well as their deeper full bodied scents.
My Favourites: Orange Toscana Diffuser, Clementine California Candle 
Emma J Shipley 
Anything Emma Shipley creates from wallpaper to cushions to chairs makes me want to throw my credit card in the air and shout "Take my money!" so you can imagine my excitement when their newsletter popped through a few weeks ago with their new home scenting! If you've never discovered Emma's incredibly intricate, unique designs before I should warn you you won't be able to resist adding something to your Christmas list. So far I've fallen in love with the Kruger candle (sandalwood & vanilla) and I'm thinking of adding the matching diffuser into our ensuite bathroom for the most luxurious baths.
My Favourite: Kruger Scented Candle, Kruger Scented Diffuser
(The team just got in contact and sent me a discount code if you're starting your Christmas shopping. Use code FROWHOME10 for 10% off anything on the site until the 22nd November.)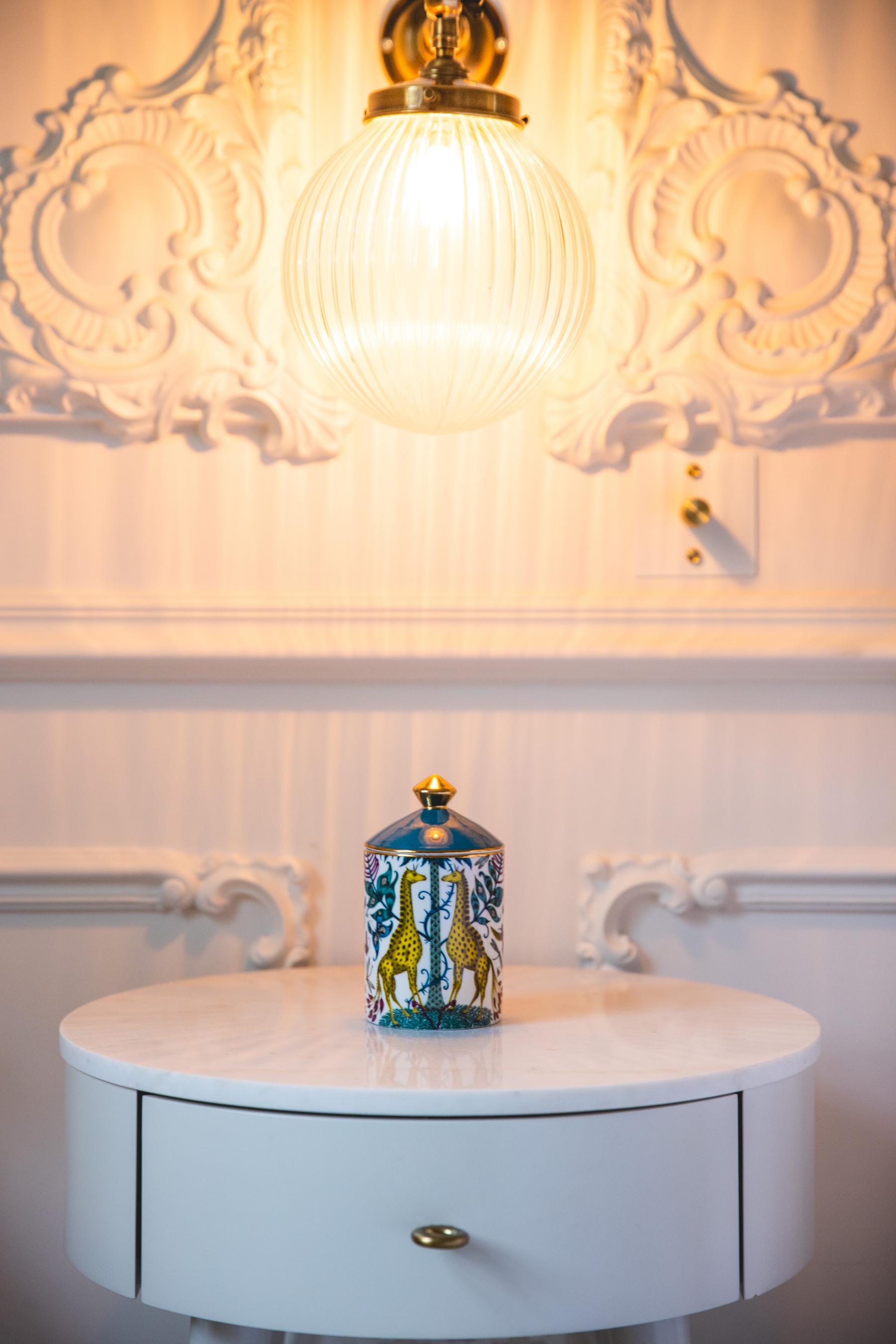 Espelma
I was lucky enough to add an Espelma candle into our home the week our kitchen renovation was completed. After filming a tour of our new layout, laundry room, appliances and hardware, one of the most asked about items was "the blue glass candle". What's beautiful about Espelma candles is not only do they smell out of this world and are refillable once you've burned your chosen scent but the initial candle you purchase is encased in the most incredible handmade glass. We love the Summer Garden scent (lavender & rosemary) and often move it onto our kitchen island to light when we have guests. 
My Favourite: Summer Garden Candle
Armani Privé
If there was a need to name my favourite ever perfumes, one of the top three without fail, would be Armani Privé Rouge Malachite. There's something about the scent (tuberose & amber) that just brings me utter joy. I know we all have certain fragrances that take us back to memories and mine is Rouge Malachite so owning the candle of one of my favourite perfumes, is a no brainer. I could receive a Rouge Malachite candle for every Birthday and Christmas I'll ever have and I'd be over the moon. If you've never had the chance to experience it, next time you're in your favourite department store head over and I promise you'll fall head over heels.
My Favourites: Rouge Malachite Candle, Pivoine Suzhou Candle 
Maison Christian Dior
I could wax lyrical about Dior candles until I'm blue in the face but judging by the fact I chose their Fève Délicieuse (tonka bean & vanilla) candles to scent our wedding reception, our wedding breakfast table and our aisle last August in France, I think the choice speaks for itself. What's so amazing about the Maison Christian Dior candles if you don't even have to light them for their scent to fill the room and having our wedding candles in our home, evokes the most magical memories, which makes me want to ensure they last forever.
My Favourite: Fève Délicieuse Candle, Bois d'Oranger Candle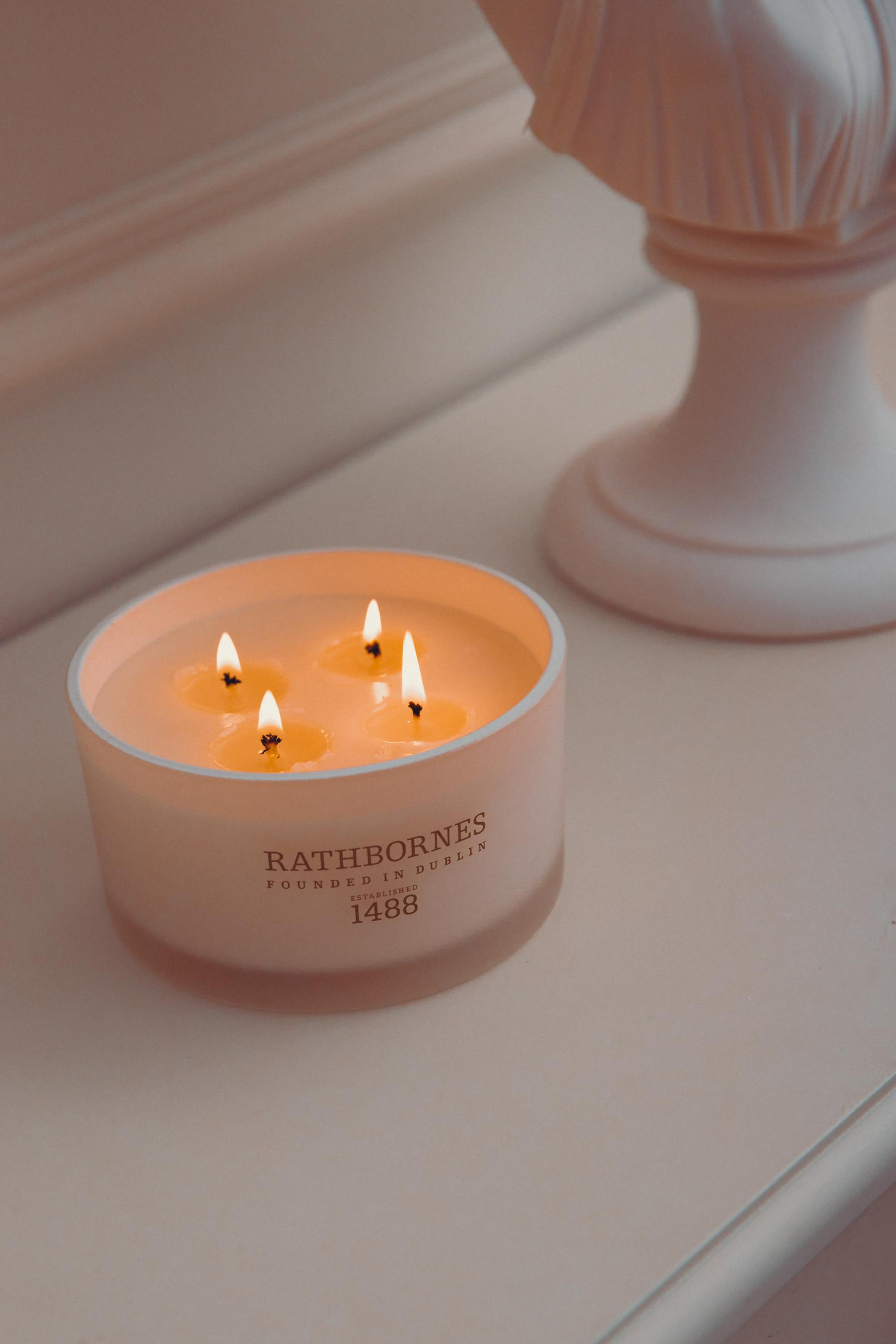 Dr. Vranjes Firenze
After an incredible photoshoot a few weeks ago for my upcoming Holland Cooper edit, we were lucky enough to spend a little time with Jade herself and the second we walked into her home I exclaimed "What is that beautiful smell?!" She immediately started telling me about falling in love with Dr. Vranjes scenting and how her home was filled with diffusers from the brand. Needless to say by the time we'd left and were driving home, I'd already ordered the same scent and she's quickly passed the obsession over to me too. Oud Nobile (oud & bergamot) fills our three story hallway beautifully without feeling intense or heavy.
My Favourite: Oud Nobile
Rathbornes
Another recommendation from Jade was Rathbornes scenting and after such an amazing discovery in Dr. Vranjes I took the plunge and ordered the absolutely beautiful Dublin Tea Rose, Oud & Patchouli candle from the brand. Not only are they a more affordable option in comparison to how expensive some luxury scenting brands can be but they envelope the space they're in perfectly. I may have already purchased a couple for Christmas presents (I know I know but I'm trying to be organised haha!) and I'm so excited to see their reaction to them.
My Favourite: Dublin Tea Rose, Oud & Patchouli candle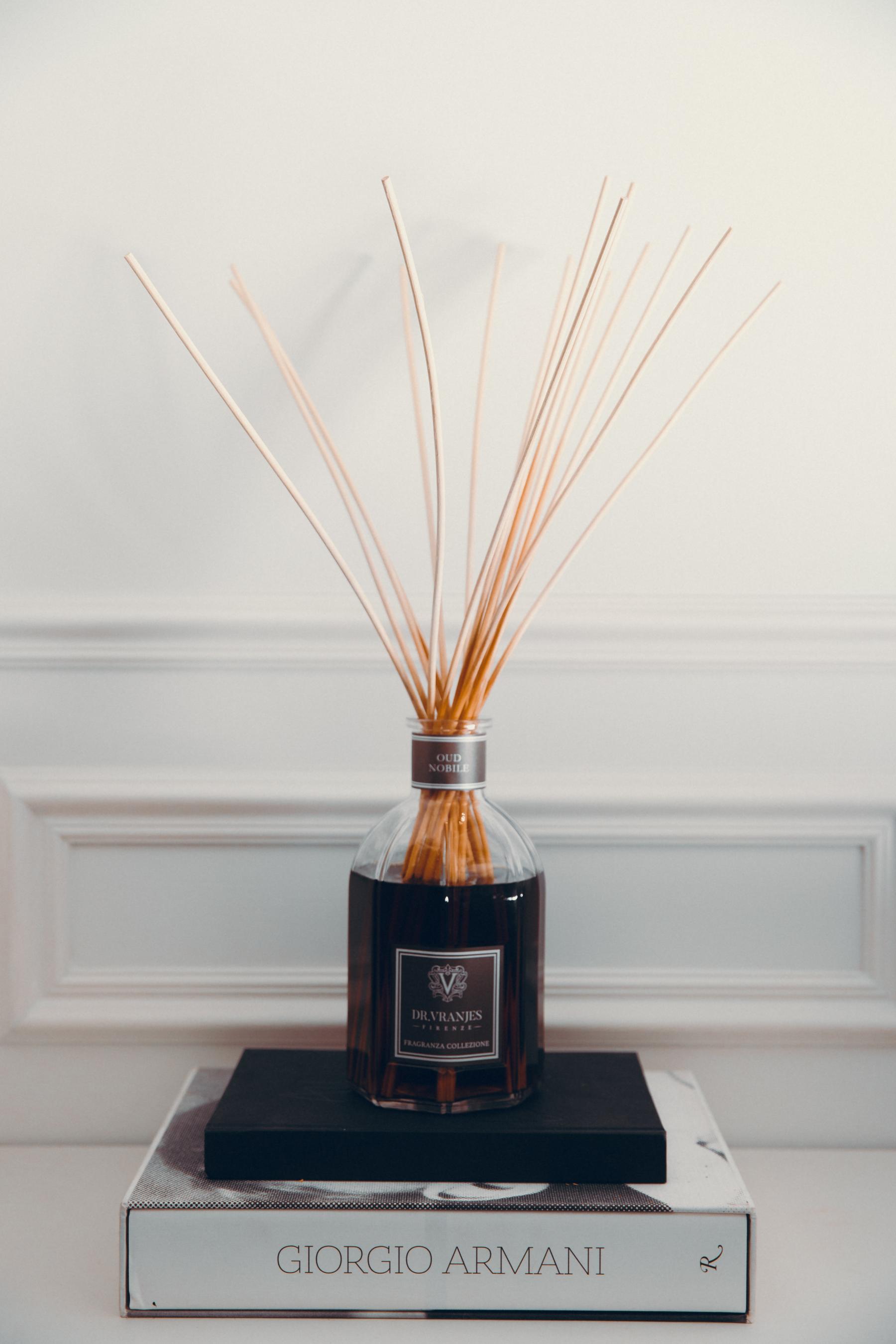 Zara Home
Now if you know me well you'll know that I don't shop at Zara for clothing but I was gifted some Zara Home candles over the summer from a friend and wow - they're just brilliant! It just goes to show that you don't need to spend a fortune to fill your home with beautiful fragrances and I'd happily repurchase the ones we have because they also look stunning in our hallway. The Signature Collection One candles we have (fig & tobacco) are not overly intense so as a secondary scent layered alongside a bolder diffuser for example, they compliment a space perfectly.
My Favourite: Signature Collection One Candle
Diptyque
We currently have some absolutely stunning Diptyque hand wash and hand lotion by our kitchen sink, which is incredibly boujee and extra but sometimes adding a little luxury into the small things in life is so wonderful. But actually one of the most recent gifts we unexpectedly received was the brands new fragrance plug in, but a picture of that in our gym wouldn't quite have been a blog worthy image haha You can buy nine of the brands iconic scents and they'll circulate the room manually or automatically via the wall diffuser - so clever!
My Favourites: Softening Hand Wash, Velvet Hand Lotion, Mimosa Candle
Fornasetti
Probably the most luxurious candle in our home and also the most statement. I've actually been saving this beautiful candle for months and months, waiting for our hallway renovation to be completed, as I saw it as the perfect finishing touch. I love Fornasetti designs as I think their playful designs embody how we've designed our home - full of accents, colour and edgy additions. I'd love to add some more pieces to Frowhome as I'm not sure I'll ever burn this L'Eclaireuse Mistero (pink pepper & musk) but even if I do the jar will still take centre stage. 
My Favourite: L'Eclaireuse Mistero Candle
Acqua di Parma
And last but certainly not least in this seemingly never ending candle journey (who knew the blog would take this turn haha) is of course the beautiful Acqua di Parma. I still recall buying my first ever Acqua di Parma candle for the Manchester flat Rebecca and I shared after university and so I have the fondest memories of our cosy living room. The La Casa Sul Lago scent (bergamot & musk) is light and fresh but with a deep captivating amber/musky undertone that easily fills a room from floor to ceiling.
My Favourites: La Casa Sul Lago Candle, Arancia di Capri Candle
I'd love to know if you have any go to home fragrance brands or candles that you just can't live without? Especially if they sound similar to any of the musky, citrusy or floral scents I already adore!
Sign up here for a weekly catch up of everything Inthefrow