03.08.2020
Science of Styling
With Dyson Hair
This blog post is a paid for advertorial in collaboration with Dyson Hair (ad).
I am a proud Dyson Hair Ambassador for 2020.
I think it's safe to say that a lot of people know who I am, because of my hair. From the candy floss pink era, to the vivid purple phase, to my platinum silver locks as they stand now - I've been on quite the public hair journey and I've loved every chapter so far.
My hair has been dyed to within an inch of its life, heat treated day in and out for years and styled sometimes multiple times a day on photoshoots but only over the last couple of years, have I really started to take it's poor cries for help seriously. How I hear you ask? Enter Dyson Hair.
With their incredible wealth of knowledge, scientific research and hair analysis tools, they've helped me to understand why my hair's so damaged, what I can do to lessen that damage going forward and why hair health is so incredibly important.
So while this summer may not be what we originally envisioned, it's time for the next and most important chapter of our hair journeys to begin, the healthiest of them all. Together with the help of Dyson and their pioneering technology, here's how science can help to keep our hair strong and healthy.
#DysonHair
This blog post & shop widgets use affiliate links. 
Affiliate text links are marked (ad). 
Read the disclaimer about affiliate links & PR gifting here.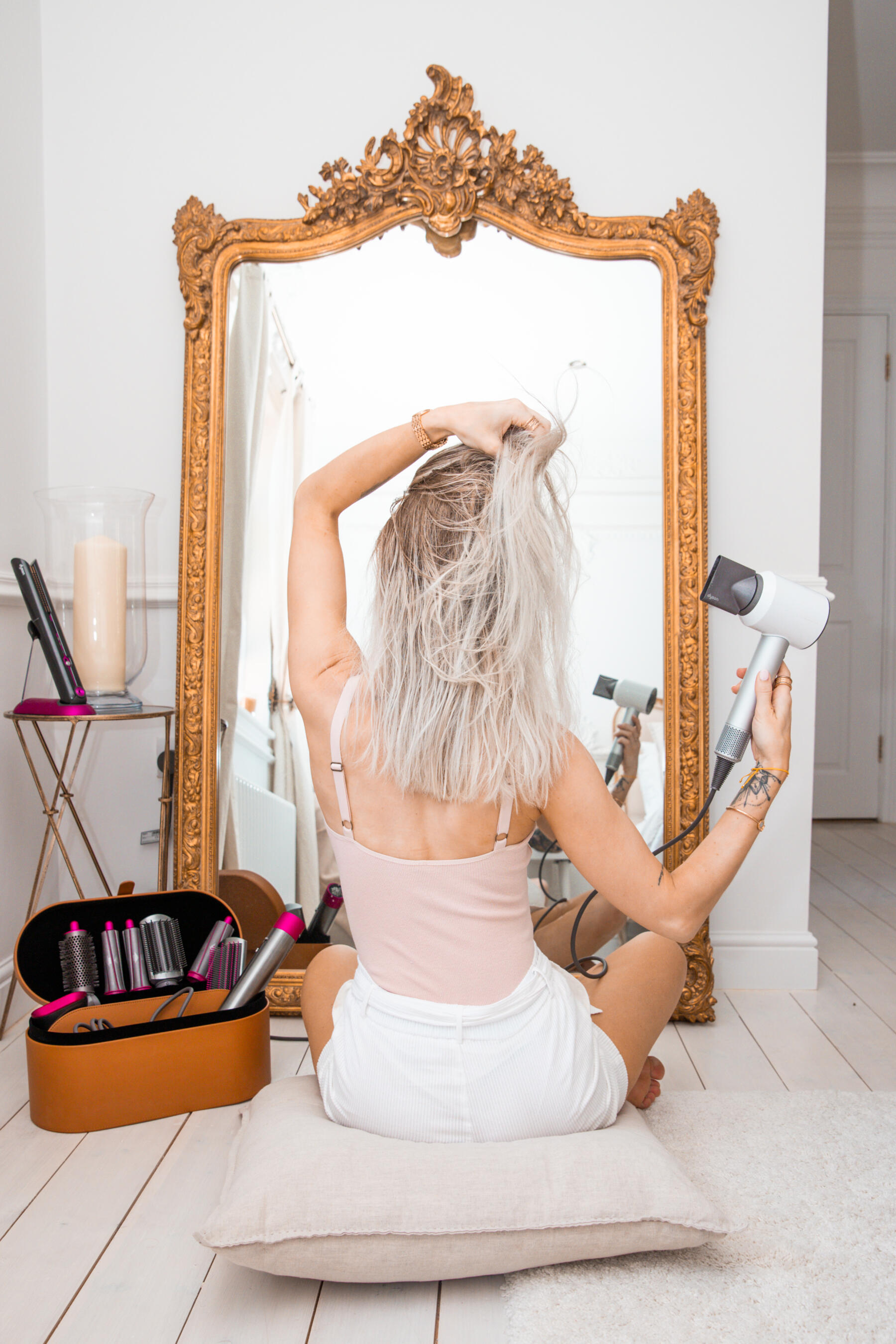 Let's Talk About Hair
So what is hair damage and how does it happen? From fly-aways and split ends, to hair simply feeling rough and looking dull, there are a few warning signs that your hair might be damaged and in need of a little TLC. The simplest way that helped me to understand the build of my hair strands and how it can be damaged, was realising my hair has two very different parts. The first is the centre cortex, akin to the heart of your hair. The cortex gives your hair its strength, elasticity and also its natural colour. The second is the cuticle, made of overlapping transparent cells that lay flat and smooth, surrounding the cortex. It works like a shield which is able to protect the hair from a multitude of damage, as well as reflecting light to make your hair appear shiny. The smoother the cuticle, the shinier your hair. Hair damage is the breakdown of the hair cuticle and that's what causes your hair to look frizzy, appear dull (because light isn't being reflected evenly) and can even lead to hair snapping.
Dyson's innovative research on 2148 miles of straight, wavy, curly and coily hair (yes you read that right over 3400km of hair!) has identified 5 of the major ways in which hair is damaged, meaning we know exactly what to do to help protect our hair!
1. Extreme Heat - Heat works wonders on styling hair but it can also damage hair too. Prolonged exposure to high heat settings can cause brittle, dull and lifeless hair that is especially prone to snapping and damage of the hair cortex
 

2. Chemical Treatments

- This includes treatments like perming and bleaching and although they work incredibly well, they have the ability to both break and damage the bonds that make up both the cortex and cuticle of your hair.
 
3. Mechanical Damage - Think drying your hair aggressively with a towel and/or brushing your hair when wet. Both these actions can stretch, weaken and break your hair strands, causing dull and frizzy hair. Even brushing dry hair aggressively can cause damage.
 
4. The Sun & Hot UV Rays - Just like the sun and UV rays can cause damage to our skin, it also damages our hair. Not only can bright sunlight affect the colour of our hair by breaking down the melanin in our strands, it can also damage the keratin in our hair causing brittleness.
 
5. Swimming - Both swimming in the sea and in pools can cause hair damage and lead to frizz and dryness. Chlorine in swimming pools can damage your hair's cuticle layer and the salt left over after a sea swim can cause friction and in turn breakage of hair strands.
My Hair Passport Results
Back in November 2019, before I even became a Dyson Hair ambassador, I was invited to not only discover the life changing Dyson Corrale (you can read all about my love for that innovation here), but I was also invited to take part in having my hair analysed for damage. If you know me well, you know I love to know the science and innovation behind products and services, so when Dyson asked if I'd like to have a Hair Passport completed, I jumped at the chance. The team looked at multiple hair strands under a microscope and were able to identify the level of damage my hair had, as well as the type of damage most commonly seen. Knowing this information gave me the ability to move forward with a plan to look after my hair, far better than in recent years and to also identify the moments and factors that may cause the damage in future, before they even have chance to affect my hair. I wasn't sure whether to share my own Hair Passport results but I actually found them so fascinating and such a push to do better for my hair's sake, that I've taken the plunge and added them below - eek! As someone that travels a lot for a living, quite often to humid and hot destinations, I perhaps inflict more damage on my hair than the average frequent flyer, but armed with the knowledge that I know how to help protect my hair from so many factors now, future summer styling will definitely be far kinder to my hair.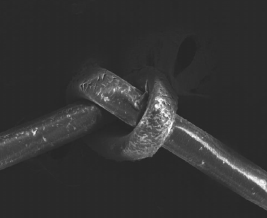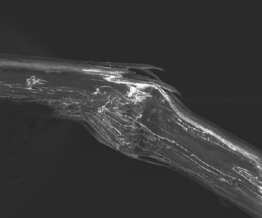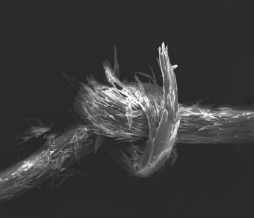 The Root
This shows my cuticles lifting from my hair fibre and signs of roughness and damage at the edges. However having all the cuticles intact is a sign of healthy hair, which can mean greater shine because the fibres may be smooth and aligned.
The Body
This shows an area of extreme damage, where the hair appears to have been pinched or crushed. The cuticle layer has been stripped away, leaving the cortex exposed and beginning to fray. Without the cuticle, hair will feel rougher.
The Tip
This shows that at the tip of my hair, only the cortex is left and it is showing significant fraying. Hair in this damaged condition is much weaker, and far more likely to break or split than hair that
So How Can I Help to Prevent More Damage?
Since switching to Dyson stylers and being able to see the damage my hair has had inflicted on it, there's so much I can and want to do, to protect it. Considering the invaluable advice Dyson have given to me and the things I've learned about my own hair over the years, here's how I've been protecting my hair to ensure its stronger, healthier and more beautiful!
1. Don't Brush Wet Hair - This is something I stopped years ago and I'm so glad I did after learning how badly this can damage your hair. I've learned that water causes the cortex of your hair to swell and the cuticle that protects the cortex also doesn't absorb this water evenly. This means that your cuticle can become distorted, allowing it to tangle easier (so frustrating!) and can even permanently damage the cortex of your hair strands, weakening the structure. That feeling of pulling and stretching when your hair is wet? That's your hair weakening and possibly stretching to breaking point.
 

2. Use Lower Heat

- I have naturally dry hair and tend to wash my hair only once or twice a week, 4-5 days between washes is the norm for me. Over the last few months however, I've made a conscious effort to occasionally leave my hair to dry naturally, using no heat at all, or if I have chosen to dry it then I use my Dyson Supersonic (ad).

It measures air temperature 40 times a second and produces a high velocity jet of controlled air, ensuring no prolonged exposure to damaging heat and a fast more efficient drying experience.

 
3. Style Less Often

-

I know a huge cause of the damage in my hair was from styling and the reason I know that, is because I used to style it most days. Using straighteners, curlers, tongs and hairdryers to tame and create the styles I needed multiple days a week, was applying far too much heat and mechanical damage to my poor hair. Fast forward to 2020 and I've made a pact to style my hair a maximum of twice a week (only if I need to) and when I do style it I use the Dyson Corrale

(ad)

or the Dyson Airwrap (ad) because I trust the science behind them. You can also see some of my tried and tested tips for retaining your style over consecutive days below!
 
4. Use Conditioning Treatments

-

It's quite easy to see that my hair isn't natural and the colouring and bleaching it's taken over the years has had a definite impact on it. Along with stopping full root bleaching and switching to more subtle and slightly gentler highlights, I've made a point to use more restorative hair products such as conditioning treatments and intensive masks to encourage shine and control fly-aways. Conditioning won't repair damage but it helps to smooth my already damaged hair and that helps to limit further breakage and signs of damage, like frizz and fly-aways.

 
5. Switch to Dyson Stylers - Switching to Dyson products when you know they've been created by some of the brightest engineering minds out there, is a complete no brainer for my hair health. Being able to dry and style my hair with no extreme heat but still get such beautiful results, shows the science behind them is key. Lower heat no longer has to mean a compromise on the quality and longevity of your style and I for one, am quite simply a huge fan of such incredible technology meeting my love for all things beauty and haircare.
My Summer Style - Big Bouncy Waves
I'm all about the big bouncy waves this summer and the Dyson Airwrap lets me create perfectly styled smooth waves, with the ideal amount of volume. The kind of summer style that finds you swishing your hair from side to side and wishing for your own Marilyn moment. If you want to achieve the same style with your Dyson Airwrap (ad) and maintain it for as long as possible, there's a few things I've learned that work extremely well.
After washing and conditioning your hair (conditioner helps to maintain a smooth style but if your hair is fine, be sure not to over condition), ensure you style your hair from wet to dry. Starting the styling process when your hair is wet, means that your chosen style will last for far longer because the hydrogen bonds that maintain the shape of your hair strands, are temporarily broken. This makes your hair far easier to reshape and more likely to last for a few more days. For this style I partly dry my hair with the Dyson Supersonic without taking a brush or comb to it (remember brushing wet hair can cause breakage and stretching), and then take small sections of hair into the Dyson Airwrap with the 40mm barrel attachment. To make sure I get the height and bouncy volume I adore in this look, I take each section of hair right up to the root. Alternating the way in which I style with the Dyson Airwrap, using both the clockwise and then anti-clockwise barrels, also ensures more volume as the waves sit against and on top of each other, as opposed to falling into themselves.
After waving each section of my hair, I separate the waves loosely with my fingers (a wide tooth comb would also work as it doesn't re-apply tension to your hair) and then finish with the cool shot feature on my Dyson Supersonic to seal my style for longevity. Because the Dyson Airwrap (ad) doesn't expose your hair to extreme heat and the damage it can cause, my hair feels free of frizz, unbelievably soft and has hardly any fly-aways - just styled to perfection. I add a little light setting spray to help hold my style in place and calm any sections that need a little extra TLC. The perfect summer style, from wet to dry, that will last days so long as you stay out of any humid environments and don't go diving into any swimming pools - maybe next summer eh?
A huge thank you to Dyson and the Dyson Hair team for allowing me the opportunity to be a Dyson Hair Ambassador this year. I'm incredibly proud to work with them and to share my love for their innovative technology with you all!
Sign up here for a weekly catch up of everything Inthefrow