19.08.2020
All The Makeup Brushes
You'll Ever Need
A few weeks ago while I was vlogging over on YouTube (shameless plug - feel free to subscribe haha) I was getting ready to head into London for the first time since the beginning of the year and was combatting my anxiety by chatting through my makeup brushes with you.
I got so many DMs over on Instagram asking if the ones I mentioned in that vlog are my all time favourites or new additions to the collection, and it made me realise I'm not sure I've ever done an in depth post on them? Considering they're just as important as the products themselves, I can't believe I've waited until now to talk about why I love the ones in my collection. 
You'll notice for someone who works in this industry my collection is relatively small and that's for a couple of reasons. 1. I have some real favourites that I've owned for years and I've repurchased the same brushes when they've seen better days 2. I purposely keep a small collection to avoid PR waste (I can't recall the last time I said yes to any new brushes as I don't need any!) and 3. I use my fingers often too.
So here are all the brushes I would so recommend, why I love them and which part of my personal routine they fit into best - I don't always use them for their usual purpose!
This blog post & shop widgets use affiliate links. 
Affiliate text links are marked (ad). 
Some of the brushes in this imagery were PR gifts.
Read the disclaimer about affiliate links & PR gifting here.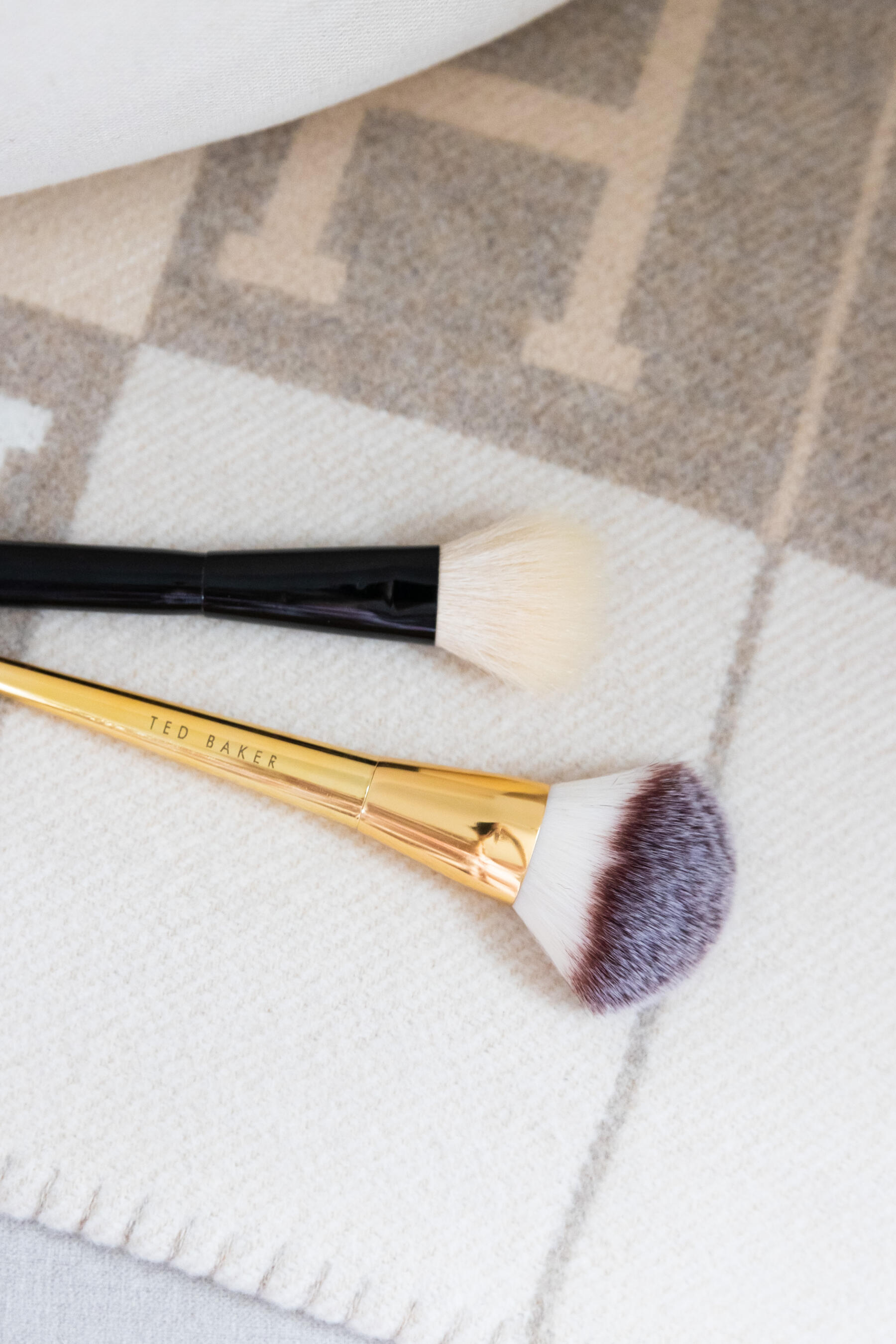 Armani
Powder Brush
The most expensive brush in my collection - but wow do I love this powder brush. Part of the Armani Maestro collection, I've used this super soft powder brush in my routine for years. Perfect for more precise bronzer application on my cheeks and forehead and works best (as the name says) with powder formulations for an even coverage because of it's softer, looser hairs. A pricey buy but after owning this one for quite some time, I can safely say I couldn't do without it now.
With Ted 
Angled Powder Brush
I worked with the amazing team at Ted Baker on the launch of the With Ted range at the beginning of 2020 and one of the highlights was getting to discover their incredible makeup brushes. Available in 2 sets for both face and eyes, the quality will honestly blow you away. My favourite of the bunch has to be the Angled Powder Brush. It's unique shape applies bronzer and even blush perfectly with one sweep and I love to use it to take powders effortlessly down my neck too. In the same brush set you'll also find the must have Tapered Highlight Brush featured below.
Zoeva
Cheek Brush
Zoeva create some of my favourite brushes and even better I think they're so affordable for the quality you get. One of the most used in my collection is definitely their Luxe Sheer Cheek Brush with it's full and angled brush head. Designed for use with powders but I actually adore how it applies my more cream or water blushes. I find the angle of the brush head allows you to build any creamy formulas in a lovely subtle way and allows me to buff products seamlessly upwards to life my face.
Lumene 
Foundation Brush
Whenever I mention this foundation brush to people I'm always so shocked that they've never tried Lumene brushes. They're a great price point but they're also so unique in their creation! All their brush bristles are infused with charcoal for anti-bacterial properties (so clever right?!) and this particular brush with it's fluid reservoir aka the dip you see in the brush head, perfectly distributes product. A perfect brush for buffing foundation into your skin and I also use it to stipple cream blushes and foundations into my cheeks.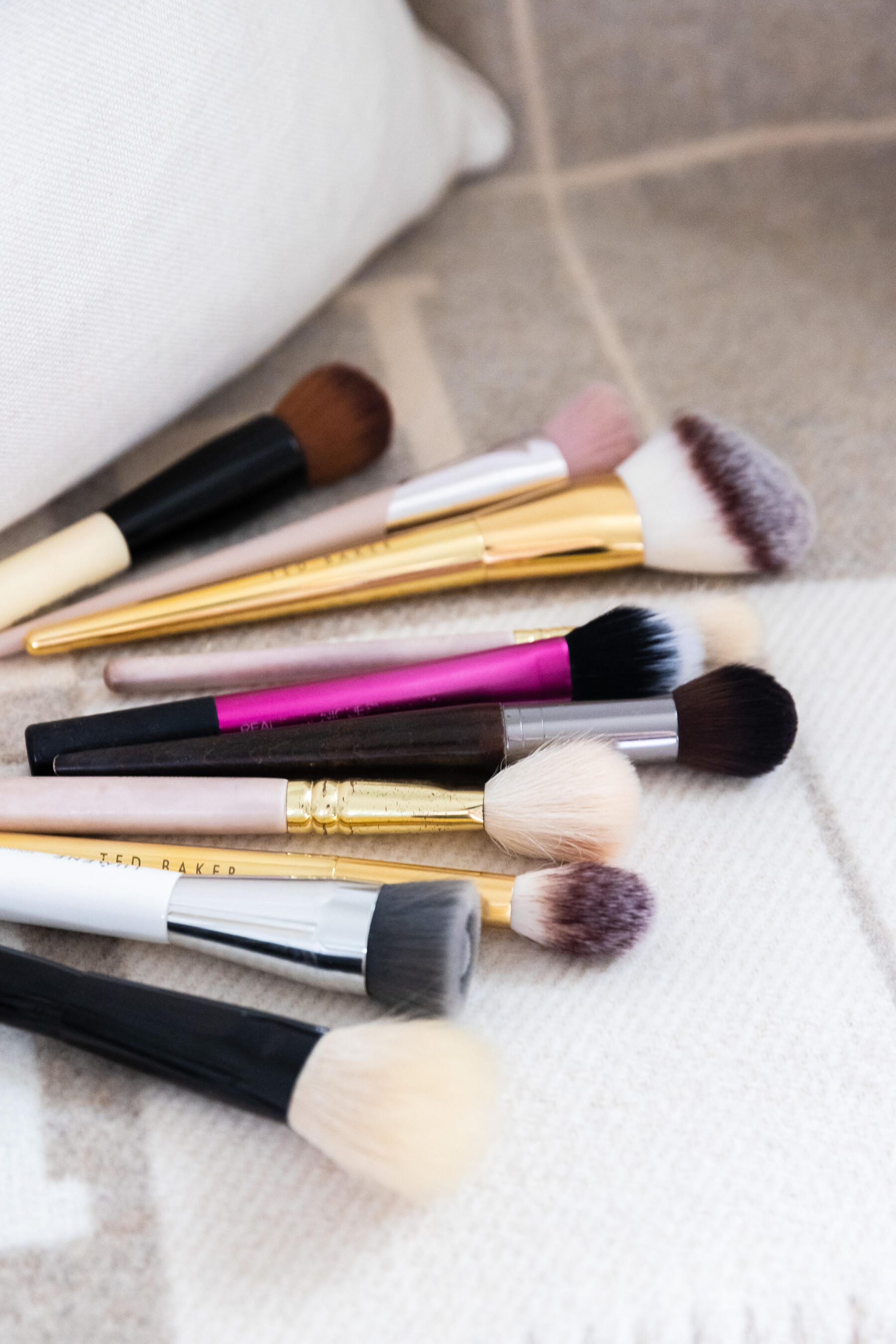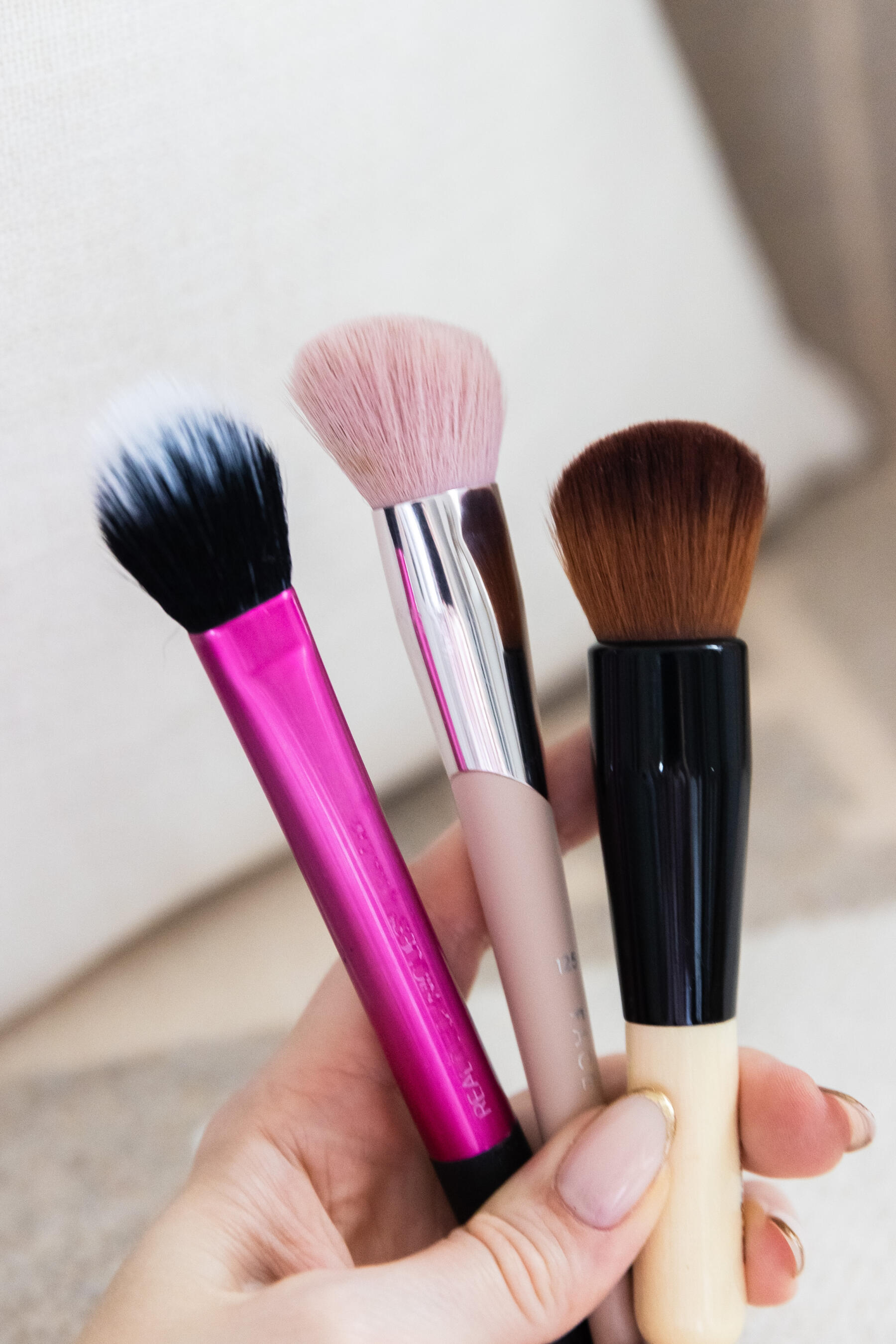 Real Techniques
Duo Fibre Brush
This may well be the oldest brush in my collection as it doesn't even seem to be available any longer - oops! However, Real Techniques now sell an upgraded Everyday Essentials set (4 brushes and a sponge) which is the new and improved version of the set I initially purchased, with the original Duo Fibre brush in it. The soft, rounded fibres in any of the larger complexion brushes are perfect for stippling foundation, especially if you are aiming for a lighter coverage than a heavy foundation would normally give. 
Fenty Beauty
Face Shaping Brush
I absolutely love Fenty Beauty products but this Face Shaping brush is very close to the top of the list for me. It's the perfect density for applying foundation, especially fuller coverage products that you'd like to keep that way and the curved head allows for the ideal buffing motion. It's a little smaller than most of my other complexion brushes but the size means it's ideal for hugging your contours and around your nose. Also great for any powder products like highlight or contour you'd prefer to pack on before buffing to diffuse.
Bobbi Brown 
Full Coverage Face Brush
This is one of those brushes that I don't rush to use but when I do, I remember just why it made the cut. The tightly packed bristles mean any foundations (cream, liquid or even powder) can be buffed into the skin with minimal effort. I tend to sway towards this more dense style brush for events as the finish it gives is unbeatable. If you want a truly airbrushed, perfected base then this is the perfect foundation brush. And if you want to sheer things out a little, you can choose to use it damp as you would a beauty sponge.
Makeup Forever 
Contour Brush
I very rarely contour when it comes to my everyday looks and often prefer just to warm my face with my preferred bronzer. However if I'm creating a look for an event or something a little more glam than natural, then I'll use a more domed shape like the Makeup Forever Contour Brush. I'll use it to buff a cool toned contour in to carve out my cheekbones, often with a cream product and then I'll finish with the looser bristles of a bronzer brush to add any warmth I feel I'm missing with my bronzer. The Makeup Forever Contour Brush is no longer available sadly but their new double ended sculpting brush has the same perfect shape for cheeks.
Zoeva
Powder Fusion Brush
This Zoeva Powder Fusion Brush is the ideal shape of highlight brush. Personally I choose to use highlight with a brush this style because it gives a more subtle application, especially when you hold the brush itself with a loose hand further down the stem. I don't like to apply my powder highlight with a fan brush, as I find it gives a more harsh outcome with such a narrow brush head, so this style available in a small Zoeva set is perfect for delicately hitting your high points. For liquid and cream highlight I always opt for my fingers to warm the product.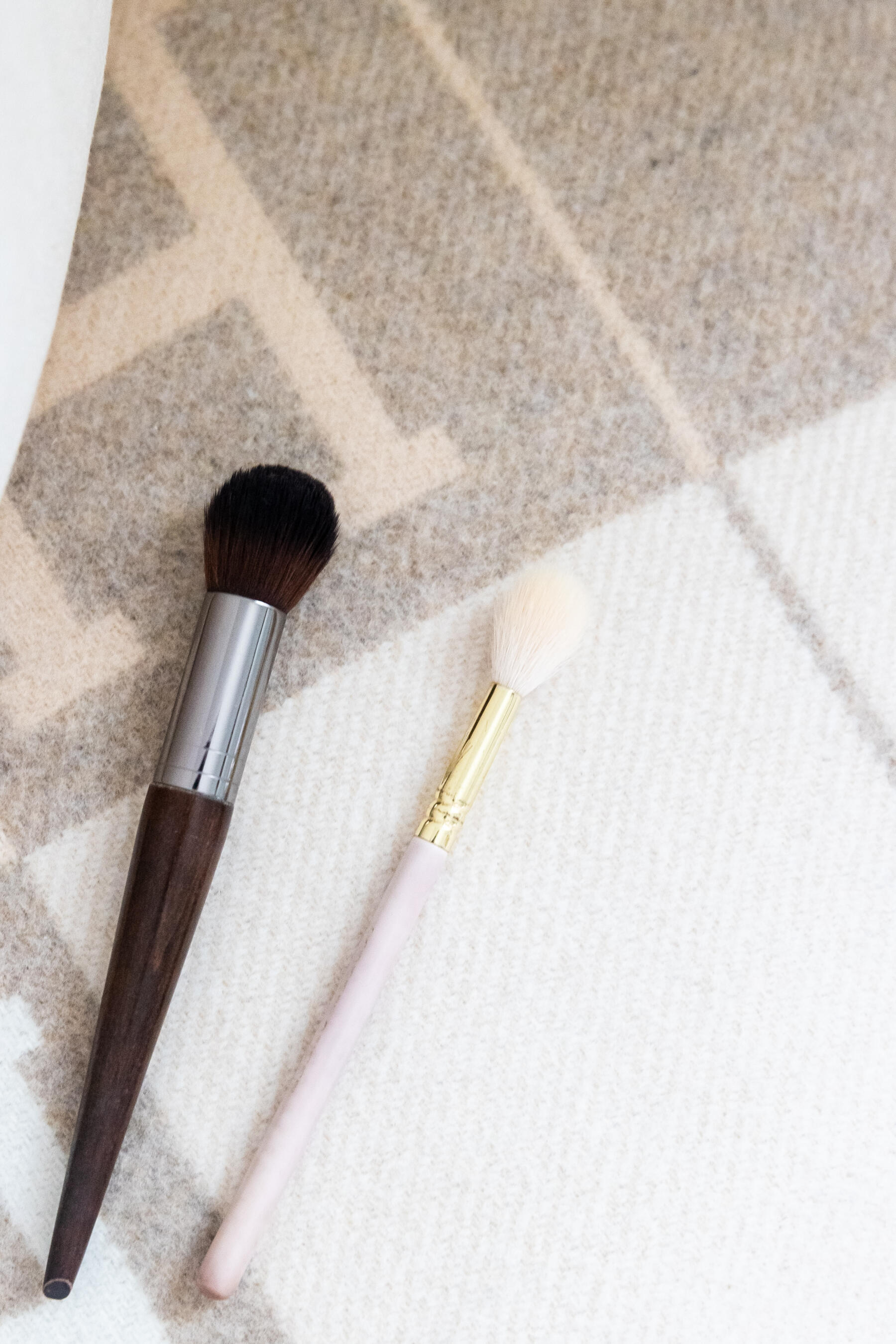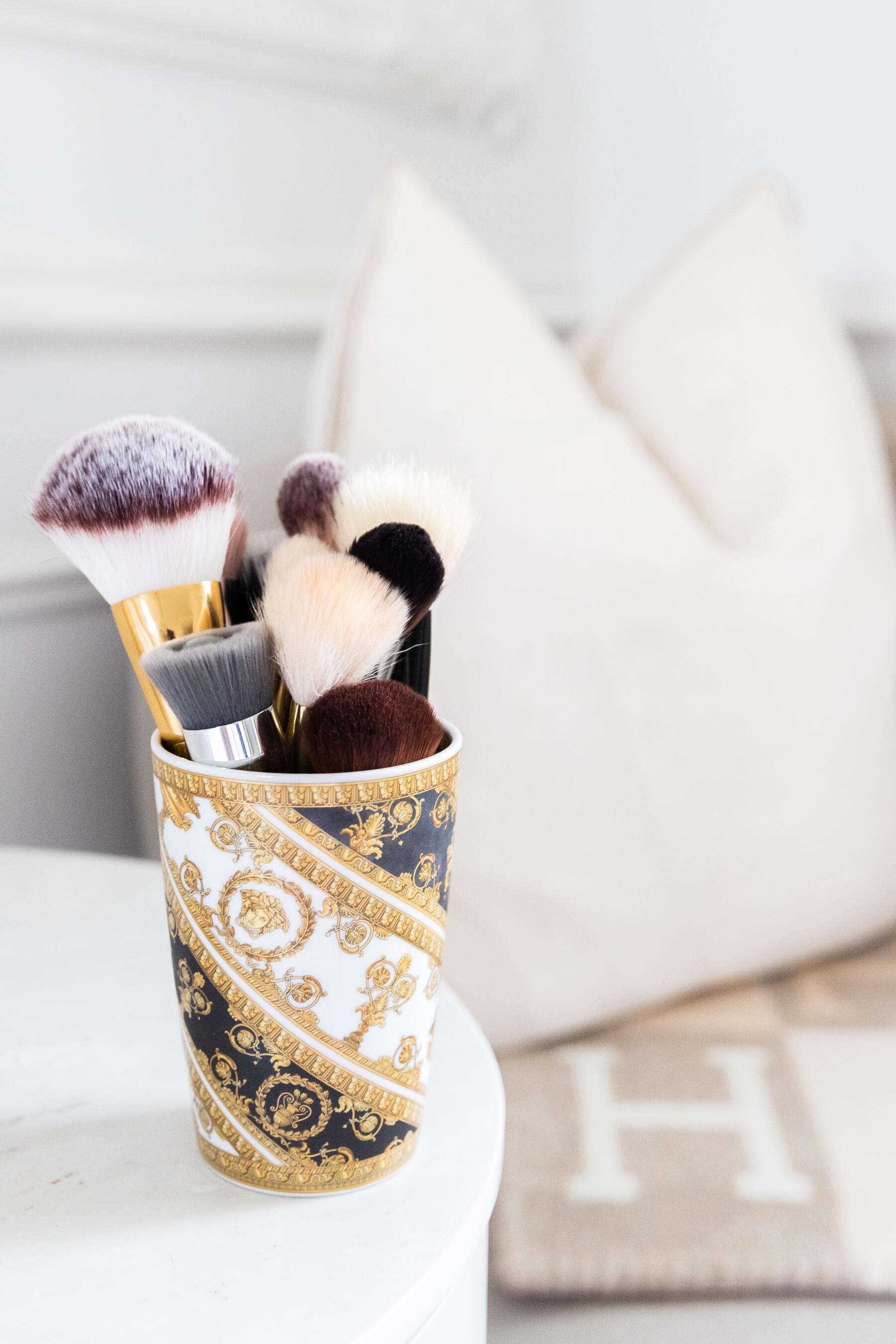 With Ted
Large Eyeshadow Brush
Another favourite from the With Ted sets is the Large Eyeshadow Brush from the 4 piece eye set. Ideal for using in a sweeping motion across the whole eyelid, especially when you're starting a look with your base shadows. The larger brush head diffuses eyeshadows so well and ensures that your crease or base colour is blended to perfection. It's also perfect for single washes of colour on those one shade days, as it takes just seconds to blend your bronzer into the perfect, everyday eye look.
MAC
Blending Brush
I actually don't own a lot of MAC brushes but the few I do have in my small collection, I use in the majority of the looks I create. The 217S Blending Brush has been a part of my brush collection for years (I think I may have repurchased it twice now actually?) and it's key to any smokey eye looks - subtle or dramatic. The fibres are quite dense but the narrow, almond shape tip allows you to blend but equally be quite precise if you want to take any shadows below the eye and smoke them out lightly.
Charlotte Tilbury 
Eye Blender Brush
Another really great larger brush for eyes, is the Charlotte Tilbury Eye Blender Brush. This is one of those brush styles that could easily be used for multiple eye looks. Large enough to sweep shadow across the whole lid, soft enough to blend the outer lines into the perfect diffused look and a small enough tip to easily create depth and shape on the outer corners of the lids. I love using this with rich chocolate or purple shades for a more wearable and achievable smokey eye.
Zoeva
Petite Crease Brush
Another Zoeva brush I adore in my collection - the Petite Crease Brush. Again another multi tasking style, despite it's given name, as you might have realised I definitely don't use a lot of my brushes as they 'should' be. Small enough to smoke out the under eye, pointed enough to add your favourite highlight to the inner corner and dense enough to add drama to the brow bone. I love using this brush to pack colour onto the centre of the lid, before blending it out into a soft wing.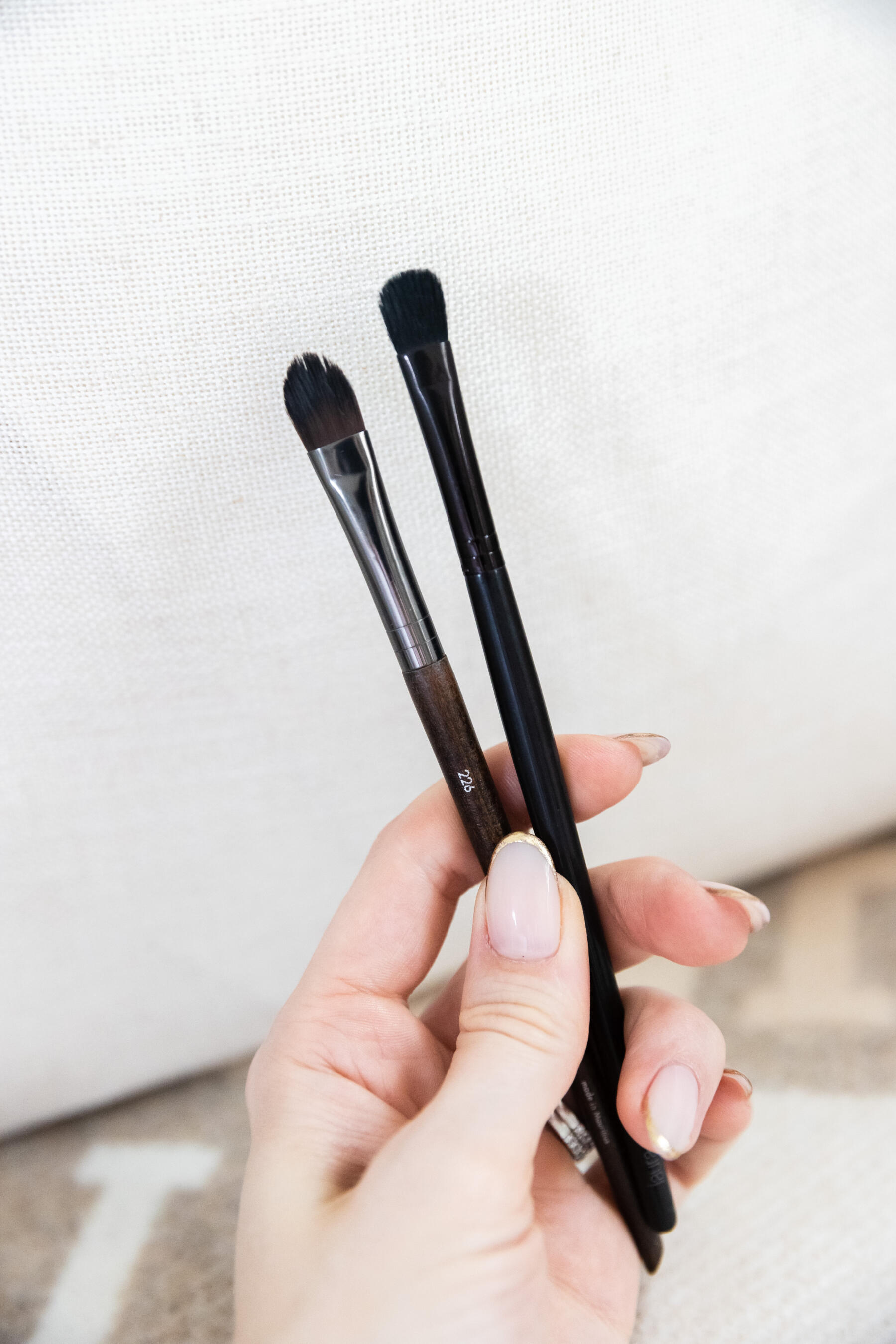 Makeup Forever
Eye Shader Brush
The Makeup Forever 226 Eye Shader Brush is the ideal shape and size for precise packing of colour onto the eyelid. What's so great about this particular flat brush is that it's not only great for packing dry pigment, it's the perfect size for wetting and using with shimmers to add depth to the eye. Some of my favourite eyeshadow creams that come in a pot suit this style of brush down to a tee. It picks product up and lays it down well without the fallout that a looser bristled brush would create. 
Laura Mercier
Eye Colour Brush
I wouldn't say that it's necessary to have 2 flat eyeshadow brushes in your collection, but this slightly bigger version of a flat brush shape, offers more ability to blend than a smaller shader. The Laura Mercier Eye Colour Brush is flat enough to pack colour onto the lid without fallout, as well as being able to carve out the underneath of the eyebrow. I love creating more of a lift to the brow with this brush, as the slightly rounded tip is perfect to shade a nude tone under the eyebrow. 
MAC
Lip Brush
In creating this blog post I've realised this is the only brush in my collection that I have a real dual use for. The MAC 316 Lip Brush is the only brush I'm currently using if I need to line my lips but if I'm travelling with it (there's a cap that pulls off to ensure you can pop it in your handbag sans mess) it doubles as my inner corner highlight brush. Glam or everyday I always add a pop of highlight tight in waterline and this is tiny enough to do just that naturally. 
With Ted
Small Eyeshadow Brush
The perfect in-between style brush that is super versatile for adding washes of colour but often I use it as a smudger in my eye looks. It's ideal for smudging and blending out any colour I've added along the upper lash line and is a super simple way to create the sometimes hard to achieve smokey eye. It's also brilliant at adding definition between shades and builds colour well if you're adding a shimmer shadow to your eyes. 
Charlotte Tilbury
Lip Brush
Another perfect example of not using brushes for what they've been created to do - the Charlotte Tilbury Lip Brush. This brush is in my collection because the squared off, flat tip makes it the ideal brush for lining eyes and gently smoking out the waterline. It's the perfect precise brush for lips if you are looking for a lip definer but I've never found a brush that works so well under the eyes as this one does. 
With Ted 
Spoolie Brush
The 3rd With Ted brush featured in my collection is the Spoolie Brush found in the eye brush set. There isn't a huge amount you can say about any eyebrow spoolie but the slightly angled head and stiffer bristles are the reason this is the one you'll find me using to set my eyebrows. Any soaps or waxes I use to brush my eyebrows into place need a firm spoolie and this does exactly what it says on the tin. Can also be used to separate eyelashes but I personally tend not mix my brush usage.
Armani
Eye & Brow Brush
I think this might be the only 2 in 1 brush featured in my collection and truly it's also seen better days - in fact I'll be heading to repurchase a shiny new version right after scheduling this post to go live! The Armani Eye & Brow brush has a simple spoolie on one end that I use to separate any eyelashes should the need arise, but the precise angled brush is the real reason i use it so often. Perfect for crisp winged liner and also for drawing waxes through my brows if I'm choosing to add colour.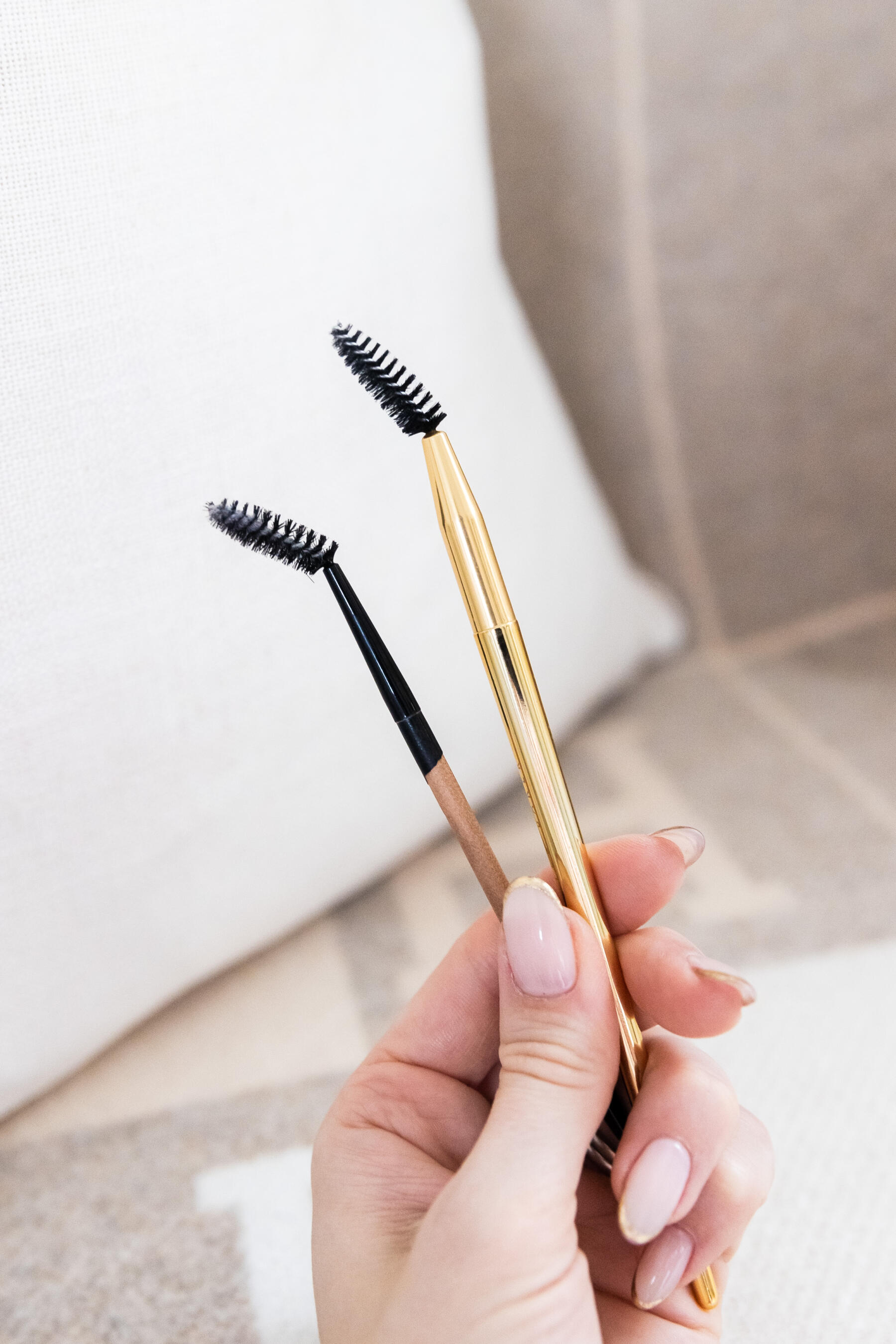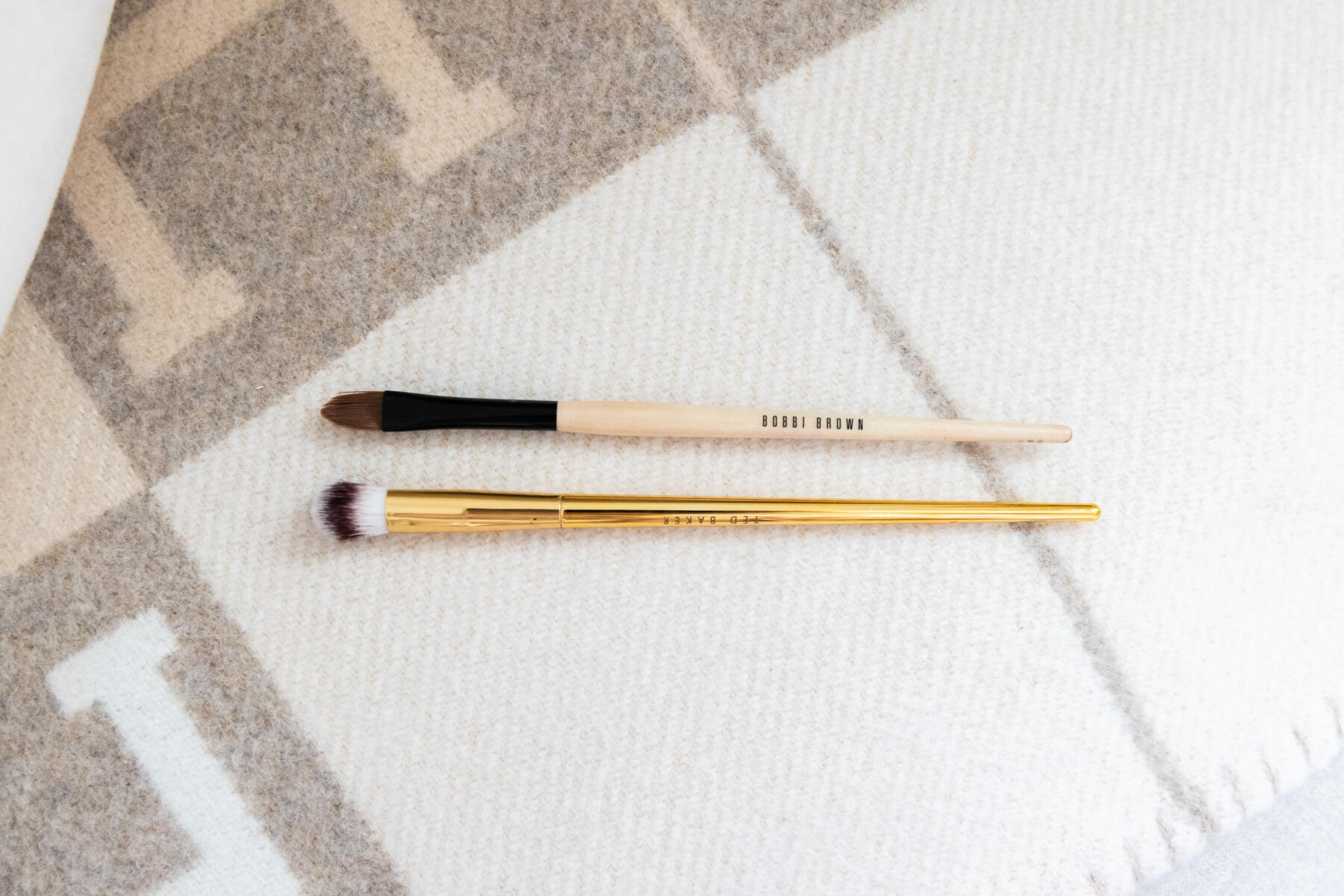 Bobbi Brown 
Concealer Brush
I'm definitely a finger convert when it comes to applying most of my concealers, as I lean towards product that needs warming before adding to the skin and I tend to use it sparingly. However if I feel I need some extra coverage under my eyes or spot concealing on any new blemishes/spots then the Bobbi Brown Concealer brush is the perfect shape. Flat and tapered to reach every bit of the under eye and soft enough to conceal spots gently without angering them.
With Ted
Tapered Highlighter Brush
The last With Ted brush in my collection is the Tapered Highlighter Brush but I actually use it to apply face powder in small amounts. Banana, translucent, mattifying - anything that needs a slight hand and touch. The size is ideal for setting under eyes and because I don't apply a lot of powder, I personally opt for a more dewy look, the smaller brush size ensures I only add powder to where I need it most. The under eye, the forehead and the nose so I leave a glow on my brow bone, cheek bone and top lip.
PS - If you're reading this and you're as terrible at remembering as I am... go wash your makeup brushes now you've read this blog post, you won't regret it ;)
Sign up here for a weekly catch up of everything Inthefrow