07.08.2020
5 Trend Bags to
Fall For
Last week I was lucky enough to be invited along to the Fendi boutique on Bond Street in London, to see their newly revamped space, complete with an incredible Peekaboo bar.
I was already heading in to support my favourite nail salon now that they're also open, so I thought it was perfect timing to accept such a lovely invite, pop along to see the space and snap some photos on what turned out to be a beautiful, sunshine filled, July day. 
The whole premise of the Fendi Peekaboo bar is that you can visit the boutique, experience a beautiful designer shopping trip and customise a unique Peekaboo bag that makes your newest purchase, even more special. And after my blog post just a couple of days ago about tips for making designer purchases and chatting with you all about how such a luxury should bring you joy when you wear it, trend bags of the season seems like the perfect next step. 
Trends may feel out of sync with the usual seasons and fashion weeks right now, but there are definitely no shortage of beautiful designer bags to fall in love with this summer. Here's 5 favourites that have been on my luxury loving radar in 2020 so far.
This blog post & shop widgets use affiliate links. 
Affiliate text links are marked (ad). 
The outfit featured in this imagery was a PR loan.
Read the disclaimer about affiliate links & PR gifting here. 
Bottega Veneta Cassette
Bottega Veneta is most definitely a brand that divides opinion, you might even say it's like marmite! The ultimate trend led brand, thats creations are highly coveted and equally recognisable all over social media. Whether you're thinking of buying their iconic mules, their must have cloud bag or their chunky statement jewellery, their pieces are so in demand you'll often find them sold out across all your favourite retailers. Their newest must have design? The Cassette bag. I took the plunge at the beginning of July and purchased one after seeing the amazing vibrant yellow colour way it had been released in and opted for the oversized gold chain strap, to really seal the deal. The only way I can describe what drew me and so many others to the design, is just how much joy it brings! The bubble like woven detailing, the on trend neon shades and the extra touches like the many different strap options, definitely make it an it bag and one that's flying off the virtual shelves this season.
Louis Vuitton Pont 9
I was lucky enough to get my hands on the new Pont 9 at the start of this year and it's fast become one of my most versatile bag additions. I'm a lover of the brand in general and own quite a few styles that have become real fixtures in my closet like the Twist, the Clapton, the Capucines and the Multi Pochette. Fast forward to early 2020 and the Pont 9 joined those often worn and worn often ranks. The Louis Vuitton Pont 9 is such a classic crossbody style and the smooth yet structured design, means it's truly a bag you could so easily wear everyday and night. Large enough to fit your phone, a few of your favourite makeup must haves and your all important face mask for a daytime commute, but sleek enough to pair with any outfit too for a number of occasions. I love to think of any luxury handbag as an investment piece but the Pont 9 is most definitely a 'I'll wear it forever' bag. 
Bvlgari Serpenti Cabochon
For full clarity I was recently proudly announced as Bvlgari's newest accessories ambassador in the UK but besides the fact that you'll see some sponsored content from me in upcoming collaborations with them this year, they're simply already one of my favourite brands. They exude real luxury, gorgeous quality and when you really dive into their collections, there's so much joy in the pieces they create and craft. The Serpenti collection is a long standing favourite for so many handbag lovers but there's something about the new Cabochon pieces I just adore. It feels like a revamp of a classic, a remix of the styles we know and love so well but with a new twist on the Serpenti styling. Inspired by the geometric cut of Cabochon gemstones, the bags feature a softness to them with their design that feels so tactile and beautiful, yet so wearable and versatile too. A new favourite for this season and especially in such must have colours!
Dior Bobby
Now you probably guessed I couldn't chat about designer bags without a Dior mention and you most definitely guessed right. It's a brand I adore that excites me with every design they release so you'll often find me swooning over their latest collections and dreaming of head to toe Dior looks. Most recently as I've had the privilege of affording to grow my Dior collection, the bags they've created have always made it to the top of my wishlist with their focus on embroidery, custom straps and logo heavy designs. The Saddle, the Lady Dior, the Book Tote and the 30 Montaigne are just a few of the bags I've fallen head over heels for  over the years and the most recent? Dior Bobby of course. Dior's take on the much adored hobo style of bag, feels like a modern upgrade and with detachable and adjustable straps too, the style becomes versatile as well as beautiful. Dior straps with their statement textiles and designs are highly coveted and by none more than me if I can utilise them across my collection!
Fendi Peekaboo 
And saving the best until last, the bag that inspired the entire post - the Fendi Peekaboo. Another adored style that has most definitely become an icon for the brand and is intrinsically linked with the Fendi name. The design is one of a kind and almost feels as though the bag has 2 personalities as well as 2 sides. The construction of the rigid middle partition and its softer sides allows the top handle to stand alone and peek into both sides. What's so brilliant about the Peekaboo bar though is that you can fully customise your new addition and create a bag as unique and special as you would like it to be. It really is the ultimate trend bag when you can customise such a beautiful piece whichever way you like. Choose your favourite colour, a contrasting or matching cover for the ultimate Peekaboo style, even the top handle and it's trim and the most fun part in my personal opinion? An amazing branded strap too! I was lucky enough to create this stunning sunshine yellow Peekaboo to shoot for these images and much to Alex's dismay I can't stop thinking about this one that got away! Maybe for Autumn...?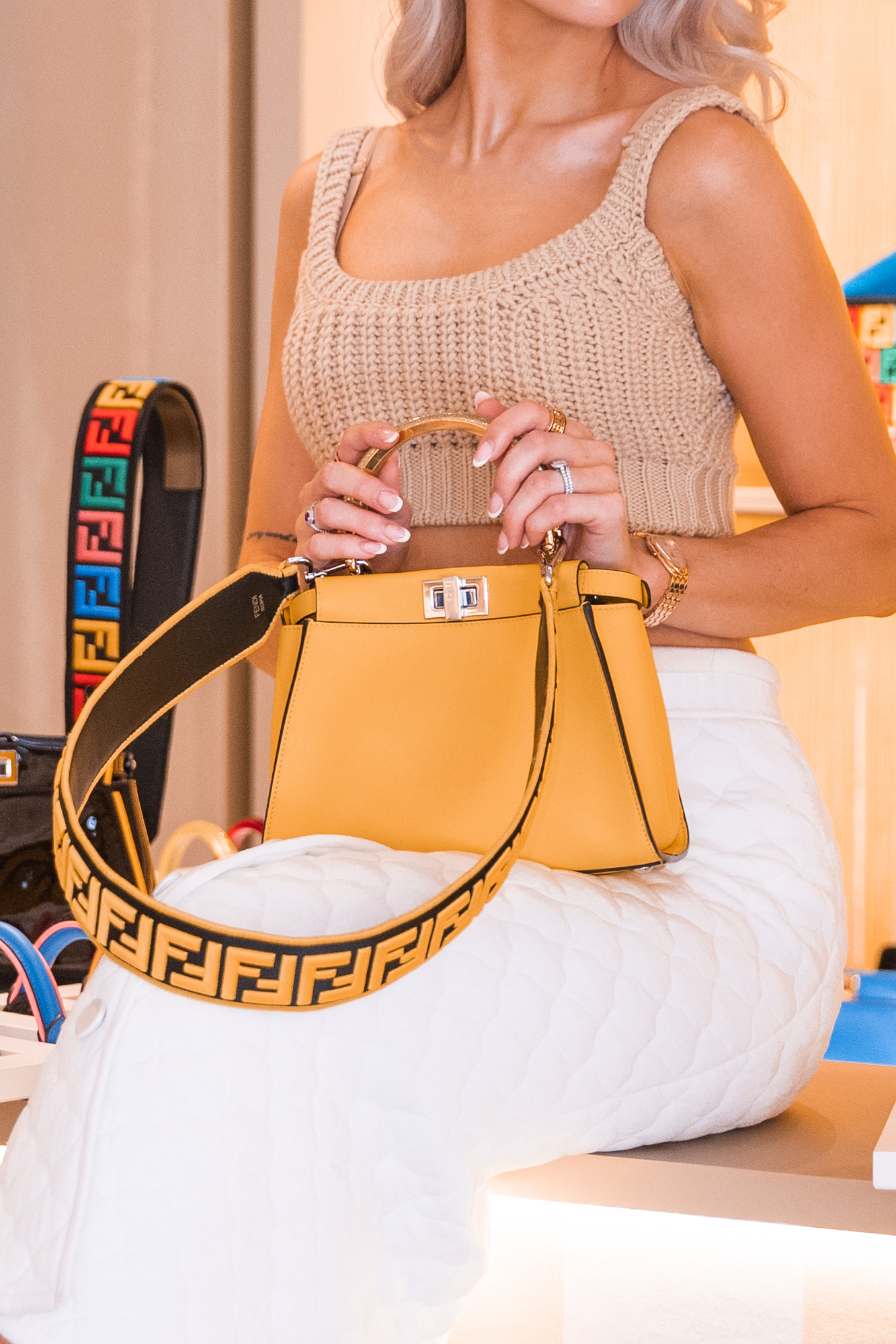 A huge thank you to Fendi for this wonderful invite and for allowing me to snap some pictures in the empty boutique too! Such a treat and it really felt like a small step back into normal life too :)
Sign up here for a weekly catch up of everything Inthefrow