28.08.2020
4 Ways to Style
A Bralette
I feel that this post should come with a high waist clothing warning - if high waisted skirts, shorts or trousers aren't your thing, this might not be the blog post for you! But hopefully even if high waisted styles aren't a member of your fashion entourage, you'll still find some style inspiration for your next bralette purchase. 
We seem to have moved on from the underwear as outerwear trend that's been circling models and runways for the last few years and we've taken a step, or maybe even a giant leap this season, towards more versatile bralettes instead.
Think knitted and natural to nod to the upcoming 70's trend or sleek and chic for more versatile transitional pieces, as opposed to hints of lace and silken fabrics that we've associated with camisole pieces before now. 
So if you're looking to invest in a new on trend bralette, or just want a peak into my current styling preferences, here's 4 simple ways to style that new purhcase.
This blog post & shop widgets use affiliate links. 
Affiliate text links are marked (ad). 
The watch featured in this imagery was a PR gift.
The bag featured in this imagery was a PR loan.
Read the disclaimer about affiliate links & PR gifting here. 
Dinner Date
For a more dressy affair like a dinner date with friends or your loved one, I'd definitely opt to style a bralette underneath a chic, slightly oversized blazer. It's very much a 'What would Victoria Beckham do?' moment when I think of date night styling and to be honest a lot of my outfits take inspo from the fashionista herself. Cue a loose but tailored blazer, high waisted trousers with a pleated front to elongate my legs, on trend mules to offer some height and accessories that match from ears to décolletage. Think suiting but mismatched, combined with tactile mixed textures, just a hint of skin when that blazer isn't buttoned and the sleeves pushed to the elbows. A bralette styled with layers and just a hint of midriff, makes it super wearable for even the fanciest of restaurants and the most special of occasions.
Working from Home
If you want to add a bralette into your weekly style rotation and make sure no matter the price paid, you're getting that low cost per wear - then perhaps look for a piece that can be both dressed up and down. The epitome of versatility would definitely be the ability to style it for a dressy event, as well as being able to slot it into your working from home uniform. A bralette you can team with tapered joggers, just as easy as tailored trousers, gives you so many more opportunities to style through multiple seasons and not just the summer months. Think about how amazing the right addition would look styled under a 70's trend denim shirt, with loose linen shorts and layered gold chains, or perhaps leaning towards athleisure with your favourite cosy joggers, a lightweight wide neck knit and some simple but statement gold hoops. A bralette styled for whatever situation you need is a great investment for your wardrobe.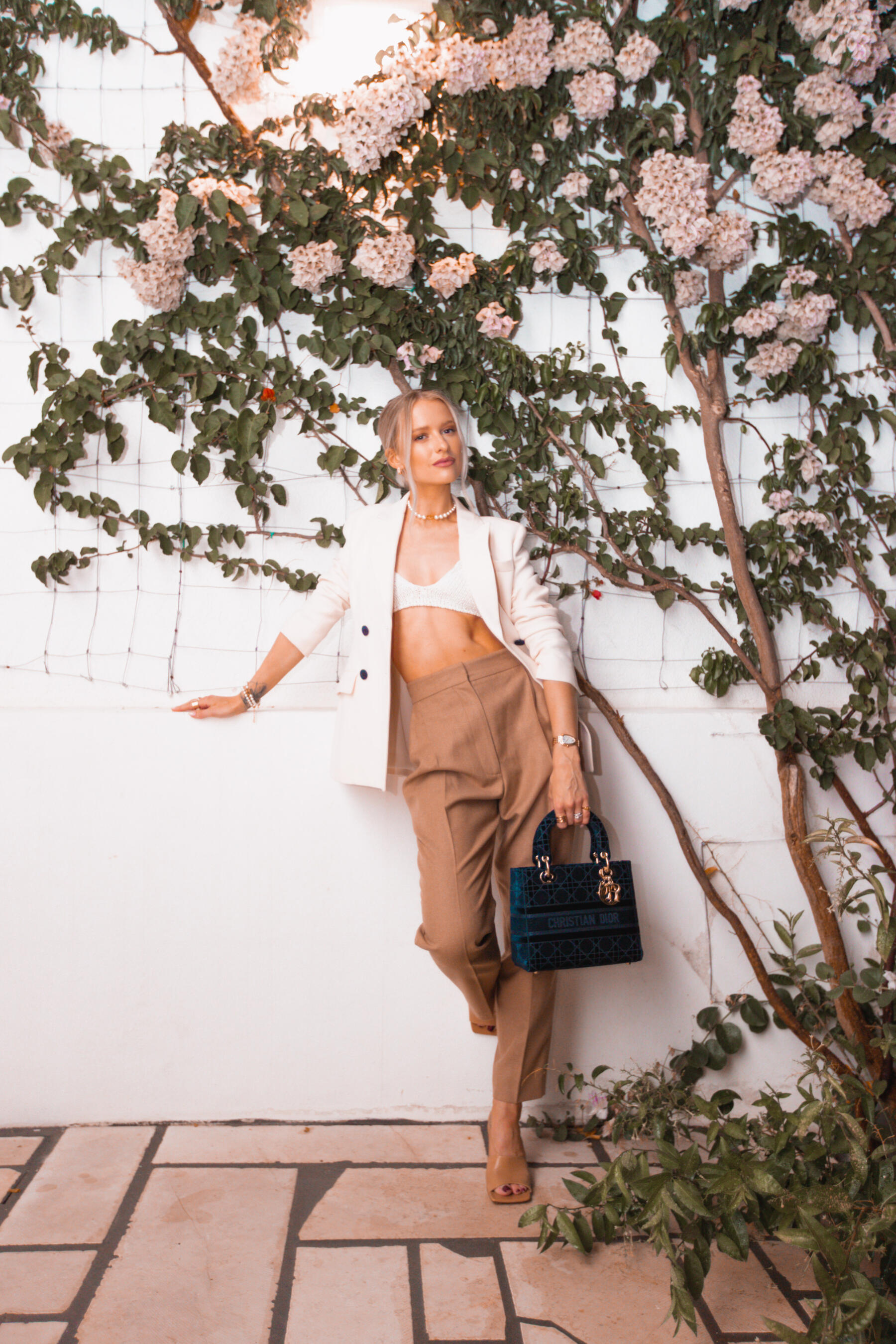 Shopping Trip
Somewhere in the smart casual realm of dressing, there's always the thought of the shopping trip style when I'm evaluating how wearable any new addition is. I personally think about the days that I meet Mama Frow for a day out shopping, that's my true test of wearability. We know we'll spend hours walking and chatting, we'll stop off for lunch together and possibly a glass of wine, if we're lucky enough we'll head into some of our favourite boutiques and maybe we'll even carry on until dinner together in the early evening. Smart casual is taking your favourite pieces, like a brand new on trend bralette for example and easily slotting it into your wardrobe, whether capsule or walk in. Think about high waisted denim, your favourite jacket thrown on, some comfortable but beautiful flats added and a cross body bag, big enough to fit everything you'll need for the day. A bralette style for the perfect day to day look.
Beach Day
And last but certainly not least, perhaps my most loved way to style a bralette would be for a laid back beach day - perhaps because after the last few months any mention of a beach brings me joy! Also because on my recent trip to Puglia styling my newest bralette for a tourist day felt so natural for what the days held. We headed to the beach for some sunshine, into beautiful cafés for coffee, strolled around the markets slowly and a bralette was the perfect versatile piece for all aspects. Think linen shirts to keep covered and out of direct sun, high waisted denim shorts to keep things casual but cool, a belt bag worn cross body to stay on trend and sandals to stay comfortable and quickly whip off for some barefoot beach time. Versatility is at its best when you can style a bralette for multiple reasons, during the same day trip and for different settings.
This beautiful Lady Dior was a PR loan I was lucky enough to style while in Italy and is now available to purchase exclusively from Harrods at their DiorxHarrods pop-up. These images were taken at the gorgeous Castello di Ugento in Puglia, Italy while on a recent PR trip. 
Sign up here for a weekly catch up of everything Inthefrow