10.07.2020
How & Why I Bought an
Hermès Kelly 28
This post & shop widgets contain affiliate links.
If you've watched my YouTube video where I listed each of my 70 handbags, in detail, you'll probably think I have a great passion for bags. And I do. Buying a designer handbag is such a wonderful feeling and something I never take for granted. But now, I don't know if this is my lockdown self talking here, but I must admit, I've had a change of heart in recent months.
Honestly, after watching that video back, I was almost a bit disappointed in myself. How on earth did I ever get to the point of collecting 70 designer handbags?! Whilst I feel incredibly lucky to be in such a position to own such beautiful accessories in abundance, whether I've spent my own income, or the brand has sent me such an item as a PR gift, on reflection my bag collection felt frivolous and unnecessary. A person can adore luxury bags and shoes, and they can buy as many as they like, but for me, it just felt like I had gotten to the point of way too much.
So what did I do?! I bought another bag.
Here's why...
Amidst this personal anguish a few months ago, I started to fall in love with Hermès. Typical, I know. I'm not saying here that I'd gone off the idea of buying bags - I just felt I had too many. Yet the one brand I didn't yet own, was Hermès. Now not that this is some sort of game, where you complete the levels every time you buy a more prestigious bag brand, but Hermès was a brand I had always admired and never quite understood how one came to own a handbag from them. It has this air of mystery. One does not simply walk into Mordor *ahem* an Hermès boutique and buy a bag off of the shelf. That would be too, pfft, Chanel? Instead, said bag lover must make an appointment, if they're even able to, and wait to be accepted into the boutique at a time that the brand deems they deserve to be. It's like the Stone Masons of luxury brands. A secret society of handbag extremists. Quite frankly, I wanted in.
I set my sights on an Amber Yellow Kelly. I have a thing for yellow bags and I decided that a yellow Hermes would be the most perfect bag to take the top spot in my collection. How naive I was. Hermes also has particular colours each season - they don't just stock the same colours all year round. And apparently Amber Yellow was a previous season. Therefore the only way to obtain one would be to buy one second hand. And this is why Hermès bags are an investment to me, because buying one second hand sees the price shoot up, sometimes to almost double the retail price. Let's just say, some people are asking £15k for that particular bag right now - with price changes depending on trends of course. It's like finding the golden ticket in a bar of chocolate - that one and only golden ticket is worth a lot more to someone else due to its rarity. So if you look after your Hermès bag after you've bought it, you can likely sell it for a lot more in the future, if you should wish to.
Anyway, this is how I came to buy my own Hermès Kelly 28. After realising that obtaining an Amber Yellow Kelly was next to impossible, I started to look around online for re-sellers of Hermès and personal shoppers. And that's when I realised that Farfetch sell Hermes bags (ad) within a Pre-Owned category. I was working with Farfetch on a campaign to promote their Pre-Owned collection (ad) and as soon as I started to search the website for a beautiful vintage find, I realised that a number of stores globally were selling Vintage Hermès bags via Farfetch (ad). I genuinely think I had previously missed this, as before 3 months ago, buying an Hermès bag wasn't actively on my agenda. They weren't something I searched for, so it never got me excited to see them on Farfetch - until now.
If you haven't come across Farfetch previously, it's something of a curator of global boutiques. That little luxury store down a side street in Rome, or that fantastic vintage boutique in the centre of Paris - stores like this are able to sell their products via Farfetch. A bit like an Etsy of the luxury market I suppose. It's genuinely one of the best online stores for luxury fashion - and 9 out of 10 times, if I cannot find a certain item I'm looking for elsewhere, I'll find it on Farfetch. Stocked somewhere in France or Italy or Germany, or even in Browns in London! So you can imagine my excitement when I realised Farfetch sold Hermès bags pre-owned, especially at the height of my desire to own one. Let's all admit, I'm sure you know that feeling when you absolutely have to find something you've been searching for and you won't stop thinking about it until it's yours. That!
So, I went over and over the Hermès bags (ad) currently stocked on Farfetch, until I came across one that was just a dream come true. This one you see right here, and you've likely seen plastered all over my Instagram. My Hermès Kelly 28, Sellier, in Marine Blue, Courchevel leather, dipped gold hardware and the best bit, she's from 1972 - 48 years old this year! I fell totally in love with this bag immediately. The fact she was older than me, and probably had a multitude of stories to tell made me love her even more. But she's immaculate, so in fact I feel the stories she would tell would be from inside her dust bag for 47 of those years, unfortunately. By the way, she's a she because I feel it would be offensive to call her 'it'. So after staring at the bag for two days online, I took the plunge and ordered my first ever Hermès bag. I had entered the secret society, bypassed the appointment stage and got my dream Hermès bag delivered to my door within 24 hours.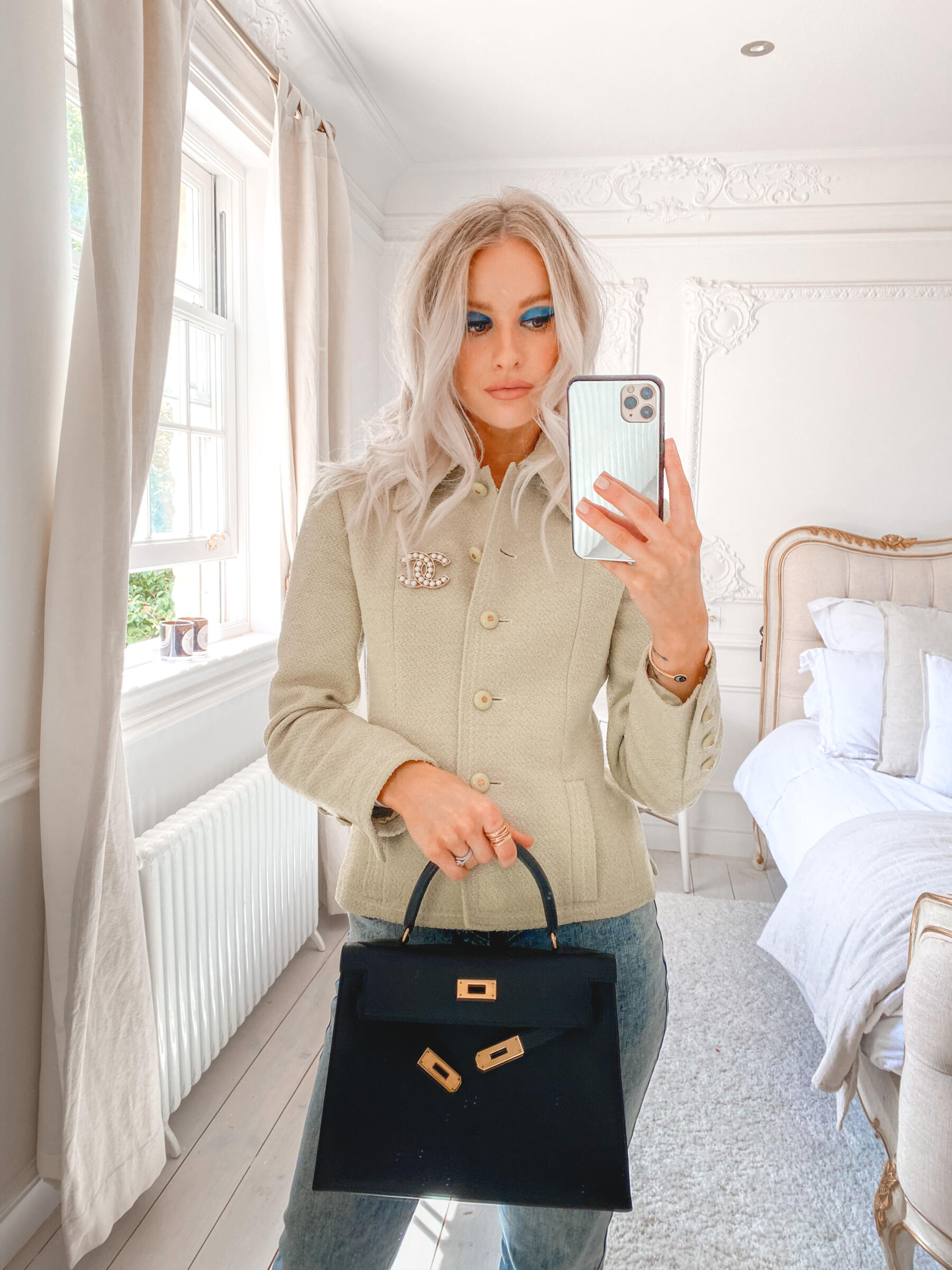 So this is why I added another bag to my collection. After realising my closet was excessively holding on to a huge variety of bags, I took a good look at the ones I actually used often. It was probably ten or so regularly, another 20 or so for those truly special occasions. There were so many bags that I had worn once or that I no longer felt suited my style. My style has evolved so many times over the last few years - anyone who has followed me long enough (thank you!) has seen this. But I'm now 30, and whilst I'm still extremely young, I've certainly had a big shift recently in the person I want to portray when I'm out and about and the person I want to be inside of my own home too. My feelings on trends have changed, my feelings on buying excessive amounts of clothing have drastically changed and my feelings towards particular brands, have also rightly changed. I no longer want to be the girl who owns 70 bags; I want to be the girl with a refined closet, a specific style she is known for and a real sens eof investment in that type of dressing.
So in order to buy my Hermès Kelly, I decided to sell the bags I wore the least. To pass them on to other homes and to those who would love to own their first designer bag perhaps! So far I have managed to downsize my bag collection by about 25 bags over on my Vestiaire Collective profile - so if you're looking to purchase a designer bag, have a peek at what I'm selling, you never know what might be available. The best way to do this is to download the Vestiaire Collective app by the way, and to search for 'Inthefrow' in the user section to find me.
With all this in mind I'm going to be downsizing more and more, to get down to the number of bags that doesn't leave me with a guilty feeling in the pit of my stomach. To a small collection of bags that make me excited to style them up and take them out. I bought my Hermès because I knew it was an investment that I will genuinely keep forever, pass down to my children and continue to love even more than I already do. I'm so lucky to be in a position to own an Hermès Kelly and I swoon every time I look at her in our home. And I'm also so happy that the reason I was able to buy her, was because I downsized, sold my bags I no longer loved as much anymore, and saved for my one dream it bag instead.
I have worked with Farfetch previously as mentioned in this blog post. This particular post however is not sponsored and I was under no obligation to create it. I do hope it was helpful for anyone who is in a similar position to me and wants to invest in a preowned Hermès bag.
Sign up here for a weekly catch up of everything Inthefrow