06.05.2020
Feta & Spinach
Filo Pastry Pie
Guys it's official, I've become a baking goddess and you can't stop me!
Just kidding of course, I still adore having Chef Alex in the kitchen most evenings (as is mine and his preference haha) but lately I've definitely found myself revisiting some of my most loved recipes and remembering just why they're such favourites.
A couple of weeks ago I finally revamped my Healthy Banana Bread recipe and it's no exaggeration to say I've been inundated with DM's over on Instagram of people recreating their own versions and it's encouraged me to share some more from the archives. 
So here it is, my adaption of Jamie Oliver's feta & Spinach filo pastry pie. A dish that might well be in my top 3 meals to eat ever and also the meal that Rebecca requests I make whenever we visit Chicago. Wonderfully cheesy, with crispy filo pastry, it makes the whole house smell incredible and bonus - tastes even better for lunch the next day.
Hope you love it just as much as I do x
#stayhome 
This blog post & shop widgets use affiliate links. 
This recipe is from the amazing Jamie Oliver 30 Minute Meals cookbook.
Affiliate text links are marked (ad).
Read the disclaimer about affiliate links & PR gifting here.
Before You Begin
Just like with any recipe, pastry pie included, I always take a moment to tidy up the whirlwind of working from home before I even consider cooking. Just like any home there's always coffee cups scattered around the work surfaces, perhaps a jar of peanut butter that needs returning to the pantry and a bin that needs emptying, so taking a little time to tidy up, always helps me relax. Then I'll run down my list of everything I'm going to need including utensils, appliances and ingredients and especially so with this recipe? Double, triple check everything. I rather sadly lost my cookbook in one of the many house moves back in Manchester so this recipe is stored wayyyy back in the fond memories/favourite foods folder of my brain.
And the final prep step? Preheat the oven of course.
For this particular recipe you'll need to preheat the oven as follows: *
Gas Mark 6 / 200c
*Every oven is slightly different to use, so get to know yours well!
Equipment
Large Mixing Bowl
Large Spoon
Pan For Toasting 
Ovenproof Pan or Dish 
(Preferably 2-3 inches deep)
Grater
Zester
Brush
Fork
Measuring Spoons
Baking Parchment
Scales
Ingredients
Thawed Filo Pastry Sheets
8 Medium Eggs
(Or 6 large eggs)
400g Spinach
(Approx. 1 1/2 - 2 bags)
300g Feta *
100g Pine nuts 
75g Grated Cheddar *
1/2 tsp + Pinch of Nutmeg
1 tsp Lemon Juice
Zest of 1/2 lemon
1/2 tsp oregano
1/2 tsp chili flakes 
1 tsp cayenne pepper 
3-4 Stalks of Rosemary 
Olive Oil
Salt & Pepper
*Or Dairy Free Alternative!
1.
Preheat the oven as above. Take the pine nuts and toast them in a dry pan over medium heat, until golden brown. This should only take a few minutes and once toasted, remove the pan from the heat.
2.
Grab your large mixing bowl and add the eggs, feta cheese*, 50g of the grated cheddar cheese*, a pinch of salt, pepper & nutmeg, the oregano, 1/2 tsp cayenne pepper, the lemon zest and the chili flakes. (I use fresh herbs when I can but dried versions work just as well in this recipe.) Take a fork and fold the ingredients together, ensuring the feta cheese is broken up into smallish chunks in the process but don't over mix the eggs. After folding together you can now add the cooled toasted pine nuts to the bowl too. 
3.
Next add a tbsp of olive oil to a clean pan and wilt the spinach down. Now add the lemon juice and nutmeg, and then season with salt and pepper. Take the pan off the heat but don't add the spinach to your egg mixture just yet, otherwise the hot spinach will start to cook your eggs.
*For this particular version I used Violife cheddar shreds and usually use Violife feta which are both dairy free and work just as well in this recipe as real cheese does.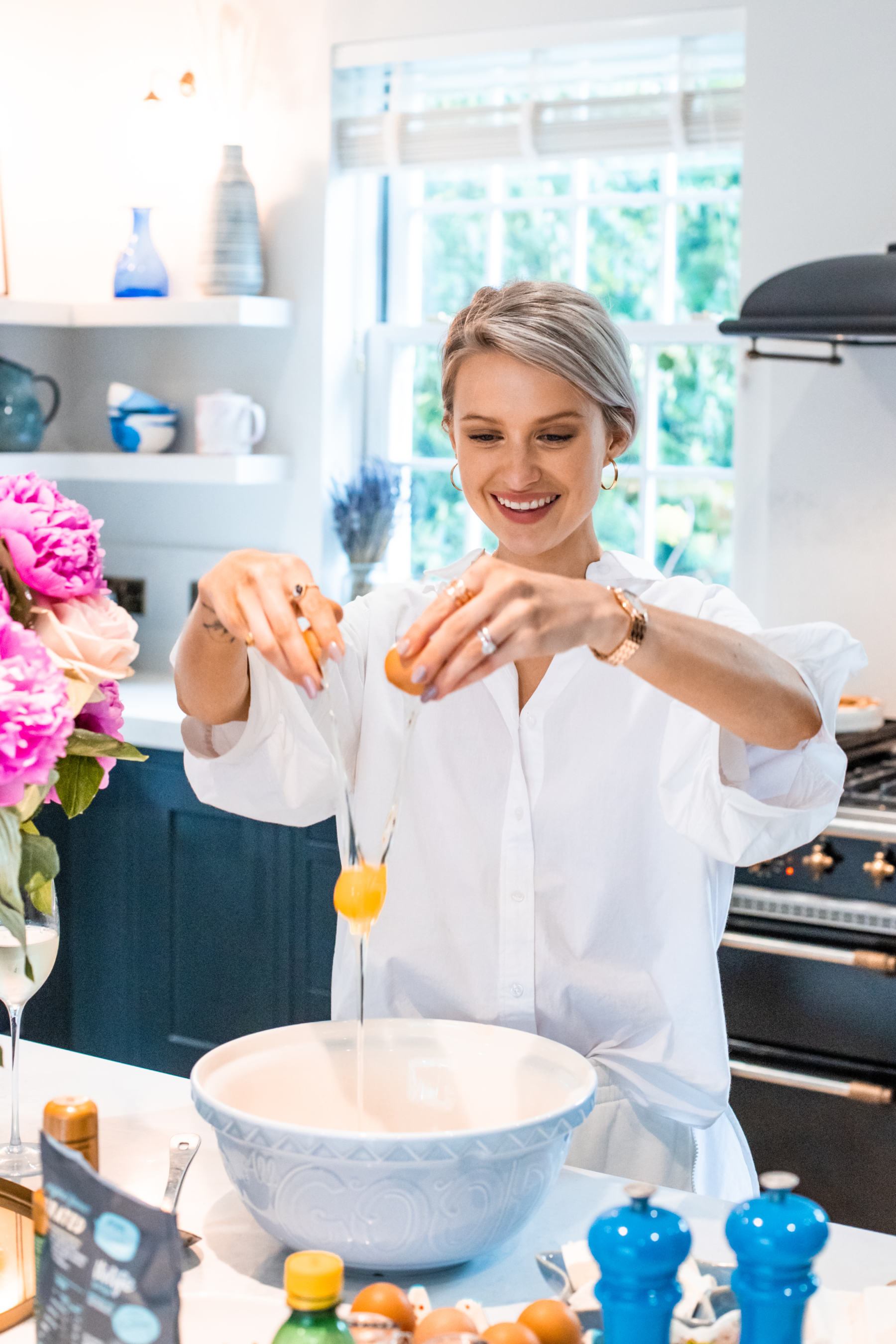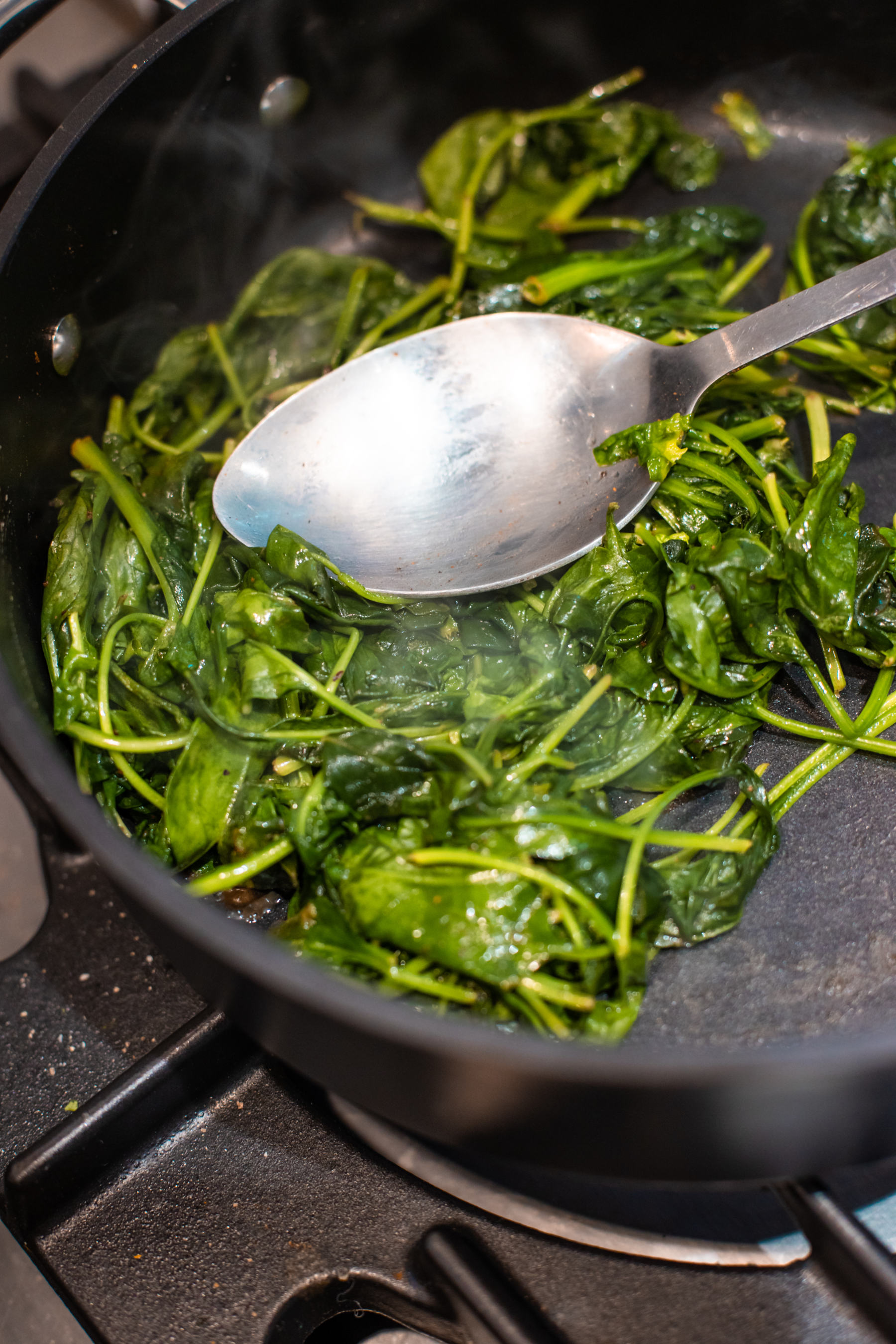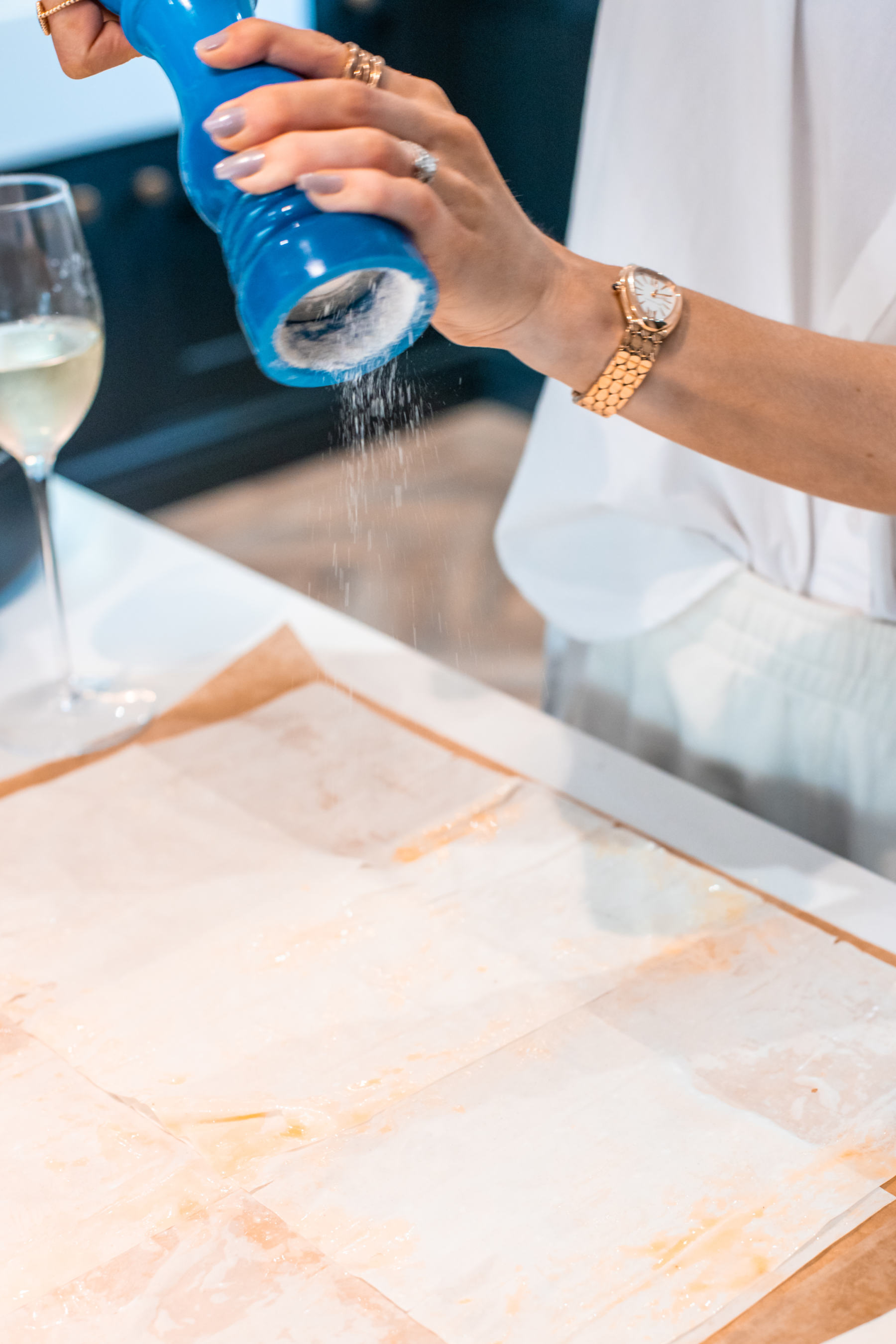 4.
Now it's time to prep for the filo pastry part of the recipe - I promise it's far easier to work with than you might think. Run a large piece of greaseproof paper/baking parchment under a tap, ring the water out and lay flat on your work surface. (Wetting the paper will make it easier to transfer your pastry into the overproof dish but isn't essential if you don't want to make your worktop wet.)
5.
Brush a little olive oil onto the baking parchment - this will ensure the bottom of the pie gets just as crispy as the top. Now proceed to lay and overlap sheets of filo pastry onto the baking parchment (as shown in the images), creating a large enough area to ensure they will fold over and create the 'lid' of the pie, when placed into the oven proof dish. Aim for a rectangle around 2 1/2 times bigger than the bottom of the pan - more is more in this instance, you don't want a gap in your pie lid!
6.
As you continue to layer the individual filo sheets, season each new layer with olive oil, a sprinkle of cayenne pepper and a small pinch of salt and pepper. Continue layering the filo pastry sheets until you have around 3-4 layers total.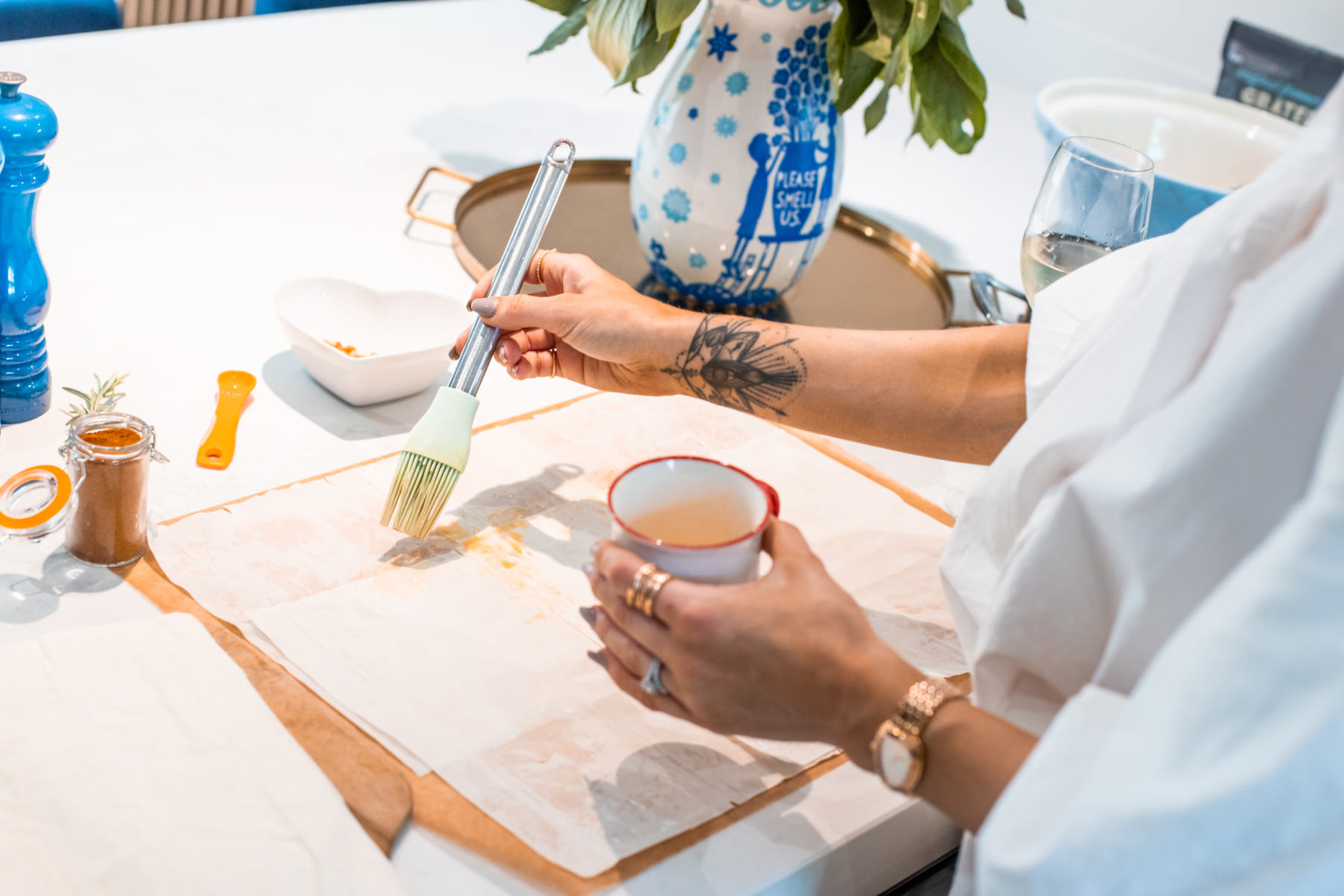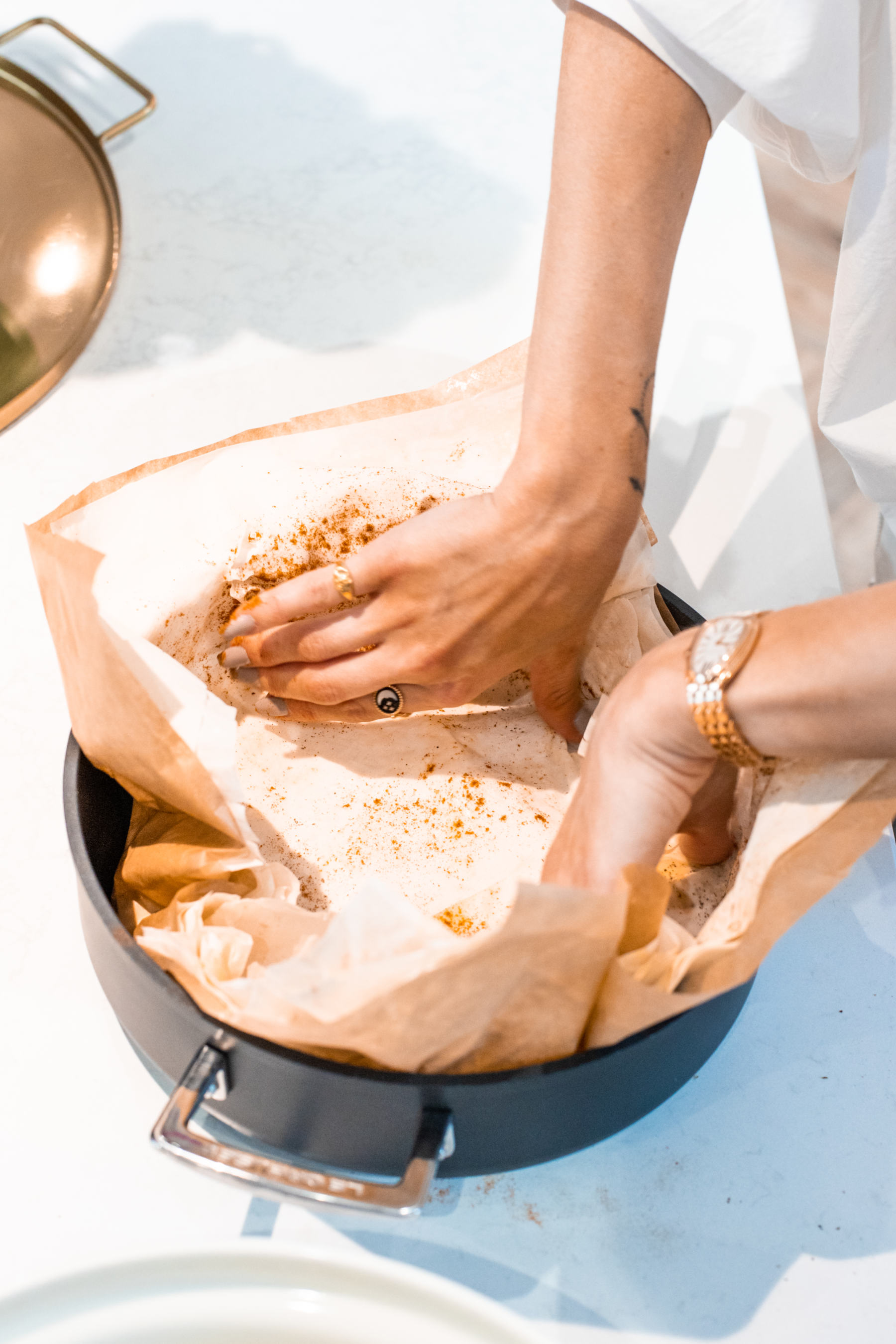 7.
Now it's time to assemble your pie! Slide your baking parchment and filo pastry layers over the top of your ovenproof dish and press into place, forming the bottom and sides of your pie. The pastry layers should overhang the sides of the dish significantly - this will be your pie lid. Next add your cooled wilted spinach into your egg and cheese mixture and gently fold through.
8.
Pour the entire mixture into the filo pastry lined dish and gently even the filling out with the back of a spoon. Next top the filling with 25g of grated cheddar and start to fold the overhanging layers of filo pastry over the top of the pie filling. There's no need to be precise about this, just ensure there are no gaps and even if the pastry tears, just patch it up. Tear or cut off the excess baking parchment so only enough remains to help you remove the pie from the dish when cooked.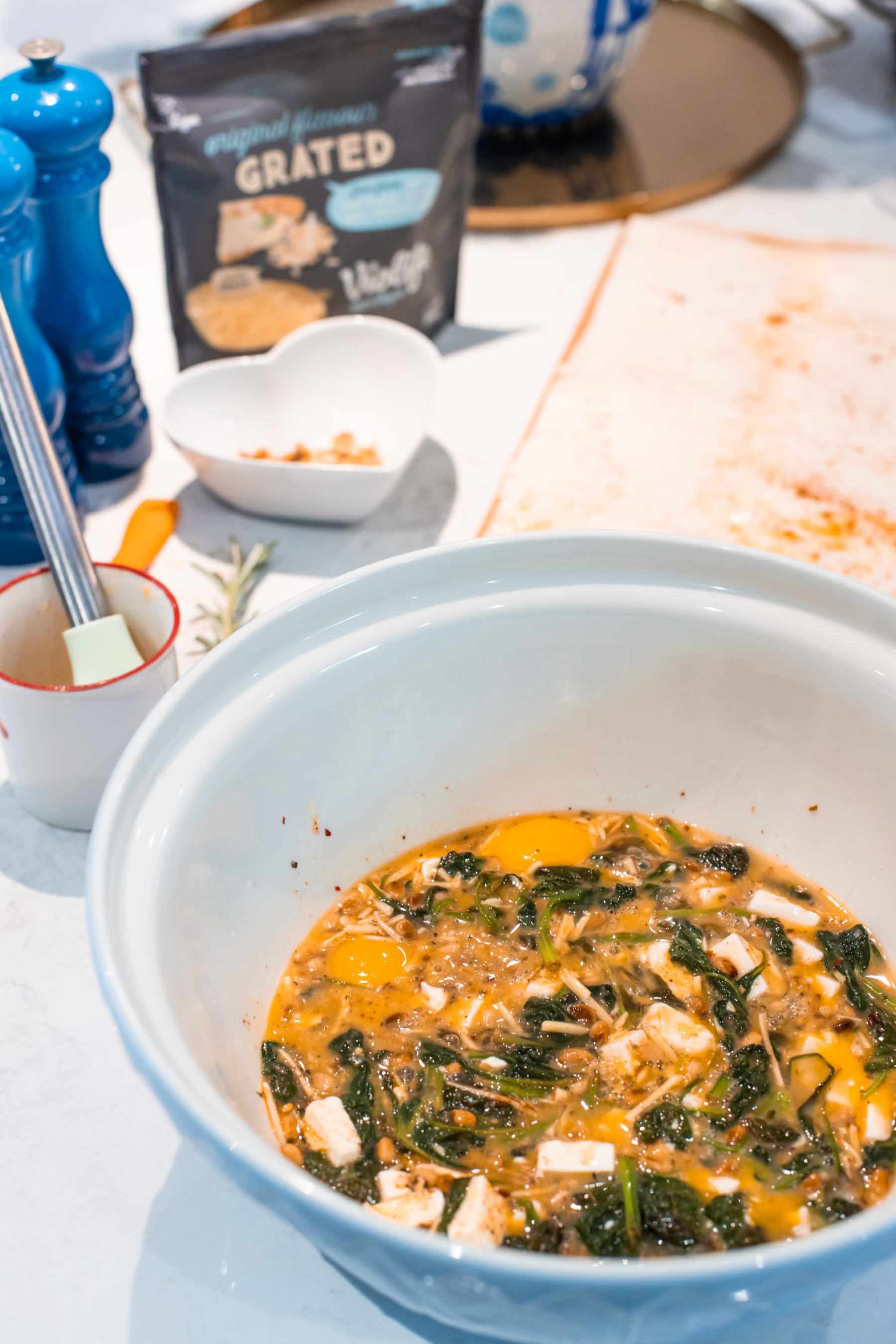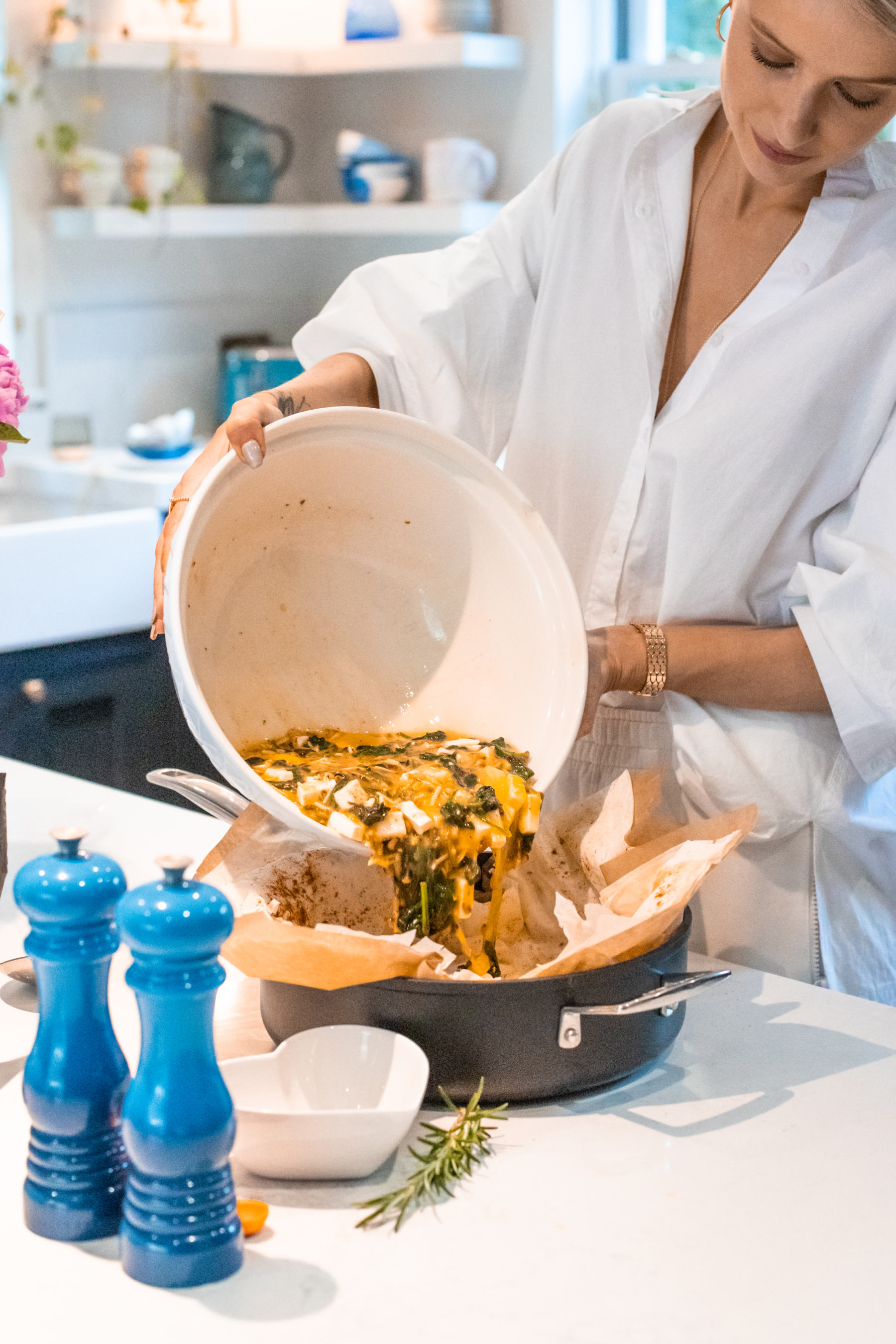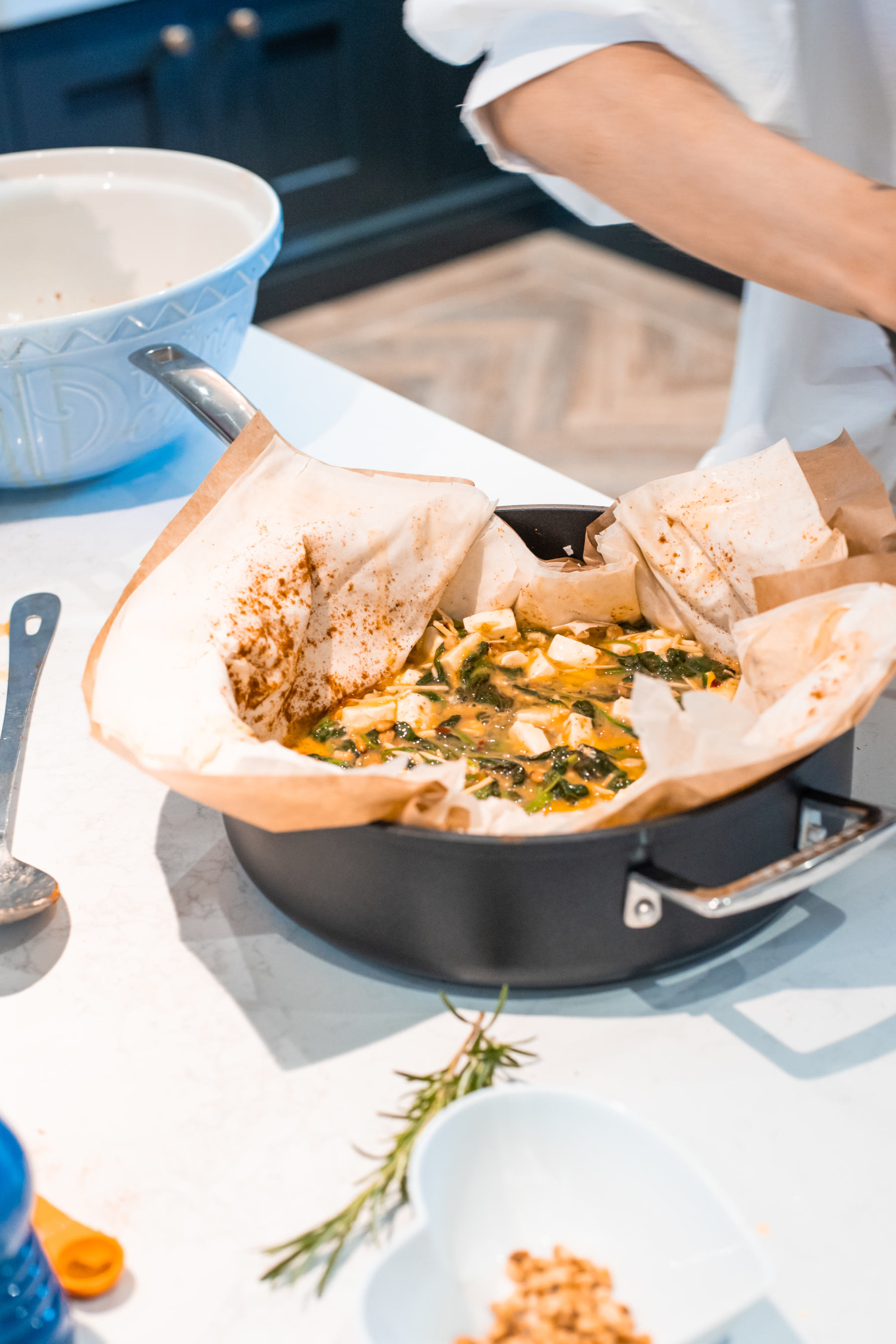 9.
Sprinkle the top of the pie with fresh rosemary and you're ready to bake. Carefully place into the middle of the preheated oven and bake for around 18-20 minutes, until the top is golden brown and the centre firm and cooked through.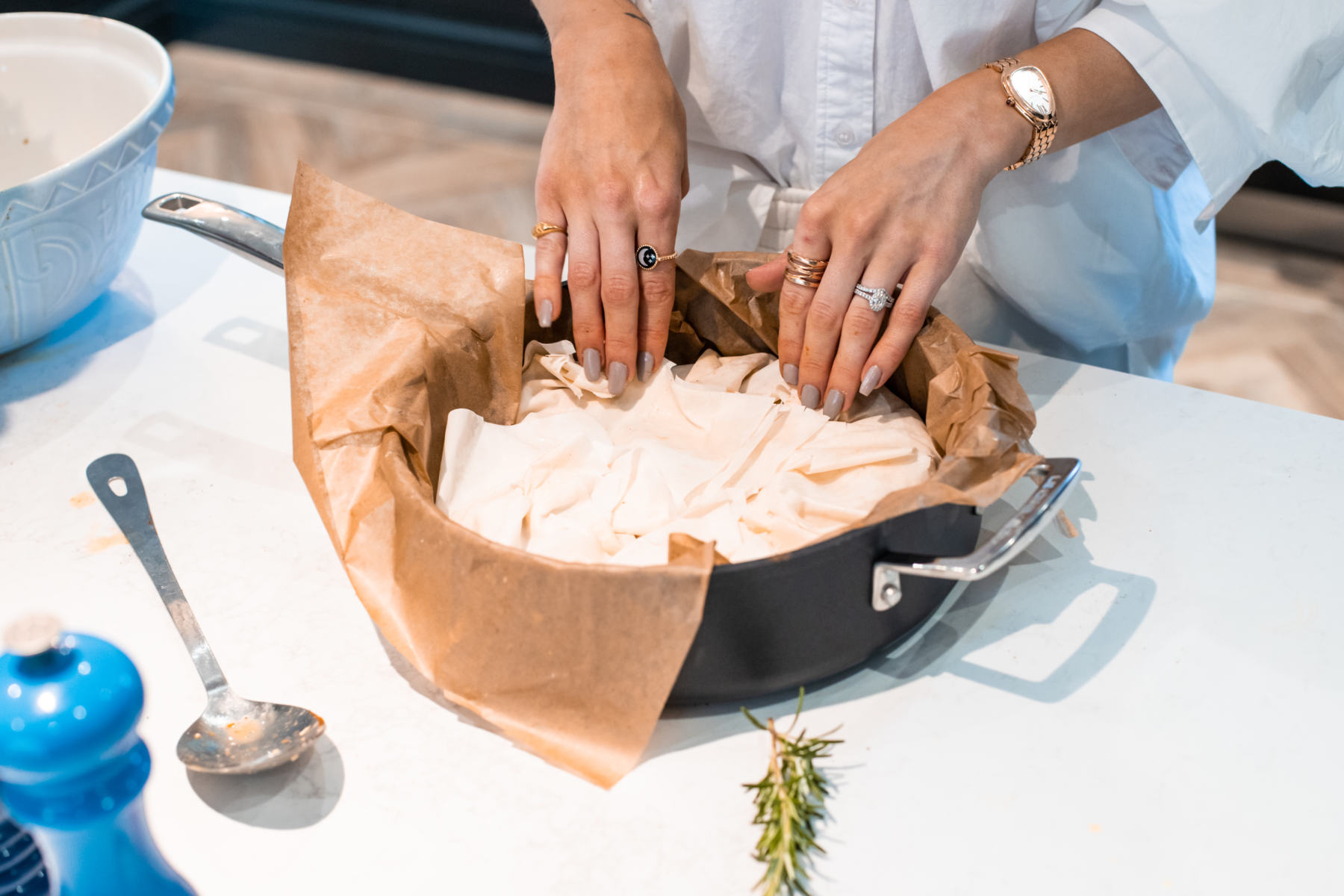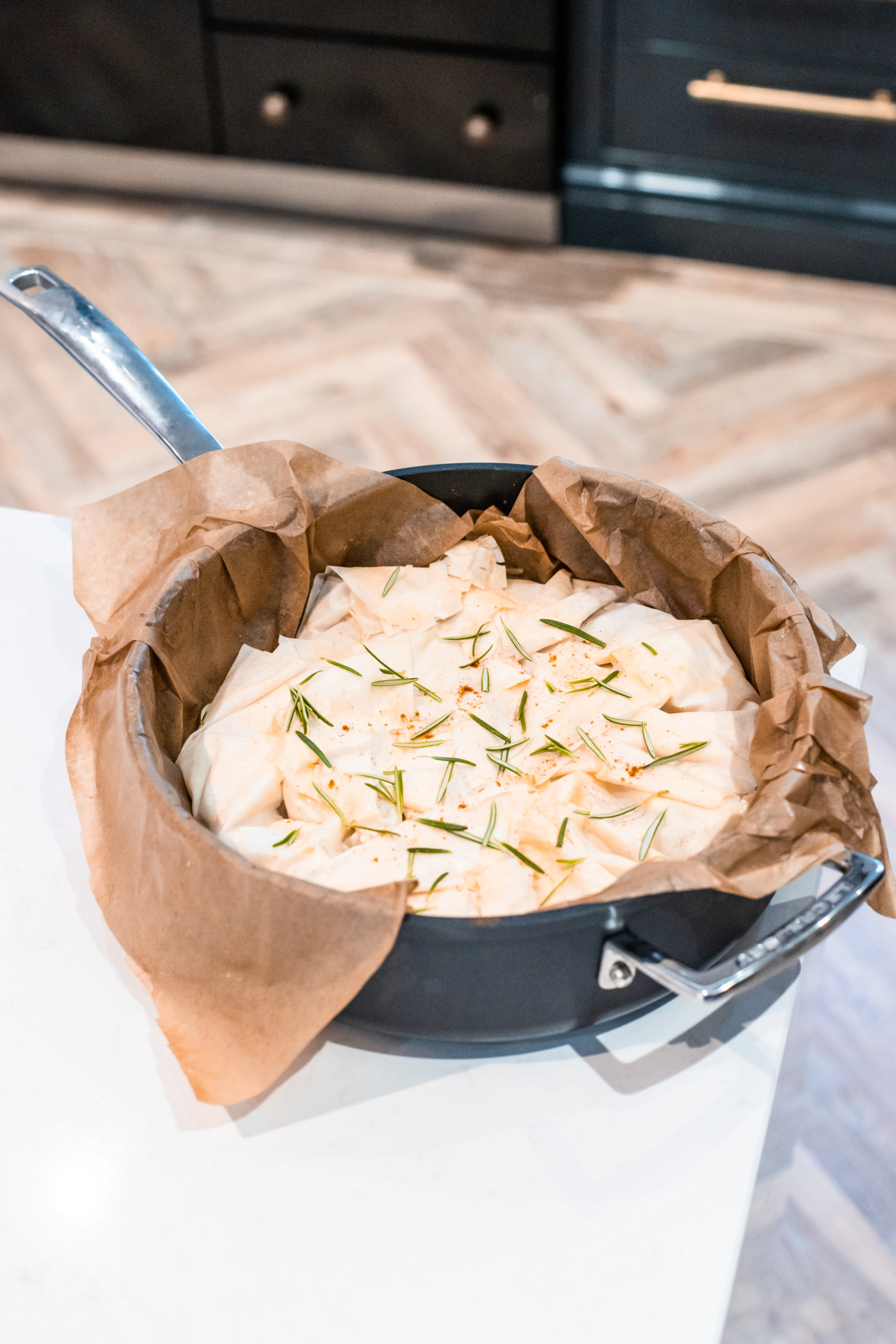 10.
Serve in slices straight out of the oven and if you're like me you might add a few extra toasted pine nuts when you do. Delicious either on it's own or served with a fresh crisp salad and a gin and tonic - perfection for a summer dinner. The leftovers also reheat brilliantly in the oven if you're refrained (unlike Alex and I) and have any left to spare!
If you give this recipe a try too I would absolutely love to know what you think, so make sure to tag me over on Instagram! And if you like my baking outfit you can find it here. 
Watch Our Full Kitchen Tour
Sign up here for a weekly catch up of everything Inthefrow