29.05.2020
Dining Out
At Home
Quite early on during the stay at home order, Alex and I decided we needed to make time for some date nights together. Nothing necessarily over the top (although we have tried to recreate some of our favourite date nights a couple of times, one of which you can see the plans for here) but almost always centred around one of our favourite things - great food and drink.
We're always usually looking for new restaurants to visit and asking friends for recommendations but over the last few weeks we've switched to seeking out the best cookbooks to try out and imaginative ways to bring the food and drink we love into Frowhome.
From stepping out of the box and taking part in a virtual wine tasting, to indulging in our favourite pasta delivery service, to even eating Michelin star style meals in the comfort of our own own home - we've tried to keep things fresh and fun and actually it's one part of the last few weeks we'd both love to continue when things start to return to 'normal'.
So here are the 5 amazing ways in which we've brought restaurant quality food and drink into our home over the last couple of months, that I'd so highly recommend for date nights, virtual friend catch ups and everything in-between. 
This blog post & shop widgets use affiliate links. 
Affiliate text links are marked (ad).
Read the disclaimer about affiliate links & PR gifting here.
Price: From £70 for 2 people dining and eating the same 3 course meal. There is a £5 supplement charged per alternative dish. 
Delivery Area: Central London, South London, North West London, Hertfordshire, Buckinghamshire & Milton Keynes. 
Wow - I cannot quite tell you how amazing it was to get the chance to have such incredible food here at home but hopefully you can see in the images how special the dishes were. Alex and I's date nights during our time in the house have been lots of platters we've made, yummy one pot dishes and our favourite Mexican style foods but there was something really special about getting to indulge in a 3 course meal together. The lovely guys over at Brown Butter Dining emailed a couple of weeks ago to ask if we wanted to try out their Finish & Serve menu, which I loved the sound of. You can choose from that weeks menu options, Chef Rob Gazdar prepares the ingredients in advance for you, they're couriered direct to your door and then you have the pleasure of plating and finishing your meal, just as a Michelin star chef would. The delivery comes with the help of a few easy to follow instructions including all important allergen information and how to beautify your plate. A perfect date night, so much fun to plate the food together and the food itself was SO delicious, that I cannot wait for things to return to normal so we can have Rob cook at a dinner party for us. Highly recommended and a huge thank you to Brown Butter Dining and Rob for the introduction to your amazing business and how you're adapting during this time.
Pictured: Roasted Cauliflower Soup, Brown Butter Croutons and Smoked paprika Oil. Hazelnut & parsley Crusted Haddock, Hassel-back Potato, Courgette & Spinach Puree and a Samphire & Caper Brown Butter Sauce. Chocolate Delice, Chantilly cream and Candied Pistachio. Malted Milk Vanilla Custard, English Strawberries, White Balsamic and Blondie's Kitchen Cookie Crumble.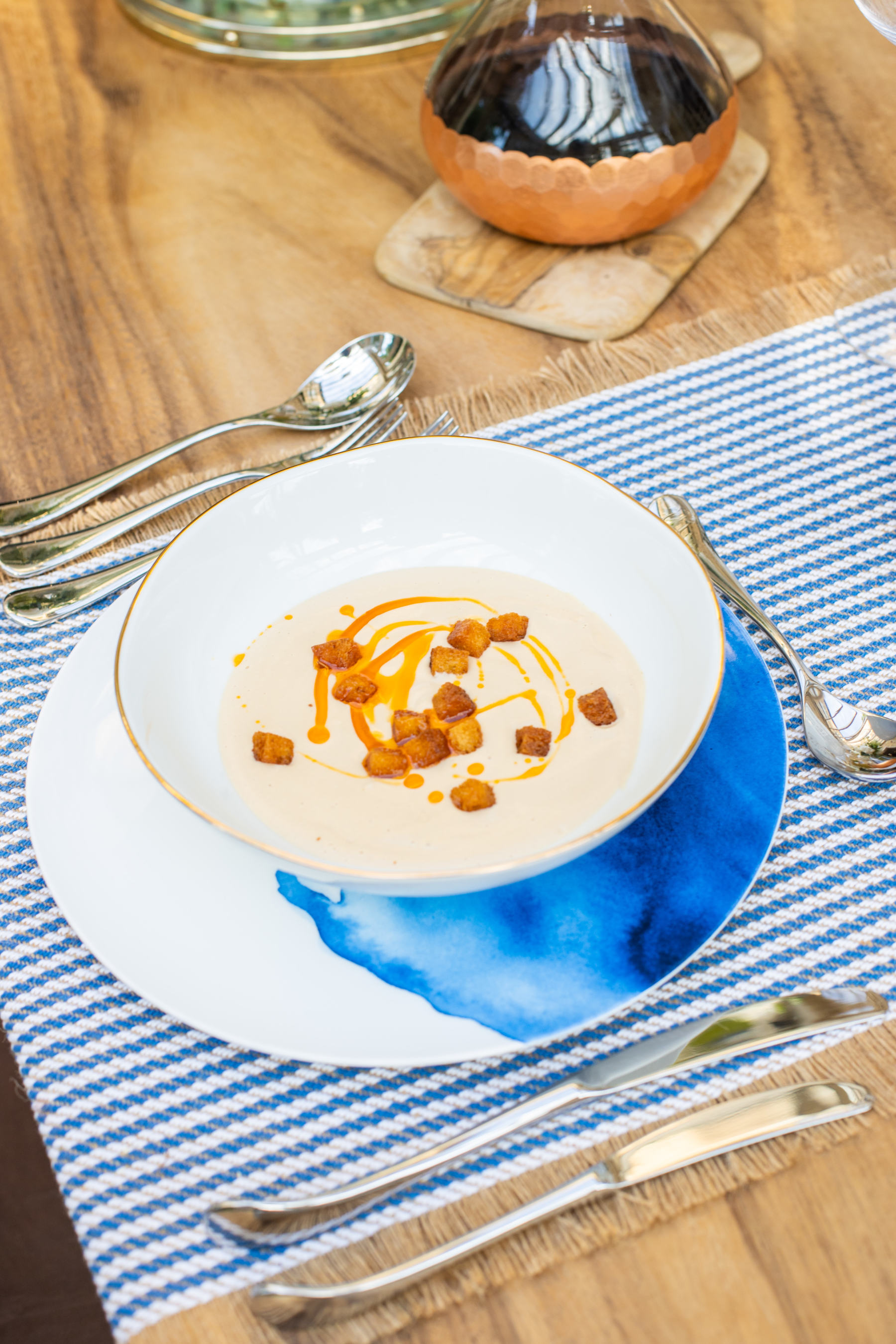 Price: Each dish is priced individually but they start from around £7 per person and are cheaper with a flexible subscription you can pause at any time.
Delivery Area: Nationwide including to Northern Ireland, the Channel Islands and Hebrides.
Pasta Evangelists may be my favourite discovery of 2020. Fresh, artisan style pasta delivered to your door is like a dream come true, not only on the nights you don't want to cook (each meal takes around 5 minutes to cook!) but on the nights you do too. I get so excited for our deliveries, that I continually send pictures to all my friends whenever we discover a new dish we love, as I so want them to try the same ones out too. We're incredibly happy paying customers and have settled into a routine of 2 yummy dishes delivered every 2 weeks (I could easily have them every week but you can freeze them if you want to save them for later in the week) and have found some favourites we love to reorder when they're available. I can hand on heart say every dish we've ordered has been worth every penny and you'll never want to revert back to your usual boxed pasta ever again! Also if you're looking for a gift to send then I'd highly recommend one of the amazing Feasting Boxes (that also donates to Age UK with purchase) that I've personally sent multiple of during our time away from family and friends. Delicious, fresh and luxurious!
Our Favourites: Crab & Chili Tortelloni w/ Lemon & Garlic Butter. Pumpkin Ravioli w/ Sage Butter & Hazelnut Crumb. Tagliatelle w/ Basil Pesto & Pine Nuts. Gluten free & vegetarian options available.
Price: Each workshop is priced individually dependent on the event, if you want wine only or if you would like a food delivery to accompany the wine too. 
Delivery Area: Full hampers including Grape + Fig platters are available inside the M25.
Wine only hampers are available throughout England, Wales and Scotland.
If you're looking for something a little different for date night or even a virtual bestie catch up, then The Wine Workshop might well be for you. A few friends have recently done virtual wine tastings and then I discovered The Wine Workshop through friends and thought they looked so chic. Not only do you book to have a virtual wine tasting via zoom, with the wines themselves delivered direct to your door, certain delivery areas can choose to also have a gorgeous Grape + Fig platter delivered to make a night of your workshop. Wine, cheese and friends - heaven! What we loved about our workshop was how friendly and relaxed the tasting was. People chatted, laughed and discussed the wines they loved (and perhaps didn't!) and it was such a different experience for us. We've been lucky enough to go wine tasting before, but doing it from the comfort of our own home was so much fun and even after the workshop ended, Alex and I found ourselves talking about the wines all night! 
Price: Cheese & Wine hampers starting from £48.50 but custom hampers and gift vouchers are also available.
Delivery Area: England, Wales and Central Scotland.
A few weeks ago I was searching for a gift for a family member just to say I miss you. I wanted to send them something they'd enjoy but the usual flowers and a card didn't seem appropriate. After much online searching and thinking about what they'd love to receive, I discovered The Courtyard Dairy and have since ordered multiple times for different friends and family - as well as for Alex and I too! The dairy itself is situated in Austwick near Lancaster and houses a shop, cafe, a museum and they even create award winning cheese on the premises too - which is one of the reason I chose to order from them as opposed to anywhere else. Their delicious hampers can be customised with wines, cheeses, crackers, chutneys, beers and so much more and each person that I've sent one as a present has text me to let me know just how delicious each and every item was. Alex and I ordered a gorgeous cheese hamper for a date night a couple of weeks ago with a couple of bottles of red wine and we can attest that it was simply amazing, especially the Stilton and the Camembert! The perfect alternative gift for cheese and wine lovers.
Price: You can DM for pricing and your exact requirements but the standard grazing boxes are from £30 for 2 people.
Delivery Area: Contact the team on their website or Instagram for their updated delivery areas.
And last but by no means least, one of Alex and I's favourite small businesses is Bite Around The World. We were luck enough to discover them at the end of 2019 when we were planning a small get together with close friends and we decided so that we didn't have to spend all evening in the kitchen, away from our guests, we'd look to have some catering done. We both loved the idea of having a more casual yet chic dining experience and Bite Around The World was perfect. They accommodated each guests dietary requirements with ease, created a grazing table on our island at Frowhome alongside some serve yourself vegan hot dishes and each guest was in awe at how delicious the catering was. Not only was it fresh, fragrant and unbelievably moreish (I grazed all night even after our guests left haha) you could tell how much love and passion went into the dishes. During Covid the team have started delivering grazing boxes so you can experience their food at home and last weeks date night was one of their boxes with our favourite wine out in the garden in the sunshine. A mix of crackers, cheeses, fruits, falafels, nuts, prawns and breads - the perfect at home treat and I've told Rebecca as soon as she can travel to England, we'll order one for a girls night in together paired with a wine tasting! Oh and before I forget they also do the yummiest granola too - filled with coconut, mango, goji berries, banana chips, cashews and chia seeds.
Huge thank you to Brown Butter Dining for gifting us the opportunity to try out their amazing new Finish and Serve menu, I can't wait to order again for a future dinner party!
And because my DM's over on Instagram have been flooded with questions about my plates - you can find them here. (ad)
Sign up here for a weekly catch up of everything Inthefrow