20.04.2020
My Favourite Glowy
Beauty Products
No matter how hard I've been trying to stick to my somewhat usual routine, life has most certainly been turned on it's head, in more ways than one. My diet has altered, my sleeping pattern is all over the place and mentally it's definitely been harder to stay my upbeat self. With work worries, family worries and life worries all piling on top of each other, there seems to be a domino effect impacting all aspects of life for all of us. 
One thing I've noticed that's also changed, is my skin. As someone who's lucky enough to have relatively good skin, who's had a set skincare routine for the last few years and who knows the usual stressors for skin changes, the last few weeks have certainly caused some unexpected issues.
My normal to slightly dry skin has been crying out for help and is currently so dry in certain areas, that I've been at a loss with what to do and which products to use, until now. 
With a little time to experiment, some kind PR packages to test out and some old favourites making their way back into play, my skin is starting to feel glowy and hydrated again. And if you want to check out some of these new discoveries/old favourites in action, then you can head over to my Instagram to watch my now weekly GRWMs too!
Get ready to glow, even from home.
This blog post & shop widgets use affiliate links. 
The above jeans were gifted.
Affiliate text links are marked (ad).
Read the disclaimer about affiliate links & PR gifting here.
The Glowy Base
I feel like your base, especially pre makeup, is very much dependent on your skin type but when it comes to my own recent makeup looks and my skin that feels far more dry than usual, it's all about a glowy base. I'm ensuring my base offers my skin hydration before adding complexion products into the mix but that it also has that something extra, that helps to add a healthy dimension. Products like the Kiehl's Glow Formula Skin Hydrator (ad), the Charlotte Tilbury Magic Serum Crystal Elixir (ad) and the 111Skin Rose Gold Radiance Booster (ad) have all given my skin a new lease of life. I find with time you'll find some great 'teammates' in your product stash and work out which base products give you a fresh, glowy base, all without the heaviness some combinations might bring. Making sure you don't deprive your skin of what it needs is just as important as making sure you don't add too much of a good thing, so remember to use any product sparingly at first - it's far easier to add more, than it is to take it away. Oh and make sure you give any product the time it needs to sink into the skin before you continue with the rest of your routine, that extra 20-30 seconds can make all the difference to the way your complexion products sit.
The Dewy Complexion
I used to be all about full coverage foundation no matter the occasion but that was before I spent time on my skin. If you want your makeup to apply smoothly and evenly, the answer is often more time spent on finding skincare that works for you and listening to those who know far more than you! Now with a skincare routine in place, I find I look for products that even out my skin tone rather than disguise it and makeup that allows my skin to shine through. Skin that looks more like skin. Makeup like Armani Prima CC Cream (ad) (the one I discovered on my hen/bachelorette party), Chantecaille Just Skin Tinted Moisturizer (ad) and Urban Decay Stay Naked Foundation (ad) all offer adaptive coverage and a dewy skin like finish. I'm finding even in the house I'm applying makeup most days as it helps me to feel a bit more motivated so finding dual purpose products that hydrate as well as add a little glow makes me feel much brighter all round. And if you want to ensure any complexion product in your stash look a little more dewy, then make sure to apply them with a damp beauty sponge or even your fingers, rather than a flat top foundation brush which will naturally intensify coverage.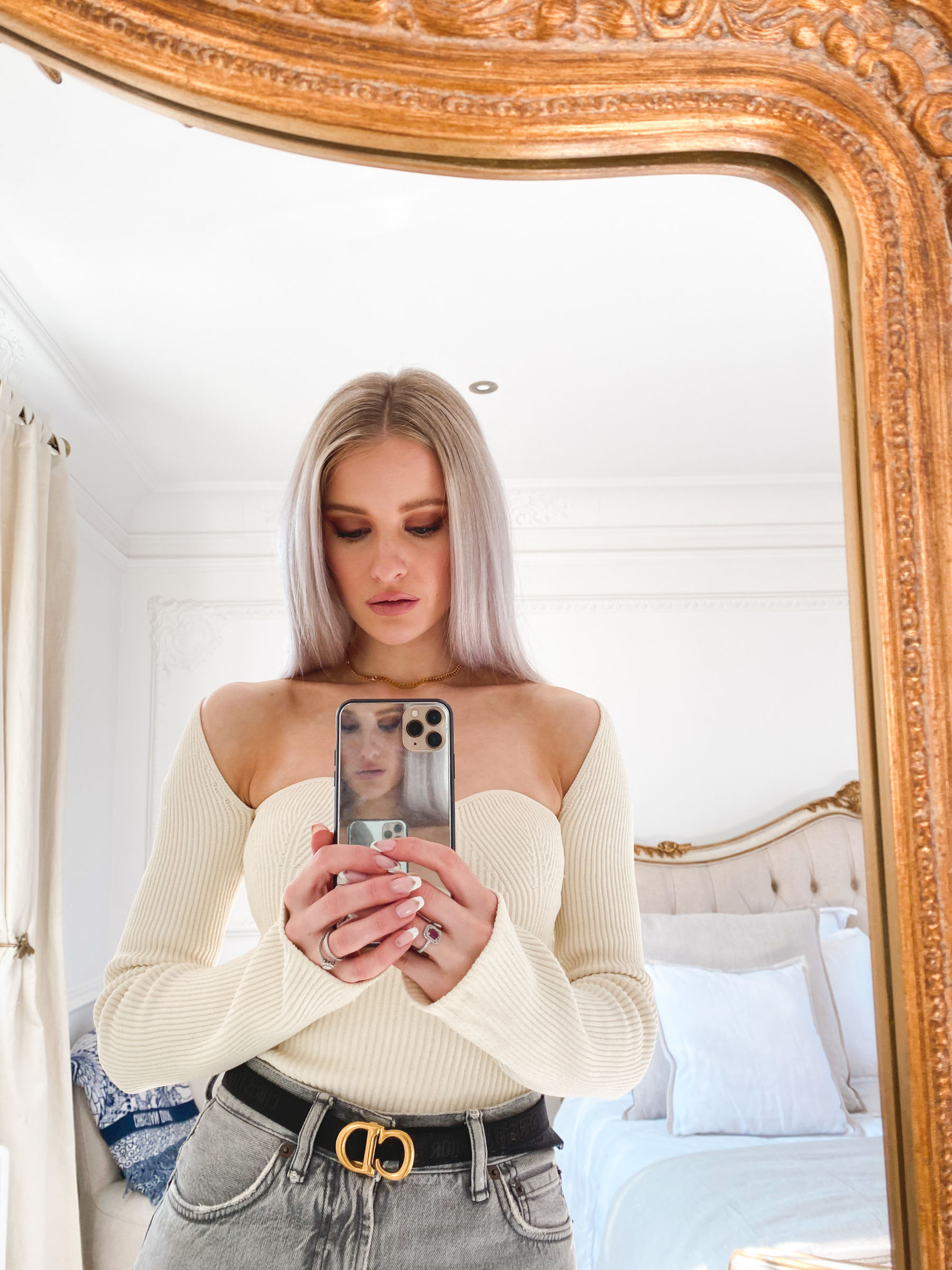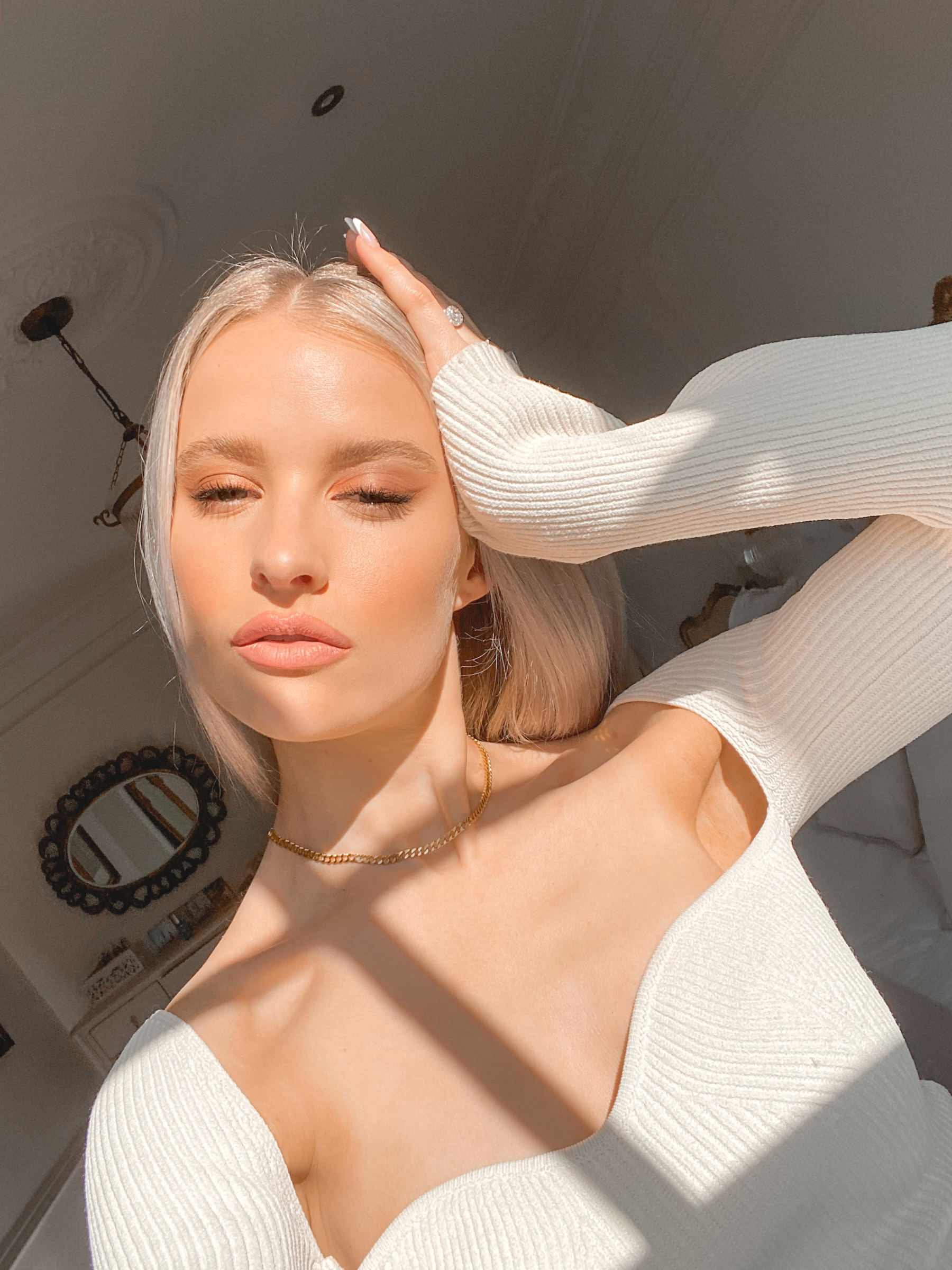 The Bright Highlight
Even on the days I'm not feeling like applying full makeup or don't have the creativity to play about with some new products, I'll often still reach for a highlight, the type that people like to describe as looking 'lit from within'. If I'm finding my skin to be looking a little dull, with or without the rest of my makeup, patting some highlighter onto the high points of my face adds depth, dimension and some instant glow. A little on my cheek bone, a little under my brow and a little on the bridge of my nose are my preferred locations but remember each face shape is so different. Products like the RMS Beauty Living Luminizer (ad) (this has been in my makeup bag for years!), the By Terry Brightening CC Palette (ad) and the Charlotte Tilbury Beauty Light Wand (ad) all add a little sunshine to my looks right now. And remember if you want any highlight to look more subtle and natural, rather than intensely strobed, then hold your brush away from the tip to lessen the pressure you apply it with or diffuse a cream highlight on the back of your hand first.
I'd love to hear your recommendations on glowy products and also if you've been suffering from dry skin recently too, please let me know what you've been doing and why you think your skin has suffered too? All the tips, tricks and help are welcomed so do share below :)
PS - Incase you missed it over on my Instagram this week Urban Decay (ad) gave me a discount code to share that's valid until April 27th over on their UK site - use FROW25 for 25% off! You can also then add code MINIS when you spend £35 and get 3 free eye miniatures too :)
Sign up here for a weekly catch up of everything Inthefrow