04.03.2020
5 Simple Makeup
Trends to Try
I truly love makeup. It brings me confidence when I need it most, the ability to be creative when I need an outlet and it allows me to express myself as an extension of my outfit. Makeup was the reason I started Inthefrow and despite being someone who tends to have the same old routine, almost every single day, I love seeing which beauty trends emerge every season.
Whether it's extreme editorial looks we'd love to try but quite often might be out of our comfort zone (a la Euphoria), or even if it's the newest Instagram trends that dictate just how much highlight we're wearing, you'll find me just as passionately keeping up with beauty trends, as I do what's new in fashion.
The beginning of my looks may all start out relatively the same with spf, a dewy coverage foundation and lots of bronzer to enhance my glow, but lately I've been loving expanding my horizons a little and taking inspiration from others to step up my look. 
If you're in the same boat as me and you love to play things safe with nude lips, sheer coverage and a wash of bronzer across the eyes, then these simple yet new makeup trends might be right up your street, as well as mine. 
This blog post & shop widgets use affiliate links. 
The dress featured was kindly loaned.
Affiliate text links are marked (ad).
Read the disclaimer about affiliate links & PR gifting here. 
Metallic Eyes
It's likely you could have seen this coming from a mile away and it's also likely you can see the look itself from that far too. Metallic eyes have been on my radar since before Christmas (apt timing I know) but they're easily my favourite trend for Spring 2020 and no doubt you'll have seen me rocking the look multiple times too. I'm particularly partial to gleaming silver, similar to the NARS look featured on the models at Erdem during London fashion week but gold is just as easy to wear if you prefer warm tones over cool.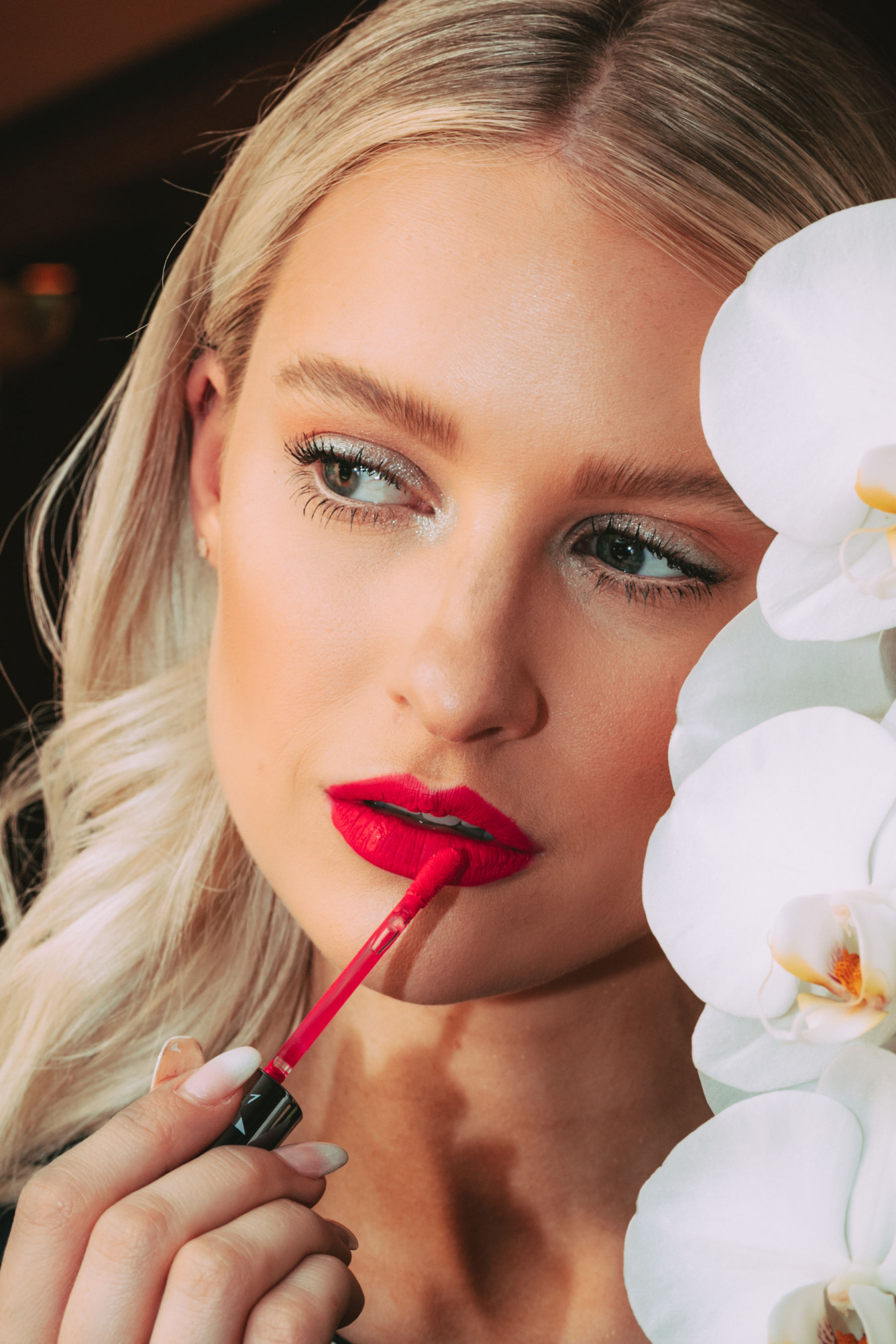 Neon Anything 
Don't let the word neon scare you off completely, just like fashion trends, makeup is always up to your own interpretation. Call it neon, call it bright, call it bold - wear it however you like and as 'out there' as you like. Eyes, lips, cheeks, you can take a wash of colour wherever you please and you can go as bold as the eyes at Oscar de la Renta last October or you can make it office appropriate with a simple pop of bright eyeliner. And if neon lips seem altogether too wild? Then take a bold lip but apply it with your finger to make it more wearable and manageable. 
Geometric Liner
A huge trend last season as well as this one, seemed to be eyeliner worn every which way you could imagine just not how you would think to apply it naturally. Rather than a classic flick or a blown out kohl, think geometric lines that are most definitely created with liquid/gel liner and any colour of your choice. You can go for classic black like Louis Vuitton showcased and dramatically wing things out a little further than usual or you could even lean a little more artsy and add coloured liner to your crease instead. Whatever you choose think outside the box.
Red Lips
Red lips are a trend that's always on my radar and always in my handbag for special events, but it seems the red lip is back for Spring with quite a bang. Think brighter than bright and with crisp lined edges, true reds were the star of so many shows this Spring season. What makes the look so achievable for us mere mortals is that it always seems to be worn as a stand alone statement. Think super fresh skin, a simple slick of mascara and a red lip that does all the talking like the models at Prabal Gurung SS20 that Vogue adored so much.
Feathery Brows
Luckily I've been addicted to feathery brows for quite some time now and it seems like the trend isn't going anywhere soon. I remember being slightly terrified a few seasons ago when so many models were showcasing bleached out eyebrows and 90's over plucked styles, but right now it seems like the bigger the brow the better is reigning when it comes to eyebrows. Brush upwards with your favourite brow product to set the feathery look we've been seeing all over Instagram and keep the colour light and natural to mirror models like RHW.
Images taken during a very kind PR stay at 45 Park Lane Hotel, London. 
Lip shade featured in the post is Jeffree What The F*@! by Jeffree Star Cosmetics x Shane Dawson.
Sign up here for a weekly catch up of everything Inthefrow