16.03.2020
Tips & Tricks for
Tonal Dressing
The Spring trend for tonal dressing. I've seen it on the catwalks and now I'm seeing it on my favourite Instagram personalities too but how do you achieve it without feeling and looking like Veruca from Willy Wonka & The Chocolate Factory?
Of course I'm all for no rules when it comes to fashion and your personal style, but little tips and tricks from others always seem to help me step outside my comfort zone a little and try new trends I may not be brave enough to otherwise. Not all trends from the runways find their way trickling down into everyday wear but tonal dressing seems to be growing in popularity and there's a multitude of ways you can interpret the look. 
Not to be confused with the two-tone dressing trend we already know and sometimes love (like my tan/pink MSGM coat that seemed to divide everyone on my socials into love or very much hate haha) tonal dressing is a head to toe look using tones of the same colour - monochromatic styling. 
So here are some hints on how you can try out tonal dressing yourself and how I'm looking to interpret the trend on my next outing. 
This blog post & shop widget use affiliate links. 
The above suit and shoes were kindly loaned.
Affiliate text links are marked (ad).
Read the disclaimer about affiliate links & PR gifting here. 
Pastels
Pastels are a always a huge part of people's Spring wardrobes but often are some of the most difficult colours to style. I know personally I often worry about feeling washed out with certain paler tones but with tonal dressing I feel like it's the perfect opportunity to style those not often worn pieces from our closets. Team pastels with darker and somewhat 'safer' shades and also add in vibrant pieces to help fit pastels into your look comfortably. So many ways to wear them with tonal dressing in mind, including reaching for pastel accessories too.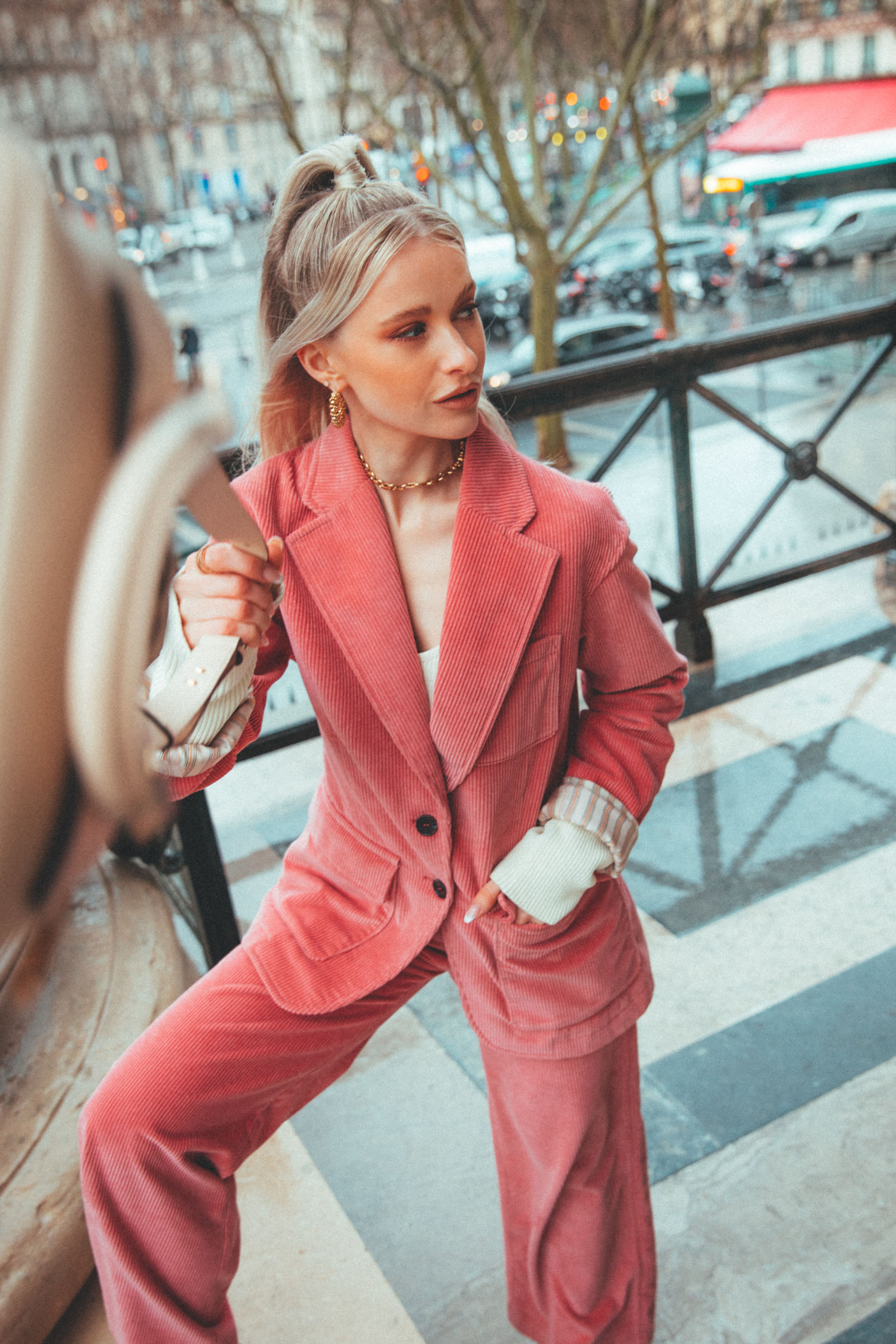 Materials
What's so great about tonal dressing is you can choose to interpret the trend however you would like to. Incorporate it into your usual tailored looks, step out the box and add some colourful accessories into your wardrobe or even start to think about textures. Denims, leathers, faux furs, silks, jerseys. Things we already own in our wardrobes but may never have put together before considering this newest trend. Maybe that navy blouse you would have shied away from teaming with those cornflower blue trousers will suddenly seem on trend and will see them become BFF's. 
Suits
As the self proclaimed queen of suits and all things tailored, tonal dressing seems to fit perfectly into my closet right now. If you're like me and you have a collection of favourite suits in your go to colours already, think about just one new piece you can slip into your collection to elevate your looks. Perhaps your suits all highlight beautiful shades of nudes, camels and browns making it easy to mix and match them, while also introducing rich tan and brown shades into your outfit.
Simplicity
I think some trends can seem a little over the top and scarey when first introduced into the mainstream and seeing your favourite fashion bloggers wear head to toe shades of vivid red or bright yellows can seem even more so. Quite often it comes down to simplifying a trend and tonal dressing can be styled doing just that and even with black. Think about your all time favourite leather trousers, styled with an edgy denim jacket, a chic jersey bodysuit and patent heeled boots. All black but mixing different textures hits tonal dressing head on.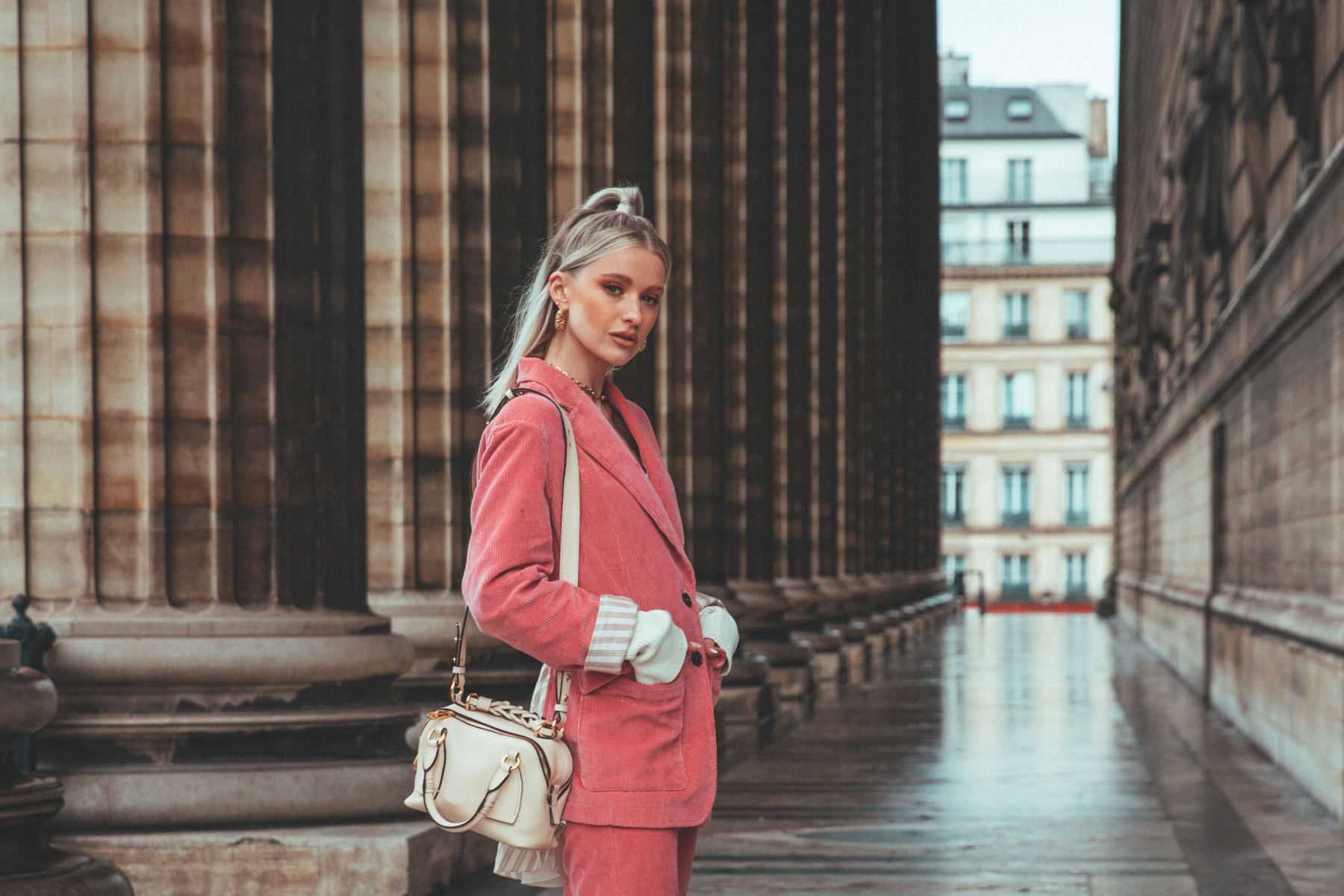 Images taken before the Chloé show in Paris during fashion week AW20.
A huge thank you to the wonderful team at Franck Provost who so very kindly created this amazing hairstyle.
Sign up here for a weekly catch up of everything Inthefrow