07.02.2020
THE BEST
SS20 SUIT TRENDS
I adore tailoring. Give me the chance to wear a suit for any occasion and I'll make it my own! Doesn't matter if we're talking dressed up to the nines for the red carpet or smart casual dressed down for a breakfast meeting. A suit I can mix and match with my jeans, bodysuits and every pair of my heels is always welcome inside my new wardrobe at @Frowhome. 
Rather perfectly that leads me to these pictures Alex shot at Couture Week in Paris and what impact last fashion month may be about to have on our style. I was lucky enough to see this particular stand out suit on the Ralph & Russo SS20 runway last September (Those dreamy pastel lapels - swoon worthy or what?!) and it got me thinking about the trends currently trickling down into our wardrobes. Especially when it comes to tailoring.
Fashion month is always a time to get inspired and step out of your comfort zone. But even more excitingly we get the chance to take a peek at what we'll be seeing on the high street and from our favourite brands, in just a few months time. So with that in mind, what did the designers showcase on the runway just a few short months ago that's now at our fingertips and in our much coveted wish-lists as the fashion calendar springs to life?
Here are 3 of my favourite wearable, versatile and yet fashion forward suit trends for 2020.
This blog post & shop widget use affiliate links. 
The above suit & bag was kindly loaned for the occasion.
Affiliate text links are marked (ad).
Read the disclaimer about affiliate links & PR gifting here. 
The Short Suit
I've always been a fan of a short suit, especially when it comes to an occasion like a wedding during the Summer months. We often feel obliged as women to wear a dress and forgo our own comfort and style, when a short suit can be such a trendy alternative. I know the last time I filmed a wedding guest video and mentioned a short suit, the trend was very divisive but for SS20 it appears the short suit is back, in a big way. The immediate trend calls for Bermuda style shorts with a beautifully crisp crease that would make them lean more smart than you would initially dream. Perhaps the short suit will be venturing out in the big wide world and even stepping over the office threshold in the warmer months of this year?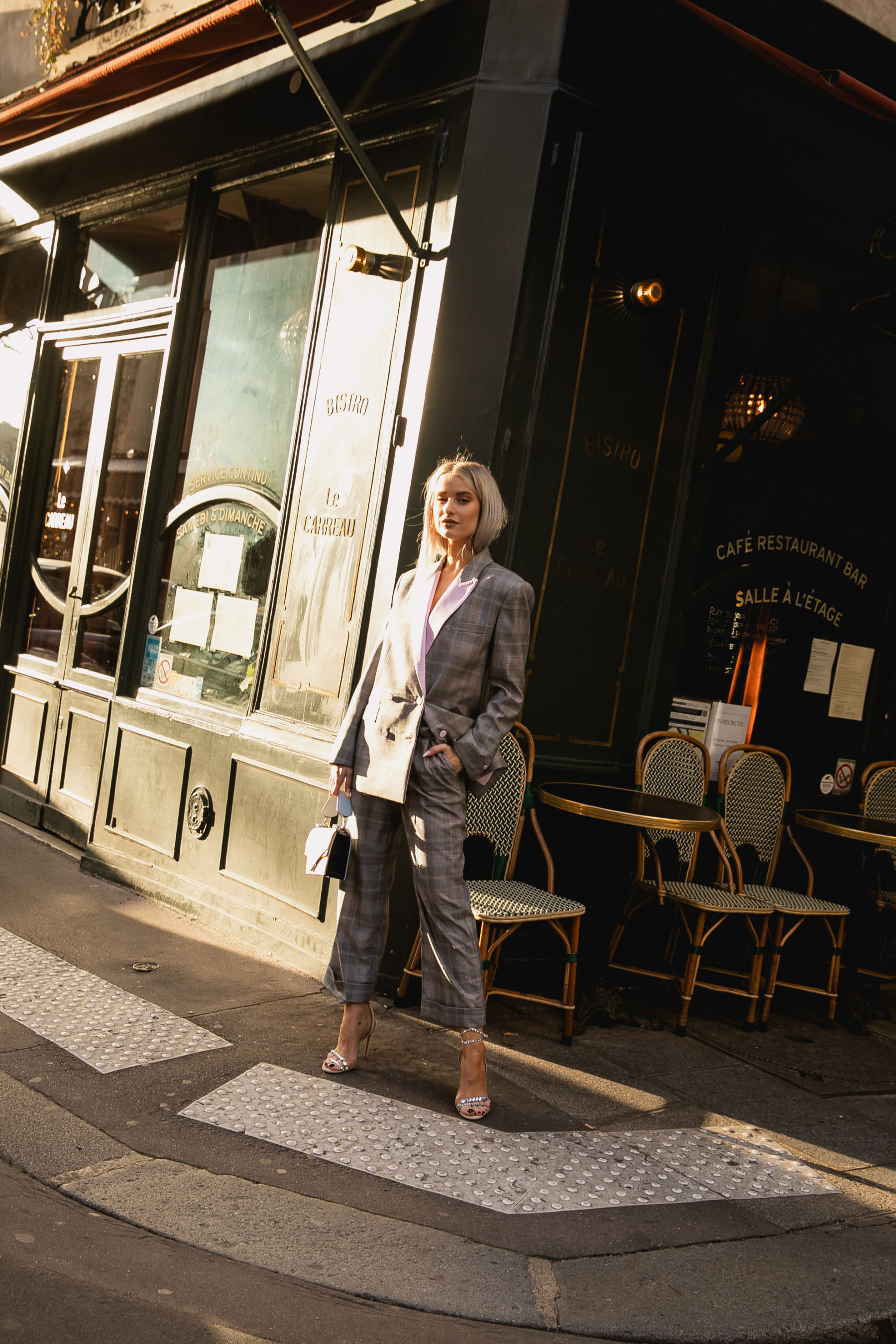 The 3 Piece Suit
This might be my favourite suiting trend for 2020 as it's so different but so wearable and simple. The three piece suit. More commonly thought of as a formal style that is overly masculine, I love the idea of bringing the trend into a more modern light, especially when the vest is well fitted under a looser style blazer. And somewhat ironically you can even hit three or more trends in one when it comes to this versatile investment. Cue a Bermuda short, a fitted vest and a single breasted blazer and you'll be so on trend it'll hurt. Of course you could always invest in a classic vest to add your capsule wardrobe of tailored pieces but there's something just as versatile and also inkeeping with another SS20 trend (colour blocking a la Celine Dion and her new stylist Law Roach) by investing in a matching three piece this year.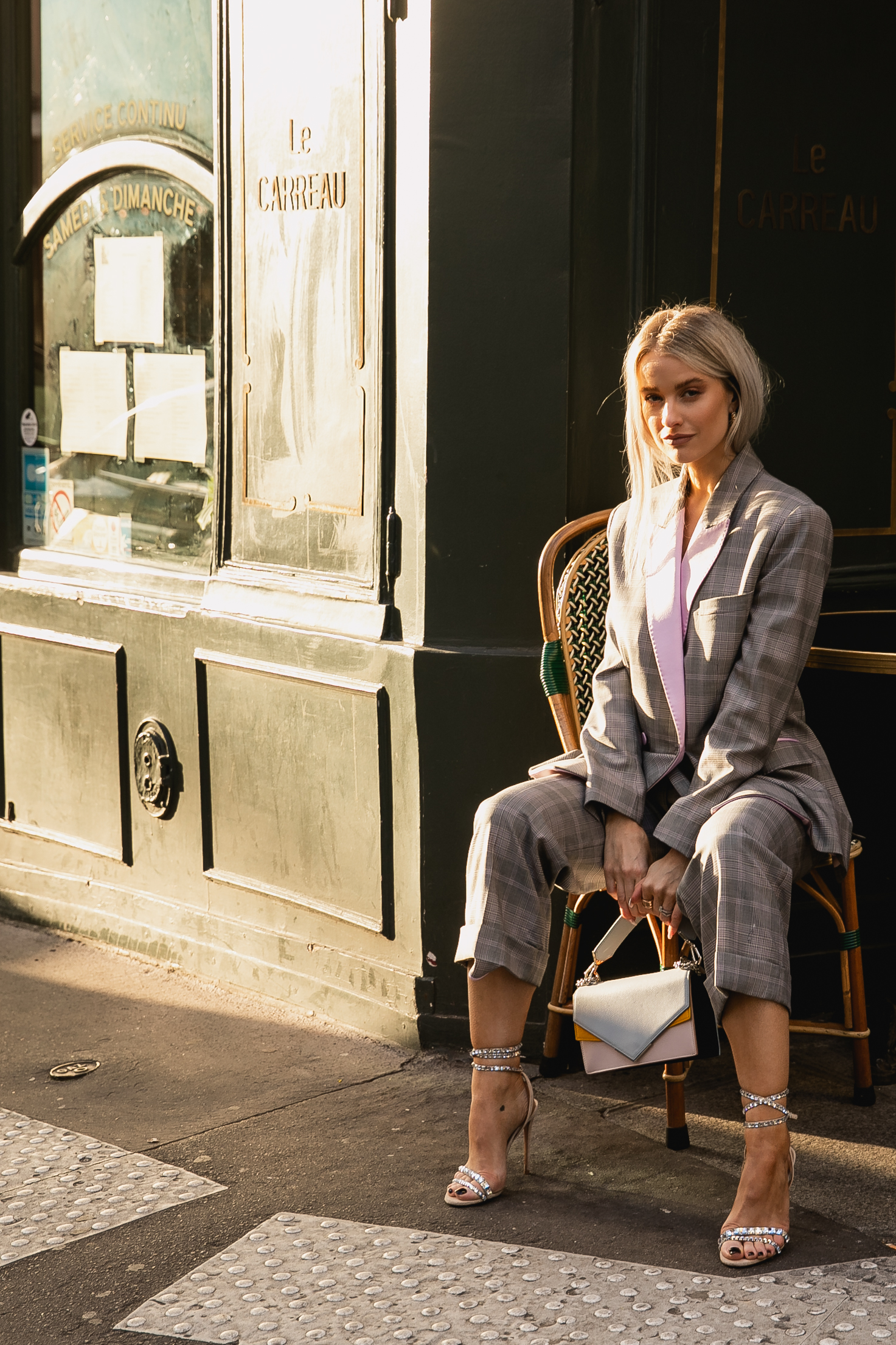 The Fitted Suit
After 2019 brought us a strong 80's feel for suits with nods to more structured shoulders, an abundance of my personal favourite double breasted blazers and loose 'loungey' fits, cue this year taking us further back in time, towards the 70's. Last seasons shows were filled to the brim with single breasted blazers and suits that skimmed every curve with darting galore. Think slim cuts over loose and single breasted over double to really embrace the trend. The great thing about a slim fitting suit being on trend? It's also always been a classic in everyone's wardrobes anyway. So if the oversized blazer has never been the cut to flatter you, this seasons slim fit dominating the stores, will have you jumping for joy when it comes to workwear and beyond.
Images taken at the Ralph & Russo show during Paris Couture Week.
Sign up here for a weekly catch up of everything Inthefrow