21.11.2019
How to Shop The Sales
Effectively
It's almost that time of year when we are hit with Black Friday sales, Cyber Monday deals and everything in-between. From your favourite fashion retailers, to your most worn beauty brands, to your highly coveted homeware stores - there's something for everyone when it comes to sale season. The only problem? It's so easy to be overwhelmed with the whole thing. 
We've all been there. Suddenly bombarded with adverts and discounts that encourage panic purchasing and there's really only one way to make sure you're buying the 'right' things - planning ahead.
Now don't get me wrong, I am well aware in previous years I've spent weeks researching my favourite retailers offerings as well as the best Black Friday discounts, but this year I decided I wanted to slow things down a little. Not only for you but for me too! 
So here are my top tips for surviving sale season unscathed and ensuring you only get hold of the things you truly want to add to your wardrobe, your home and your beauty stash. 
This blog post & shop widget use affiliate links. 
All affiliate links are marked (ad) & the above outfit was kindly gifted. 
Read the disclaimer about affiliate links & PR gifting here. 
Do You Really Want or Need It?
An obvious first pointer but we are all guilty, me included, of adding something else to our closets that we really didn't want or need. And the reason we did it? Because a discount has reeled us in. I know a lot of us have even gone as far as trying to convince ourselves, in anyway way possible, that we did in fact suddenly need some boots that are a half size too big or even a jacket that's uncannily similar to last years Black Friday purchase. No judgement here but if you're trying to stick to a plan this year, then getting organised is key. The truth is Cyber Weekend is actually a great way to tick off your Christmas gift list, grab something you've been eyeing up since last Summer or even treat yourself to something special if you're in the mood. But just make sure you have a realistic list to tick off, so you don't find yourself buying just for the sake of buying. Making a list is a sure fire way to make sure what you're purchasing is really going to be loved, worn and used for seasons to come.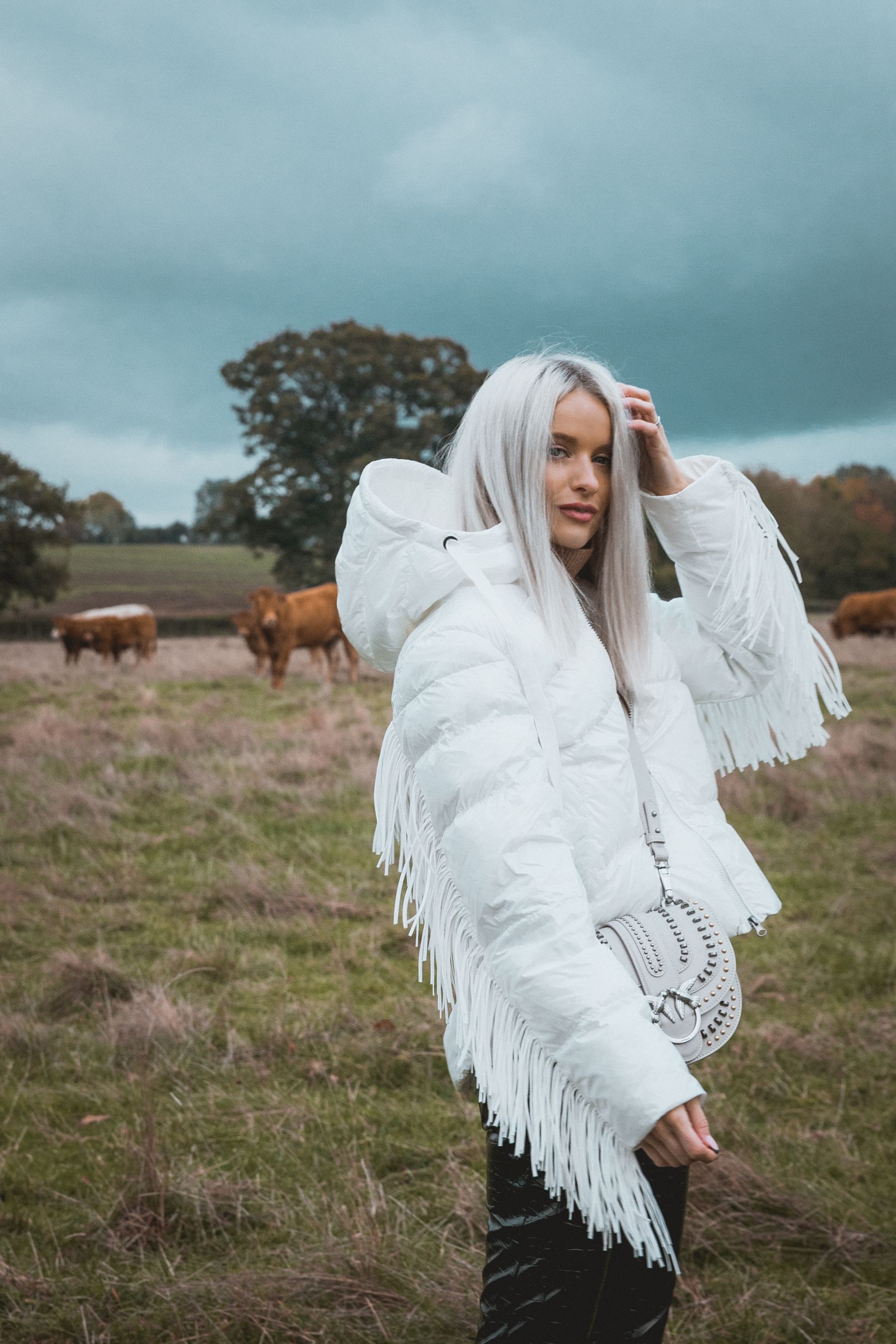 Is It Really A Bargain?
Let's be honest, we've all purchased something in the sale thinking we've taken advantage of an epic discount but in reality - is it really a bargain? If we're keeping things simple, it's very hard to have scored yourself a bargain, if said item was never on your wishlist before sale season began. Of course we may go into the sales with the aim of 'a Christmas party dress' or 'a gift for a parent' not knowing the exact item we want. But if that seasonal Valentino bag that's now discounted wasn't ever on your radar before, you're most definitely not saving any money, you're spending it. I think the best bet with so many sales around, it to be honest with yourself and set yourself a budget. If you find that new winter jacket you desperately needed way under budget because one of your favourite brands took part in Cyber Weekend, then that's how you can grab a bargain and to be sure you're saving some money.
Can You Definitely Afford it?
A big one in terms of saving yourself money and ensuring you're only buying from that pre ordained list, is to ensure you're not getting yourself into debt. I know it may be all too tempting to pull out that credit card and splash the cash during the festive sales, but only buying what you can afford and sticking with a budget will be a blessing in the long run - I promise. If you're not a designer shoe lover but the sales are tempting you into spending far more than you usually would on a new pair of boots, then take a moment to step back and put your possible purchase into perspective. Just because there's a discount to be had on a pair of beautiful Aquazzura heels even though you normally would scoff at a designer price tag, then perhaps this purchase isn't a priority. It's a horrible feeling to have picked something up that you won't get regular use out of and it's an even worse feeling if you've gone way over budget to get your hands on it too. If you're starting to exceed your set budget, no matter what that amount may be, then make sure you're happy with your decision.
Will It Stand The Test of Time?
And perhaps the most important question for me, knowing that quite often the products on sale are seasonal, is will my purchase stand the test of time? Although I have some beautiful trend driven pieces in my wardrobe and I most probably go to more events than the average person does to be able to showcase said purchases, it's important to me that anything on my wishlist has longevity. Whether that's because there's a need to try a new facial serum in my routine, we've wanted new breakfast barstools in our kitchen for so long or because that new statement jumper easily slips into my wardrobe of classic, timeless pieces. Of course it's inevitable we may want to treat ourselves to something in a bolder colour-way than usual, or a price point a little more expensive than we would normally go for because the sales may afford us that choice. But if that is the case and you're a 'life's too short' individual, just make sure whatever you're choosing to buy, is bought with the long term in mind. 
I would love to know if you have any plans in mind for sale season or if you're avoiding them altogether this year? I know my mindset on sales has changed significantly since I started the blog but I'll always be a fan of fashion and of course treating yourself occasionally too x
Psst - Keep an eye out here next week for two blog posts featuring some beautiful imagery and discount codes for both Kiehl's ad (UK & Eire) & Holland Cooper (Worldwide).
Sign up here for a weekly catch up of everything Inthefrow