19.11.2019
The Lash Trinity:
Results, Regime, Confidence
This blog post is a paid for advertorial in collaboration with Nouveau Lashes. 
Every morning and every evening, we take the time needed to look after our skin. We invest in products to enhance, protect and keep our faces looking the very best they can. Cleansing, toning, moisturising - 3 steps to ensure we start and end the day right. But what about our lashes?
In amongst my beauty routine for the past few years, you'll know I've used the Nouveau Lashes Lash & Brow Conditioning Serum. A quick step after cleansing to nourish my lashes and ensure I'm taking just as much care of them, as I am my skin. An essential step for me, morning and night, to condition my lashes inbetween my beloved LVL treatments. 
In their quest to prove how simple eyelash care really is, Nouveau Lashes have developed the next step in your lash care routine and spoiler alert - you need this! Now your 3 step beauty routine can also include a quick 3 step lash care system that's easily integrated, both morning and night.
Introducing step number three - the Nouveau Lashes Triple Enhance Lash Serum. A unique formula of key vitamins and ingredients that is proven to support long, voluminous and natural lash growth, when used regularly.
Enhanced length, increased volume, and improved strength.
Triple Enhance Lash Serum - Why?
I think more often that not, we all forget to take good care of our eyelashes. We spent so much time and money on our skincare routine, our haircare regime, even our eyebrows but our poor lashes often get ignored. The truth is it doesn't take but a minute in your daily routine, to ensure your natural lashes are cared for in the right way. Cleanse, condition and enhance. 3 Steps to ensure healthy lashes that look incredible and are looked after from root to tip.
As mentioned above, I've been using the Lash & Brow Conditioning Serum for years now. It's been a step in my beauty regime that is quick, simple and enhances the look of my lashes alongside my LVL treatments. It's been a part of my day to day routine that I've both recommended and gifted to friends and family. Now I've had the pleasure of testing out their newest innovation and it has truly blown me away. Combined with my usual cleansing and conditioning steps, the new Triple Enhance Lash Serum rounds out the first ever complete lash care system. My lashes have felt stronger, looked longer and with my LVL treatments have truly given lashes I adore. I no longer worry about my naturally straight and brittle lashes, using Nouveau Lashes serums and treatments has transformed them and I'm proud to recommend their newest launch.
Here's the technical bit - the length and maximum growth of our natural eyelashes is genetically predetermined. This means the length that your lashes can grow to is limited but often hindered by factors such as a lack of key vitamins in our diets. Here's why adding Triple Enhance Lash Serum with its blend of vitamins and nutrients into your routine, can support new lash growth and help your lashes to reach their full potential. It's the newest step in my beauty routine, but it's quickly become one of the most important - especially when my lashes are already lifted to perfection with an LVL treatment. The perfect lash match.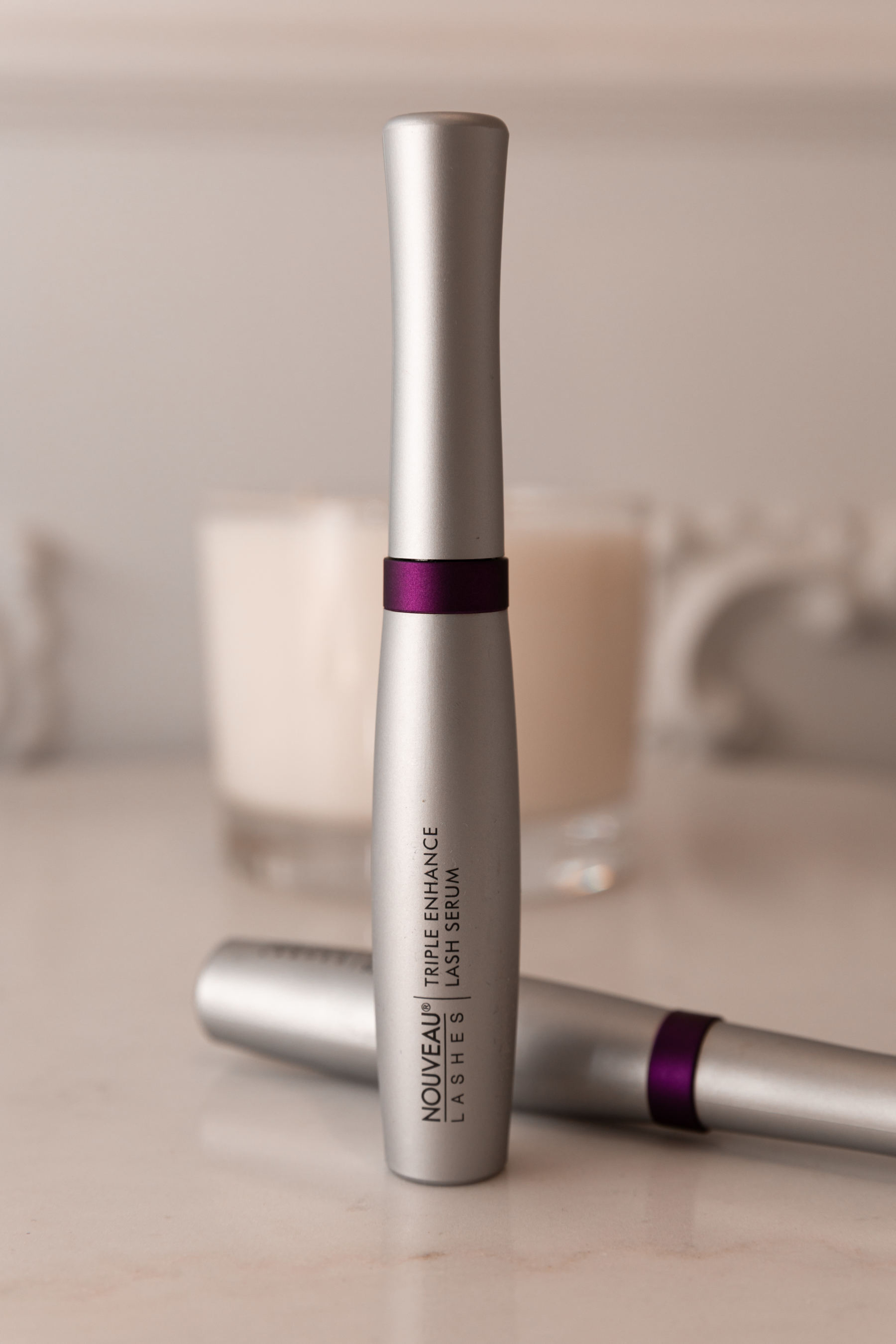 Triple Enhance Lash Serum - What is it?
The newest innovation from Nouveau Lashes is a serum that will help boost your lashes to become the lashes you've always dreamed of. With it's supercharged Triple-Peptide Complex it delivers enhanced length, increased volume and improved strength. Applied directly to your lash line via the brush, it can be used on both natural, LVL enhanced lashes and even lash extensions, twice a day, with no break needed in-between treatments. 
Accredited by the vegan society, the serum itself is enriched with multi-vitamins, multifunctional protein and anti-pollution ingredients that combine to provide intense nourishment to revive your lashes. As well as supporting lash growth, it's formula helps to minimise breakage by fortifying and strengthening from the root. All this inside a weightless formula, that isn't sticky and can be applied with one quick swipe.
And the most important thing you probably need to know? It's proven to work - like really work. In independently conducted consumer trials, the new Triple Enhance Lash Serum showed noticeable improvements in lash length, strength and volume in as little as 30 days, and after only 12 weeks of twice daily use, showed significant improvement. 84% of participants even said they felt more confident, which is such an amazing reflection of how using the right products can make you feel. 
The 3 Step Lash Care System
Step One - Cleanse: Just as you would take care to cleanse your skin, it's just as important to gently cleanse your lashes and the delicate eye area. Using a product like the Nouveau Lashes Lash & Lid Foaming Cleanser ensures any product is safely removed from the eye area, while also hydrating the surrounding skin. Gentle enough for use on even the most sensitive eyes like mine - not at all irritating!
Step Two - Condition: A step I've been taking for years and one that I'll continue to team with the newest launch too. Applied to the length of the lashes with a mascara type wand, the Lash & Brow Conditioning Serum enriches lashes to leave them looking fuller over time and protected from environmental pollutants. For an extra boost of moisture you can also use the Rejuvenating Eye Cream & Mask formulated to reduce puffiness and care for the entire eye area.
Step Three - Enhance: The newest step to complete the lash trinity, using the Triple Enhance Lash Serum morning and night. Applied using a small brush directly to the lash line/follicles to support healthy, strong lash growth. The third step in ensuring your lashes are given the perfect environment to maximise natural lash growth. As easy as 1, 2, 3.
If you'd like to know more about their 3 Step Lash Care System you can head over to their blog here and find out more about the first of it's kind, personalised routine by the lash care experts.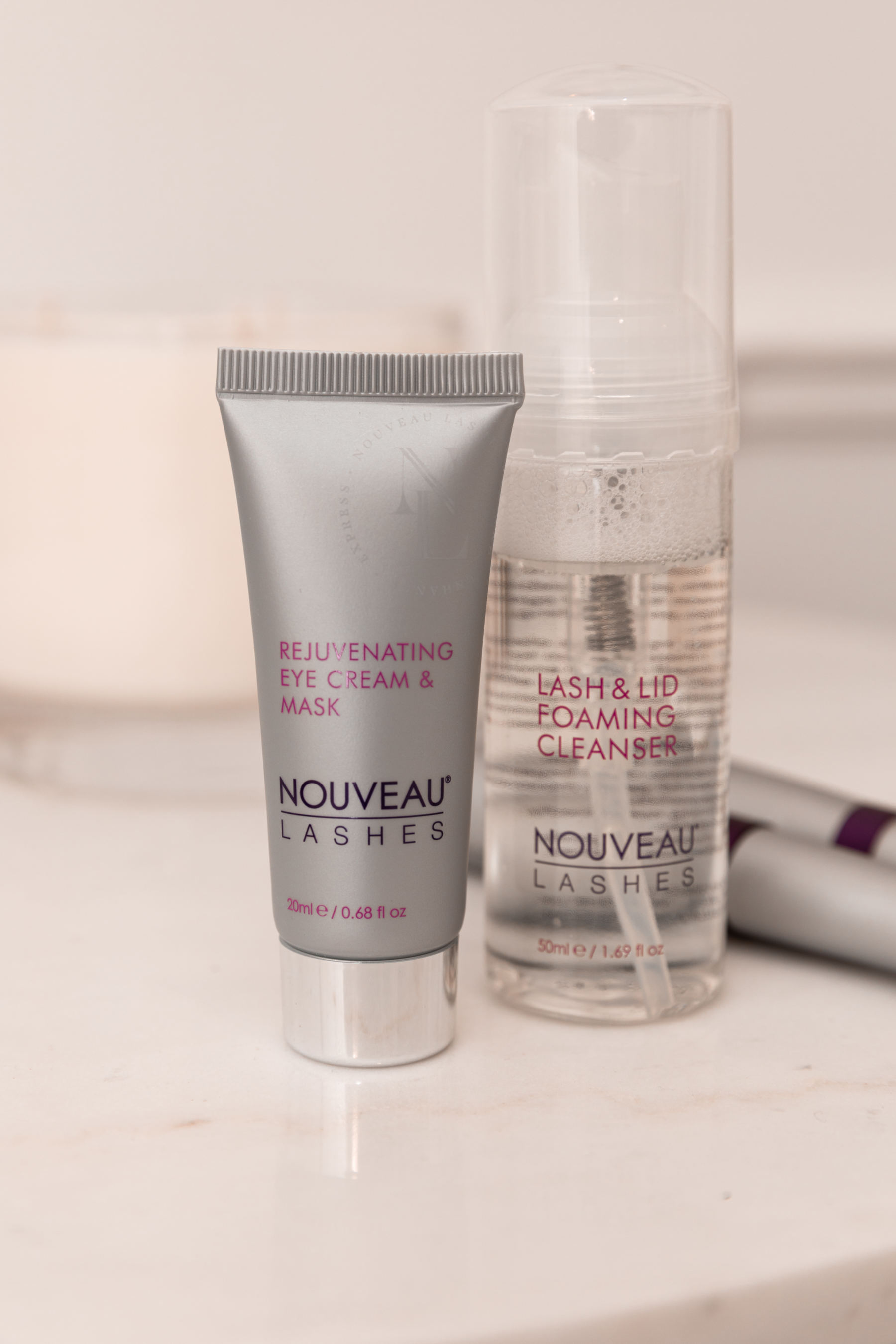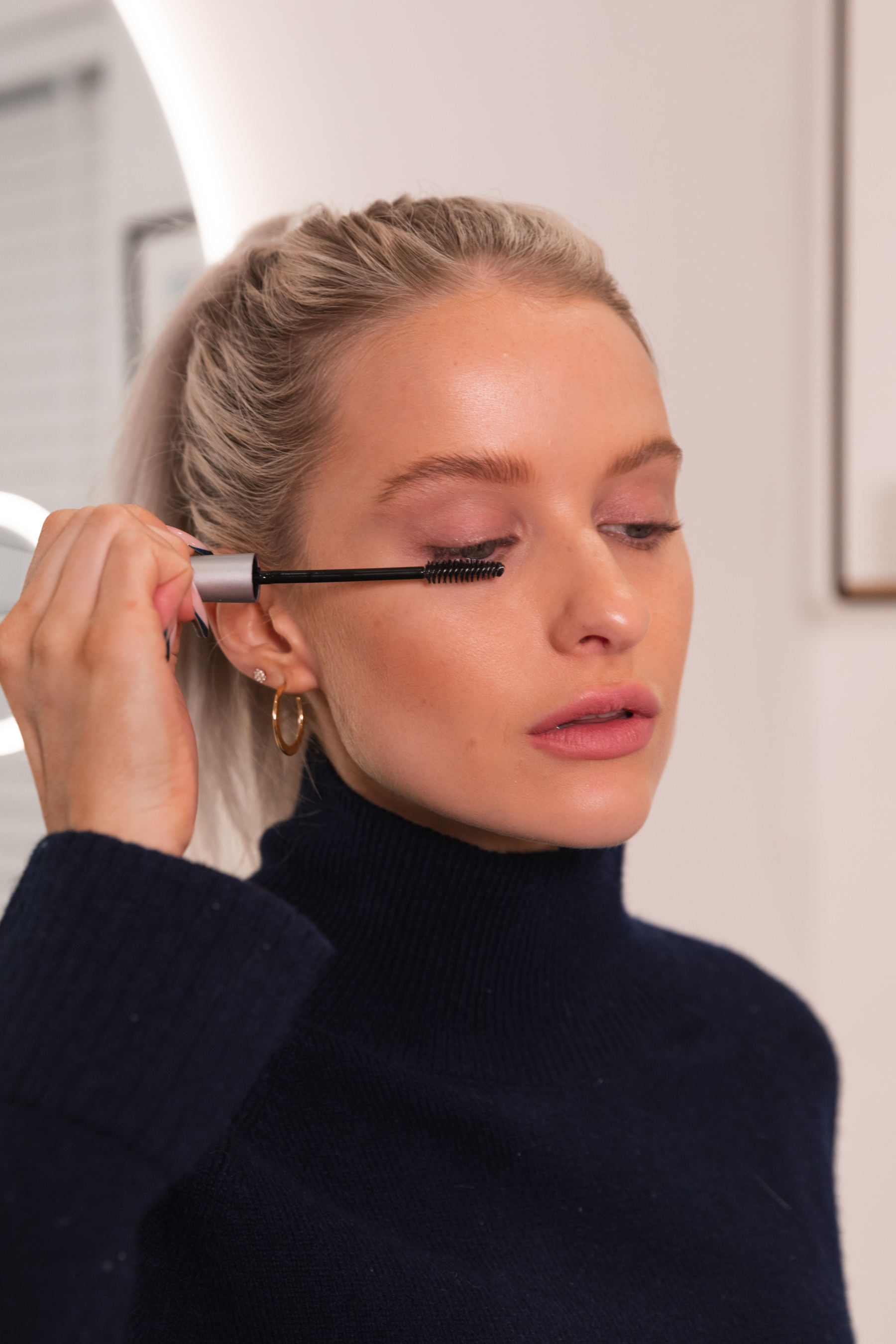 Nouveau Lashes have been helping me to look and feel my best for years now and I think it's proven by my own experience, just how much I adore them and their ethos. Not only do they take lash care extremely seriously but they are pioneers in creating products and treatments that are quick and easy to use - perfect for busy bees like me. There's a reason I've continued to love and promote the brand, even ensuring I had an LVL treatment for my wedding day and that reason is that their products are proven to work and make me feel great. Never underestimate the power of confidence when you look and feel your best. 
You can find out more about my regular Nouveau Lashes LVL treatments here.
This blog post does not contain affiliate links.
Sign up here for a weekly catch up of everything Inthefrow