28.11.2019
This Discount is
for you only
This is a paid for advertorial with Holland Cooper Clothing (ad).
This blog post does not contain affiliate links which earn me commission.
The first thing I need to tell you is... this post contains a Black Friday offer you won't find on any other site, from anyone else and is one of the coolest collaborations I've ever brought to you, for Black Friday.
This year, I wanted to partner with one fashion retailer only. Rather than giving you a scattergun approach of discount codes for thousands of different brands, I wanted to focus on one store only, who I have a real affiliation with. And so I'm proud to partner this year exclusively with Holland Cooper.
After lots of chats with the team, we decided to give you guys a page of discounted items at 20% off, that no one else would find elsewhere. These are additional to their other Black Friday sales, and are pieces they wouldn't have put into sale otherwise. So I'm truly excited to offer you all something really unique.
Enjoy!
Black Friday Items 20% off!
If you watch my vlogs often, you'll have seen their country-chic, city-slick clothing hit my closet around 2 months ago. The fabrics and craftsmanship, plus an aesthetic that hints at a confident, self-assured female, drew me in immediately. I felt like I was worth a Million whenever I threw on their coat or pulled their roll neck jumper-dress over my head. I felt like the clothes were made to flatter, to provide confidence but to keep you warm and cosy and therefore fit for purpose at the same time. It was an immediate adoration I had for their clothing.  
And now, if you'd like to add some Holland Cooper to your own wardrobe, they have also added lots of items to their own Black Friday sale, so check that out also for even more items to choose from. The Black Mountaineer Parka I'm wearing in these photos is also available in the sale, so go take a peek!
Holland Cooper Black Friday Sale
But the extra items I've added in exclusively, including the the chic Houndstooth Kempton Coat, or the tailored oyster blazer below, your winter coat needs will definitely be covered.
I didn't just want to show you one outfit, of course I wanted to share two. This one being even more festive, and much more tailored. A perfect oyster blazer, fitted and structured, over a metallic crew neck knit and the most high waisted, flattering black trousers that I own. Cinched in with a HC logo belt and some black boots. You can get this metallic knit in the Black Friday sale, and the oyster blazer in my exclusive 20% off selection too!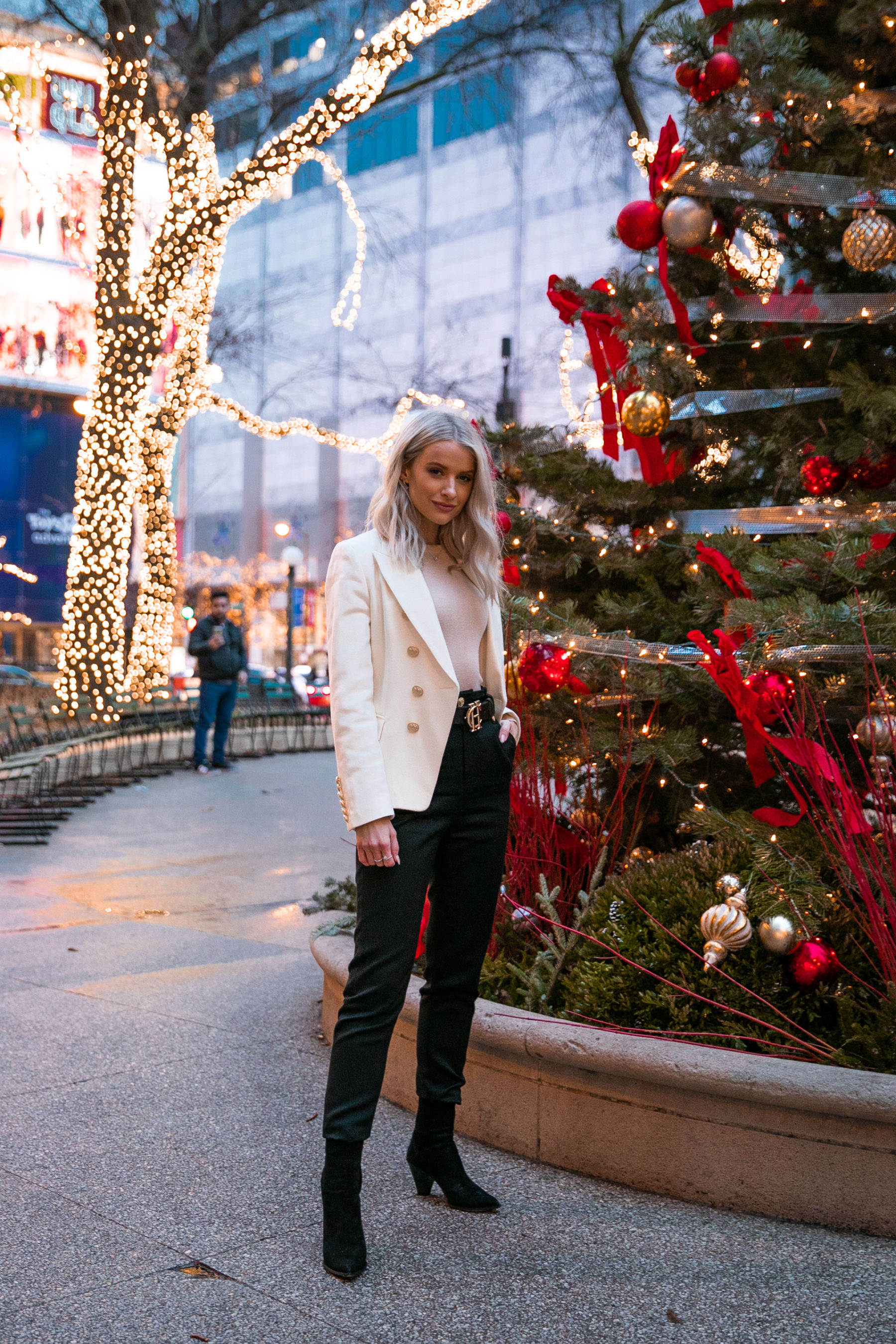 I hope you enjoy the sale and please let me know what you decide to buy! 
Sign up here for a weekly catch up of everything Inthefrow