10.09.2019
Our Wedding:
The Pool Party
After the Friday evening festivities and perhaps a little too much fizz for a few of us, it was time to have a relaxed morning before our early afternoon pool party. When thinking about how we wanted to celebrate with our loved ones, Alex and I not only wanted to say our 'I do's' with them all, but we also wanted to enjoy a holiday with them too. 
Now I'm not sure about anyone else but our idea of a great holiday is sitting poolside with great food and drink in the beautiful sunshine - and we were lucky enough to have all 3 on Saturday! 
It made for the most wonderful start to our wedding day and I'm just so glad we decided to go against the grain and see all our guests before our ceremony - we've never been ones for tradition! We ate picnic lunches from the cutest Fortnum & Mason picnic baskets, our amazing wedding planners The Lobster Collective sourced the cutest parasols for us (Carly & Leon's little girl Jax even got a mini one!) and the boys decided to try and out do each other, by summersaulting onto our inflatable unicorns. Which is also why there are no pictures of Alex and I together here haha!
Needless to say with my beautiful hair by Larry King and flawless makeup by Nikki, I didn't venture too close to the water!
Photography by the talented Rob Walker.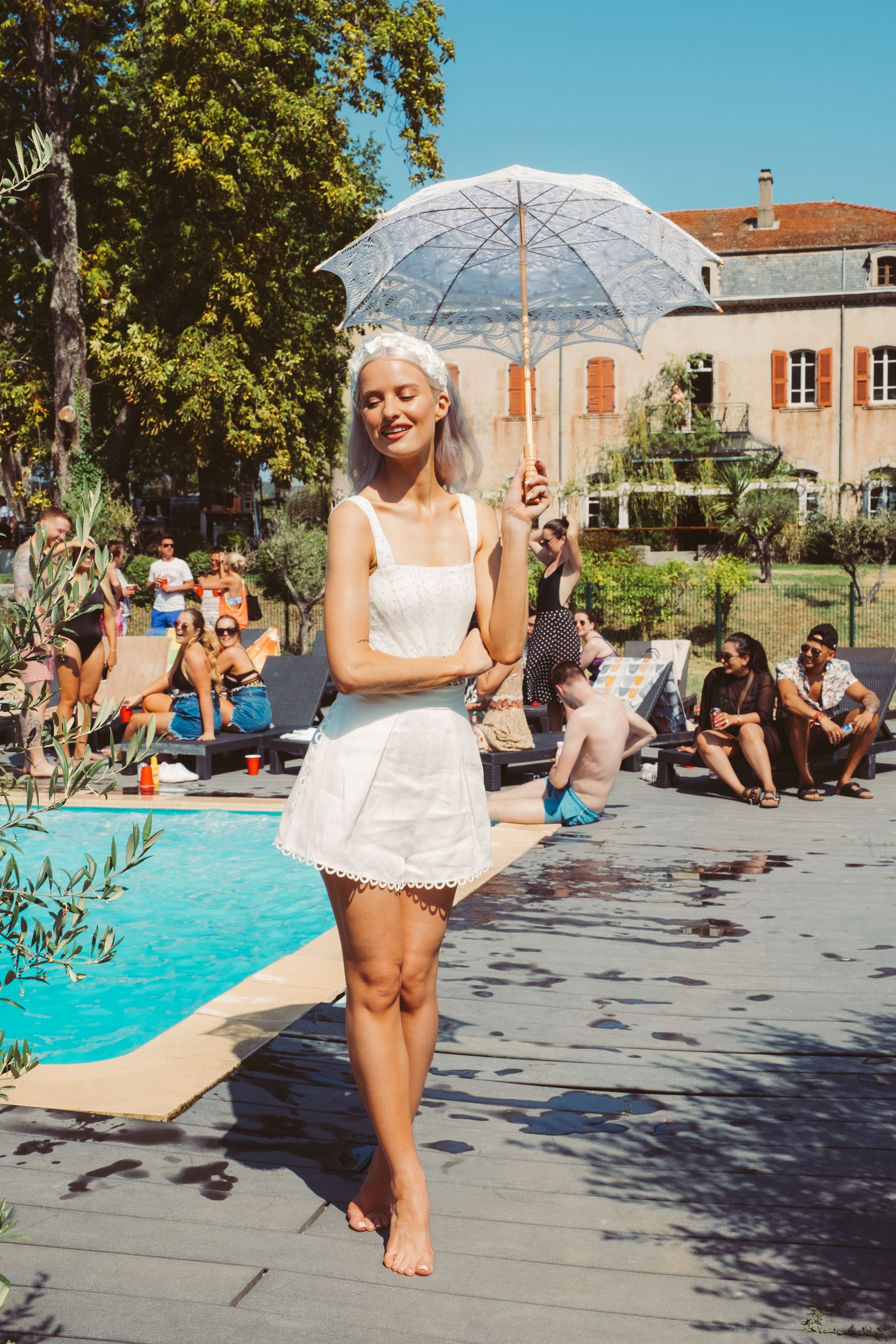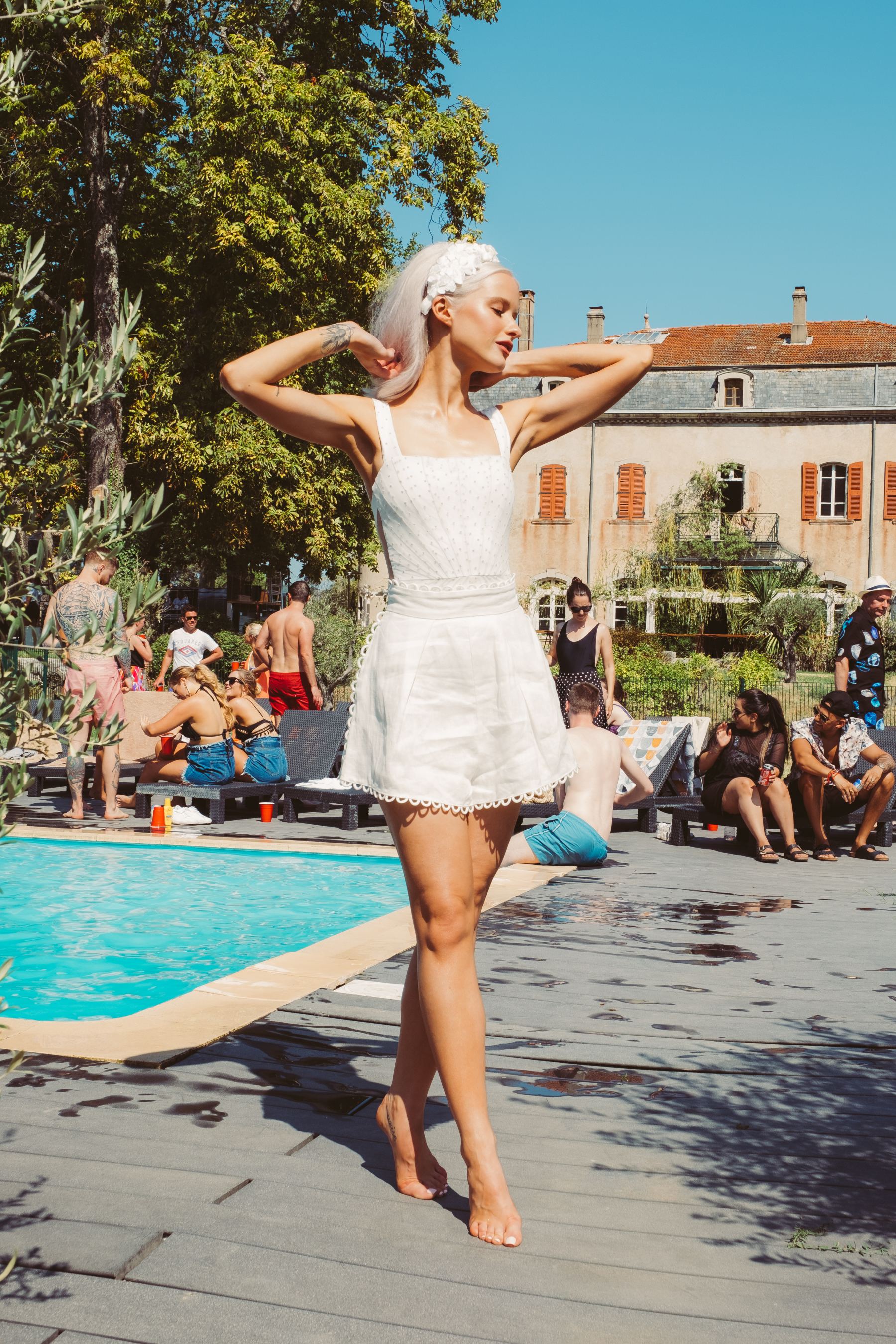 My Pool Party Look 
I discovered Amaio just before the start of last Summer when I was in my delirious haze of swimsuit shopping, triggered by the first signs of British sunshine. They had been on my radar ever since then and as soon we confirmed our beautiful venue at Chateau du Bijou and I knew we could host a pool party, I was sold. After all, if I was already having 4 wedding outfits, I could definitely get away with a 5th! I just adore the detail on the swim with it's sheer back panels, 60's style ruching and on trend square neckline. At my last fitting with the incredible Suzanne Neville, who designed my stunning Sunday dress for me, I had the pleasure of meeting the lovely Lotte. We chatted about her bespoke hair pieces and I fell head over heels (pun very much intended) with this floral embellished ivory piece, from her brand Lotte Willis London. My hair angel Larry King created a gorgeous backcombed hairstyle, with my signature loose waves of course, to frame my beautiful bridal hairband. I teamed my entire look with some crisp linen shorts from Zimmermann and of course the cutest lace parasol.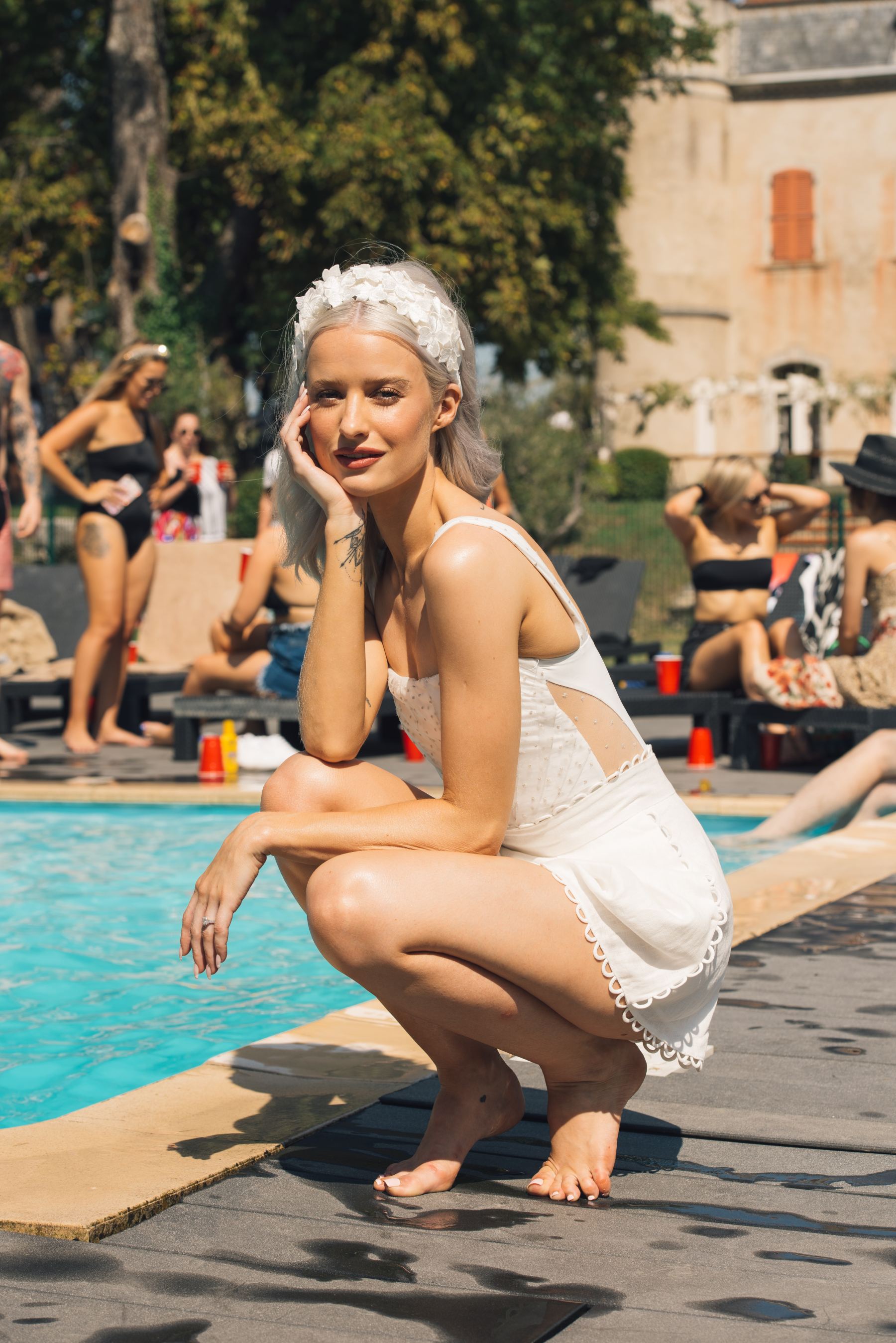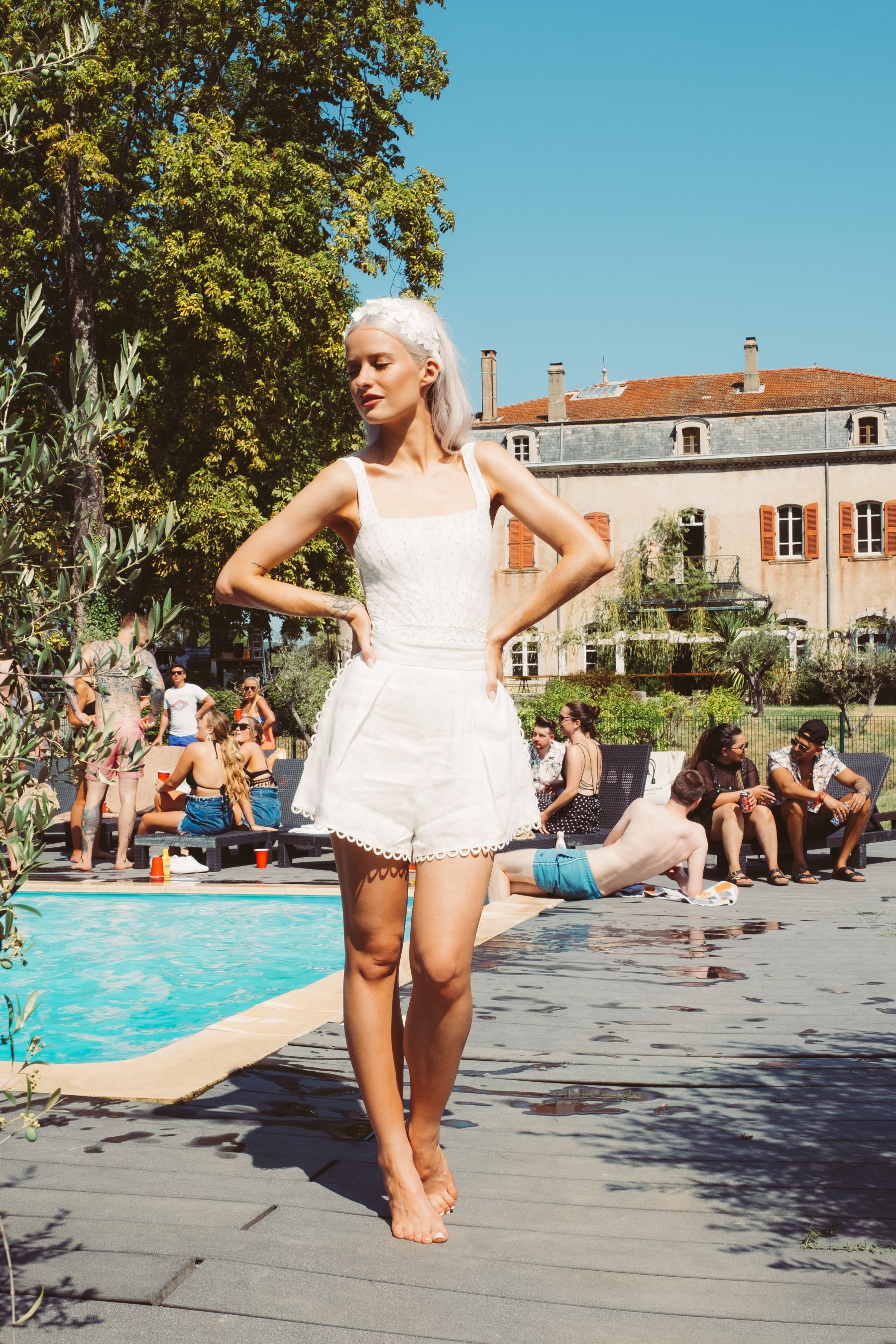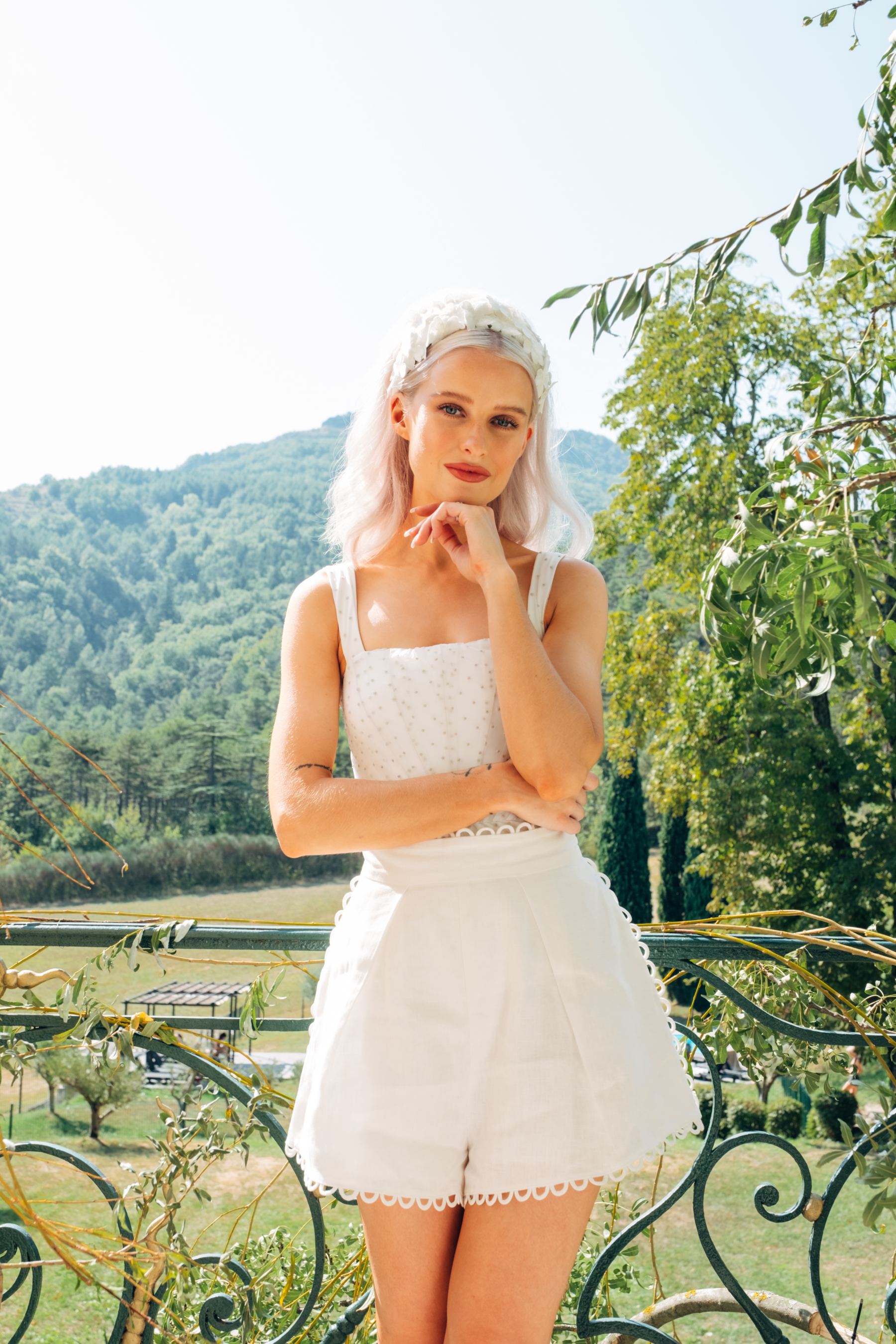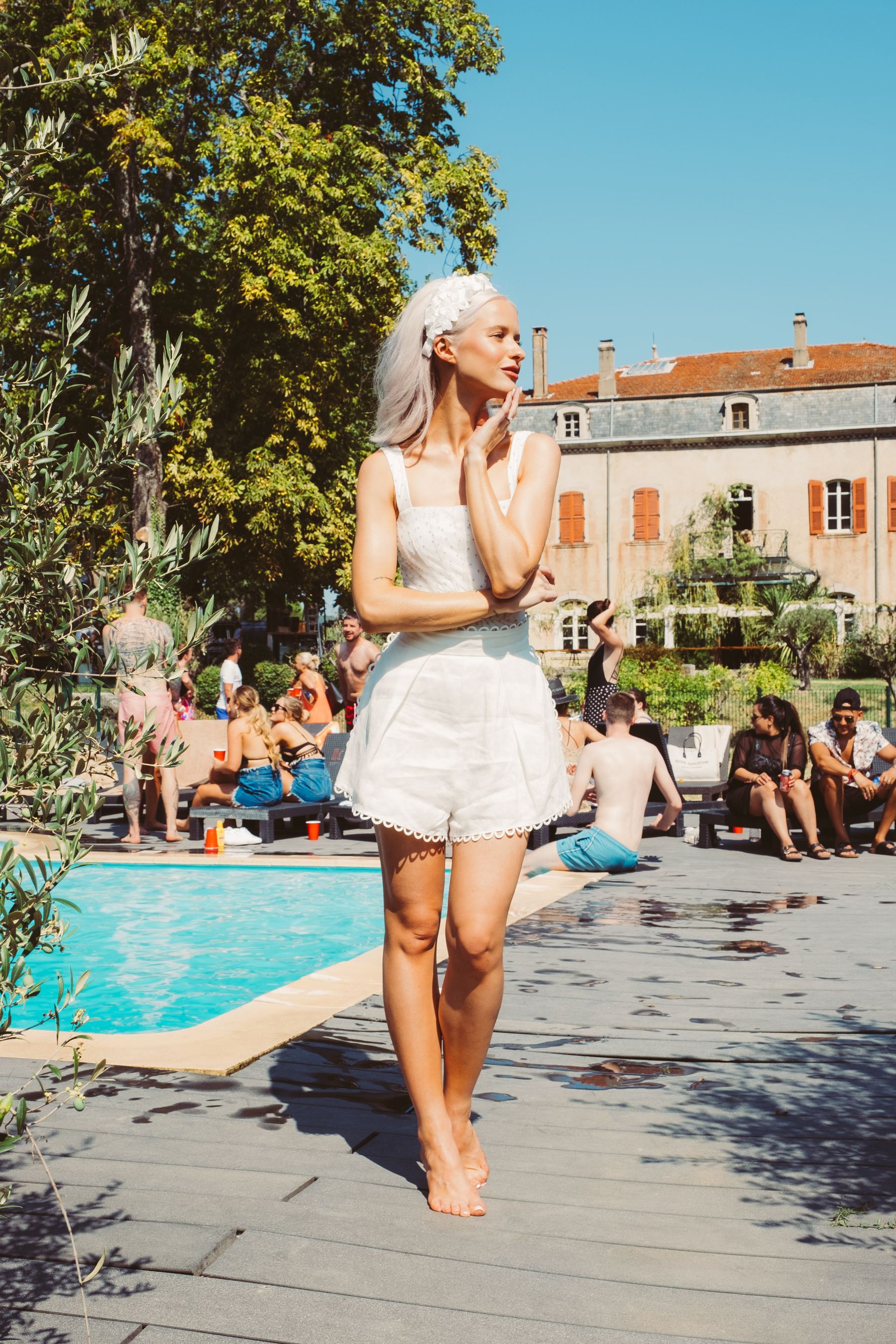 Find the full details on my Bridal Makeup & Hair here: Vogue
Find the full details on all 5 of my Wedding looks here: Harper's Bazaar
Inthefrow uses affiliate links.
Read the disclaimer here.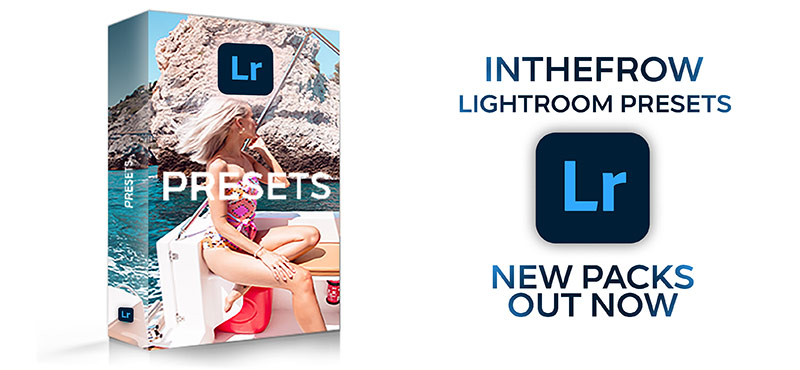 Sign up here for a weekly catch up of everything Inthefrow