18.09.2019
Have Some Fun With Your
Wedding Style
I think it's all too easy to get so lost in wedding fashion, designers and traditions - that your own style suddenly takes a back seat. From dripping in jewellery when you never even usually wear earrings, to feeling you have to wear a dress when you'd never think to pre wedding. 
So how do you incorporate your usual style on the biggest day of your life so far?
Have a little fun! 
I knew from the get go I wanted to be bridal and I wanted to embrace bridal fashion in my own way. Personalised details, intricate wedding nails, sparkle galore and cheeky footwear. There's so many ways you can add a touch (or a whole host of fun) to your wedding style, so don't let tradition stifle who you are. 
Here's how I added a little fun to my final wedding look of our weekend.
Imagery by the talented Rob Walker.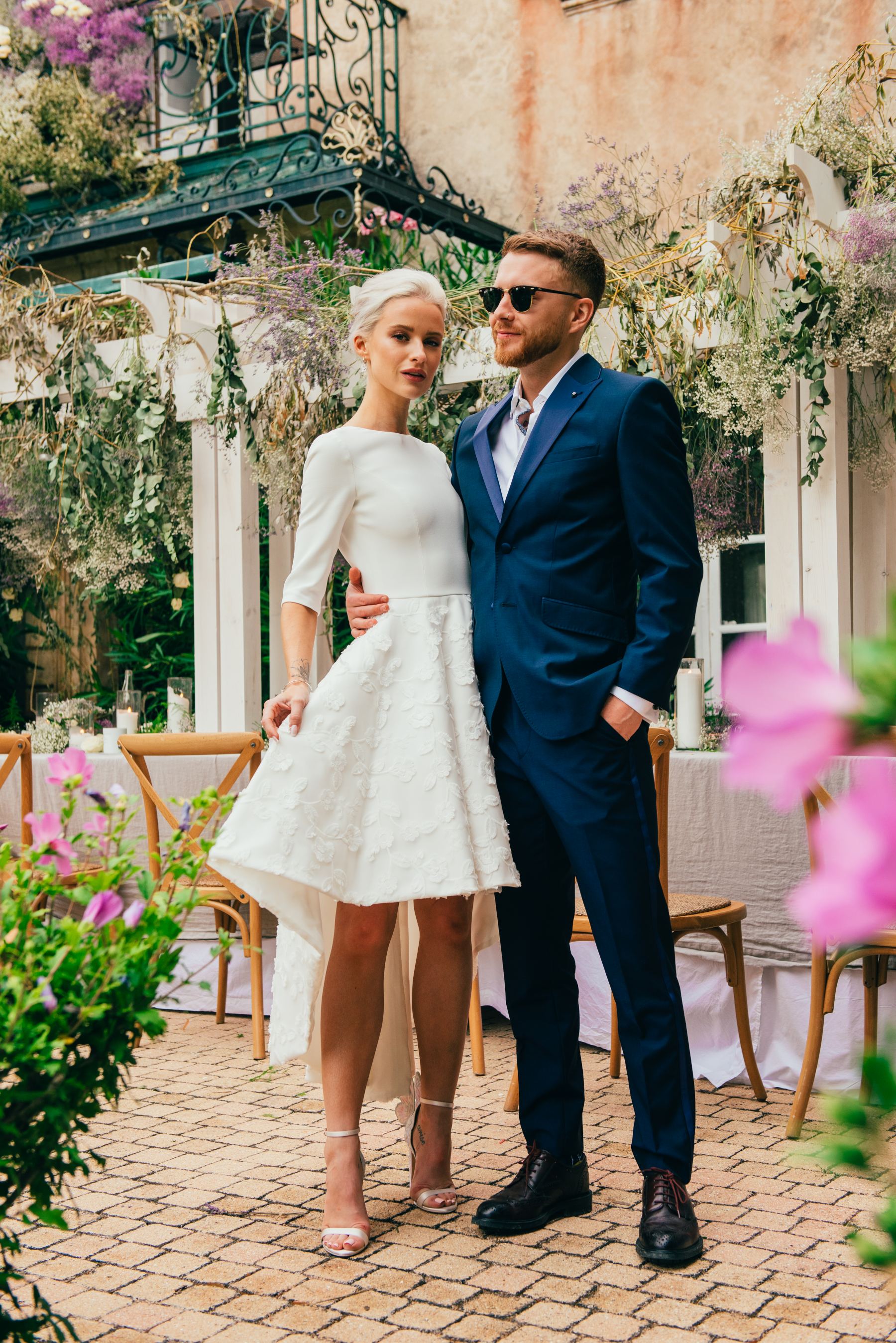 My Suzanne Neville Dress
Well what can I say about my Suzanne Neville dress? Working with Suzanne to create my gown for our relaxed Sunday celebrations was an absolute joy. Her energy and passion for what she does was such a delight to be around and it shows in her designs! I visited the London boutique at the start of the year to try some gowns on and have some fun with styles totally different from my ceremony dresses. It didn't take long for me to step into the Orwell dress and immediately start chatting to Suzanne and the team about how to make it my own! We opted for a super deep V back to contrast the higher neckline and show off my back tattoo, we shortened the sleeves slightly to have them sit at my elbows instead of forearms and we lifted the back hem to relax the look of the dress. This way I could show off whatever heels I wanted to style with the dress and it suddenly felt like the perfect post wedding look. The floral style detailing on the skirt added that fun I so wanted for after the ceremony and the pockets - well pockets make everything better right? Don't be surprised if you see me wearing this again after a few more alterations, that was always my plan from the start!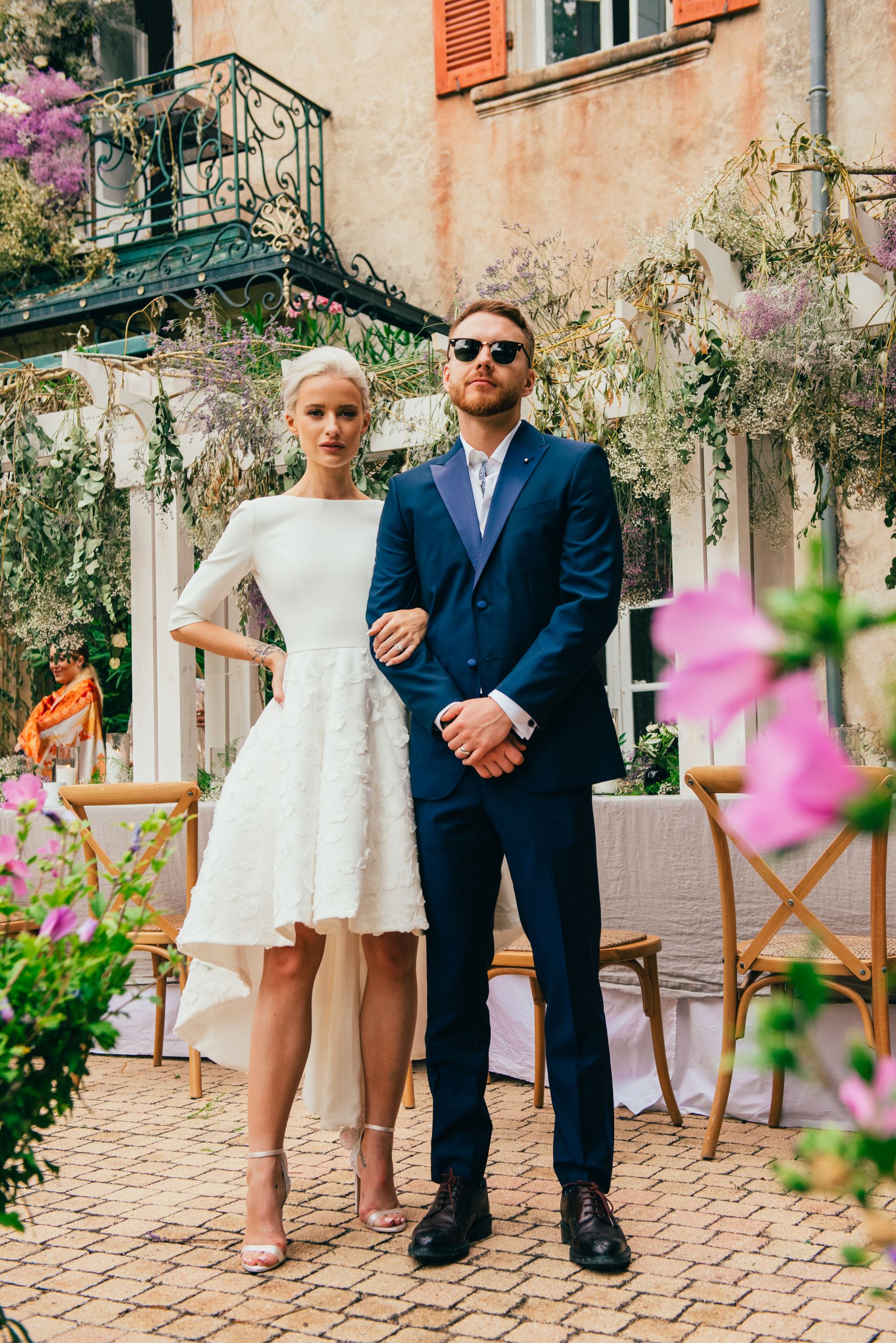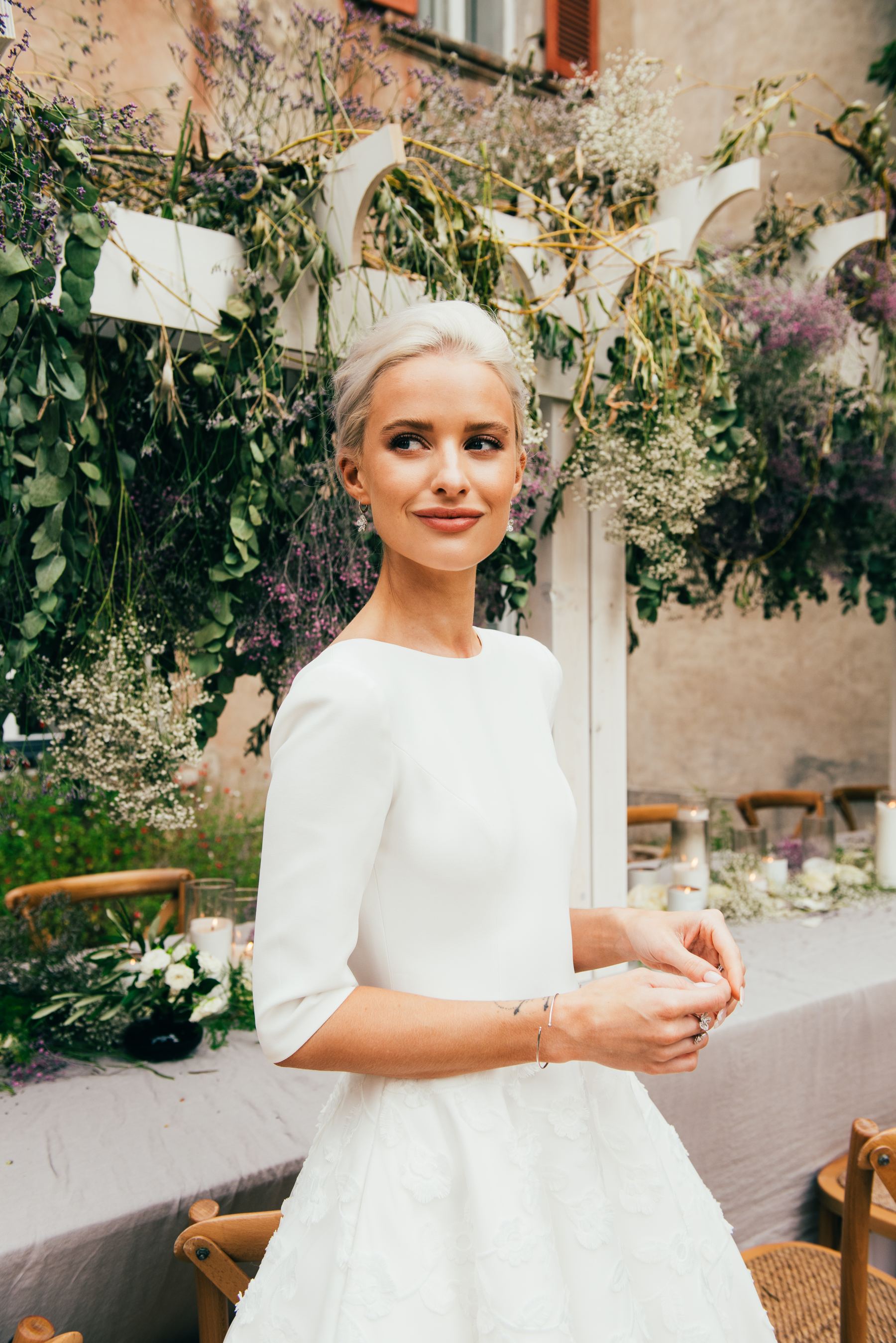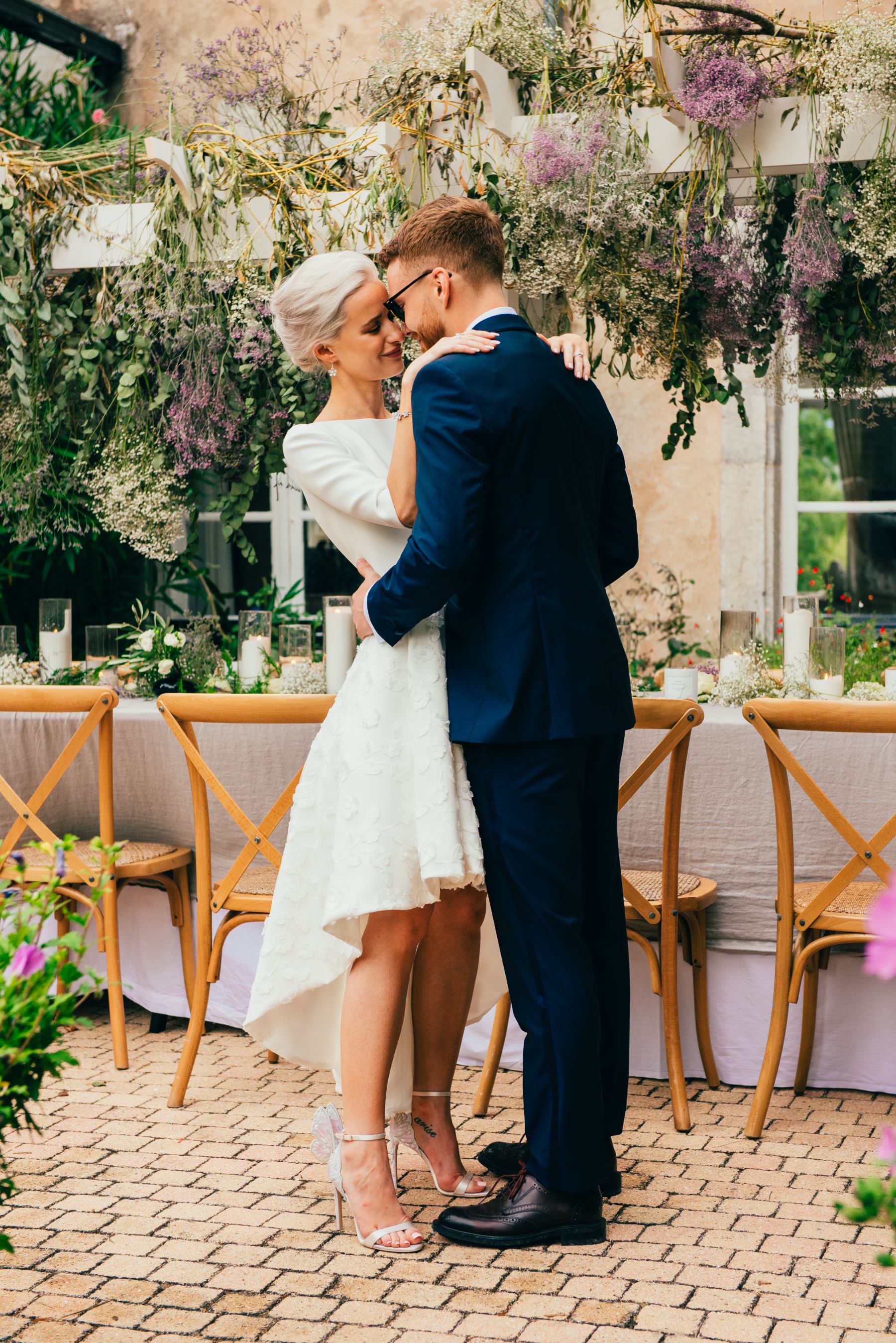 My Lace Detail Nails
I'm afraid there's no prizes for guessing who I entrusted to create my wedding nails for me, as even moving out of London hasn't stopped my regular nail appointments with her! I visited the amazing Corina at DryBy in London and if you want to see exactly how she created the look you can head over to my Instagram here. There were lots of discussion on what style, colour and shape I should have for our wedding but in the end I settled for a slightly more intricate version of my usual blush pink nails. My own nails, with a gel overlay to strengthen and a gorgeous lace detail to the tip of each nail. I needed something that would match each of my looks for the wedding but also something that added a little light heartedness to my more chic outfits over the weekend. My favourite nails I've ever had created at DryBy and a style you might just see me with again soon!
My Butterfly Heels
I think some of the most fun I had in the run up to our big day was choosing my accessories and especially so when it came to my shoes. With 4 bridal outfits to wear I definitely feel like I chose some beautiful heels to rock and none more so than on Sunday with these beautiful Sophia Webster heels. You most probably recognised the brand as Sophia Webster straight away because of the statement butterfly wings that you've come to know so well over the years and that's actually why I love them so. When I first decided on my beautiful Orwell gown with custom alterations, the team and I excitedly chatted about being able to show off some fun heels because of the shorter length I had chosen. 3 years ago now when my best friend Rebecca got married, my gift to her was her wedding heels. She wanted something blue, something fun and something that would wow her guests and she fell in love with the Chiara heels in a baby blue patent. Fast forward to 2019 and suddenly I had my heart set on the lace Chiara heels to make a statement of my own. Embroidered butterfly wings with a dash of pastel pink and blue with Sophia's sense of humour shining through on the soles - fun and sweet all at once. It makes it all the more special for me to know Rebecca and I both wore Sophia Webster heels as we said I do (we were also each others Maid of Honour) and now we've both joined the 'Wifey For Lifey' club together!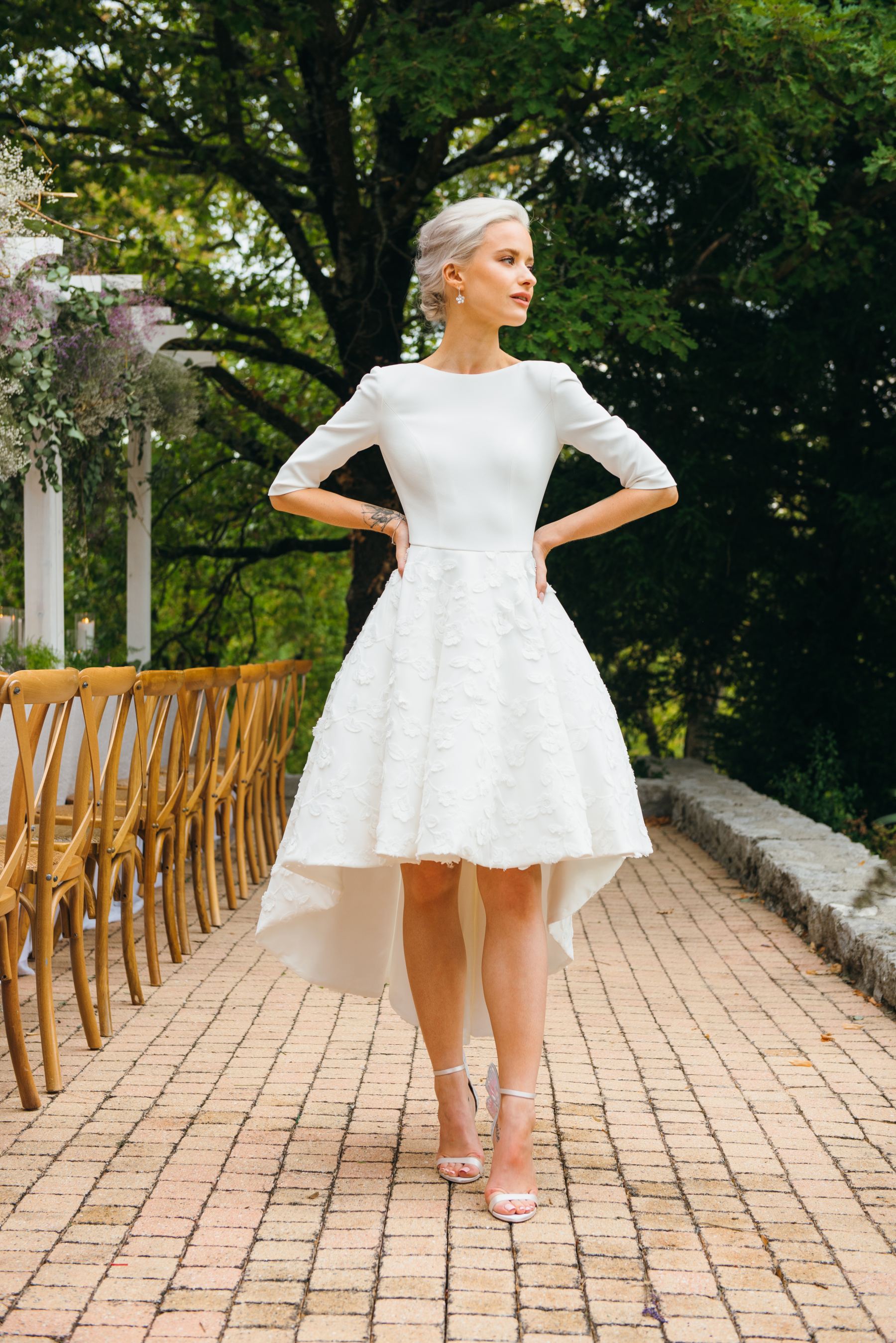 Find the full details on my Bridal Makeup here: Vogue
Find the full details on all my Wedding looks here: Harper's Bazaar
Inthefrow uses affiliate links.
Read the disclaimer here. 
Sign up here for a weekly catch up of everything Inthefrow