07.06.2019
Feelunique x Inthefrow:
The Jetsetter Kit
Over the past 2 years I've proudly been a beauty ambassador for Feelunique and during that time I've had the pleasure of working alongside some of the most stylish, creative and inspirational individuals in the industry. A little over a year ago now, the team and I sat down and discussed the next steps of our journey, and the possibility of designing a limited release beauty kit was set in motion. Designing something with Feelunique that represented my love for both beauty and travel, felt like the most natural progression of our ambassadorship together.
We chatted through a few different options over the next weeks and I quickly realised the only thing I truly wanted to create and also needed in my own life, was a personal travel kit. A set that incorporated everything you could need for any type of travel and that was geared towards making that travel organised, easy and luxurious. 
Fast forward to June 2019 and the culmination of those meetings, mood boards, designs and research have led up to this weeks release of our limited edition collaboration and I couldn't be more excited to have the chance to announce Feelunique x Inthefrow: The Jetsetter Kit!
So fasten those seatbelts, make sure your tray table and seat are in the upright position and make sure your phone is not set to airplane mode on this occasion because The Jetsetter Kit is now available online for a limited time only!
What is The Jetsetter Kit?
I designed the Feelunique x Inthefrow Jetsetter Kit with flying in mind but also just to make any form of travel both simple and organised. But don't worry, if you don't travel often - you can add this sunshine yellow vanity to your desk at home to keep everything neatly organised. Use our beautiful collaboration for whatever you wish.
So whether you're taking on a long haul flight for work or just travelling to spend the night at a friend's house, both the beautifully designed case and the products you'll find inside it, tick all the right boxes. The only true way for me to design and curate the kit was to sit down and look at the products I always travel with and what was missing from my own carry on. I tested multiple bag styles on many flights, I travelled with far too many beauty products to see what items I truly used and I consulted with friends, management and colleagues on their travel habits. The result is an amazing travel kit I've been secretly using in the vlogs and something I am so proud to lend my name and brand to.
I hope you love your #FeeluniquexInthefrow Jetsetter Kit!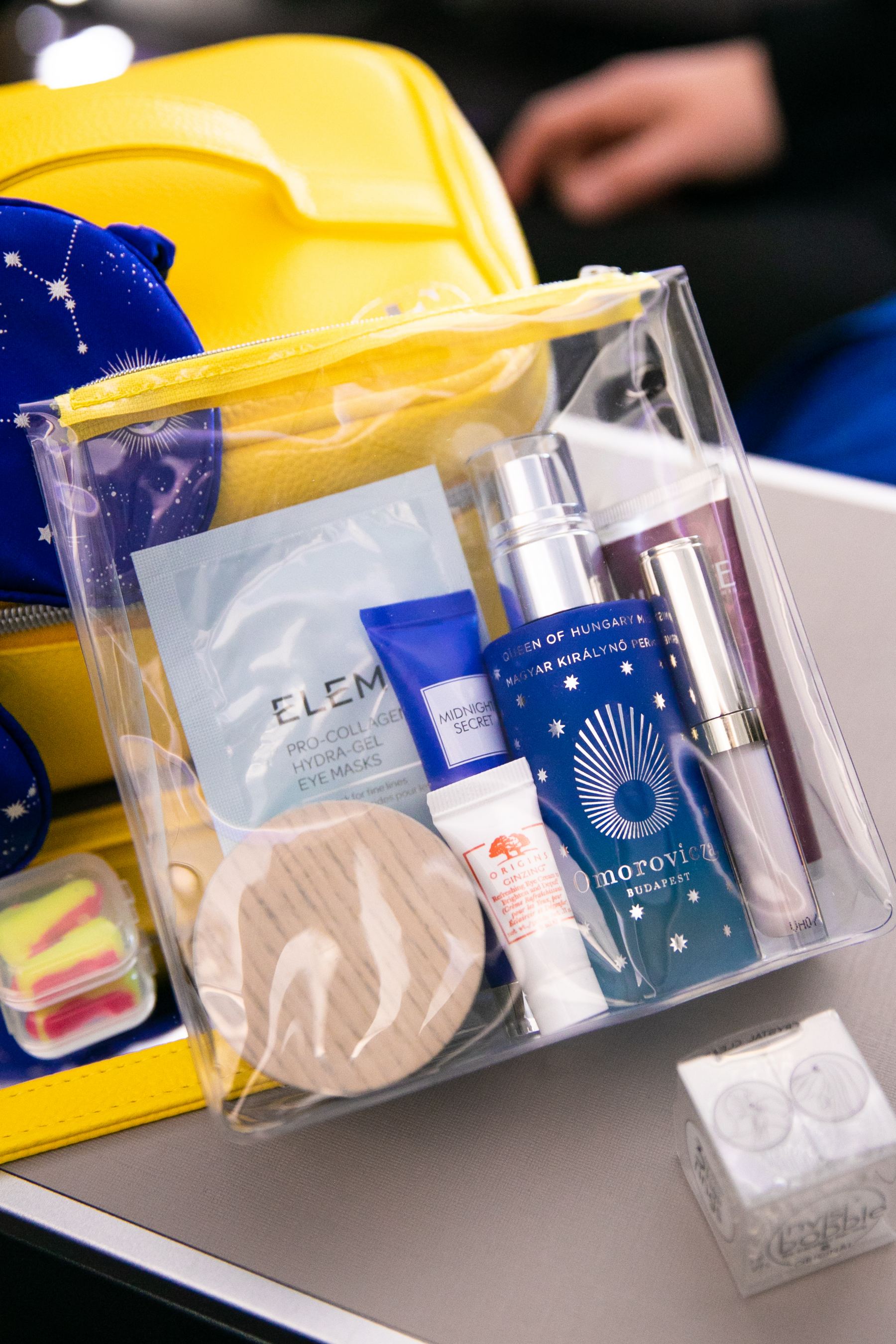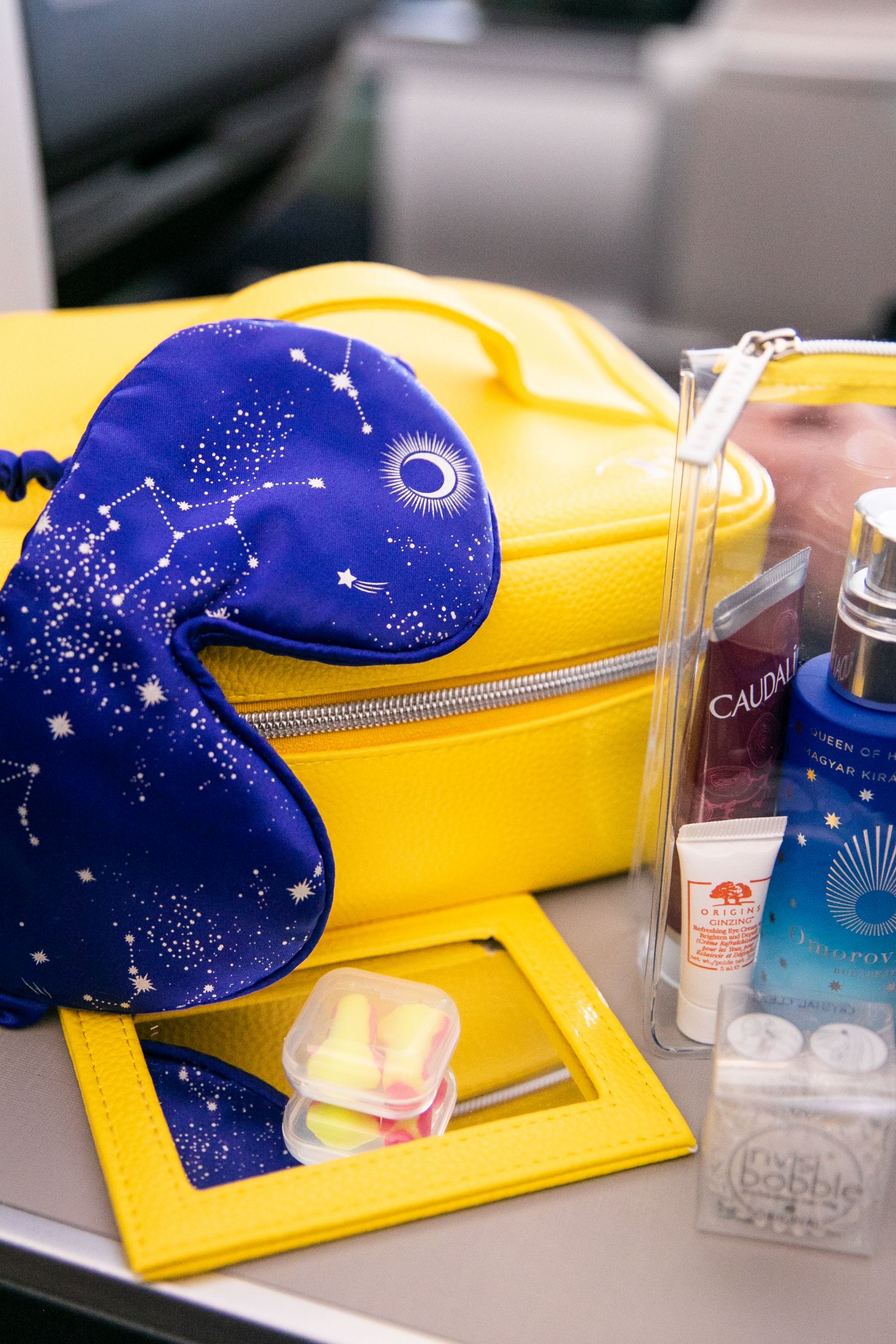 What's inside the Feelunique x Inthefrow Jetsetter Kit?
The Top Handle Vanity Bag - Created in a bright sunshine yellow, the colour of the season of course and designed with travel in mind. The soft wipe clean design can handle long haul flights, being packed inside carry on cases and any spills that might occur. We designed the bag with a separate mirror to keep it versatile and to avoid breakage and you'll also find my brand logo in my favourite silver on the top.
The Clear Liquids Bag - A reusable clear plastic bag with matching yellow piping and silver branding that can be used over and over. The perfect size that adheres to security requirements that will hold your liquids as you are screened through airport security. Store flat in the bag or expand the base to fill and use.
The Travel Mirror - A matching faux leather mirror designed separately to the case to ensure versatile use, safe packing and it's big enough to use hands free propped in your vanity case during travel. 
The Custom Sleep Mask - A satin feel sleep mask designed to truly help you fall asleep no matter if you're on a plane, in a hotel room or just at home. Adorned with constellations as a nod to my love of space and the night sky and made slightly larger than usual designs to really block out any pesky lighting. The soft feel and high nose design avoids nose marks too.
The Ear Plugs - A set of ear plugs that I cannot travel without. I discovered this style of ear plugs in hotel a little while ago and the amazing team at Feelunique sourced them for the kit. If I forget them, then it's no sleep for me. A basic requirement for blocking out noise and ensuring a better nights sleep no matter the location. 
Elemis Pro Collagen Eye Masks x1 - A single set of my favourite Pro Collagen Hydra Gel eye masks from Elemis. Perfect for travel before you apply your face moisturiser or for applying towards the end of your flight. The gel style eye masks cool, de puff and leave your under eye area feeling refreshed. A real treat. 
Guerlain Midnight Secret 15ml - A full size of the Guerlain Midnight Secret recovery treatment. A really unique product that is classed as a sleep elixir to boost your ability to sleep when you need it most. A tiny amount of this will leave your skin feeling moisturised and taking a moment to breathe the lavender and tonka bean will leave you relaxed.
Omorovicza Queen of Hungary Mist 50ml - A full size of the cult favourite face mist to revitalise, refresh and tone. A product I love to travel with and one that I've raved about to friends for years. Perfect to use in a full facial routine or just as quick refresher towards the end of a flight. The smell of orange blossom is the perfect subtle scent. 
Lumene Skin Saviour Balm 30ml - A full size of my holy grail favourite Skin Saviour Balm from Lumene. The epitome of a multi use product that is perfect for travel and on the go. It's super moistursing, healing and can be used on everything from lips to cuticles and from elbows to knees. I can't wait for you to fall in love with this favourite of mine. 
Caudalie Hand & Nail Cream 30ml - A full size of the Caudalie Hand & Nail Cream that I know is a must for so many travellers. A luxurious non greasy hand treatment to moisturise and nourish with beautiful shea butter and avocado oil. The last step in my flight routine before I head off to sleep. 
By Terry Baume de Rose Lip Protectant 2.3g - A tube version of the classic Baume de Rose lip protectant that offers a nourishing swipe of moisture in the classic By Terry scent. Ideal for a little boost at the end of your journey.
Origins GinZing Eye Cream 5ml - A travel size version of one of my very favourite eye creams. You only need the smallest amount of this invigorating eye cream to leave your under eyes feeling awake. Coffee and ginseng give your skin a boost while you sleep. 
Invisibobble x3 - A set of 3 of my favourite style of hair ties that I'm never without on a daily basis. The ring style is gentle on your hair and easy to use. You'll always find one on my wrist, in my handbag or in my travel bag.
How much is the Feelunique x inthefrow Jetsetter Kit?
This is the amazing part. The entire kit, including not only the products but the vanity and all the accessories inside can be purchased for £67, but they have a huge worth of £155.70 - making the value pretty unreal! I wanted to create something that was not only luxurious but had huge savings too, to give lots of you guys the opportunity to try some products that maybe you hadn't had in your hands before!
You can buy it here!
Where can you buy the Feelunique x Inthefrow Jetsetter Kit?
The Feelunique x Inthefrow Jetsetter Kit is exclusively available on the Feelunique website here! You won't find this deal anywhere else and I'm so proud to have collaborated with Feelunique on this. The set has been created as a limited edition release that will only be around for a limited time. Once it's gone it's gone!
A huge thank you to all of the incredible team at Feelunique for working on this exciting project with me and thank you to each of the brands for wanting to be a part of this collaboration too - it truly means the world to me. I hope you all love the Jetsetter Kit and I can't wait to see what you think of this next step in my journey.
Victoria x
Sign up here for a weekly catch up of everything Inthefrow